Jays won, not done! Tribe up 3-1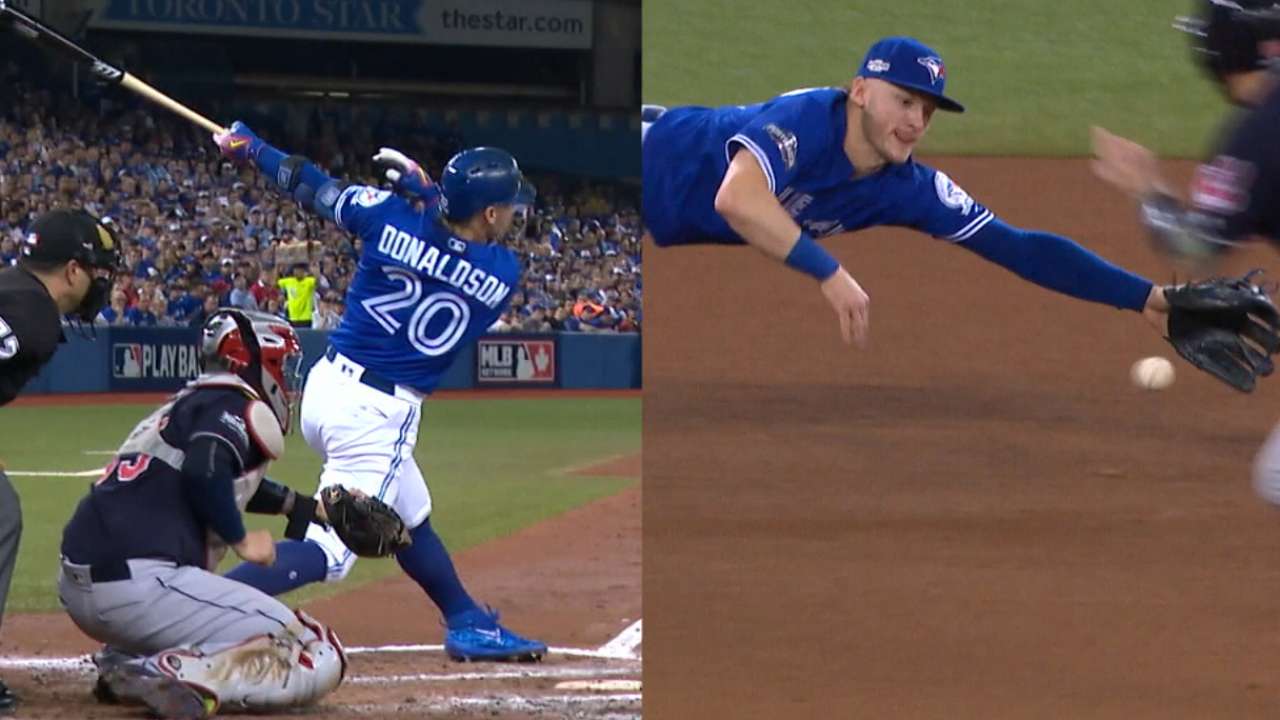 TORONTO -- The Blue Jays were down but they were not out, and Toronto made a statement loud and clear in Game 4 at Rogers Centre: This American League Championship Series is not over quite yet.
Josh Donaldson homered and Edwin Encarnacion delivered a key two-run single as the Blue Jays extended the series with a 5-1 victory over the Indians on Tuesday. Aaron Sanchez picked up the win by allowing just two hits over six strong innings to give his team a chance. Cleveland now leads the best-of-seven series 3-1.
ALCS Game 5: Today at 4 p.m. ET on TBS/Sportsnet/RDS
The game started off with a lot of nervous energy at Rogers Centre, but by the time the seventh inning rolled around, the party was in full swing. The odds are still against Toronto, but for at least one day, none of that mattered. The most important thing is that there will be a tomorrow for a Blue Jays squad that was in a deep hole less than 24 hours prior.
Toronto became just the fourth team since 1985 to force a Game 5 after trailing 3-0 in an LCS. The 2004 Red Sox, who were managed by current Indians manager Terry Francona, are the only team to rally from three games down to come back and win a best-of-seven series after they eliminated the Yankees in the ALCS. The Blue Jays hope to become the second. The Tribe, however, was the only team in the Majors to not lose four straight games this season, the first club to do that since the 2014 Dodgers.
• Justice: There's still a chance for Jays
"It's an uphill battle," Donaldson said. "We're still down three games to one. It's a must-win each and every game. But the fact of the matter is we've got to go out there and continue to control what we can control. I felt like we did that for the better half of today, and we've got to go out there and do it again tomorrow."
Toronto's struggling lineup was in a tough spot after Cleveland went with ace Corey Kluber on three days' rest. Kluber had yet to allow a run this postseason, but Donaldson put an end to that in the bottom of the third with a solo homer to left-center field. For the first time in this series, the Blue Jays had a lead, and the emotion spilled over onto the field as Donaldson screamed as he ran the bases.
The Blue Jays went on to score another run in the fourth on Ezequiel Carrera's bloop single before gaining some much-needed breathing room with two more in the seventh on Encarnacion's bases-loaded single up the middle. It wasn't quite the offensive eruption everyone had been waiting for, but it was enough to get the job done and force a Game 5 in front of Toronto's home crowd.
• Tribe pays for walking to get to Encarnacion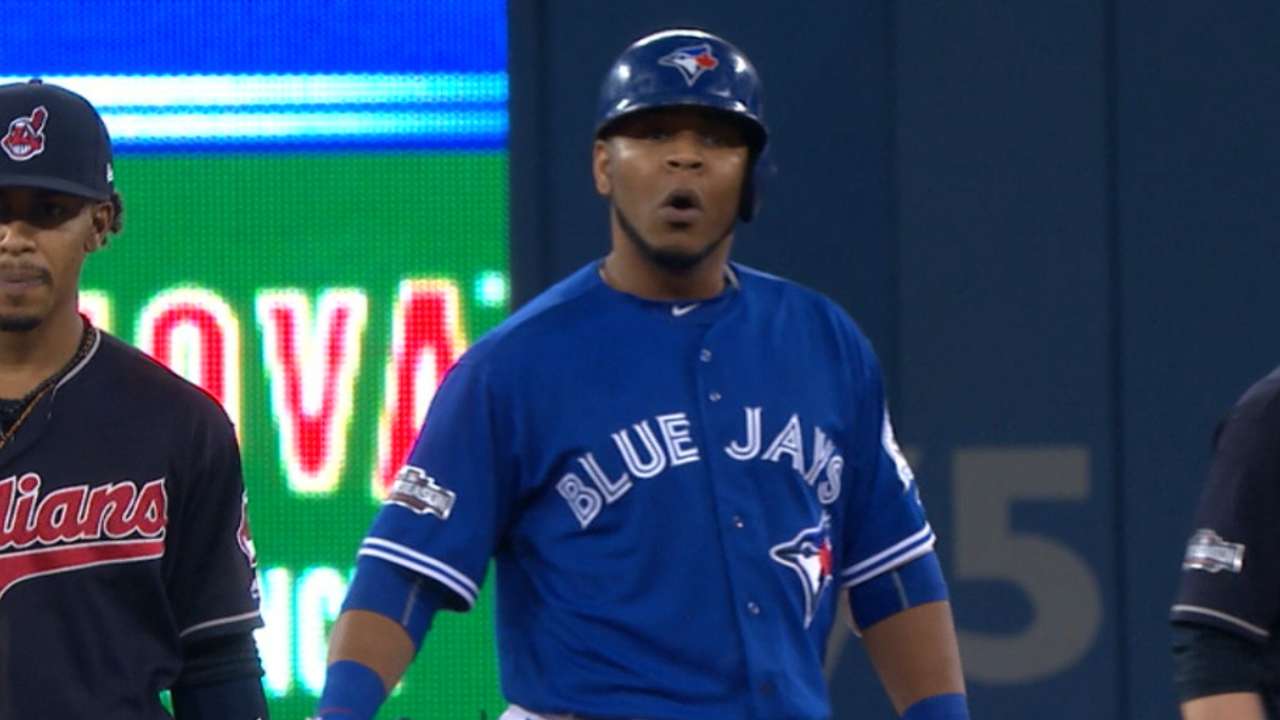 "We're capable of doing even more than we did today," Blue Jays outfielder Jose Bautista said. "I really haven't been killing the ball. I'm getting on base. A bunch of us are capable of doing more than we've done. The bottom line is, we only need to do as much each day to get that win, and we got that today."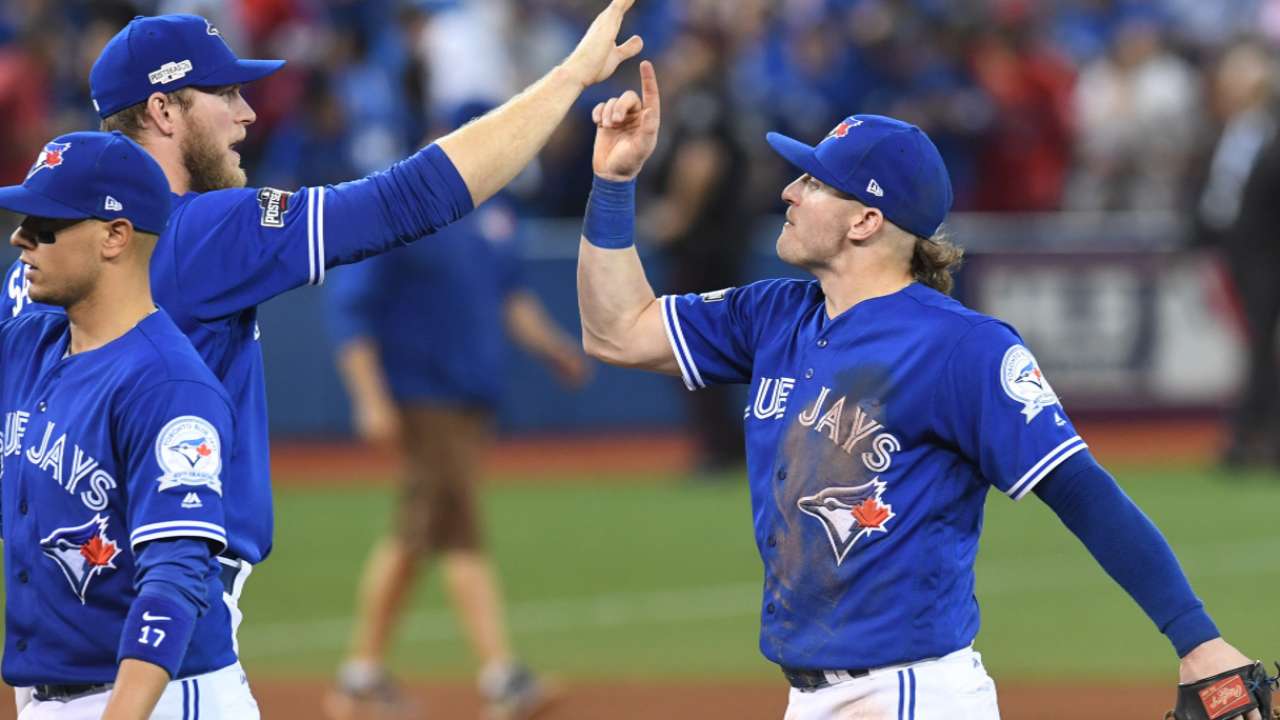 Sanchez also played a big role in this win, and he set the tone early with a three-up, three-down first inning, which included a pair of strikeouts. His lone mistake came in the fifth inning, when he allowed an RBI double off the wall in left-center field to Roberto Perez. The AL ERA leader struck out five and walked two en route to the quality start.
• Sanchez steps up in biggest start of career
"Well, you can see the velocity, everybody sees that," Francona said of Sanchez. "But right from the very first inning, he commanded his breaking ball ... and that made it really, really tough on us."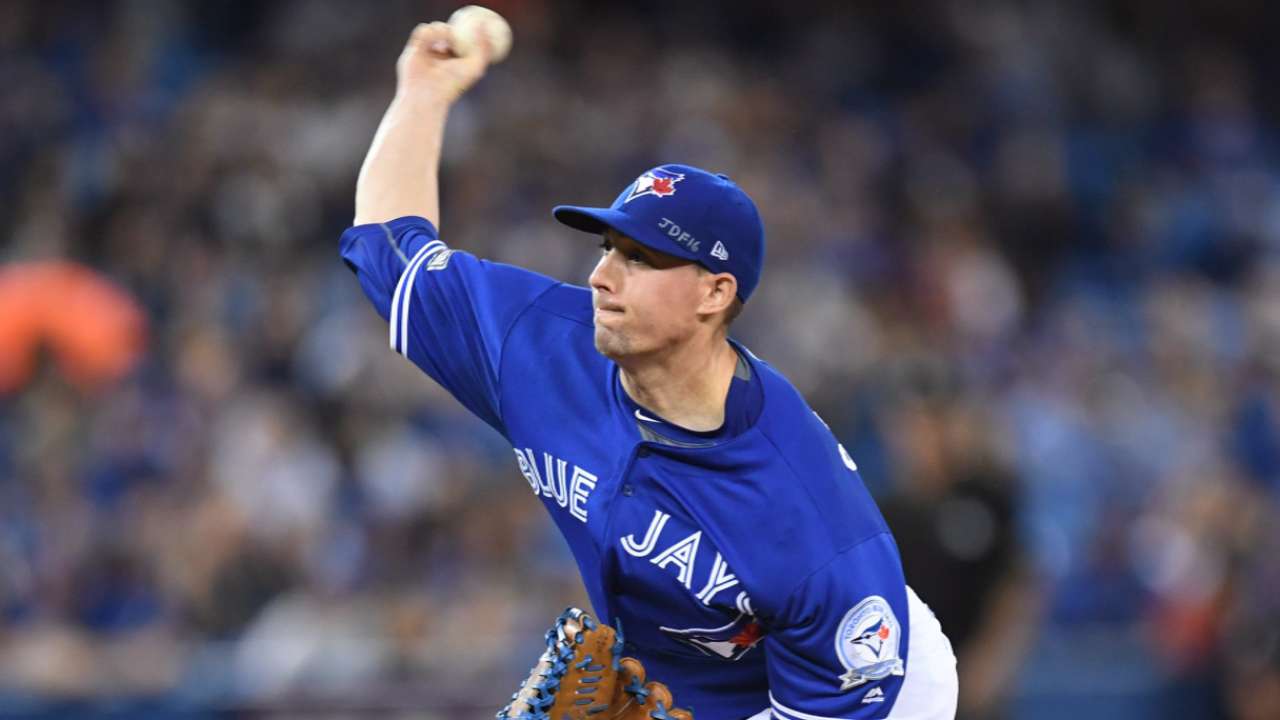 With the win, the Blue Jays suddenly have renewed life in this series. Toronto will turn to right-hander Marco Estrada, and all he's done over the past two years is post a 2.02 ERA over five starts in the postseason. The Indians, meanwhile, will counter with rookie lefty Ryan Merritt, who has a grand total of 11 career big league innings under his belt.
• Castrovince: Rookie Merritt unfazed by Game 5 magnitude
Kluber, who struck out seven in his five-inning effort, said Cleveland's mentality right now is simple.
• On short rest for first time, Kluber solid
"Try to win one more game," Kluber said. "We're one win away from the World Series, and that's what we're focused on."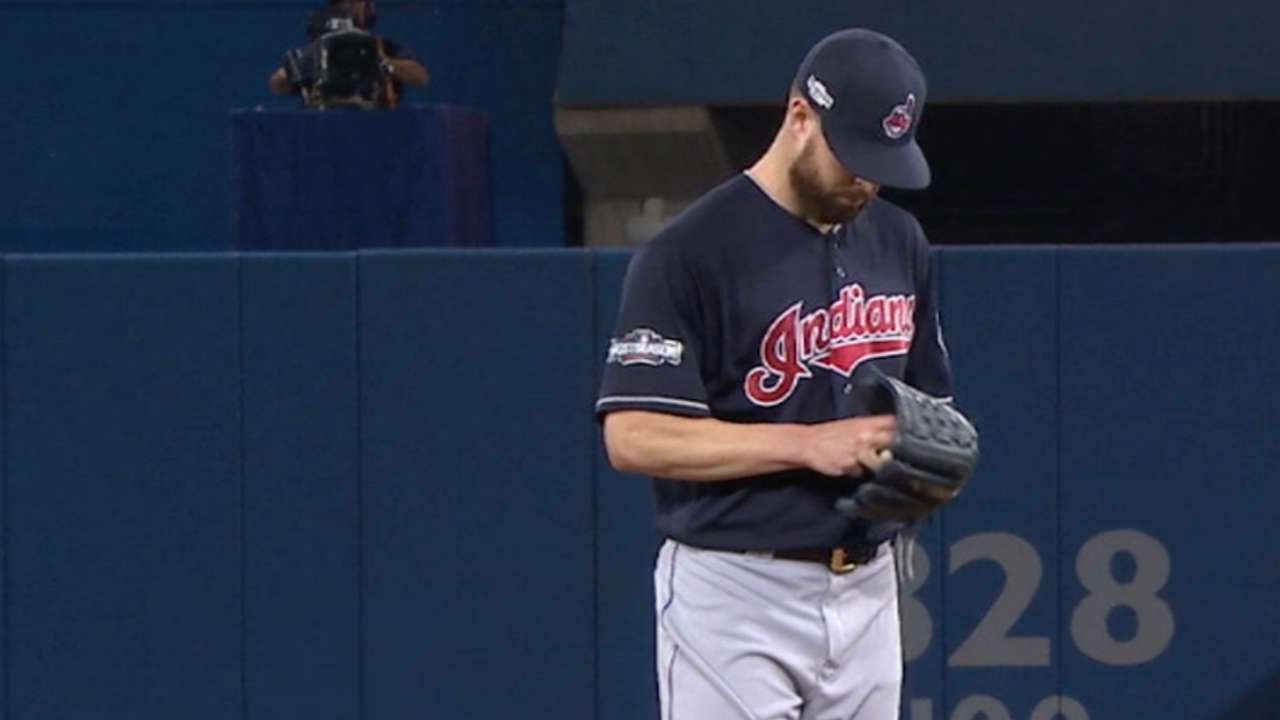 MOMENTS THAT MATTERED
Bringer of leads: The Blue Jays spent the first 29 innings of this series either tied or playing from behind, but Donaldson finally put an end to that. According to Statcast™, Donaldson's first home run of the ALCS had a projected distance of 402 feet and left his bat at 99 mph. The home run snapped Kluber's postseason scoreless streak at 15 1/3 innings, and it came on a hanging curveball, which is a pitch he went to 42 times in Game 1. For Donaldson, it was his seventh extra-base hit of the postseason, which is tied for third most in Toronto franchise history. Paul Molitor holds the record with 10 in 1993. More >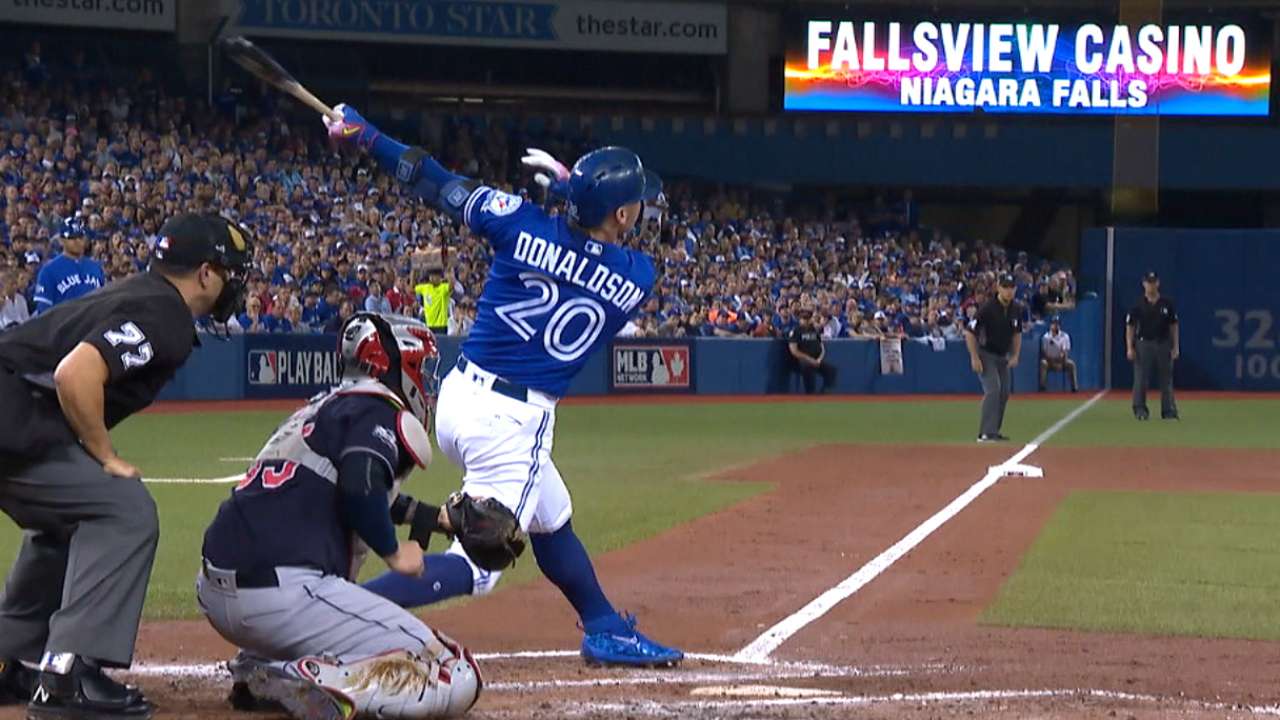 "He's a good hitter," Kluber said. "There's not a magic formula. He's a good hitter. They've got a lot of good hitters in that lineup. When you make a mistake to good hitters, a lot of times they take advantage of it. That's what he did there."
Shaw's error opens floodgates: Cleveland had played sound fundamental baseball throughout these playoffs, but an ill-timed error cost the club in the seventh. With no outs and a runner on first, Indians reliever Bryan Shaw hustled off the mound and made a barehanded grab on a chopper by Bautista. The pitcher fired the ball wildly beyond first for an error that put runners on first and third. Following an intentional walk to Donaldson to load the bases -- setting up a double play all around the diamond -- Shaw allowed a two-run single to Encarnacion. The baseball struck the top of the mound on its way to center field, eliminating any chance at turning two. As Encarnacion pulled into second, following a throw to the plate, the slugger pounded his chest and yelled in celebration. Shaw's misplay marked the first error of the playoffs for the Tribe. More >
"I should have had him all the way," Shaw said. "I just rushed it a little bit. Had I planted my foot and made a better throw, he would've been out. It wasn't too tough a play. I got over there, I got the ball, I just opened up too much and spun and threw it away."
• Game 4 'pen usage a balancing act for Tito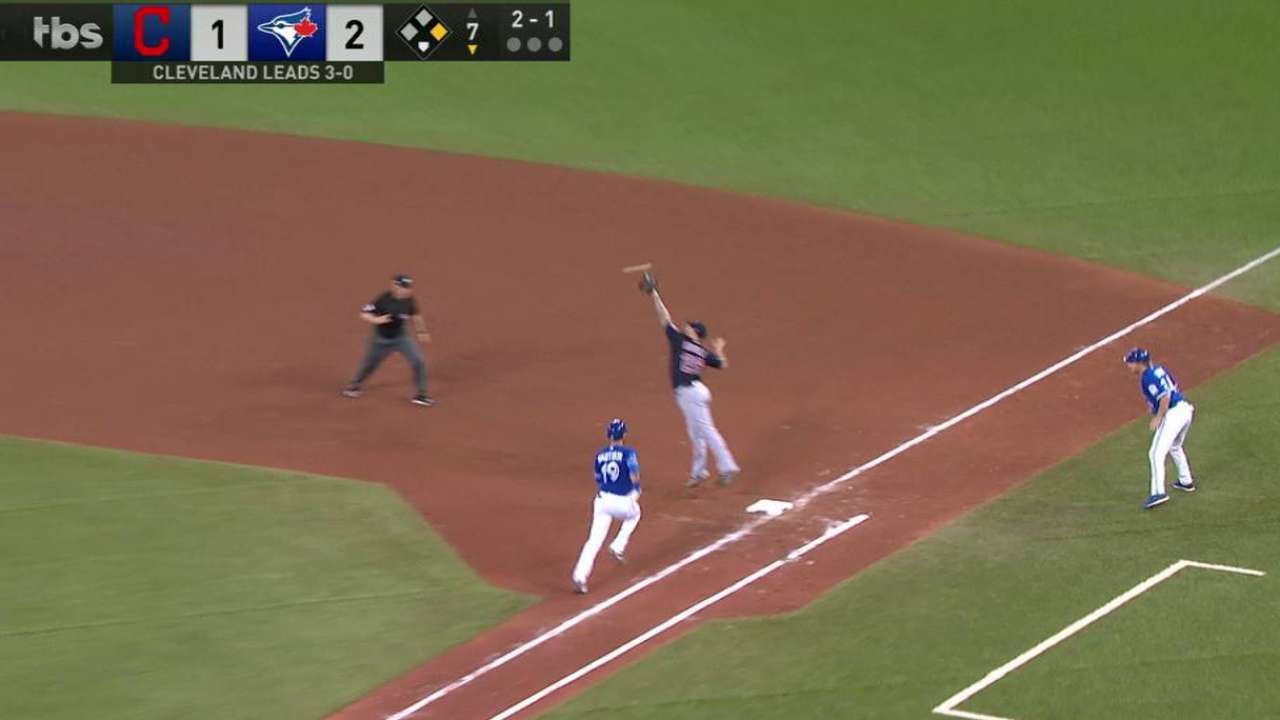 Flashing the glove: Donaldson's contributions weren't limited to the bat. He also made a highlight-reel play with his glove that very well could have saved this game. Toronto was clinging to a 2-1 lead in the top of the fifth inning when Cleveland had a runner on second with two outs. Carlos Santana hit a sharp ground ball to the left of the infield, but Donaldson made a diving stab and then threw a strike to first to record the final out of the inning. According to Statcast™, Donaldson took his first step in 0.17 seconds, made the exchange to his throwing hand in 1.8 seconds and then threw a 78.8-mph heater to first to record the out.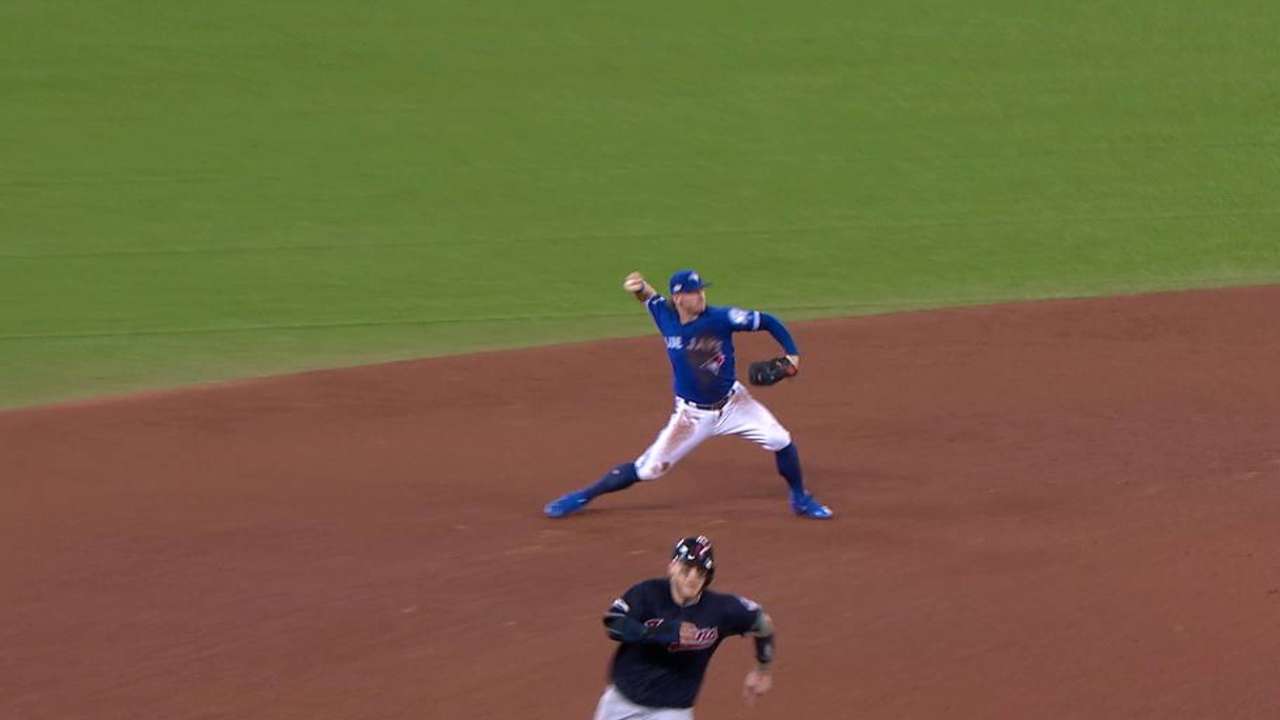 "Big-time players make big-time plays in big-time games," Sanchez said. "There's nothing more I can say about J.D. Not only with that play, but with the home run getting it started in the third to get us on the board first. I'm glad he's on our squad."
• In Game 4, Josh Donaldson made sure there'd be a Game 5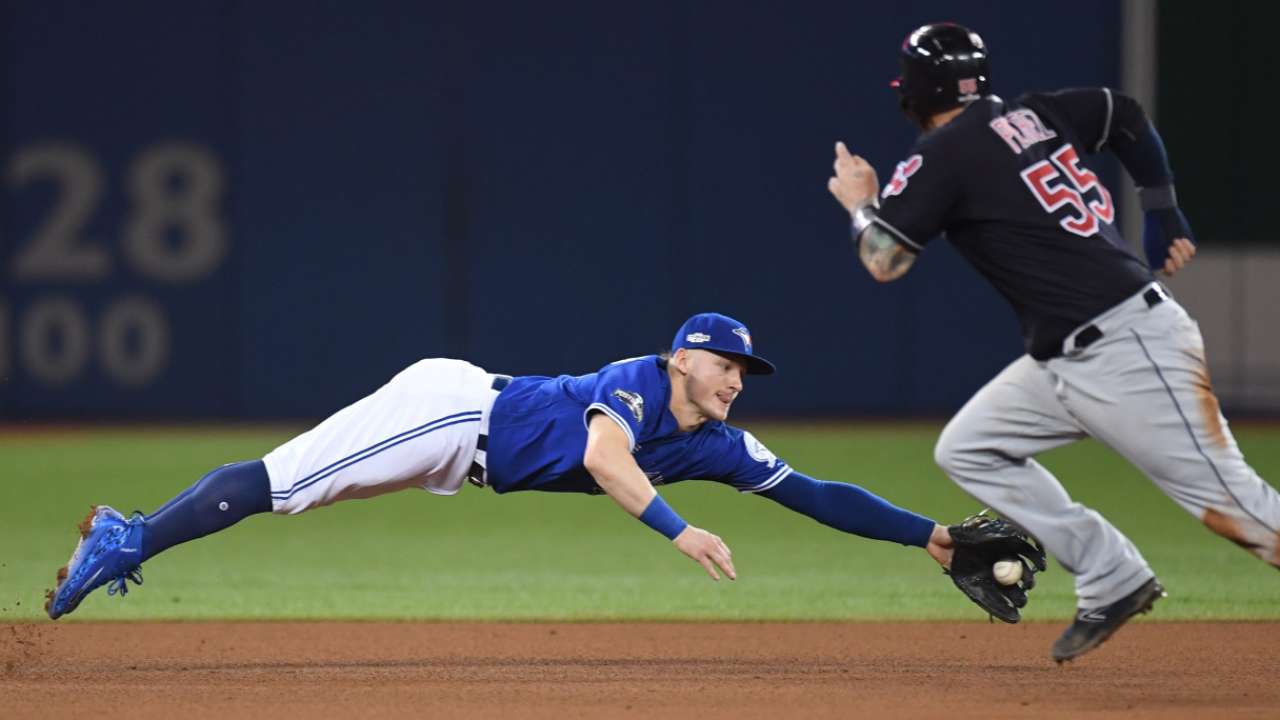 Stranding the runner: The Blue Jays were in serious danger of falling behind for the fourth consecutive game of this series when Tyler Naquin led off the top of the third inning with a double to the gap in left-center field. Perez then advanced Naquin to third on a sacrifice bunt. Toronto manager John Gibbons decided to have his infield play in, and the move worked as Sanchez got Santana to ground out to second base while Naquin was forced to hold at third. The Blue Jays then escaped the jam entirely when Jason Kipnis followed with a ground ball of his own to second.
"Backs against the wall, he came through again," Gibbons said. "He's really done that so much this year, but never in a game like this."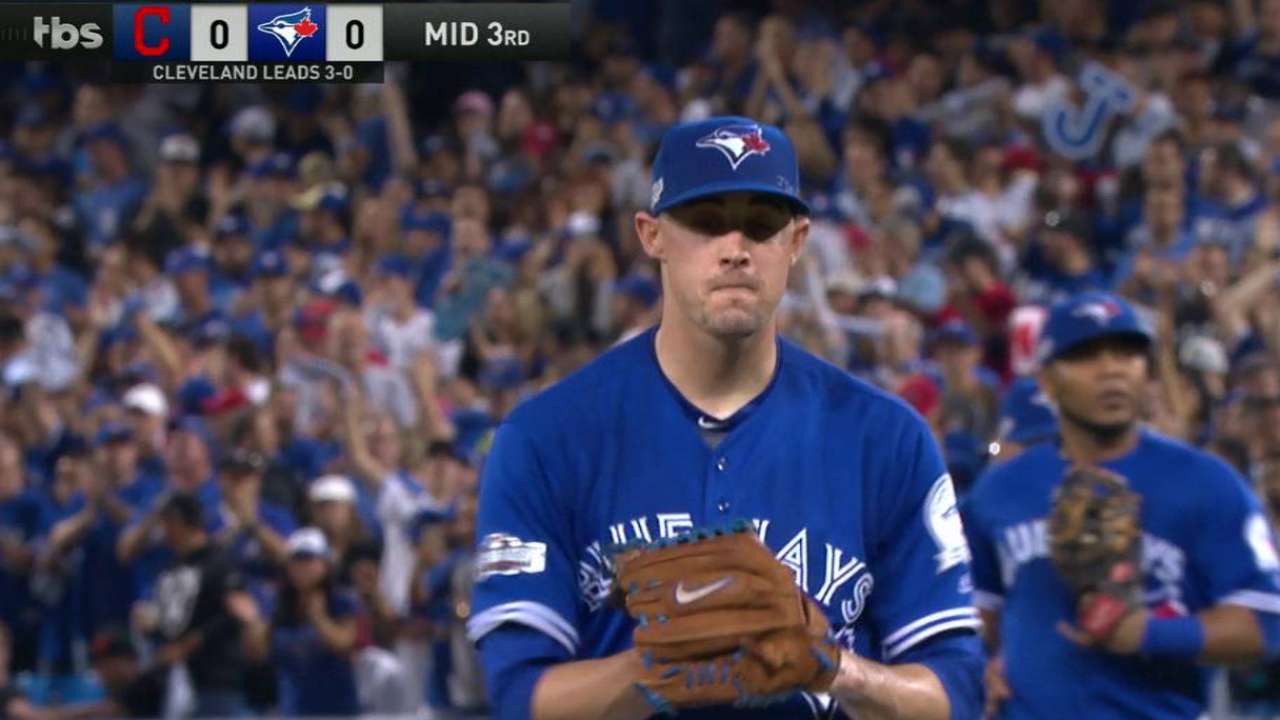 'Berto breaks through: Perez headed into his at-bat in the fifth inning with a 1-for-9 showing in the ALCS. Cleveland's catcher shook off those struggles with a line drive to the wall in left-center, scoring Coco Crisp from second to cut Toronto's lead to 2-1. The two-base hit had an exit velocity of 105 mph, per Statcast™. Some heads-up baserunning by Crisp made it easier to score on that RBI double. Crisp drew a one-out walk in the inning and then moved up 90 feet on a ball in the dirt that Naquin swung through for a strikeout.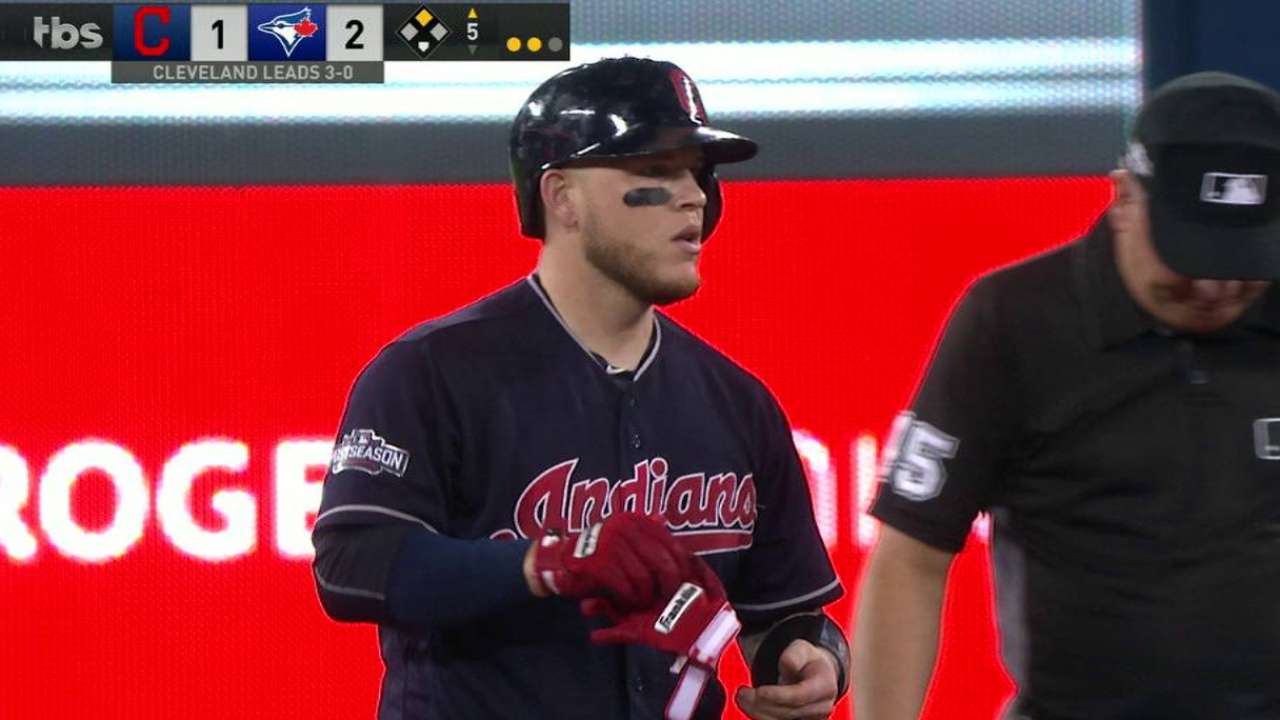 QUOTABLE
"I felt fine. I didn't really feel like it physically affected me at all. I made a mistake to Donaldson, but other than that, I felt fine." -- Kluber, on pitching on short rest
"He's obviously good enough to pitch, to get himself to this point. I don't think he needs any of us trying to go out there and telling him what to do. He knows what he needs to do already." -- Kluber, on Merritt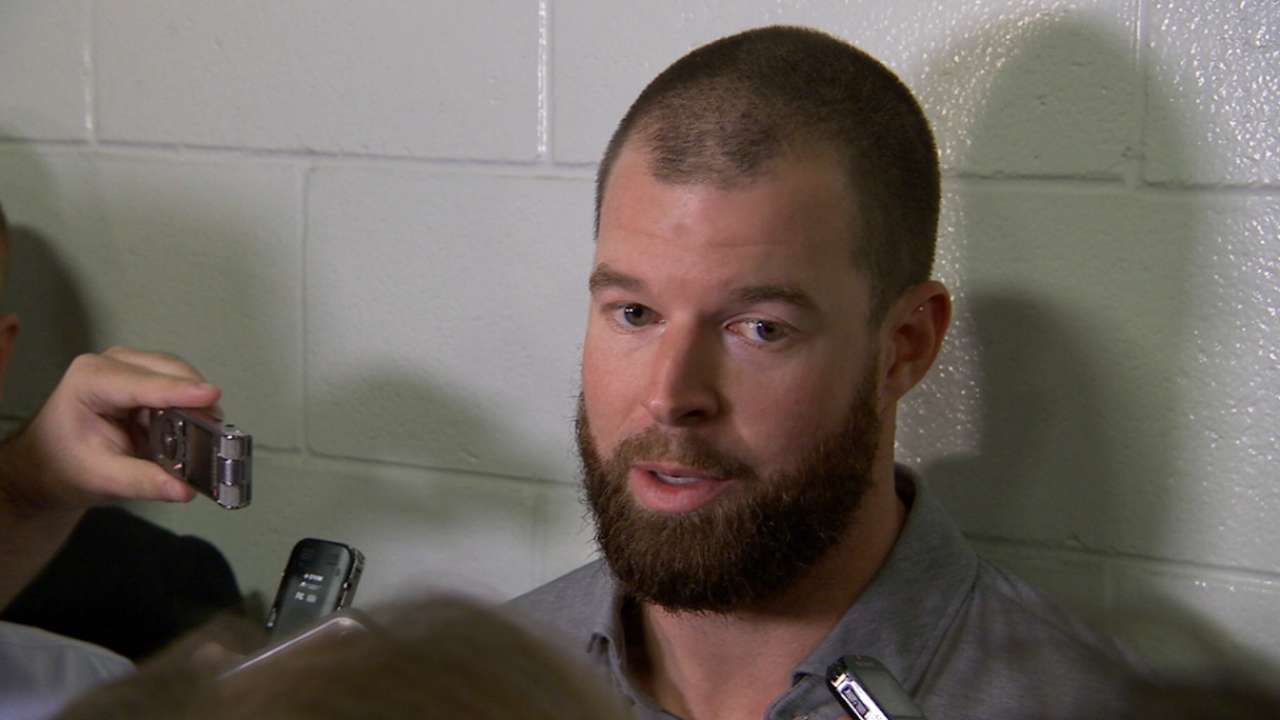 SOUND SMART WITH YOUR FRIENDS
When Kluber allowed Donaldson's homer in the third, it halted the ace's bid at achieving the longest scoreless streak in Indians postseason history. That record still belongs to Duster Mails, who spun 15 2/3 straight shutout innings in 1920.
• DYK? Facts and figures from ALCS Game 4
WHAT'S NEXT
Indians: Merritt, who has only one Major League start on his resume, will take the ball for the Indians in Game 5 of the ALCS at Rogers Centre on Wednesday. On Sept. 30, Merritt limited the Royals to one run over five innings. The Blue Jays ranked 13th in the AL this season with a .708 OPS against left-handed starters. More >
• Tale of the Tape: Merritt, Estrada square off
Blue Jays: Estrada will get the call as the Blue Jays try to send the ALCS back to Cleveland. Estrada has been in this spot before after he started Game 5 of last year's ALCS vs. Kansas City. Toronto was trailing 3-1 in that series as well, but it bounced back with a 2-1 victory as Estrada allowed just one run over 7 1/3 innings. More >
Gregor Chisholm has covered the Blue Jays for MLB.com since 2011. Follow him on Twitter @gregorMLB and Facebook, and listen to his podcast.

Jordan Bastian has covered the Indians for MLB.com since 2011, and previously covered the Blue Jays from 2006-10. Read his blog, Major League Bastian, follow him on Twitter @MLBastian and listen to his podcast.

This story was not subject to the approval of Major League Baseball or its clubs.