NLCS Game 3 starting lineups: Cubs vs. Dodgers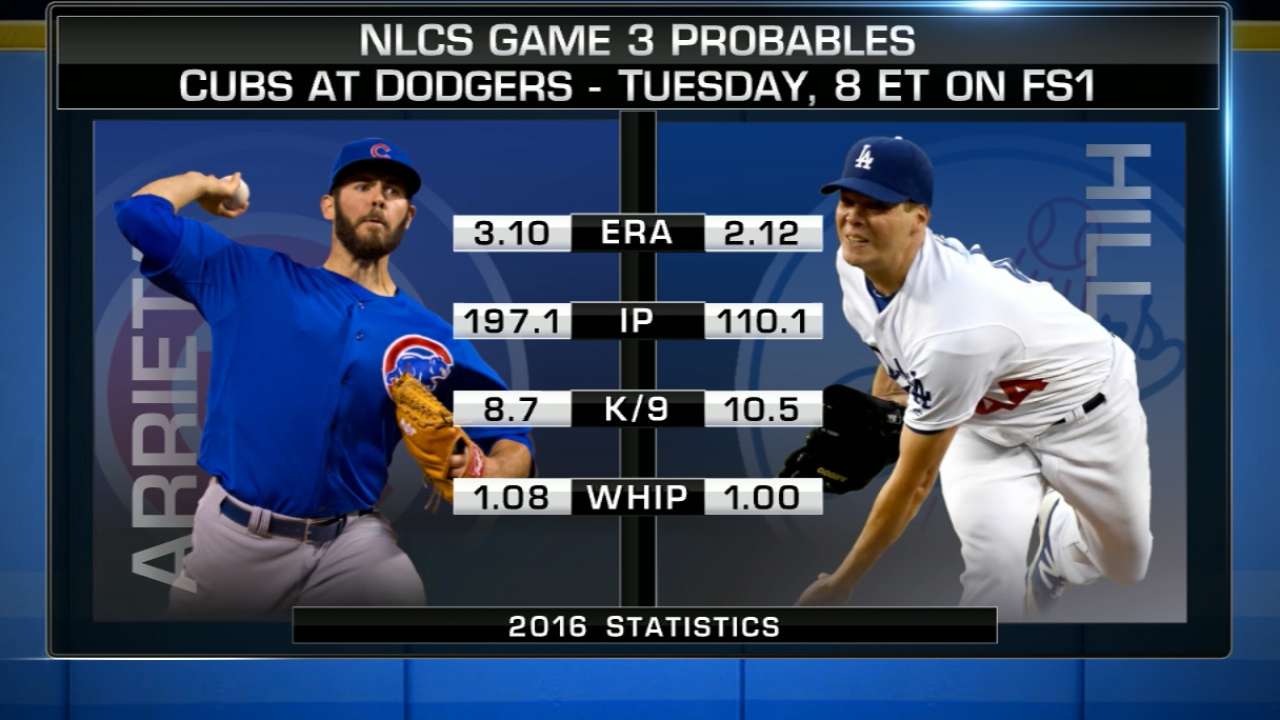 LOS ANGELES -- Jorge Soler got his first postseason start on Tuesday but the key to the Cubs' lineup changes was the moving of second baseman Javier Baez, who has a hit in all six playoff games so far.
"Baez, to me, is the big part of [the changes]," Cubs manager Joe Maddon said about inserting the Baez into the No. 5 spot behind Anthony Rizzo for Game 3 of the National League Championship Series. "I have not wanted to do that with [Baez] all year, but looking at all the candidates and what he's doing now, it seemed like the best thing to do."
• NCLS Game 3: Today at 8 p.m. ET on FS1
The Dodgers started a lefty for the second straight game, former Cubs pitcher Rich Hill, who played in Chicago from 2005 to 2008. Hill went 3-2 with a 1.83 ERA in six starts for the Dodgers this season, going 12-5 with a 2.12 ERA in 20 starts overall.
Center fielder Dexter Fowler leads off for the Cubs, and will be followed by third baseman Kris Bryant, left fielder Ben Zobrist, first baseman Rizzo, Baez, right fielder Soler, shortstop Addison Russell, catcher Miguel Montero and pitcher Jake Arrieta.
The best of seven series is tied at one win apiece.
Soler, bothered by minor injuries to his side, batted .238 in 86 games this season with 12 home runs and 31 RBIs. He hit .267 against lefties.
"It's been difficult to keep [Soler] out there consistently, but you watch him in certain games and you watch batting practice, and it's pretty good," Maddon said.
Rizzo has struggled this postseason, going 1-for-23 in the six games. Baez batted .311 against lefties this season, second best on the Cubs to Bryant, who batted .314. Baez has tied a club record for the longest hitting streak to open a postseason, joining Moises Alou (2003) and Mickey Livingston (1945).
Soler is not as good a defensive player as Jason Heyward, but by having him sixth in the lineup, Maddon said, he can always make a switch late in the game.
As for Dodgers manager Dave Roberts, he stuck with his Game 2 lineup for Game 3.
"Some of the guys aren't getting hits, but as far as the at-bat quality, I still like it," said Roberts.
Cubs
1. Dexter Fowler, CF
2. Kris Bryant, 3B
3. Ben Zobrist, LF
4. Anthony Rizzo, 1B
5. Javier Baez, 2B
6. Jorge Soler, RF
7. Addison Russell, SS
8. Miguel Montero, C
9. Jake Arrieta, P
Dodgers
1. Chase Utley, 2B
2. Corey Seager, SS
3. Justin Turner, 3B
4. Adrian Gonzalez, 1B
5. Josh Reddick, RF
6. Joc Pederson, CF
7. Yasmani Grandal, C
8. Andrew Toles, LF
9. Rich Hill, P
Carrie Muskat has covered the Cubs since 1987, and for MLB.com since 2001. She writes a blog, Muskat Ramblings. You can follow her on Twitter @CarrieMuskat and listen to her podcast. This story was not subject to the approval of Major League Baseball or its clubs.