Tito flip-flops relievers, gives Jays 'different look'
Allen serves as bridge to Miller, who closes Game 3 win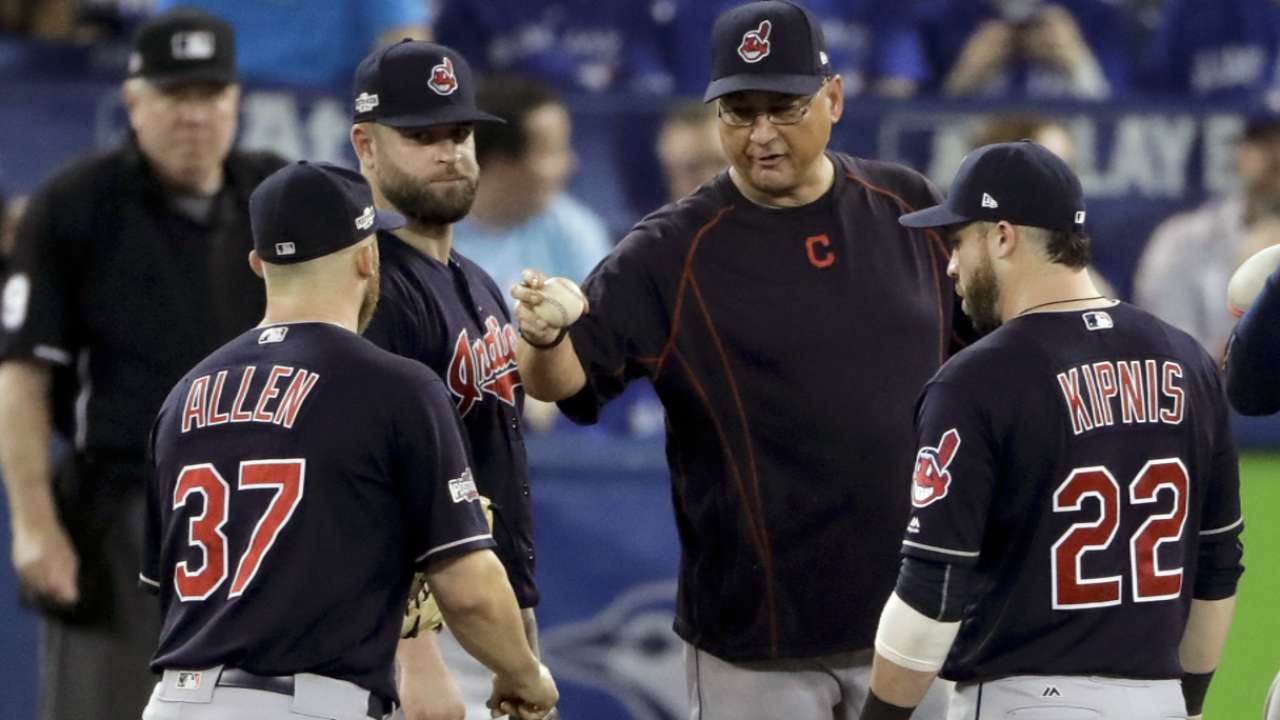 TORONTO -- Throughout the postseason, Indians manager Terry Francona has leaned on left-hander Andrew Miller as his main leverage weapon, leaving Cody Allen to close things out. In Monday's 4-2 win over the Blue Jays in Game 3 of the American League Championship Series, Francona flipped the script.
With Cleveland holding a 4-2 lead in the seventh inning, Francona handed the ball to Allen. The right-hander then worked 1 2/3 innings, creating a bridge to Miller's four-out save. By flipping the two relievers, Francona was asking Allen to handle the top of Toronto's lineup, and allowing Miller to face the bottom to end the game.
• ALCS Game 5: Today at 4 p.m. ET on TBS/Sportsnet/RDS
"I wanted Cody to go through the heart of their order," Francona said. "Andrew did it the other day. I thought giving them a different look would be good. And then, if we had the lead late, go to Andrew, 'OK, we're going to go ahead win or lose.' I didn't want to use [Miller] early and not win the game, because we have leaned on him a lot.
"And, if we want to continue, we're going to need him more. So, we wanted to kind of keep the workload to a manageable [level], where it's fair to him."
Other items of note from Tuesday
• During the first inning Monday night, Blue Jays manager John Gibbons emerged from the home dugout and met with home-plate umpire Brian Gorman. Gibbons was pointing out that the laceration on Trevor Bauer's right pinkie finger had broken open and blood was dripping on the mound. After the game, Gibbons called Francona to make sure there were no hard feelings over the situation.
"When we met before the series," said Francona, "Gibby said, 'Hey, man, I hope he can pitch.' He kind of had to go out there. Shoot, it was dripping. But, the fact that he called me was really classy, but I didn't think one thing of it. Shoot, man, you're trying to win. It's kind of hard to not. That thing was dripping all over the place. He wouldn't have been doing his job [if he didn't talk to the umpire]."
• Throughout the ALCS, Francona had lauded bench coach Brad Mills for his in-game strategy, first-base coach Sandy Alomar Jr. for his help with the running game, hitting coaches Ty Van Burkleo and Matt Quatraro for their diligence in the batting cages and pitching coach Mickey Callaway for his expertise with the staff. On Tuesday, Francona thanked third-base coach Mike Sarbaugh for the work he does with the infield's defensive alignment.
"Mike Sarbaugh spends a lot of time positioning the infielders," Francona said. "And Brad Mills, positioning the outfielders. We do spend a lot of time on it. But, I think we're blessed to have pretty good players that are athletic and move well and do make plays."
Jordan Bastian has covered the Indians for MLB.com since 2011, and previously covered the Blue Jays from 2006-10. Read his blog, Major League Bastian, follow him on Twitter @MLBastian and listen to his podcast. This story was not subject to the approval of Major League Baseball or its clubs.