ALCS Game 4 starting lineups: Indians vs. Blue Jays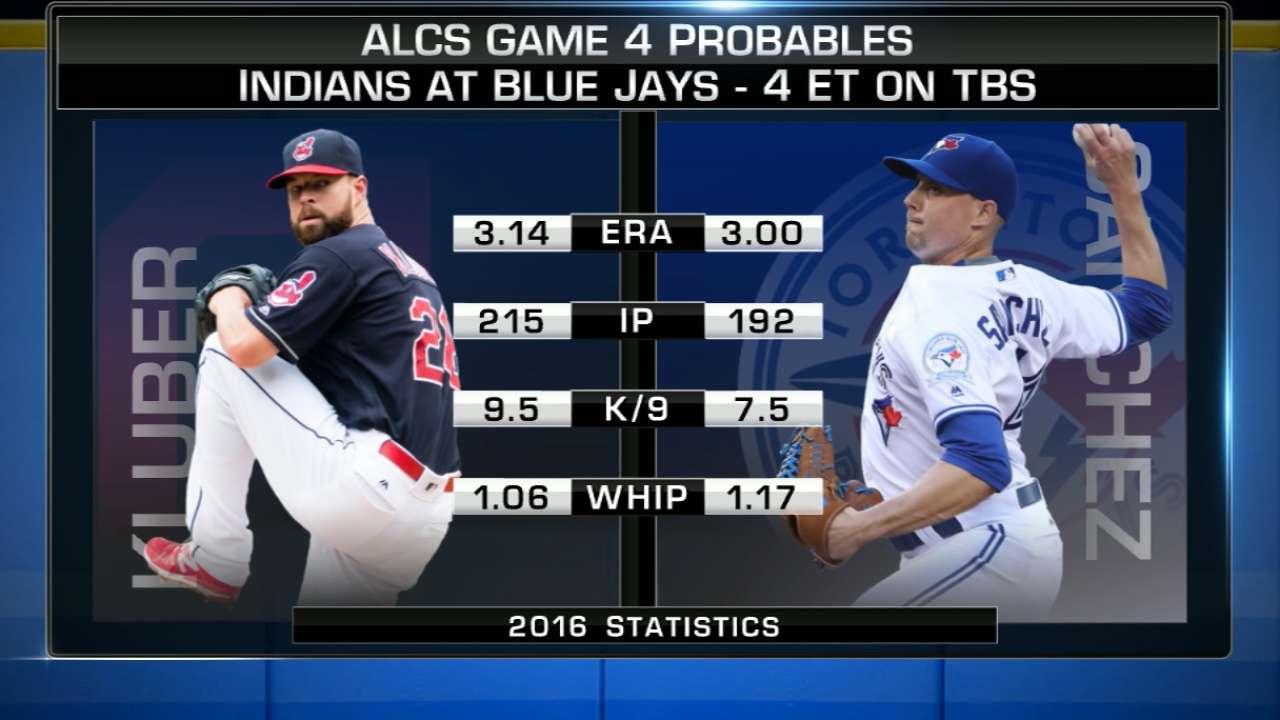 The Blue Jays are going with a similar lineup in today's Game 4 of the American League Championship Series as they look to extend their season and stave off an Indians sweep.
Jose Bautista is once again leading off in the win-or-go-home contest. Bautista also hit first in Game 3, going 1-for-3 with a walk.
• ALCS Game 5: Wednesday at 4 p.m. ET on TBS/Sportsnet/RDS
The only switch from Toronto's Game 3 lineup is left fielder Ezequiel Carrera moving up to the seventh spot, with center fielder Kevin Pillar batting eighth.
Josh Donaldson, hitting second, has the best career numbers of any Blue Jay against Indians starter Corey Kluber, who is coming back on three days' rest. Donaldson is 7-for-19 (.368) with a home run against Kluber, while designated hitter Michael Saunders is 5-for-11 (.455) with two doubles.
The Indians are going status quo with their Game 4 lineup against right-hander Aaron Sanchez, using the same one that posted a 4-2 victory in Game 3 against Marcus Stroman.
Cleveland has only seen Sanchez three times in his young career. Lonnie Chisenhall, who is 7-for-20 this postseason, is 2-for-5 with a home run against the right-hander. Mike Napoli, who homered in Game 3, is hitless in seven at-bats against Sanchez.
Indians
1. Carlos Santana, DH
2. Jason Kipnis, 2B
3. Francisco Lindor, SS
4. Mike Napoli, 1B
5. Jose Ramirez, 3B
6. Lonnie Chisenhall, RF
7. Coco Crisp, LF
8. Tyler Naquin, CF
9. Roberto Perez, C

Corey Kluber, P
Blue Jays
1. Jose Bautista, RF
2. Josh Donaldson, 3B
3. Edwin Encarnacion, 1B
4. Troy Tulowitzki, SS
5. Russell Martin, C
6. Michael Saunders, DH
7. Ezequiel Carrera, LF
8. Kevin Pillar, CF
9. Ryan Goins, 2B

Aaron Sanchez, P
Cash Kruth is a reporter for MLB.com. Follow him on Twitter at @cashkruth. This story was not subject to the approval of Major League Baseball or its clubs.