Cleveland expects full 'pen for Game 4
All relievers available to back up Kluber starting on short rest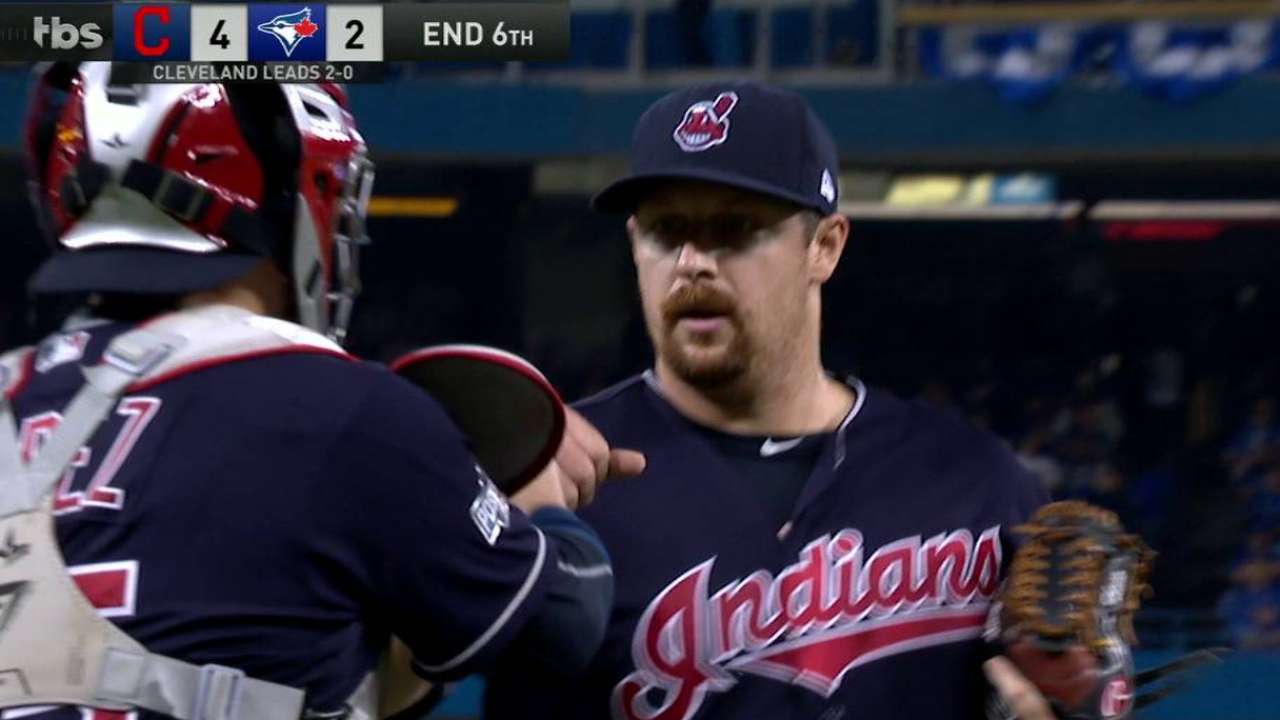 TORONTO -- Indians manager Terry Francona has been lauded this postseason for his bullpen management, and his unorthodox yet effective usage in Monday's 4-2 win in Game 3 of the American League Championship Series put the Tribe on the brink of the World Series and in the perfect position to get it done. Cleveland should have all of its relievers available for Tuesday's potential series clincher at Rogers Centre.
After starter Trevor Bauer was lifted after two-thirds of an inning, Francona scattered the final 8 1/3 innings between six relievers. No Indians reliever tossed more than 28 pitches, a tactic that was clearly by design with two more potential road games Tuesday and Wednesday, if necessary. Bauer faced just four batters and threw 21 pitches before leaving the game due to an aggravation of a finger laceration he suffered Thursday.
• ALCS Game 4: Today at 4 p.m. ET on TBS/Sportsnet/RDS
"We used a large number of [pitchers] today, but nobody really was overworked," Francona said after Monday's victory. "I think [Bryan] Shaw threw 28 pitches, which was really the most. I'm guessing everybody will be available tomorrow."
While it remains to be seen how much Francona can ask of Shaw and closer Cody Allen (27 pitches) on Tuesday, two of Cleveland's other high-leverage relievers in Dan Otero and Andrew Miller experienced relatively light workloads. Otero, pitching for the first time in 10 days, required 20 pitches, while Miller needed just 21, a far cry from the 54 combined pitches he threw in Games 1 and 2. Jeff Manship chipped in with 1 1/3 innings on 20 pitches, and Zach McAllister needed 12 pitches in his lone frame. The Indians became the first team in history to notch a postseason win without any pitcher recording at least six outs.
Cleveland did not have to turn to Ryan Merritt -- who had been considered a potential starting option for Game 4 -- in long relief, a positive sign if ace Corey Kluber runs into trouble pitching on short rest for the first time in his Major League career Tuesday. Merritt is tentatively scheduled as the starter for Game 5, if necessary.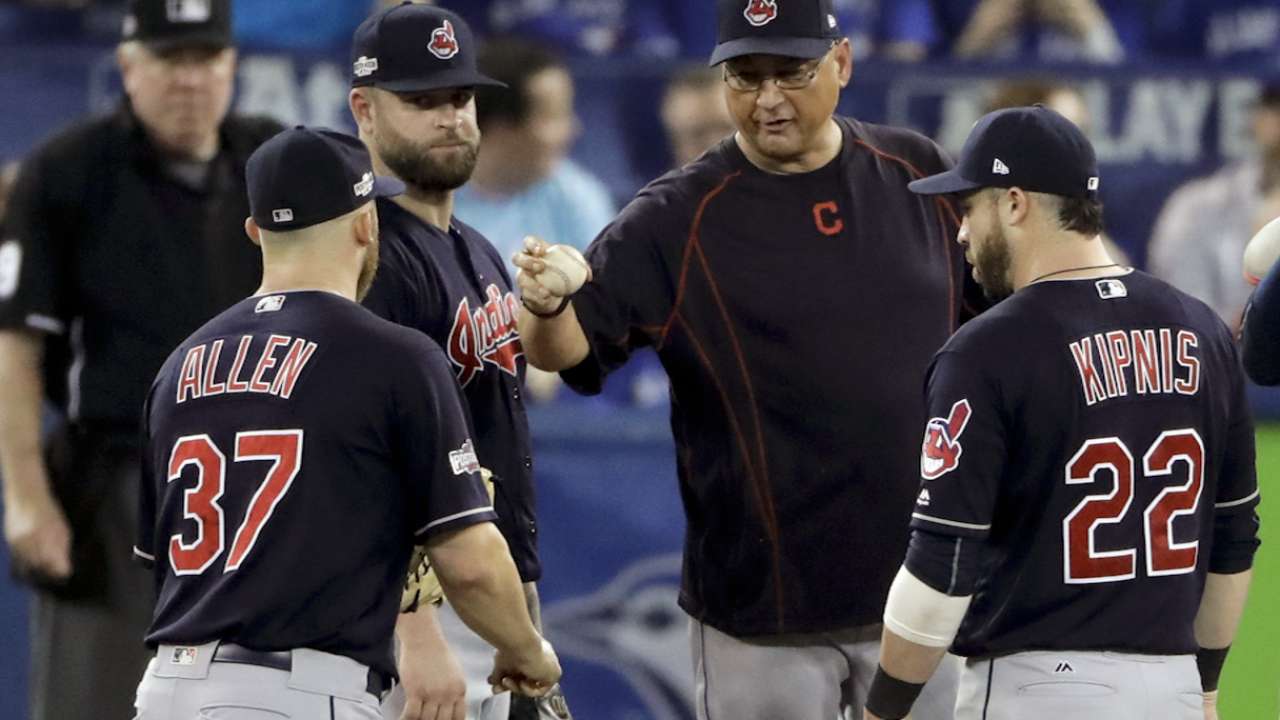 "[Francona] does a great job of putting guys in situations to have success," Shaw said. "He tries to not bring guys in where they have an opportunity to go fail. He does a really good job of that. I think everybody comes in and respects when they come in and basically goes along with it because they know that he knows what's best for us and what's best for the team."
The decision to start Kluber on short rest was influenced in part by the need to have a starter in place for a potential Game 7.
"If we don't bring him back [Tuesday] and he pitches Game 5, we don't have a starter for Game 7," Francona said. "I mean, we have to physically have a starter. So this is the best way to do it. I mean, this is the only way to do it. There's no other way around it. We don't have another starter right now."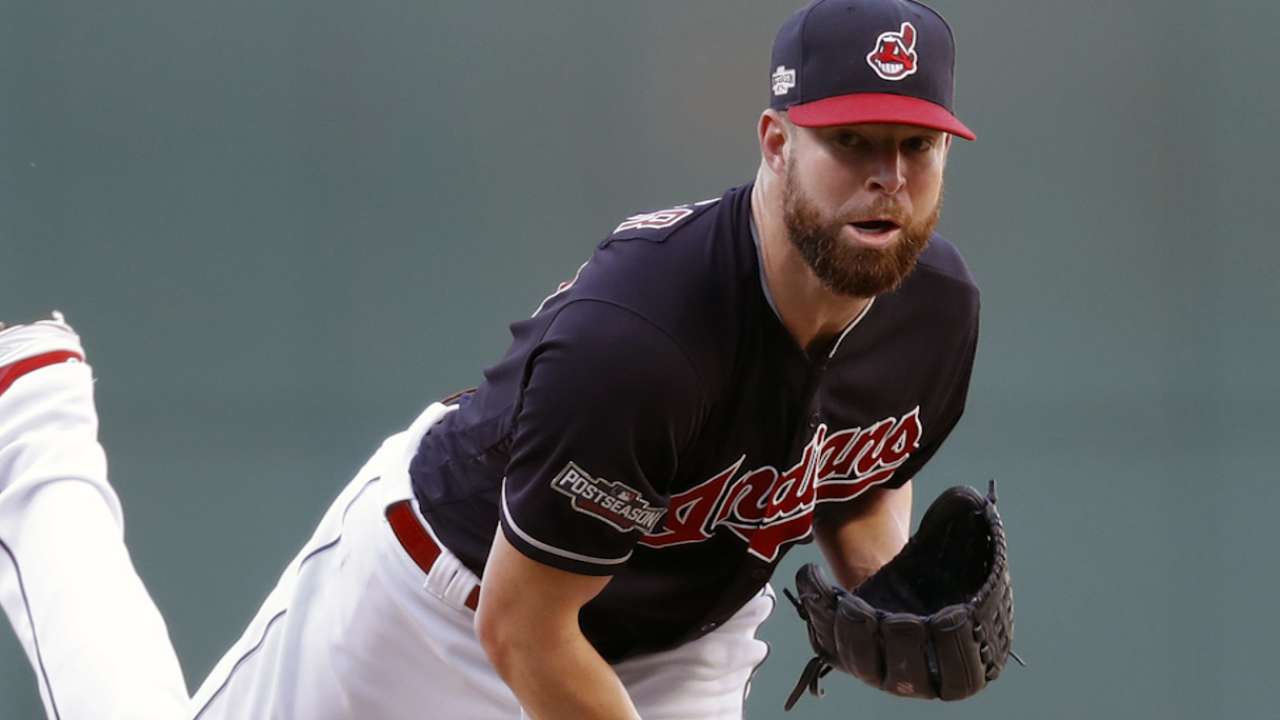 Kluber has pitched 13 1/3 scoreless innings over his two starts in the postseason for the Indians, and team president Chris Antonetti did not put it past the 2014 AL Cy Young Award winner to be his usual dominant self Tuesday.
"He does a great job of conditioning his body and putting himself in a spot, in a position, to do that," Antonetti said. "Exactly what that will be, who knows? We'll have to leave that up to the game. The one thing I have great confidence in is Tito knowing when it's the right time for him."
Alykhan Ravjiani is a reporter for MLB.com based in Toronto. This story was not subject to the approval of Major League Baseball or its clubs.