McBroom hits two home runs, drives in seven for Mesa
Blue Jays No. 28 prospect takes AFL RBI lead behind two homers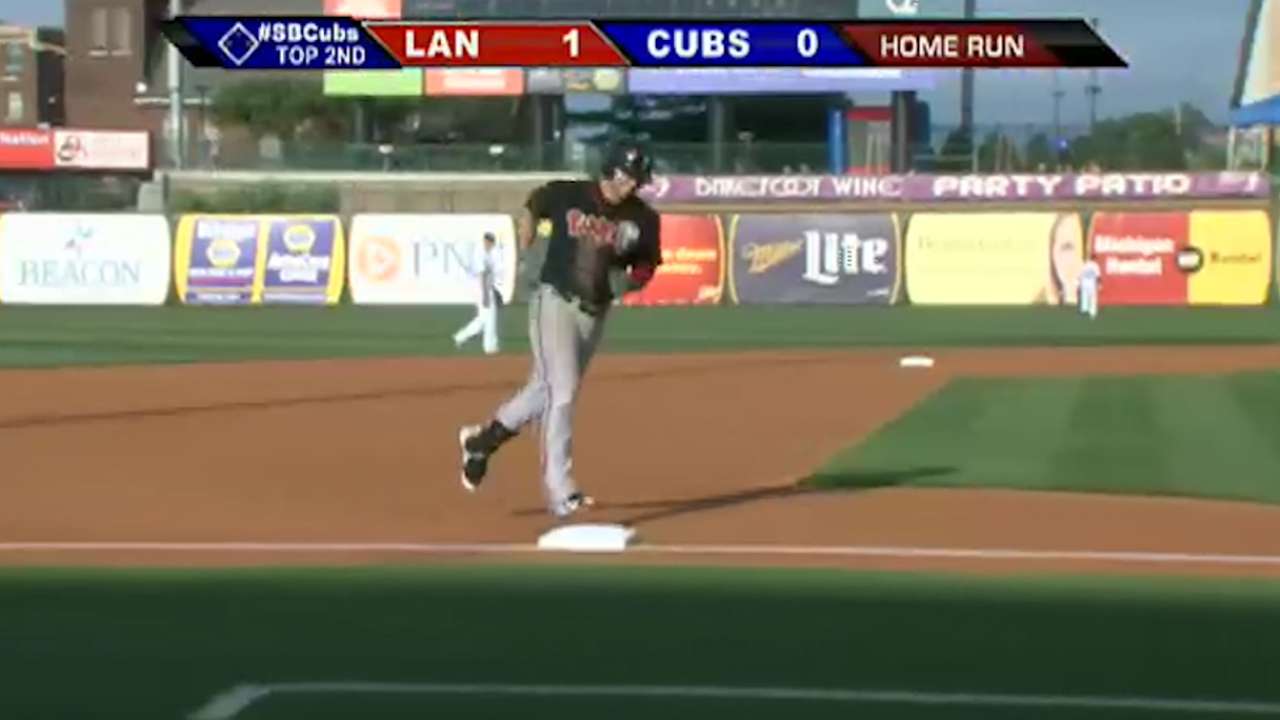 SCOTTSDALE, Ariz. -- Ryan McBroom's power was on full display as the Blue Jays' No. 28 prospect had perhaps the best offensive night of his career.
With a pair of mammoth homers, McBroom put together his first career multi-homer game, set a career-high with seven RBIs -- giving him an AFL-best 10 RBIs through five games -- and led Mesa to a 12-2 win over Scottsdale on Monday night at Scottsdale Stadium.
"I've never had a two-homer game in my life," the 6-foot-3, 230-pound first baseman said. "I did have a grand slam this year, that was to the opposite field, just like the one today. But never have I ever had two homers in a game. It's a pretty exciting feeling, especially against some of the best arms around. It felt good to go out there tonight and put on a performance like that."
• Gameday
McBroom's night got off to a slow start as he was called out on strikes in the first and flied out to center in the fourth.
The 24-year-old then settled down and focused on his approach.
"My first at-bat, I was uncomfortable, I was thinking about my body and my stance," McBroom said. "Then I was like, 'you know what, just go up there and do what you've always done. Do what you work on in BP and attack fastballs.' And that's what I did."
Although only one of McBroom's homers came on a fastball -- the other on a slider -- the mindset paid dividends.
McBroom capped a six-run fifth with a three-run homer out to left field and then put the finishing touches on Mesa's win with ninth-inning grand slam to right.
Although the performance marked the first multi-homer game of McBroom's young career, the power display shouldn't come as a huge surprise considering he hit a career-high 22 homers in 128 games between Double-A New Hampshire and Class A Advanced Dunedin this season.
"I just trusted myself," McBroom said of his success this season. "My first two years, I had some homers, but I wasn't really committing myself to pitches -- I was being passive. This past year, I turned it up a little bit and started being aggressive and trusting my eyes and my body. It worked out for me."
While McBroom stole the spotlight, he wasn't the only offensive star for Mesa, as the Solar Sox totaled 12 runs on 11 hits.
In the first inning, Anthony Alford (Blue Jays' No. 3, No. 86 overall), hitting second in the Mesa lineup, doubled down the right field line and promptly scored when Cleveland's top prospect Bradley Zimmer doubled off the center-field wall.
Zimmer, the No. 25 prospect in all of baseball, flashed the speed that allowed him to steal 38 bases this season as he was flying around the bases and would have likely had a triple, but held up as Alford got a late break, waiting to make sure the ball wasn't caught. The extra 90 feet didn't end up making any difference as Zimmer, who went 1-for-1 with four walks and two stolen bases, scored two batters later when Brian Anderson (Marlins' No. 4) blooped a single into shallow center field.
The Scorpions' pitching staff kept Mesa off the board from the second through the fourth innings, but in the fifth the Solar Sox broke the game open.
Mesa sent nine batters to the plate in the frame, scoring six runs on four hits and a walk.
Anderson and Danny Jansen (Blue Jays' No. 30) each collected RBIs in the frame before McBroom capped the inning with his first blast of the evening.
"We have a very lethal offense," said McBroom, Toronto's 15th-round pick in 2014. "If everyone is rolling on the same wheel, we're all feeling pretty good at the plate, it's a dangerous offense."
The Scorpions didn't have a ton of offensive highlights, with Gavin Cecchini (Mets' No. 3) and Taylor Ward (Angels' No. 3) collecting one RBI each. However, Scottsdale did flash defensively. Ward fired a strike to second base to nab a potential basestealer in the second and Giants No. 21 prospect Hunter Cole made a diving catch to take away a hit from Anderson in the third.
William Boor is a reporter for MLB.com. Follow him on Twitter at @wboor. This story was not subject to the approval of Major League Baseball or its clubs.