Statcast of the Day: Crisp robs Donaldson
Sliding seventh-inning grab in left field erased potential rally for Blue Jays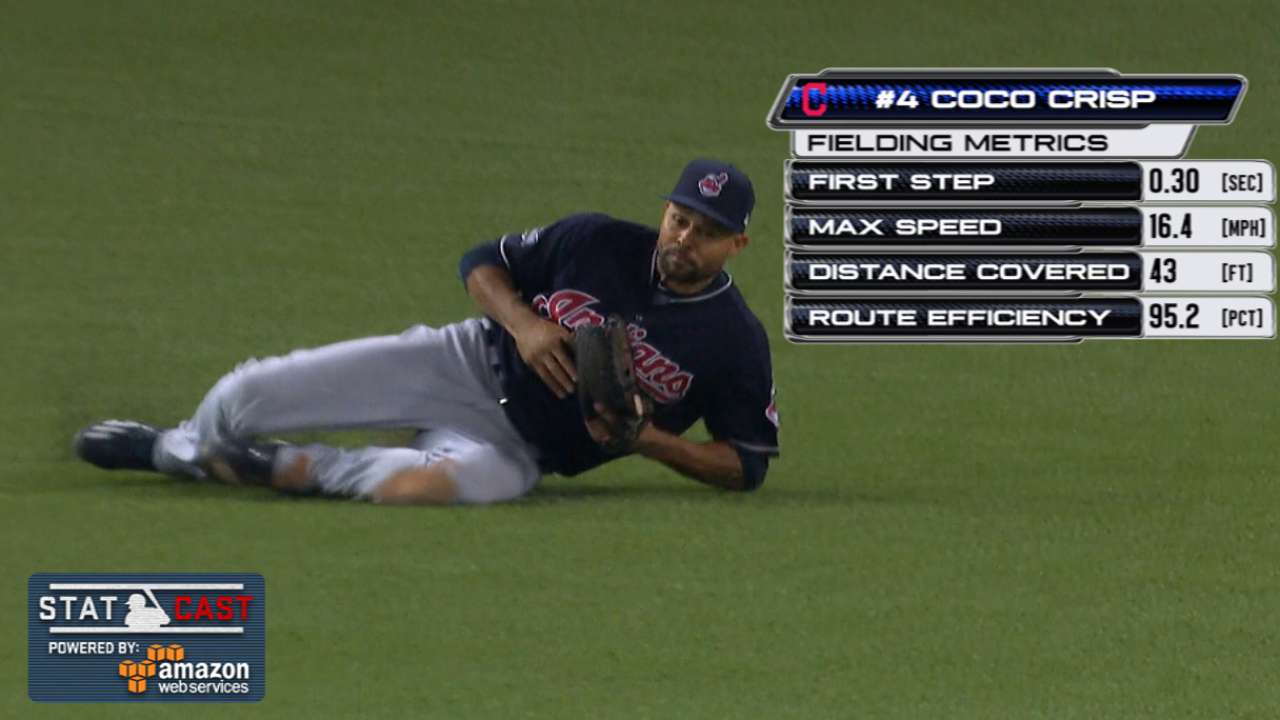 At a crucial moment for the Blue Jays on Monday night, in the bottom of the seventh inning, Josh Donaldson squared up a pitch for what could have been a breakthrough hit. But in an American League Championship Series that has been full of frustration for Toronto, the ball wound up in the glove of sliding Cleveland left fielder Coco Crisp.
Crisp's catch squelched a rally, and the Indians went on to take a 4-2 victory at Rogers Centre and a commanding 3-0 lead in this best-of-seven series.
• ALCS Game 4: Today at 4 p.m. ET on TBS/Sportsnet/RDS
As Statcast™ shows, good fortune was not with Donaldson on this particular play, when he faced Tribe right-hander Cody Allen with runners at first and second and two outs in the seventh. The Jays trailed by two runs and needed the reigning AL MVP Award winner to deliver his fifth hit in five at-bats with men in scoring position this postseason.
Allen entered Monday having not allowed a run in five innings during the playoffs, and he held right-handed batters to a .501 OPS in the regular season. But when Allen started Donaldson with a curveball at the bottom of the zone, Donaldson went right after it. That was a strategy the Blue Jays third baseman used with great effect during the regular season, when he batted .459/.477/.885 with five doubles and seven homers in 61 at-bats on the first pitch.
This time, Donaldson connected at an exit velocity of 91.3 mph and a launch angle of 15 degrees, according to Statcast™. Batted balls with similar traits had fallen for hits a resounding 90 percent of the time this year, and back in Game 1 of the AL Division Series against the Rangers, Donaldson himself hit one similarly (91.2 mph, 12.5 degrees) that dropped for a single to center field.
Unfortunately for the Jays, this liner to left didn't find the same result. Crisp took his first step in 0.3 seconds, raced in and made a sliding basket catch on the sinking liner.
It was by no means an easy play for the 15-year veteran, a longtime center fielder. However, Statcast™ shows that the ball had a hang time of 3.3 seconds and a projected landing spot that was 38 feet from where Crisp started the play. This season, when an outfielder faced those circumstances, he made the catch 70 percent of the time.
The catch actually would have been much easier for Crisp had he been stationed 295 feet from home plate, his average depth this season as a left fielder. Of course, Donaldson's presence at the plate affected the Indians' positioning. Left fielders had started an average of 305 feet from home against Donaldson this year, and Crisp was even a bit more cautious than that, at 309 feet.
"I was a little bit surprised where the left fielder was playing due to the circumstances, with [Donaldson] hitting and the two-run lead," Toronto center fielder Kevin Pillar said. "But you look back on tape, and he wasn't actually playing very shallow. He just made a great play. He had a good read, and that's what he's out there to do. You ask me, if we bring the [potential] go-ahead run in the seventh inning with JD up, I like our chances."
That extra distance Crisp had to travel ramped up the degree of difficulty. But Crisp, who will turn 37 on Nov. 1, was up to the task, putting an end to the inning.
Allen and Andrew Miller retired six of the final seven Toronto batters from that point, putting Cleveland one win away from its first trip to the World Series since 1997.
Andrew Simon is a reporter for MLB.com. Follow him on Twitter @AndrewSimonMLB. This story was not subject to the approval of Major League Baseball or its clubs.