MLB.com Columnist
Mike Bauman
LA needs rotation to follow ace's example
Dodgers have yet to win game this postseason without Kershaw pitching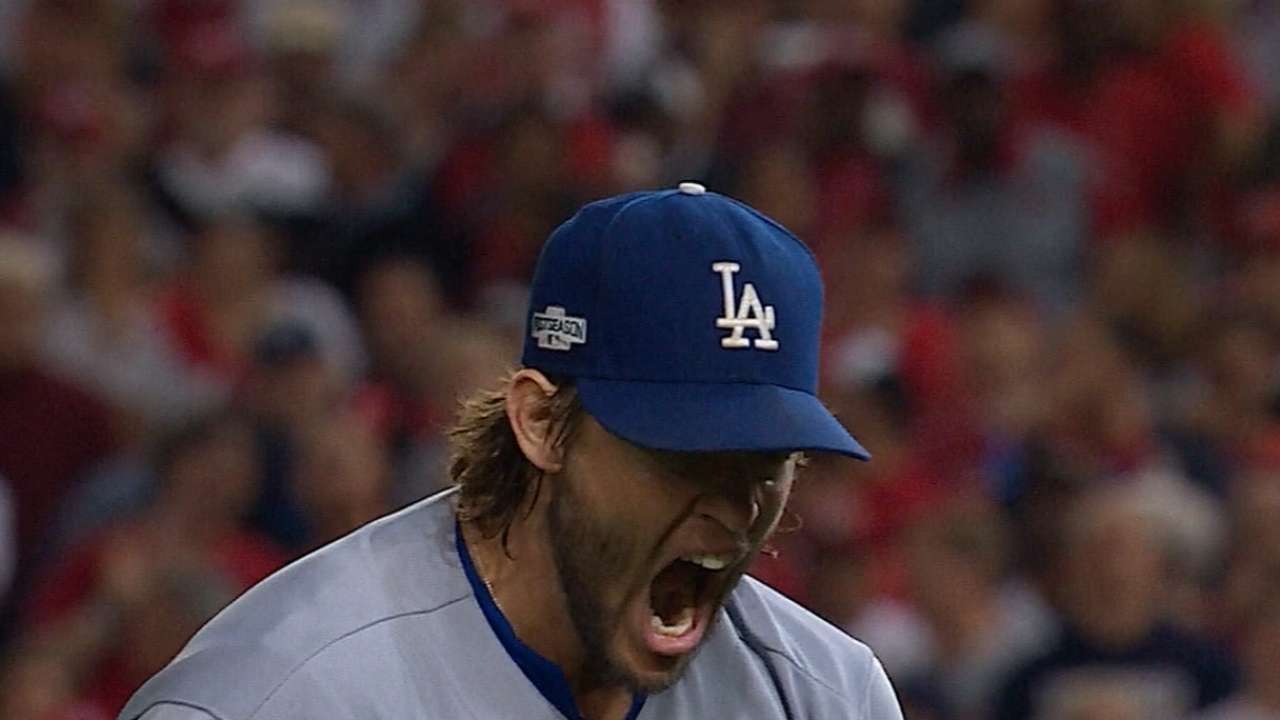 LOS ANGELES -- In the 2016 postseason, the Dodgers are 4-0 in games Clayton Kershaw appears in. They are 0-3 in games in which Kershaw does not pitch.
Let us resist the urge to advise the Dodgers to leap on this trend and pitch Kershaw every game in the National League Championship Series against the Cubs. We can proceed to a slightly more subtle point about Kershaw's work and the Dodgers' chances of reaching the World Series.
• NLCS Game 3: Tonight at 8 ET/5 PT on FS1
Pitching on short rest, pitching out of the bullpen and then pitching seven brilliant shutout innings in Game 2 against Chicago has reinforced the notion that Kershaw can be as great in October as he routinely is the rest of the time.
That makes this a different sort of series, different from the one in which Chicago initially appeared to be prohibitive favorites.
"I really think it's a pretty evenly matched up series," Cubs manager Joe Maddon said Monday. "That's how I see it.
"You saw their team on the field. They definitely get after it. The whole group gets after it. The shortstop [Corey Seager] is among the best players in the game right now at a very young age. I'm very happy with our pitching staff, but I know they are also [happy with their pitching staff]."
The Dodgers could really use one more starter to not just pitch well, but deep into a game. Kenta Maeda's two postseason starts -- covering seven combined innings -- have not been promising, although the 28-year-old right-hander was a consistent performer in the regular season.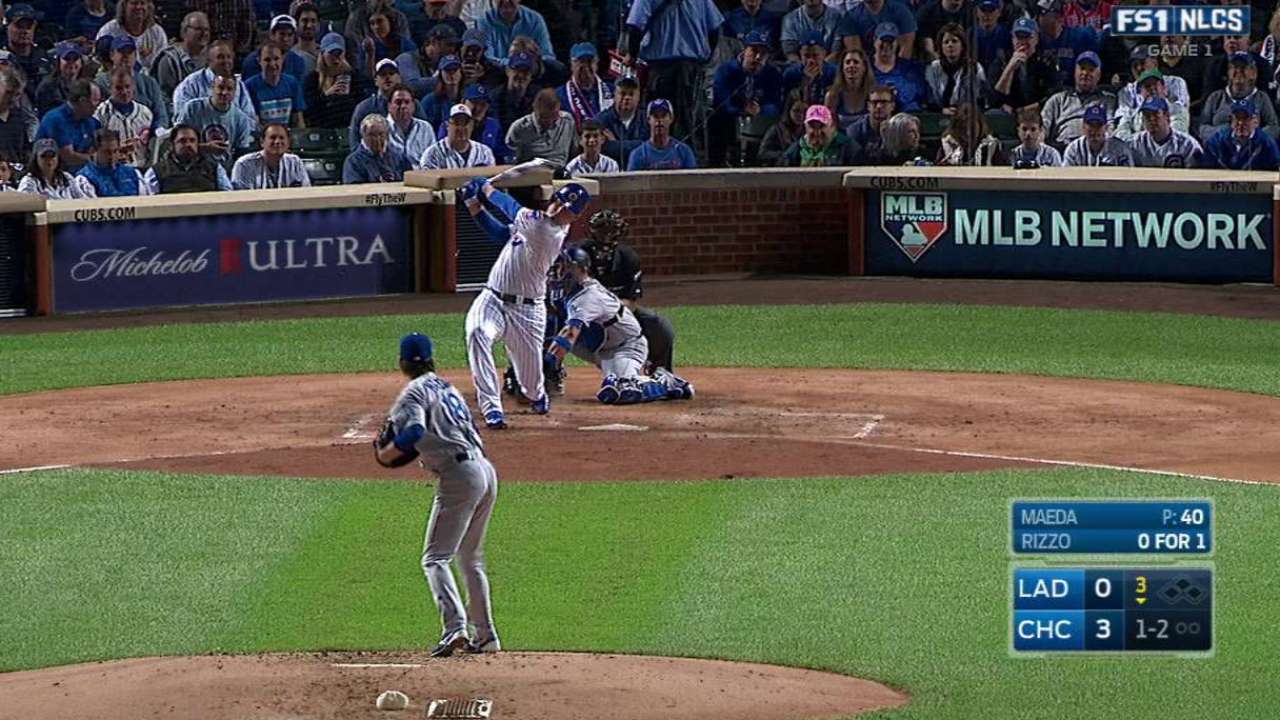 Veteran lefty Rich Hill, who will start Game 3, also has worked only seven innings in two starts, but he also has 13 strikeouts. Hill pointed out that in Game 5 of the NL Division Series against Washington, he was pulled far earlier than he normally would have been because "it was a win-or-go-home situation."
Hill was 12-5 with a 2.12 ERA in 20 starts this season between the A's and Dodgers with 129 strikeouts in 110 1/3 innings. He has pitched at a significant level throughout the season, and Los Angeles will hope he can pitch that well in the postseason.
Julio Urias, a 20-year-old southpaw with extremely promising stuff, has drawn the Game 4 start in this series. Urias competed successfully at the big league level during the regular season, but the Dodgers have been understandably judicious with his pitch counts. He could pitch effectively in the NLCS, but loads of innings should not be expected from him.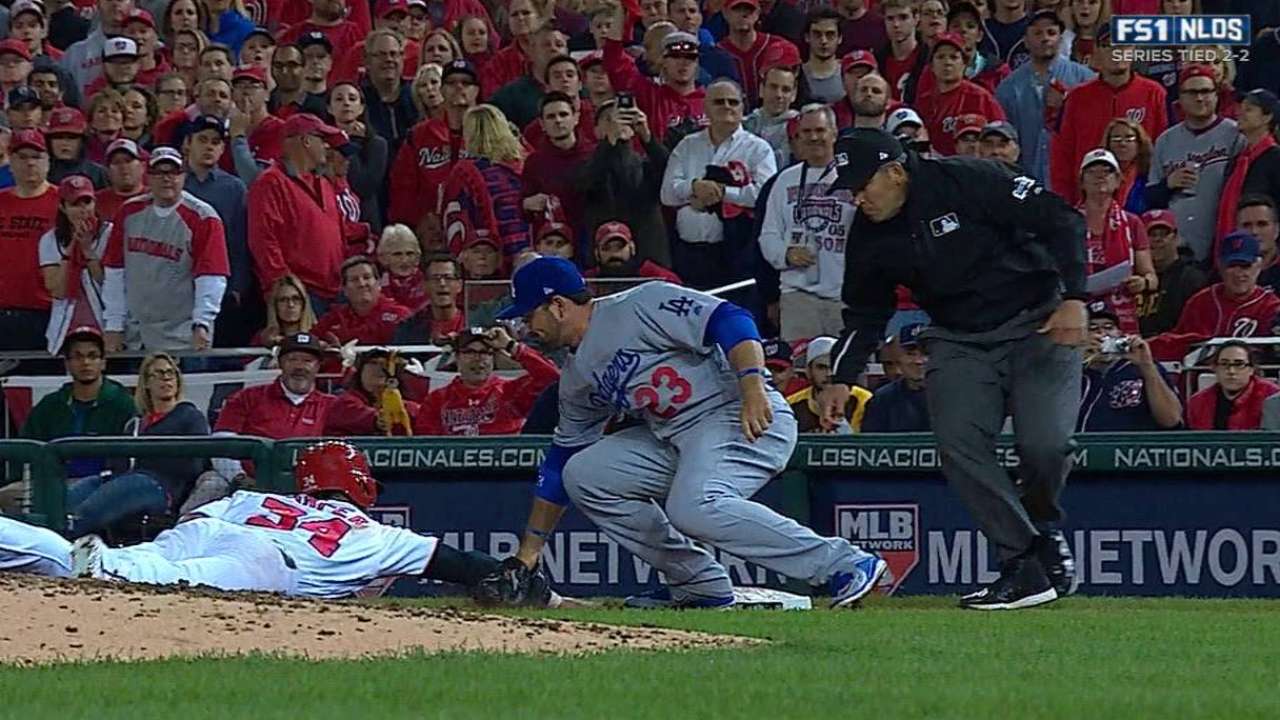 The most conventional way for the Dodgers' rotation to pick up the pace would be to find at least one pitcher to give them six or seven highly competitive innings and take the pressure off the bullpen. But don't forget that Los Angeles beat the Nationals in the NLDS while getting length out of only Kershaw. The Dodgers' bullpen has been doing work characterized by both quality and quantity.
After seven postseason games, which Dodgers pitcher ranks second in innings pitched behind Kershaw's 19 1/3? That would be closer Kenley Jansen with 7 1/3 innings. Manager Dave Roberts is using him the way the first modern generation of closers, like Bruce Sutter, Rollie Fingers and Goose Gossage, were used: for multiple innings. And that worked like a charm in Game 2, when Jansen threw two innings in relief of Kershaw, retiring six straight Cubs, striking out four.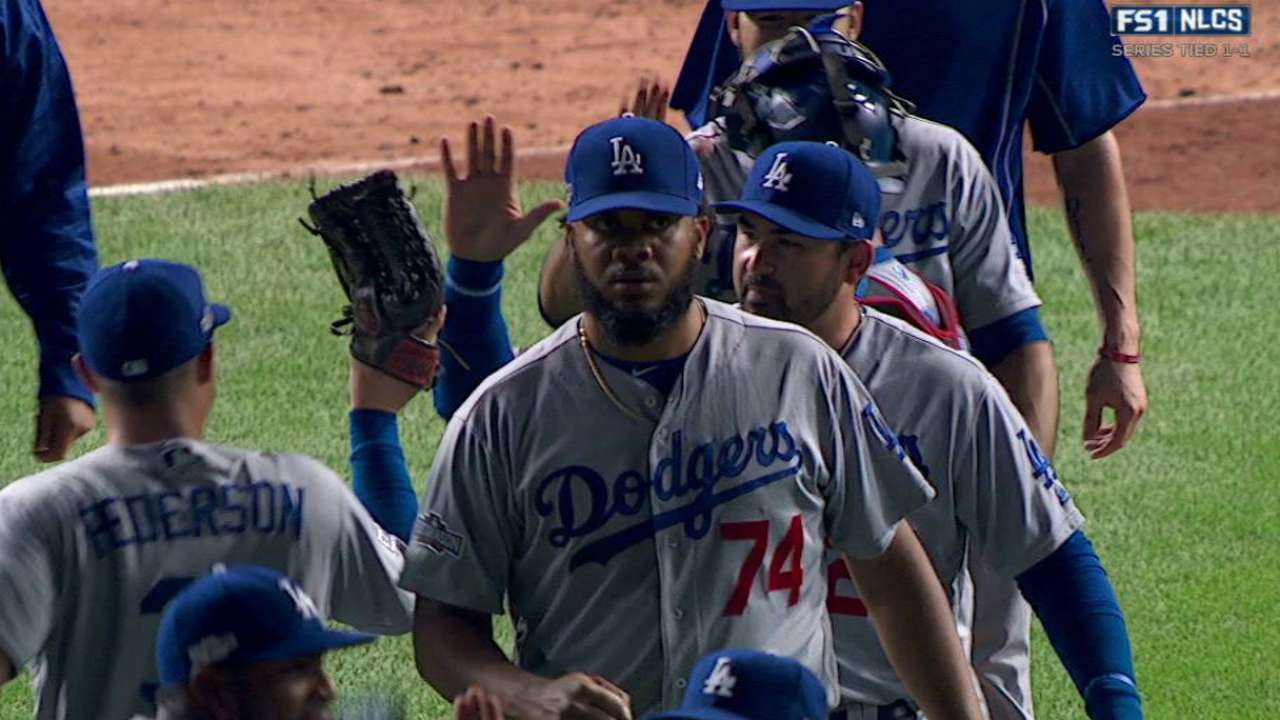 This would not be the advisable, conventional, or even easiest way to proceed, but it is possible that the Dodgers could win another postseason series getting length out of one starter. Beating the Cubs in a seven-game series is a more difficult proposition than defeating the Nats in five, but there is a precedent.
"You know, I think that we've kind of shown throughout this season that there is really no one way to win a division, to win a series, to win a game," Roberts said Monday. "I understand it's still the postseason, but I think for our guys it's really we're focused on each day to win that baseball game, and whatever way that game plays out, our guys are prepared to audible.
"So for me, maybe is it ideal? Probably not, but that's OK."
With their ace solidly in postseason place, with the NLCS tied at 1-1, the various paths to victory seem fully plausible for the Dodgers.
Mike Bauman is a national columnist for MLB.com. This story was not subject to the approval of Major League Baseball or its clubs.