MLB.com Columnist
Richard Justice
Blue Jays believe they can swing series
Gibbons feels offense is due to erupt in must-win Game 4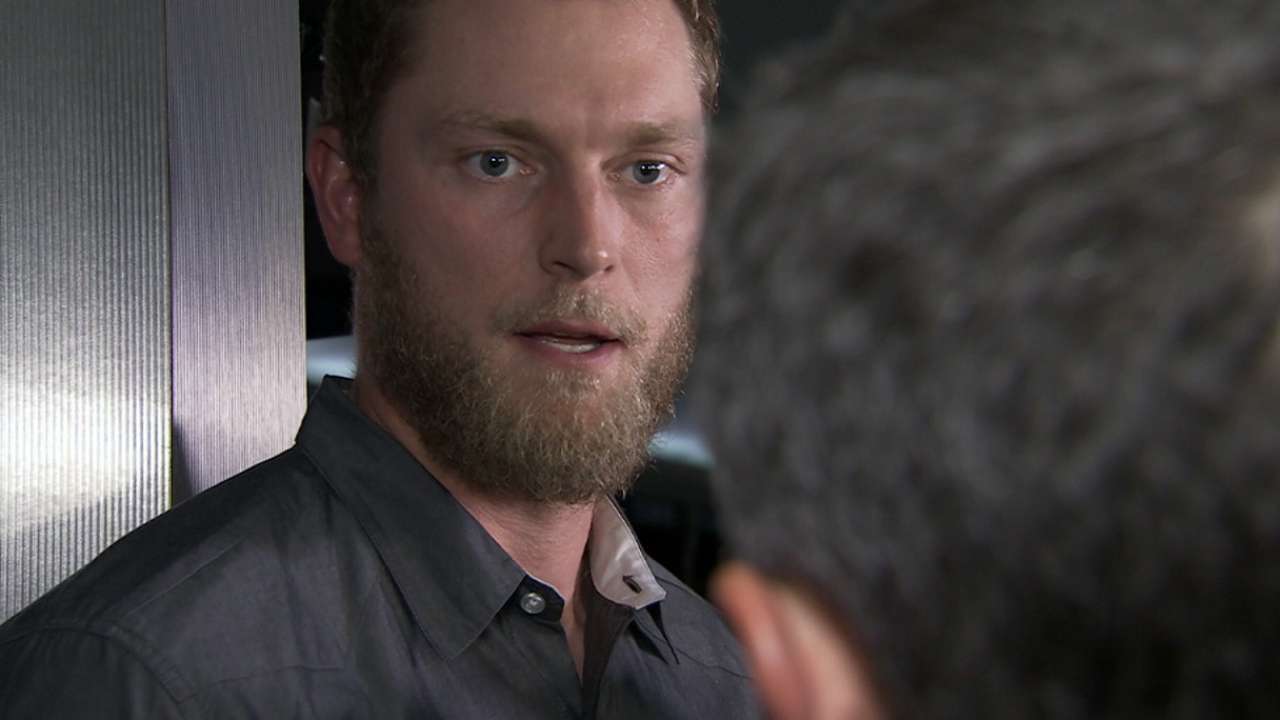 TORONTO -- Opportunities? Yes, the Blue Jays have had a few. That's the thing that still gives them hope.
"We don't have any choice," catcher Russell Martin said. "We either win or go home, and I don't want to go home. I don't think anyone in this clubhouse wants to go home."
• ALCS Game 4: Today at 4 p.m. ET on TBS/Sportsnet/RDS
The Blue Jays lost a third straight game to the Indians on Monday night -- a 4-2 loss in Game 3. Another close one.
They've lost three in a row by scores of 2-0, 2-1 and now 4-2. In the end, that does not matter.
Cleveland holds a 3-0 lead in the American League Championship Series and can eliminate Toronto as soon as Game 4 on Tuesday afternoon at Rogers Centre.
"Surprised? Nothing much surprises me anymore in this game," Martin said. "But I definitely was expecting to score some more runs. Maybe we're just saving it for Games 4, 5, 6, 7. I hope so. We've got another one tomorrow. It's not over. That's the attitude I'm taking."
Monday's game had the look and feel of the others. Even after Indians starter Trevor Bauer was forced out with a bloody right pinkie with two out and two runners on base in the bottom of the first inning.
The Blue Jays had an opportunity. In dozens of other games this season, they would have capitalized on the opportunity.
"On any given day, if you want to face somebody's bullpen over their starter, that's what you'd battle to get to," Martin said. "Unfortunately for us, their bullpen did a pretty good job today."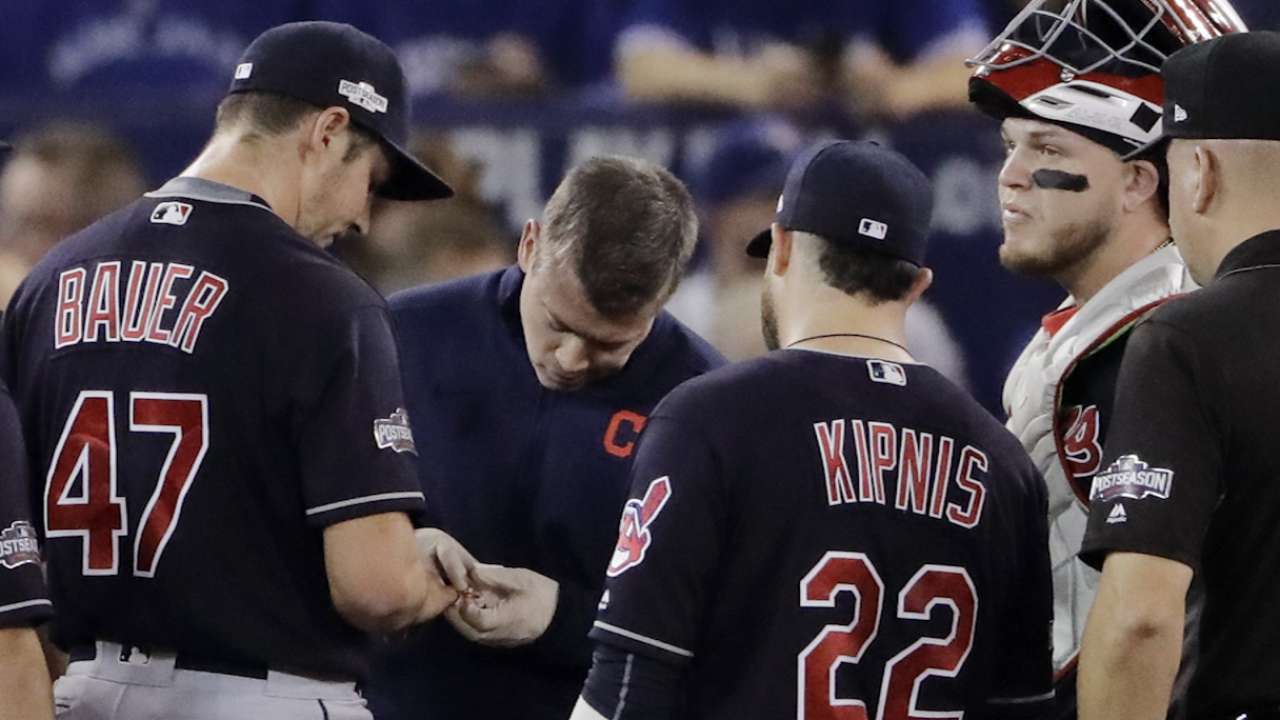 This entire series, Cleveland has baffled Toronto's hitters by pitching backwards. That is, by throwing a large number of breaking pitches and using them to set up fastballs.
Only that's not what happened in the bottom of the first inning after Bauer's exit. Reliever Dan Otero threw Martin two straight fastballs, and Martin grounded the second one to second base to end the inning.
"He was one of the only guys that threw me some fastballs," Martin said. "You gotta adjust. It's a game of adjustment."
Indians manager Terry Francona did a brilliant job in getting through the game, using six relievers, who combined to allow two earned runs in 8 1/3 innings.
Martin's at-bat in the first inning turned out to be important. There would be just one other time when a Blue Jays hitter came to bat with two runners on base.
Trailing 4-2 in the seventh inning, the Blue Jays had their main man, third baseman Josh Donaldson, at the plate.
Donaldson knew the game plan. He stepped into the batter's box thinking curveball. When Tribe reliever Cody Allen delivered one, Donaldson smashed a liner to left field.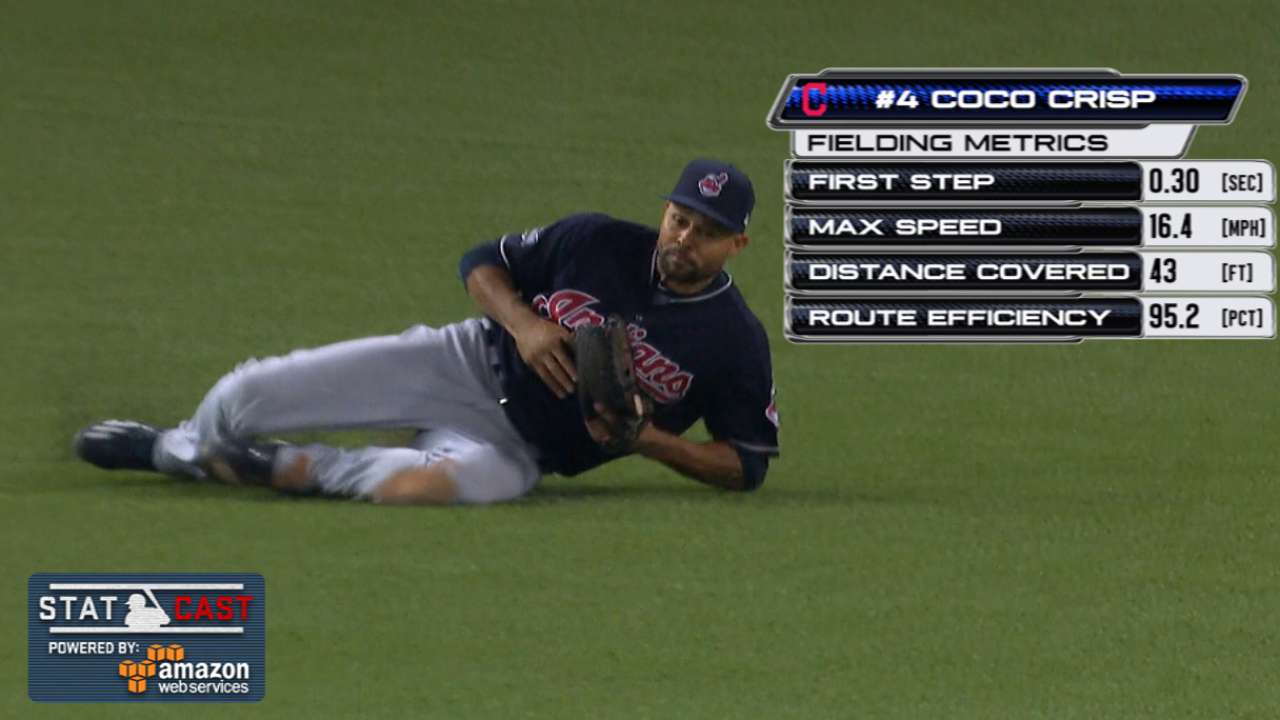 Had it fallen, Toronto would have scored one run and perhaps two. The Blue Jays would have had life.
"That's a great lineup over there," Allen said. "Having to pitch to those guys with traffic is not something you look forward to, but you're going to have to do it."
Instead, Indians left fielder Coco Crisp sprinted in and scooped the ball into his glove, robbing Donaldson of a hit. Donaldson flung his batting helmet to the turf as Cleveland trotted off the field.
The Blue Jays would not get another runner into scoring position. They've scored three runs in 27 innings and are hitting .177 for the series.
"Personally, I'm not having very good at-bats," Martin said. "I've just got to swing at strikes. I feel like I'm chasing a hit right now instead of taking my walks. I've got to be more disciplined at the plate."
This isn't how Toronto thought it would play out, especially after winning its first four postseason games and hitting 10 home runs.
Now, the Blue Jays are on the brink of elimination.
"I still believe our offense is due to erupt," manager John Gibbons said. "It hasn't happened yet. But I've seen it too many times. Hopefully tomorrow is that day. We'll see."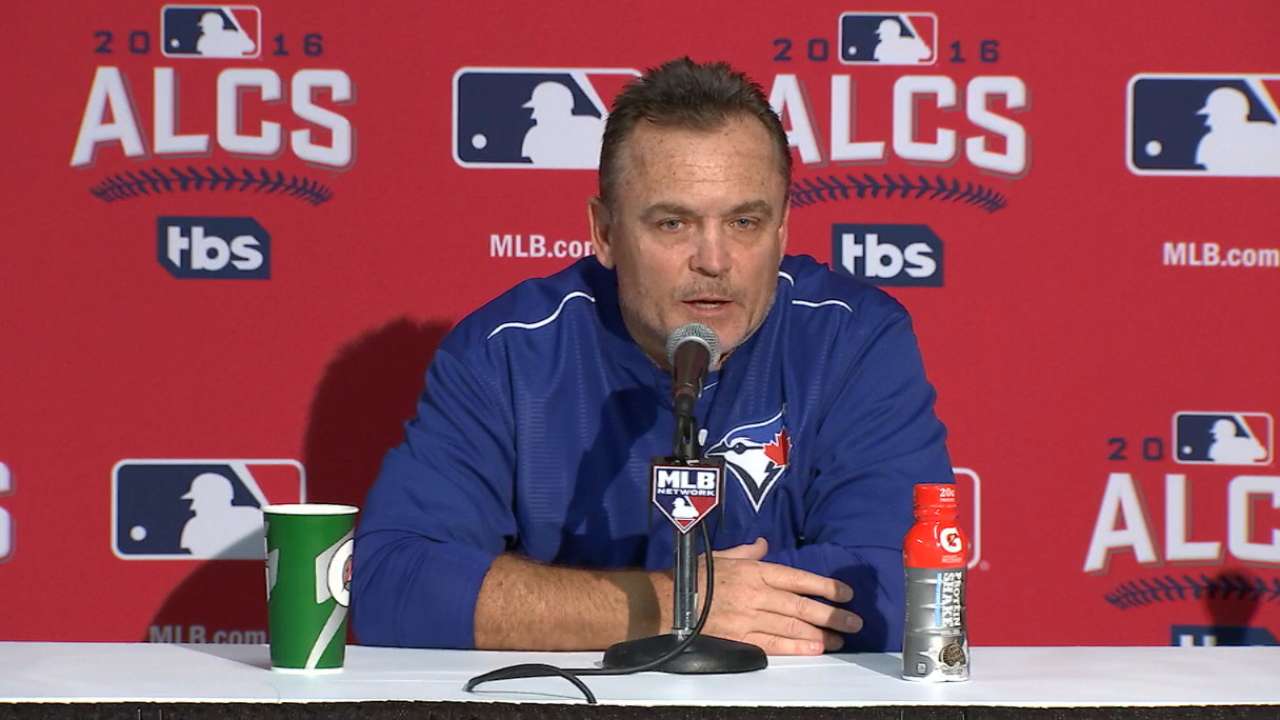 That was the theme around the clubhouse. Toronto's margin of error is zero, but it also has ace right-hander Aaron Sanchez pitching against Cleveland ace Corey Kluber in Game 4. Kluber will be on short rest, while Sanchez is on extra rest.
"We just haven't been able to get the big hit," Blue Jays center fielder Kevin Pillar said. "It's as simple as that. It's not from a lack of effort. Everybody here wants to win. Everybody here cares. That's just how it goes sometimes.
"They're sitting over there with a 3-0 lead because they're getting the timely hits. They've been very competitive games. They just seem to come up with the big hit when they needed it."
Richard Justice is a columnist for MLB.com. Read his blog, Justice4U. This story was not subject to the approval of Major League Baseball or its clubs.