Bauer's bloody pinkie forces exit in Game 3
TORONTO -- Game 3 of the American League Championship Series did not go as planned for Trevor Bauer, despite the Indians' eventual 4-2 victory. And that's putting it gently.
Making his second career postseason start, Bauer lasted all of 21 pitches Monday, exiting the game after two-thirds of an inning with a stream of blood dripping down his lacerated right pinkie finger. He first suffered the injury Thursday, and the stitches he received didn't hold up to the strain of pitching in a big league postseason game.
• ALCS Game 4: Today at 4 p.m. ET on TBS/Sportsnet/RDS
The possibility was something that Cleveland was aware of all along. Bauer first suffered the injury while performing maintenance on his drone Thursday evening. Still, despite the Indians' heroic bullpen effort, the 25-year-old Bauer expressed a range of emotions after Monday's game.
"Disappointment that I couldn't pitch," Bauer said. "I'm pretty even-keeled when it comes to that stuff. It is what it is. I did everything I could to go out there and pitch. We treated it, did everything we could. It started bleeding on me. I'm a competitor. I wanted to be out there."
While Major League Baseball rules forbid any type of accessary to be attached to the hand, Bauer -- who was initially slated to start Game 2 before being pushed back -- did feature 10 stitches on his pinkie finger.
A noticeably frustrated Bauer was escorted off the field by Indians athletic trainer James Quinlan, after Blue Jays manager John Gibbons requested home-plate umpire Brian Gorman examine the pitcher's finger four batters into the game. Blood was also found smeared on Bauer's uniform.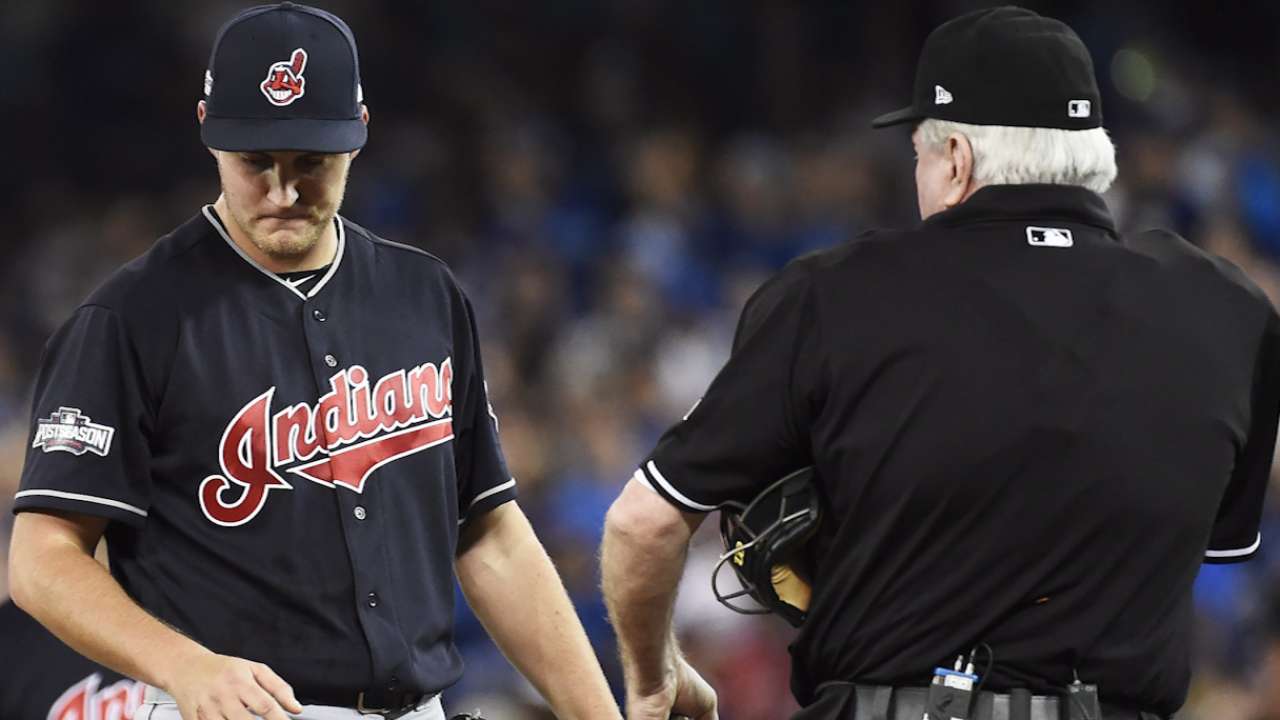 "When I went out there, I mean -- first thing I saw was blood on the rubber," Indians manager Terry Francona said. "I figured that wasn't a real good sign that things were going well. It was bleeding pretty good. The weird thing, it was only one little spot that opened, but, man, it was coming out a lot. And Gibby actually called me, he said -- he goes, 'That's not really what we wanted to do,' but I get it. I mean, shoot, it was only a matter of time until everybody saw it. It was bleeding pretty bad."
• Francona thinks Bauer should keep bloody Game 3 ball
The outing marked the 12th time in LCS history a starter did not get out of the first inning, with Bauer being the eighth to record just two outs -- and the first since Rick Ankiel in 2000 for the Cardinals.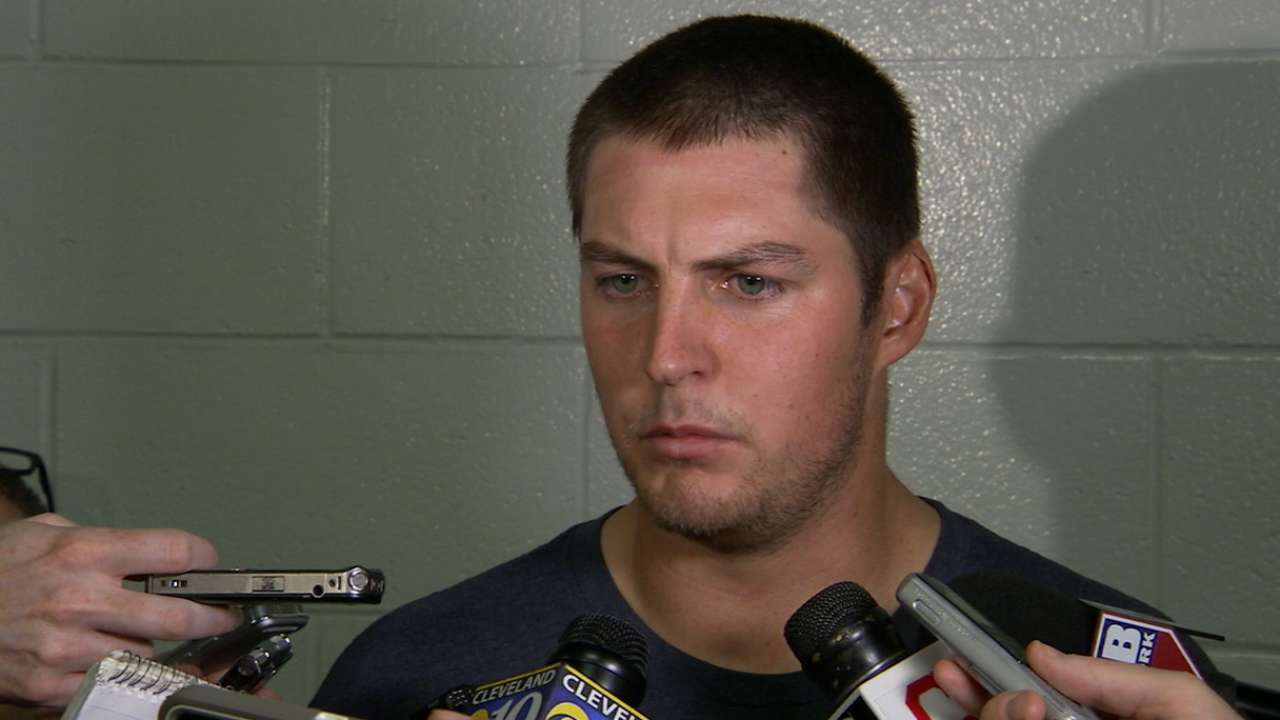 Bauer's start also marked the first time in LCS history that a starter didn't complete the first inning but also didn't allow a run, with Dan Otero entering and escaping the inherited two-on, two-out jam. Six Indians relievers finished the game with 8 1/3 innings of two-run ball.
"What words do you even put on that? Unbelievable, right?" Bauer said about Cleveland's bullpen effort. "They came in and did what they've done all year. They shut the game down easily. They shut it down for 8 1/3. You can't say enough positive stuff about everybody out there. A lot of those guys hadn't pitched in a game in a long time. They did tremendous work to stay ready. They were very effective and co-MVP to everybody down in the bullpen today."
1) what a W!! 2) my cleats got a bit dirty. 3) loudest standing ovation I've gotten walking off the mound. ... pic.twitter.com/1VUozRBSaG

— Trevor Bauer (@BauerOutage) October 18, 2016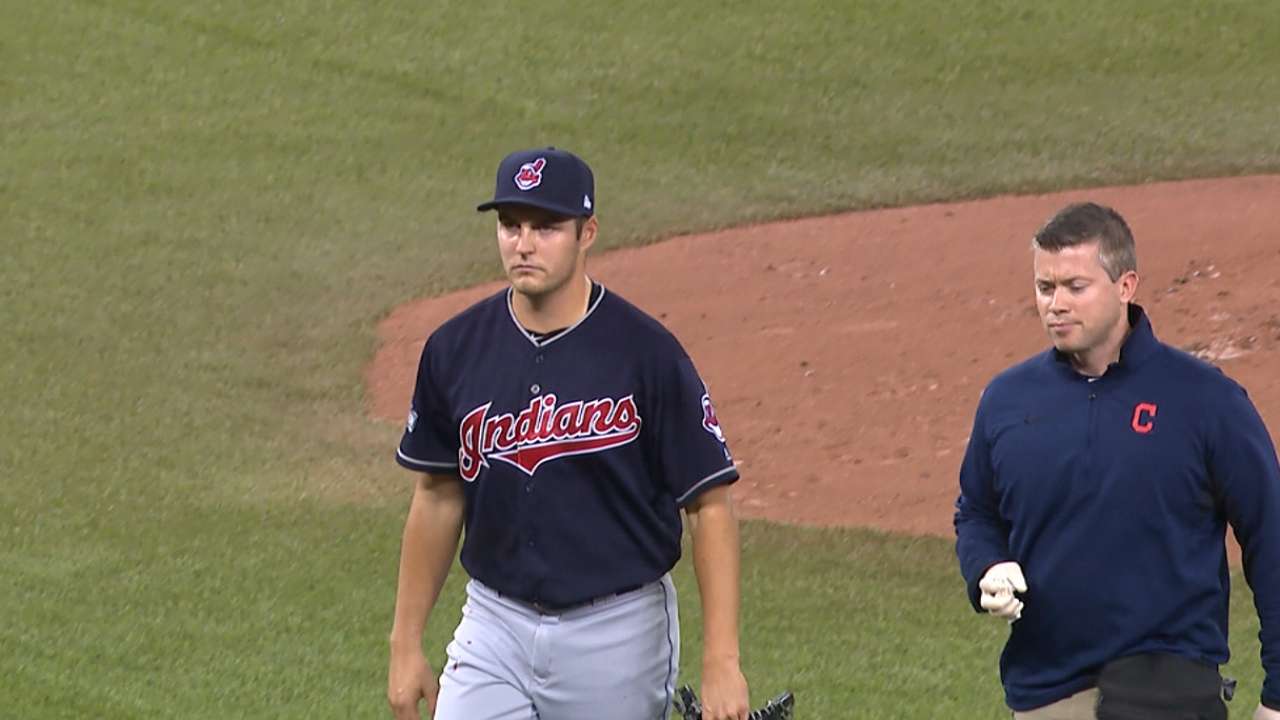 While no further medical update has been given on Bauer's condition, Indians president of baseball operations Chris Antonetti seemed optimistic that Bauer would be able to pitch again this postseason.
"We'll get the assessment from our medical group, but we believe that he'll be able to pitch again this series, if it goes long enough," Antonetti said. "And, if we are fortunate enough to advance, then he still can be an option for us in the World Series."
Alykhan Ravjiani is a reporter for MLB.com based in Toronto. This story was not subject to the approval of Major League Baseball or its clubs.