Sanchez 'excited' for must-win Game 4 start
Righty looks to step up for Blue Jays, who are on brink of elimination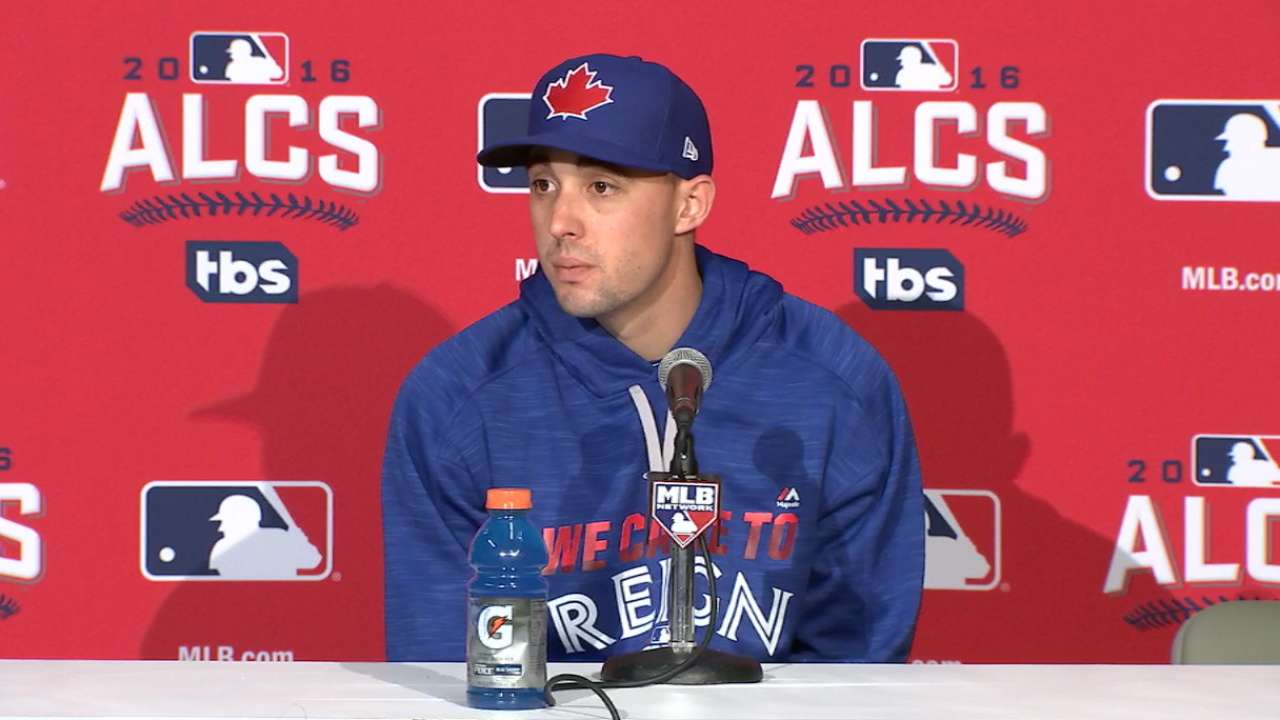 TORONTO -- The most important thing that Aaron Sanchez believes he will need to do in Game 4 of the American League Championship Series is find a way to keep his emotions in check, somehow managing his surging excitement as he takes center stage in the postseason.
That challenge will only increase with the Blue Jays fighting to extend their season, trying to avoid an Indians sweep this afternoon at Rogers Centre. Toronto has its work cut out if it is to claw back in this series, and it must begin with a quality pitching effort from Sanchez.
• ALCS Game 4: Today at 4 p.m. ET on TBS/Sportsnet/RDS
"He's turned himself into one of the better ones in baseball, and he's been solid all year," Blue Jays manager John Gibbons said. "And we've been getting great pitching the whole series, we can't complain about that one bit. We really expect him to just do the same. He's that good."
Sanchez, 24, was 15-2 with an AL-leading 3.00 ERA in 30 starts, earning his first career All-Star selection. This will be his second career postseason start, following an effort of mixed results in the deciding Game 3 of the AL Division Series against the Rangers. He made nine relief appearances in the 2015 postseason, pitching 7 1/3 innings without allowing an earned run.
In his ALDS start, Sanchez permitted six runs on just three hits -- two homers -- over 5 2/3 innings, walking four and striking out five. He said the Blue Jays' series deficit shouldn't change anything about the Game 4 approach.
"I don't think there's any more pressure on our staff than what it's been all year," Sanchez said. "We understand what we have to do is go out there, execute pitches, keep our team in the game, stay in late as you can, get as many outs as you can before you have to turn it over.
"It's kind of been our mentality all year, and we have to continue to do that until there's no more games left."
The Blue Jays surely weren't counting on playing a make-or-break contest this early in the ALCS. Well aware that they have yet to hold a lead in the series, Kevin Pillar said they would love to jump on Indians ace Corey Kluber to put a quick advantage in Sanchez's back pocket. Kluber will be pitching on three days' rest, which could be an advantage for the home team.
"We're confident with Sanchez on the mound," Pillar said. "We just need to get to their guy early."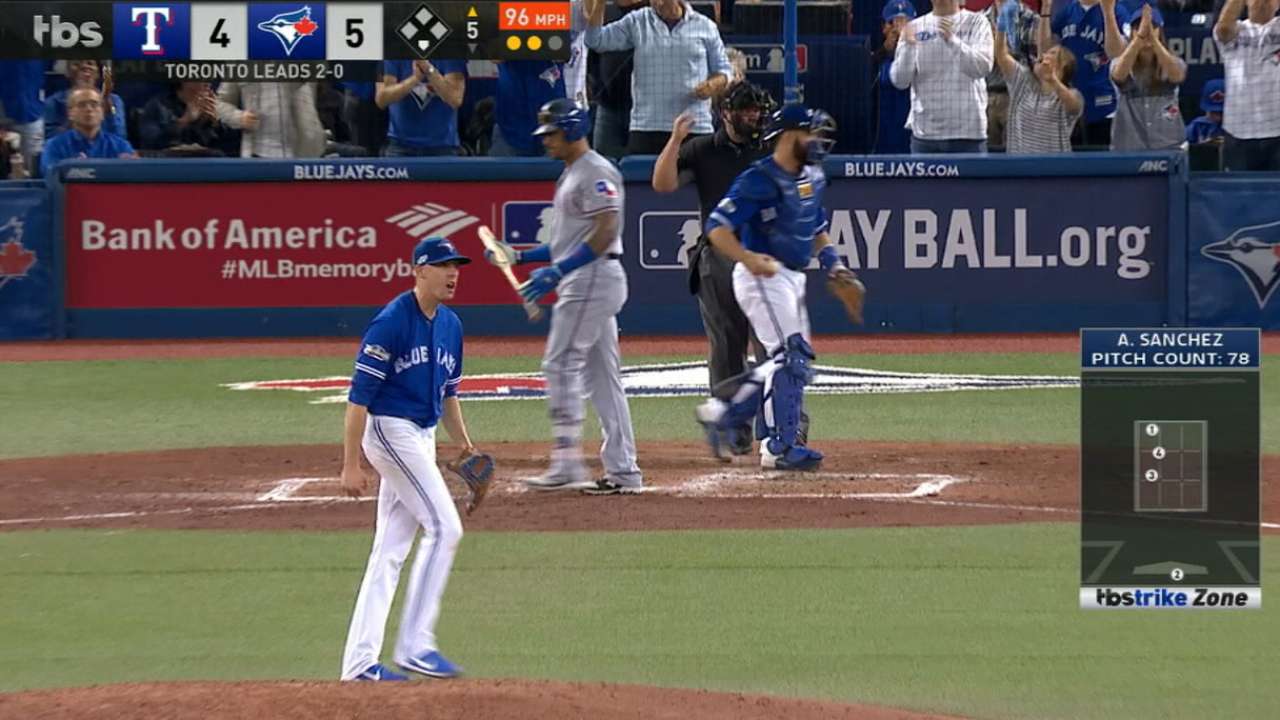 Sanchez faced the Indians once this season, on Aug. 20 in Cleveland, seeing the minimum over the first three innings before being knocked around in a five-run fourth.
Sanchez will be coming back with eight days of rest following his ALDS start, though that is not uncommon for him. With the Blue Jays searching for ways to keep him in the rotation while managing his innings, he said he has ironed out a formula that helps him adjust.
"I've been doing that all year," Sanchez said. "I feel ready and prepared coming into the start."
Sanchez made 13 starts on regular (four days) rest this season, seven with an extra day and six with two extra days. He also made starts with nine and 10 days of rest. When working with six or more days of rest, Sanchez was 4-0 with a 2.15 ERA in 10 starts, spanning 62 2/3 innings.
"A lot of pitchers don't like it, but having the luxury of doing it throughout the course of the year quite a few times, it's not anything new, so I'm excited," Sanchez said.
In Major League Baseball history, the 2004 Red Sox (ALCS vs. the Yankees), who were managed by current Tribe skipper Terry Francona, remain the only team to rally from a 3-0 deficit and win a best-of-seven postseason series. Teams that have taken 3-0 leads are 34-1 in best-of-seven postseason series.
Bryan Hoch is a reporter for MLB.com. This story was not subject to the approval of Major League Baseball or its clubs.