Tigers facing decision with Maybin
Detroit has club option on center fielder for '17, and he wants to stay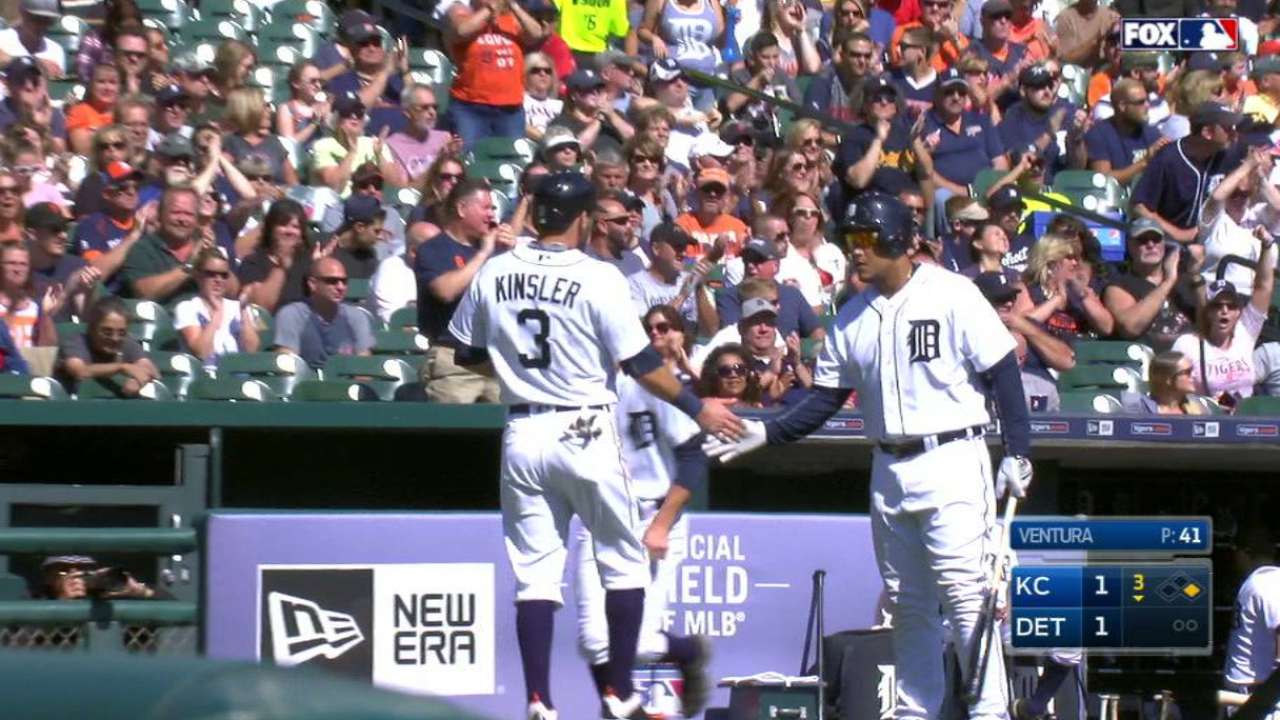 DETROIT -- The disappointment of a season's end was still hitting Cameron Maybin two weeks ago when the question of whether the center fielder would like to return to the Tigers came up. He didn't hesitate.
"Definitely," he said. "I had a blast, probably the most fun I've had in years. I thought last year was fun playing in Atlanta, but this year definitely tops that. I've enjoyed being back in a Tiger uniform, the team that drafted me. Again, I can't control that, but I truly enjoyed the way the fans embraced me and the way the guys embraced me in here. So I had a true pleasure being in Detroit.
"I would love to be a Tiger again, but it's really out of my control. I've been part of the business end of this for a while, so I'll see what happens."
A decade ago, Maybin left Detroit, traded to Florida at age 20 along with Andrew Miller and a handful of prospects for a young slugger named Miguel Cabrera. Detroit did not miss the chance to bring back Maybin when the opportunity arose last fall, and it's questionable whether the Tigers would've gotten as close as they did to the postseason without him. The November swap for reliever Ian Krol turned out to be one of the best moves Al Avila made in his first offseason as general manager.
Now, the Tigers face another decision on Maybin, a $9 million club option or a $1 million buyout as part of the long-term contract he signed with the Padres in 2012. Unlike this season, when the Braves covered $2.5 million of Maybin's $8 million salary, the Tigers are on their own for this one either way.
If Maybin leaves the Tigers again, it would likely be because the Tigers are retooling and going younger. Detroit paid luxury tax this season for a team that just missed the postseason, and it has 10 players under guaranteed contracts next season for just over $167 million. Add in options on Maybin and closer Francisco Rodriguez, plus a half-dozen players eligible for arbitration, and the Tigers would again be in luxury tax territory -- unless the threshold changes in the upcoming collective bargaining agreement -- if they keep the team intact.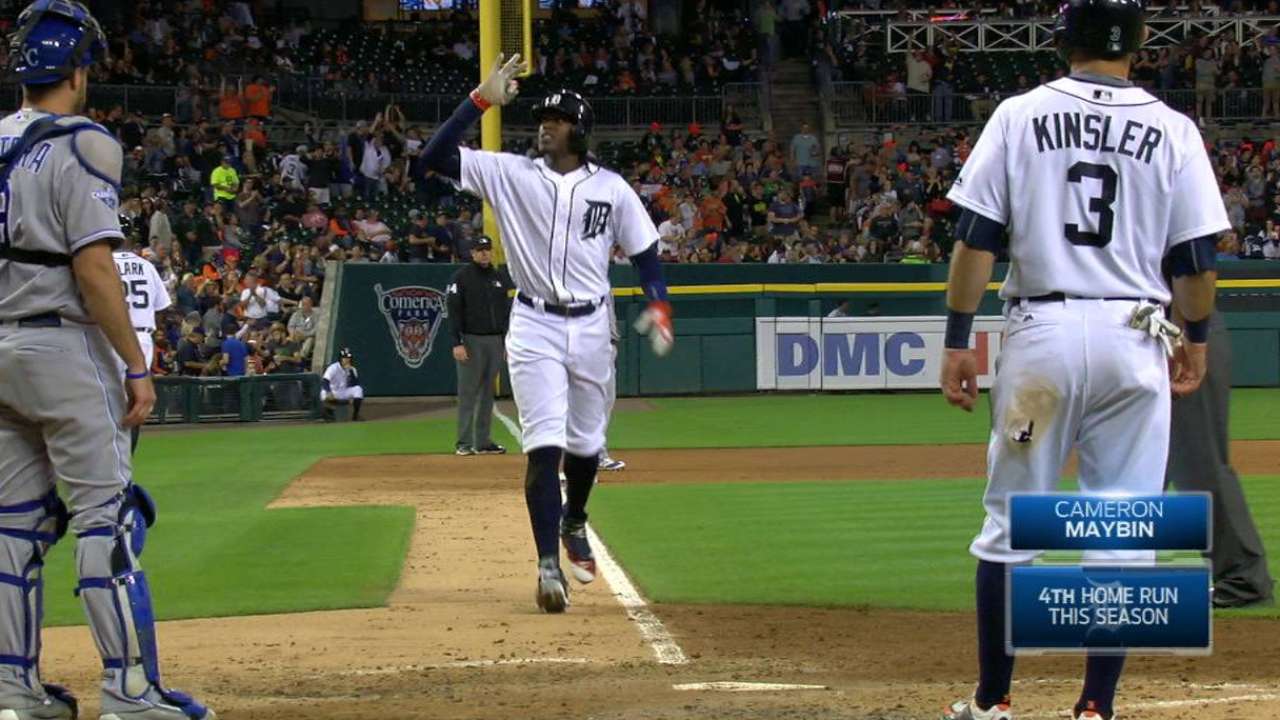 Whether Maybin might be one of those changes remains to be seen, and could be one of the more interesting debates to begin the offseason.
The issue surrounding Maybin for years has been injuries. A broken wrist and sprained thumb combined to hold Maybin under 100 games for the third time in four years. Yet when Maybin was on the field, his 1.9 wins above replacement tripled the WAR he put up over 141 games with the Braves in 2015.
"I think about that a lot," Maybin said. "The way I was able to affect this team with some things I was able to do, it would've been nice to be there from the start and kind of help out. But that's not how things worked out, so it is what it is."
With Maybin turning 30 next April, his body will remain a concern. Yet none of this year's injuries involved his legs, affecting his speed. Maybin played down the stretch with the thumb still hurting him, batting .277 with a .759 OPS from Sept. 1 on. He said he learned from teammates Cabrera and Ian Kinsler about playing at less than 100 percent.
"I've always taken a lot of pride in how I carry myself," Maybin said, "and these guys, especially Kinsler and Miggy, they showed me a different type of toughness, how you're not going to feel good every day but you have to go out there and post every day."
The Tigers believe they have their center fielder of the future in JaCoby Jones, who moved from shortstop to third base to center since his acquisition from Pittsburgh a year and a half ago. But they also believe Jones could benefit from more developmental time, having played just over half a season at Triple-A Toledo with a .665 OPS before his September callup.
That could lead the Tigers to keep Maybin, whichever course the team takes overall. They have until three days after the World Series ends to decide.
Jason Beck has covered the Tigers for MLB.com since 2002. Read Beck's Blog, follow him on Twitter @beckjason and listen to his podcast. This story was not subject to the approval of Major League Baseball or its clubs.