10 fascinating tidbits about '16 Rangers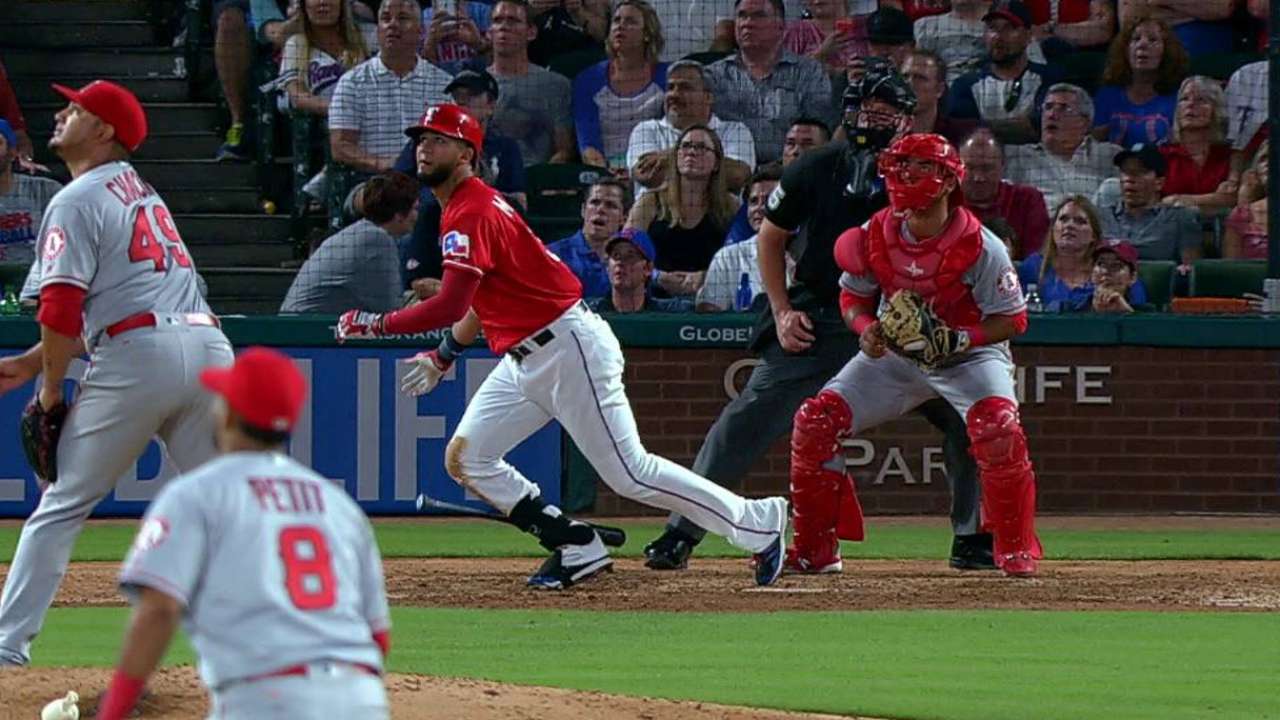 ARLINGTON -- While waiting for postseason to end and the Hot Stove to heat up, here are 10 interesting facts and statistics about the Rangers' season courtesy of Statcast™ and other sources.
1. Nomar Mazara's 491-foot home run on May 24 off of Angels pitcher Hector Santiago was the longest by a Rangers player this season, according to Statcast™, and the third longest in the Major Leagues. Giancarlo Stanton had the longest with a 504-foot blast on Aug. 6 against the Rockies. Mazara averaged 417 feet on his home runs, the highest on the Rangers.
2. The Rangers' highest average exit velocity on batted balls? That was actually Shin-Soo Choo at 92.6 miles per hour, according to Statcast™.
3. The hardest hit ball by a Rangers player this year was off the bat of Ryan Rua. On Sept. 6, Rua hit a 117 mile per hour grounder at Mariners third Kyle Seager, who let it get past him for an error. Even more impressive was Rua running hard out of the box and reaching second on the play. At 117 miles per hour, maybe he should have been given a double. There were 47 balls hit at least 117 miles per hour this season in the Major Leagues, and 34 ended up being a hit.
4. The Rangers fell one double play short of tying the club single-season record. They turned 190, while the 2008 team turned 191. The '08 team committed 132 errors, while the Rangers made 97 this season. It was the fifth fewest errors by the Rangers in a 162-game season.
5. Does first baseman Mitch Moreland deserve his first Gold Glove Award? Fangraphs.com's defensive metrics suggest he does. According to the site, Moreland is the highest rated defensive first baseman in the American League with a 6.4 ultimate zone rating (UZR). Chris Davis of the Orioles is next at 4.5.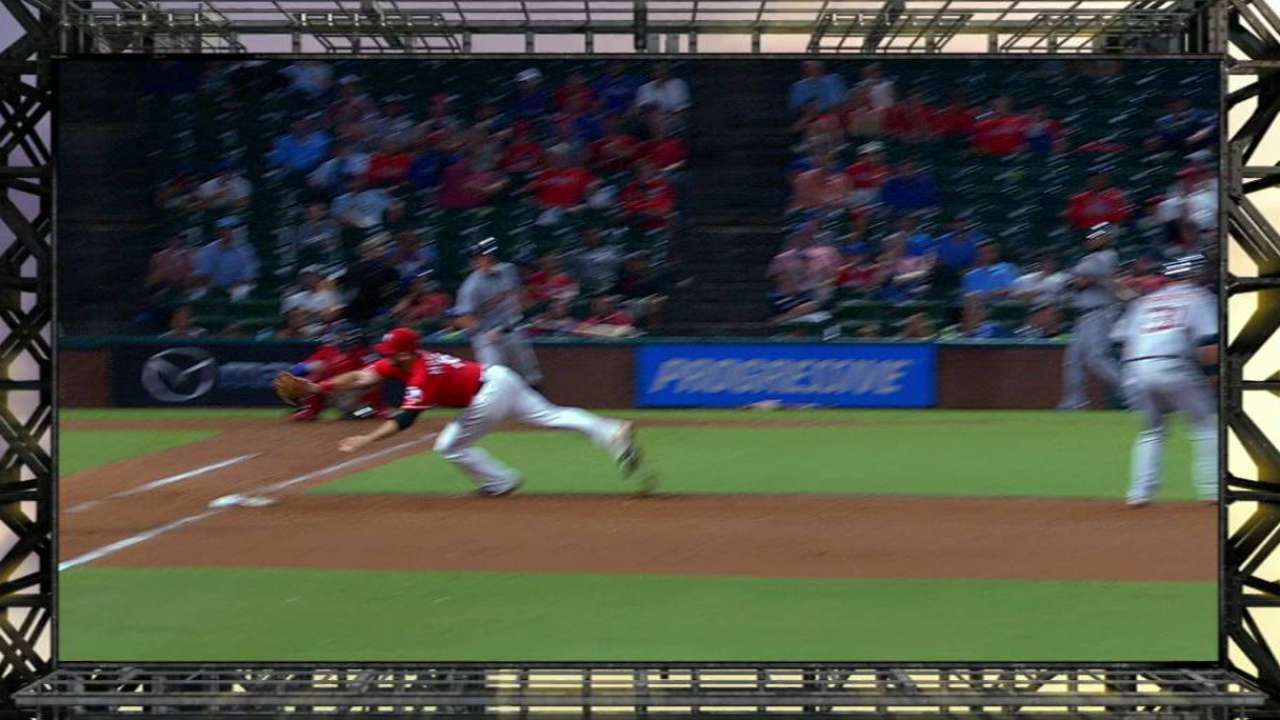 6. Adrian Beltre, who has four Gold Glove Awards, is the highest rated third baseman. Second baseman Rougned Odor was the lowest at his position. Jonathan Lucroy, splitting time between the Brewers and the Rangers, was ranked second among all Major League catchers behind Salvador Perez of the Royals.
7. Opponents hit .065 off left-hander Jake Diekman's slider, according to Stats Inc. That was the third lowest batting average against any Major Leaguer's pitch with a minimum of 200 pitches thrown. However, Diekman threw his fastball 73.6 percent of the time, the highest ratio among Rangers pitchers. They hit .225 off his fastball, and he only threw it for strikes 47.4 percent of the time. That was the second lowest percentage for Rangers pitchers on a fastball thrown at least 200 times.
8. According to Statcast™, Matt Bush averaged 97.8 miles per hour on his fastball. That was the fifth highest among all Major League pitchers with at least 500 fastballs thrown. Aroldis Chapman of the Cubs was 101.6.
9. The Rangers were 60-31 against teams that had a winning record this year. That is a .659 winning percentage that was the third highest ever in American League history behind the 2001 Mariners (.676) and the 1910 Athletics (.662).
10. Odor and Mazara were the eighth set of teammates in Major League history to hit 20-plus home runs in their age 22 season or younger. The only such second baseman/outfielder combination to do it previously was Hall of Famers Bobby Doerr and Ted Williams for the 1940 Red Sox.
T.R. Sullivan has covered the Rangers since 1989, and for MLB.com since 2006. Follow him on Twitter @Sullivan_Ranger and listen to his podcast. This story was not subject to the approval of Major League Baseball or its clubs.