What a relief? Reds must decide on Iglesias' role
Right-hander could be used as anything from starter to closer in 2017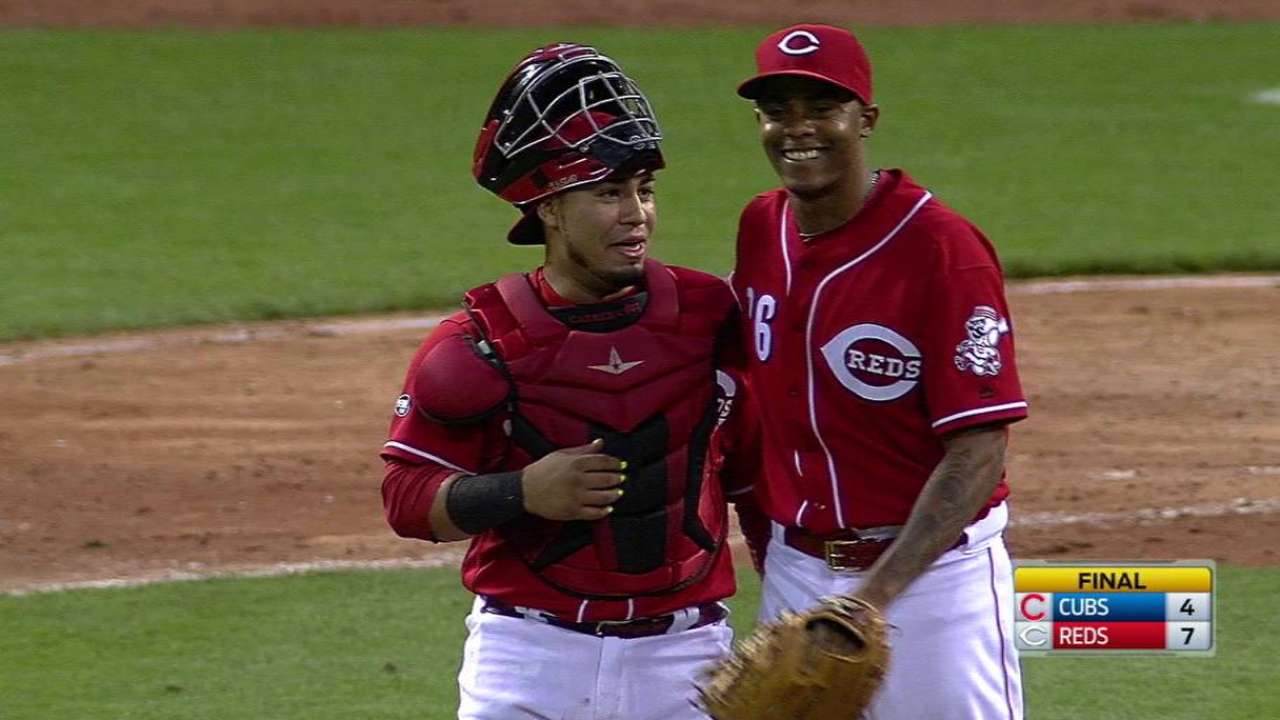 CINCINNATI -- One of the offseason questions the Reds must answer is what type of role pitcher Raisel Iglesias will have: starter or reliever? And if he winds up in the bullpen, can Iglesias be their closer?
Iglesias already knew what his vote would be as the 2016 season was winding down.
"I prefer being a reliever," Iglesias said via interpreter Julio Morillo. "I feel very comfortable right now. I've enjoyed pitching from the bullpen."
Reds manager Bryan Price noted that Iglesias' wishes may not factor into the final decision. Besides Iglesias, Michael Lorenzen is also a relief candidate. Both pitchers boosted a sagging bullpen upon their returns from injury in June. Lorenzen prefers to go back to starting.
"The decision we have to make is where are they best suited to perform?" Price said. "Because you don't want to put a square peg in a round hole. You want to make sure you've got not just guys excited about the role they're in, but they're best suited to perform in those roles."
Iglesias, who turns 27 in January, was Cincinnati's Opening Day starter this year and made five starts before a six-week disabled list stint with right shoulder impingement. Shifting him to the bullpen upon his return became a practical choice. The relief corps was not only flailing, but the club was also concerned about whether Iglesias' shoulder, which was also fatigued from starting near the end of 2015, could hold up in the rotation.
Overall, Iglesias posted a 2.53 ERA in 37 games. Out of the bullpen, he compiled a 1.98 ERA, 0.96 WHIP and six saves in eight chances over 50 innings spanning 32 appearances.
Once Iglesias became a reliever, his fastball velocity increased. According to Pitch F/X data, his average four-seam fastball went from 90 mph in April to 96 mph during the final three months of the season. His slider jumped from 81 mph to 86 mph.
"It shows you how good his stuff is and how overwhelming at times his overall stuff is," Reds catcher Tucker Barnhart said. "You've seen guys take some of the worst swings at some of his sliders and fastballs. He's extremely good, and for me, he's as good as it gets in the bullpen. I would love to see him stay where he is. But he's also as good of a starter as we've got too."
Following his defection from Cuba and hitting the free agent market, Iglesias signed a seven-year, $27 million contract that came with a $5 million bonus. After next season, however, he can opt for arbitration, which would drive his price up. Either way, Iglesias would not be an expensive burden.
The durability question was answered over the final couple of weeks of the season. Iglesias was used on back-to-back days twice. Price acknowledged it could have happened sooner, but the club exercised maximum caution.
"I think even when he came back after the first two weeks, he could have gone back-to-back comfortably," Price said. "If he's in our bullpen next year -- a closer or a setup man or a hybrid -- the expectation is that he will pitch regularly like a relief pitcher. I think he's built for that, I really do. The kid gloves will come off."
This postseason has shown new focus on how relievers and closers could be used in the future. The Indians have been bold with using setup man Andrew Miller, and the Dodgers haven't been afraid to call on closer Kenley Jansen before the ninth inning.
Iglesias' versatility could function very well in a fluid dynamic.
"I don't know what the plan is for me," Iglesias said. "I will go back and work in the offseason. Whatever they want me to do, I will do it."
Mark Sheldon has covered the Reds for MLB.com since 2006, and previously covered the Twins from 2001-05. Follow him on Twitter @m_sheldon and Facebook and listen to his podcast. This story was not subject to the approval of Major League Baseball or its clubs.