D-backs 'blown away' by new GM Hazen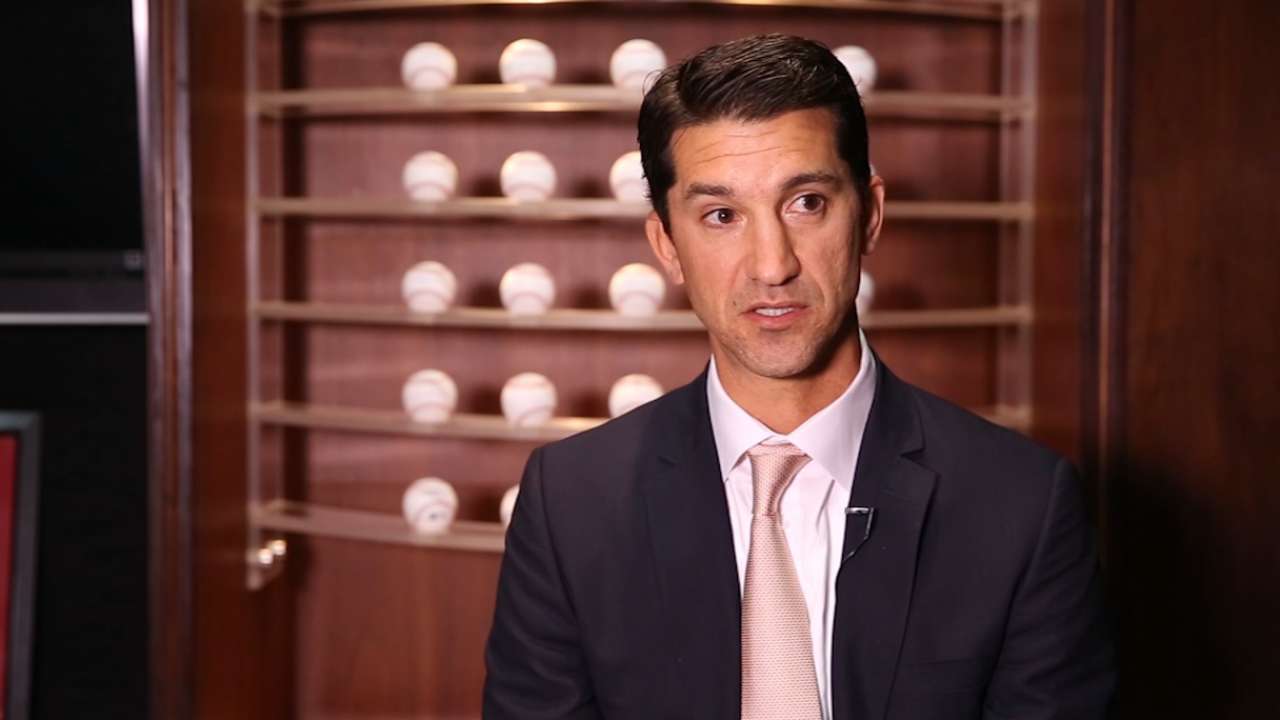 PHOENIX -- Mike Hazen was the last of eight general manager candidates interviewed by the D-backs, and it didn't take long for the club to realized he was the one they wanted.
"I already knew the credentials, so in talking to him the first thing that jumped out to me was extreme intellect," D-backs team president/CEO Derrick Hall said. "I was blown away with how his mind works."
Hall initially talked with Hazen by phone for an hour last Wednesday and they set up an interview for Friday morning in Phoenix.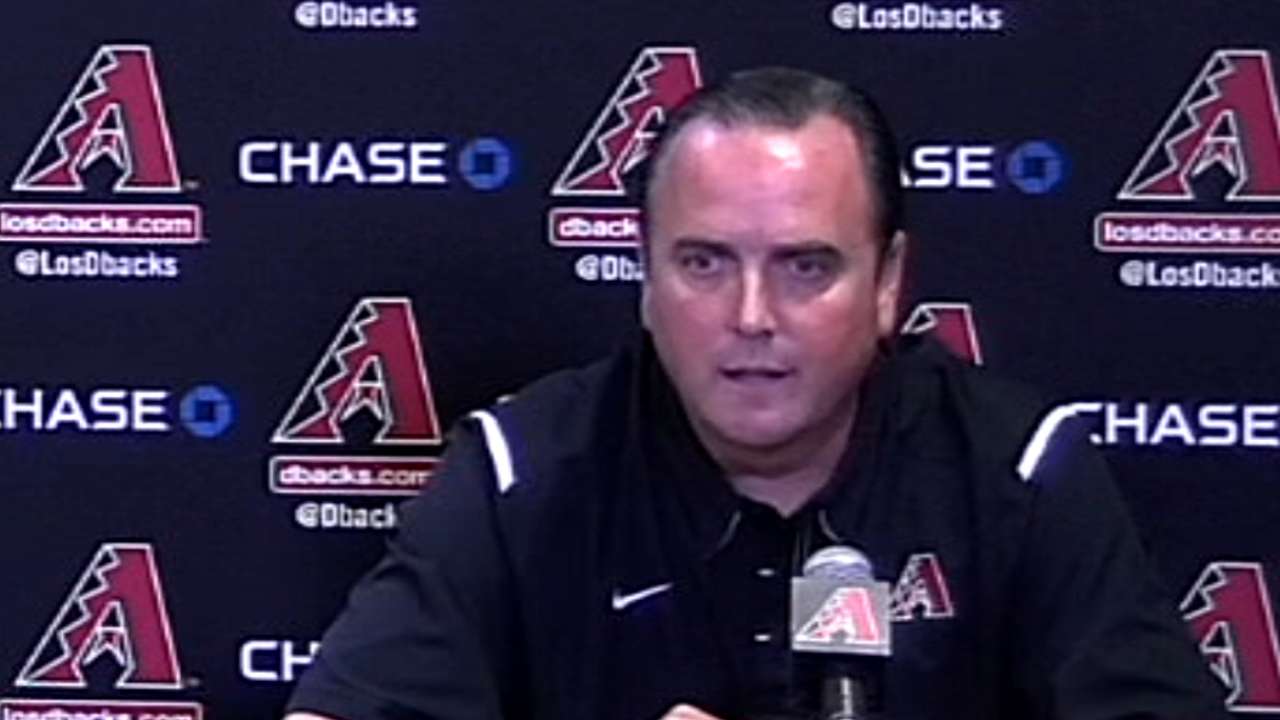 Outside of Hazen and the two internal candidates-- assistant GM Bryan Minniti and farm director Mike Bell -- all others were interviewed in Chicago because it was more centrally located for the candidates.
Hazen's interview ran for much of the day and then into dinner before he and his wife, Nicole, took a red-eye flight back to Boston so they could be home for their four children's activities Saturday.
The deal, which the D-backs did not disclose but is believed to be four years, was finalized Sunday morning.
"This is an enormous challenge that I'm fired up about," Hazen said.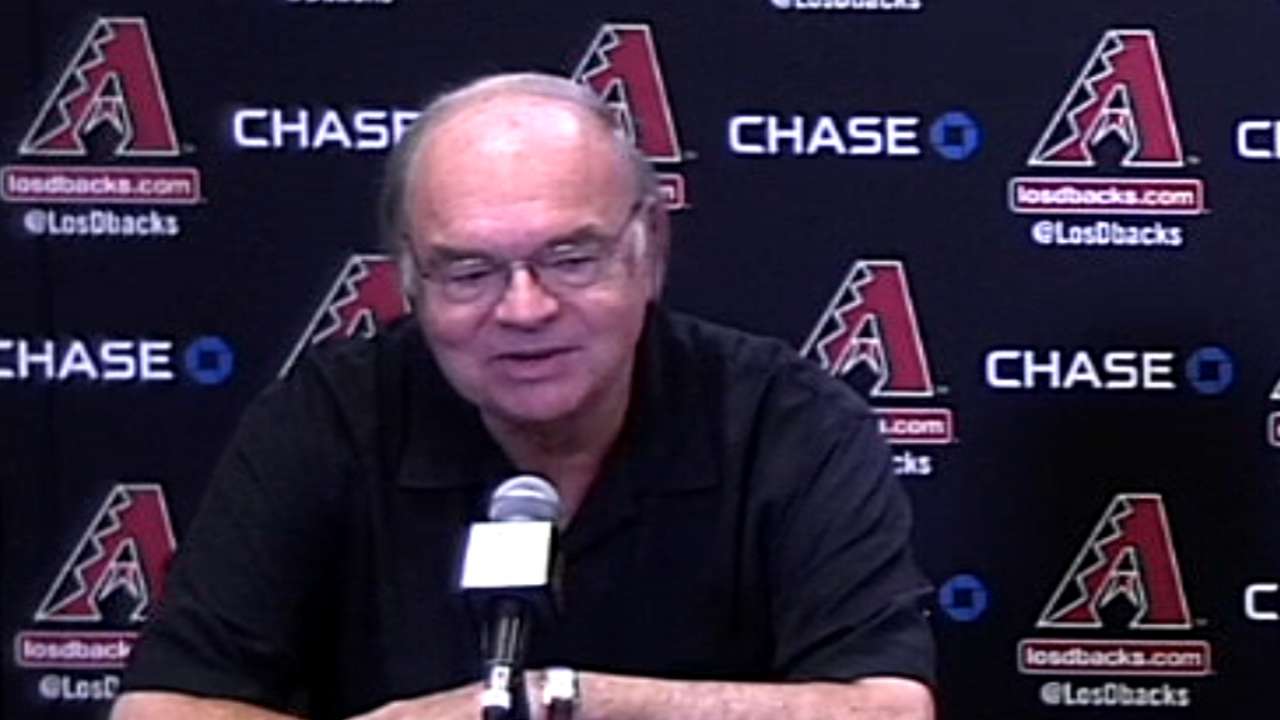 The D-backs also interviewed Kim Ng and Peter Woodfork from Major League Baseball, Dodgers executive Alex Anthopoulos, Royals assistant GM J.J. Picollo and Jason McLeod from the Cubs.
Hazen is a Massachusetts native and leaving his post as Red Sox GM was not something that was easy for him. But whereas in Boston he had president of baseball operations Dave Dombrowski above him as the ultimate decision maker, he will have the final say over baseball matters in Arizona and report to Hall.
"Clearly in the case of Mike everybody agrees he's the right guy, so you have to let him do his job," Hall said when asked how much input ownership would have. "That's the goal."
The D-backs committed $206.5 million to sign free-agent pitcher Zack Greinke last winter and believed that they had a three-year window to win given that they had first baseman Paul Goldschmidt and outfielder A.J. Pollock under control for those years.
Injuries and underperformance led them to a 69-93 record this season, though, and Hazen was not ready to conclude just how close he thinks the team is to competing for a division title.
"I don't have a defined view just yet," he said. "It would be irresponsible for me at this point to sort of say exactly how we're going to attack the roster. We'll have more concrete answers on that as we move through the offseason. We'll see what the landscape is in the marketplace. First I want to ask a lot of questions and talk about the 2016 Diamondbacks and hear from them too. Hear the collective experiences and find out exactly what it is that we need to do to improve this club and with that information try to chart a course."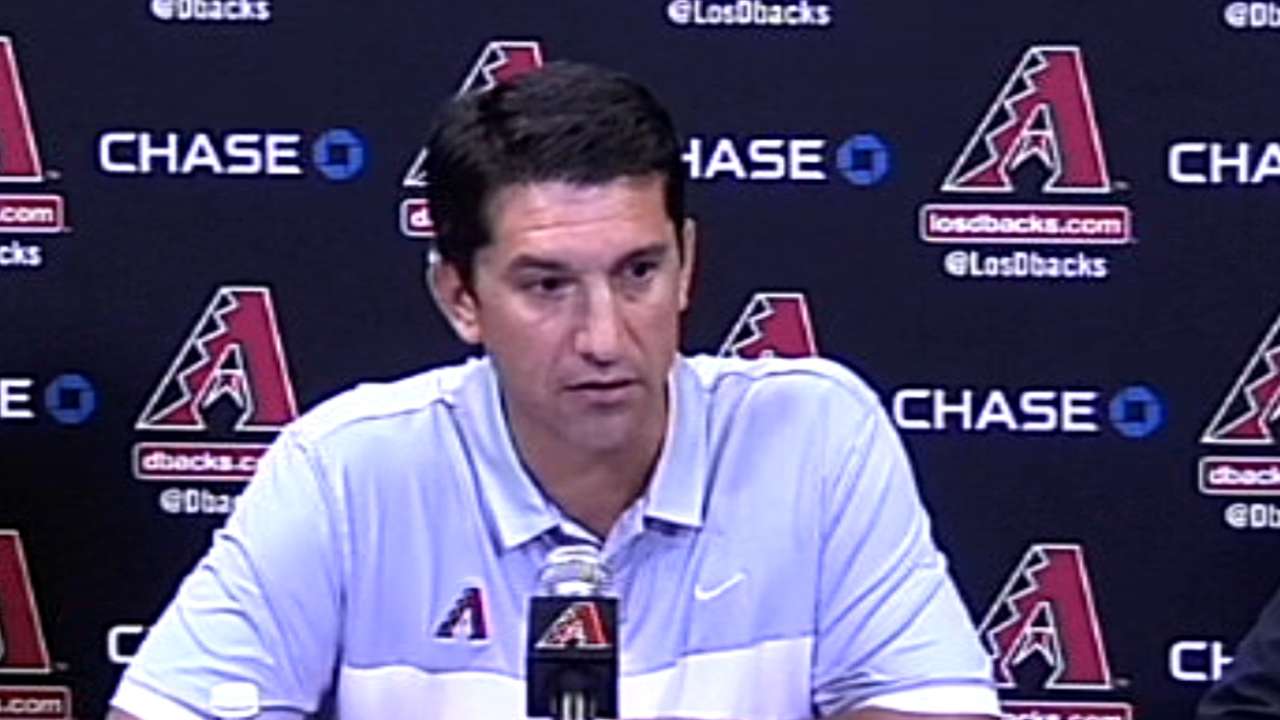 Hazen admitted he was looking forward to his introductory press conference ending so that he could get to work. His top two priorities are deciding what to do with his front office staff and hiring a new manager.
As for the former, he has already had conversations with Minniti, Bell and scouting director Deric Ladnier and is not planning on making changes just to make changes. That's a lesson he learned from when Dombrowski took over the baseball operations department in Boston last season.
"Try to figure out a way to embrace the things that are done well," Hazen said of Dombrowski's lesson. "And there are a lot of good things here, there are a lot of things [here] that have been done well and make your assessments and your tweaks over time."
When it comes to the manager, Hazen said there was no timetable for selecting one, but some names have already started to emerge. Among them is Red Sox bench coach Torey Lovullo. Dombrowski said Monday that he would be surprised if Arizona did not ask for permission to talk to Lovullo and Boston would not stand in the way.
In addition, Triple-A Reno manager Phil Nevin is well-regarded within the organization, and third-base coach Matt Williams may also get a look. Veteran skipper Bud Black is also on the market, and according to the Atlanta Journal-Constitution the D-backs have interest in Braves first-base coach Eddie Perez.
"The No. 1 [trait] we're looking for is a leader," Hazen said. "A leader in the clubhouse, a leader for the franchise, in every way possible. That's communication, that's strength, obviously the ability to manage a game. But those core characteristics are so important. I think the abilty to connect with players is critical. I think the ability to have a true understanding of how hard the game is to play on a daily basis is critical."
Steve Gilbert has covered the D-backs for MLB.com since 2001. Follow him on Twitter @SteveGilbertMLB. This story was not subject to the approval of Major League Baseball or its clubs.