ALCS Game 3 starting lineups: Indians vs. Blue Jays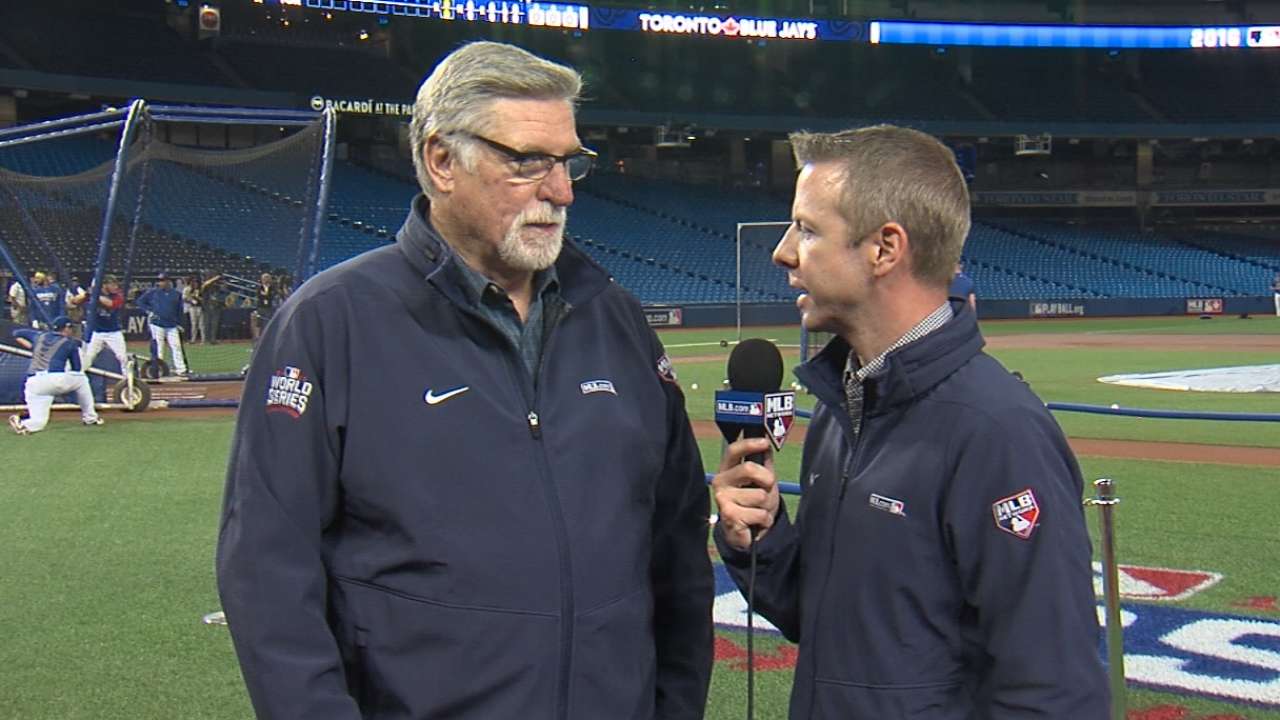 TORONTO -- Jose Bautista is in the leadoff spot as the Blue Jays look for something to jump-start their struggling lineup for tonight's Game 3 of the American League Championship Series vs. the Indians (8 p.m. ET on TBS/Sportsnet/RDS) at Rogers Centre. Cleveland, meanwhile, is trotting out a familiar lineup as it tries to take a commanding 3-0 series lead.
Bautista created a bit of a stir on Sunday when he said that certain "circumstances" -- which many assumed was a reference to unfavorable umpiring -- were working against Toronto in the ALCS, and his move to the top of the lineup for Game 3 could be construed as a little bit of gamesmanship on the part of Blue Jays manager John Gibbons.
• ALCS Game 3: Live on TBS/Sportsnet/RDS
Gibbons made the decision to reset his lineup after his club was limited to one run over the first two games of this series. The Blue Jays have done this before -- Bautista hit leadoff during 40 regular-season games -- but this is the first time the configuration has been used in the postseason.
Gibbons said he had been considering the move since second baseman Devon Travis went down with a right knee injury during the AL Division Series vs. Texas. The goal is to get an extra at-bat for Bautista at the expense of left fielder Ezequiel Carrera, who was dropped to eighth in the lineup.
"Do it before it's too late, see how it works," Gibbons said. "I've always liked that -- your top guys coming up. Maybe that one extra at-bat, maybe Jose gets it instead of somebody else and that might lead to Josh Donaldson one more. We'll see. No guarantees."
Troy Tulowitzki moved from fifth to fourth in Toronto's lineup. The move was made mostly to benefit the top of the lineup, but Gibbons also pointed out that he wanted to group Kevin Pillar, Carrera and Ryan Goins together at the bottom of the order. Those are the three players who don't possess a lot of home run power, so they give the Blue Jays an opportunity to create runs in a different kind of way.
"A key to this team the last couple of years is what you generate at the bottom of the lineup," Gibbons said. "Maybe Zeke can go down there and beef that up a little bit so when it rolls over we're in better shape."
The Indians are featuring their traditional lineup against right-handers vs. Blue Jays starter Marcus Stroman, the same one that beat Marco Estrada in Game 1. That includes Carlos Santana leading off and Lonnie Chisenhall, who is 7-for-16 this postseason, batting sixth.
Indians
Carlos Santana, DH
Jason Kipnis, 2B
Francisco Lindor, SS
Mike Napoli, 1B
Jose Ramirez, 3B
Lonnie Chisenhall, RF
Coco Crisp, LF
Tyler Naquin, CF
Roberto Perez, C
Trevor Bauer, SP
Blue Jays
Jose Bautista, RF
Josh Donaldson, 3B
Edwin Encarnacion, 1B
Troy Tulowitzki, SS
Russell Martin, C
Michael Saunders, DH
Kevin Pillar, CF
Ezequiel Carrera, LF
Ryan Goins, 2B
Marcus Stroman, SP
Gregor Chisholm has covered the Blue Jays for MLB.com since 2011. Follow him on Twitter @gregorMLB and Facebook, and listen to his podcast. Cash Kruth contributed to this story. This story was not subject to the approval of Major League Baseball or its clubs.