MLB.com Columnist
Roger Schlueter
Stats of the Day: Slay-ton's gem evens NLCS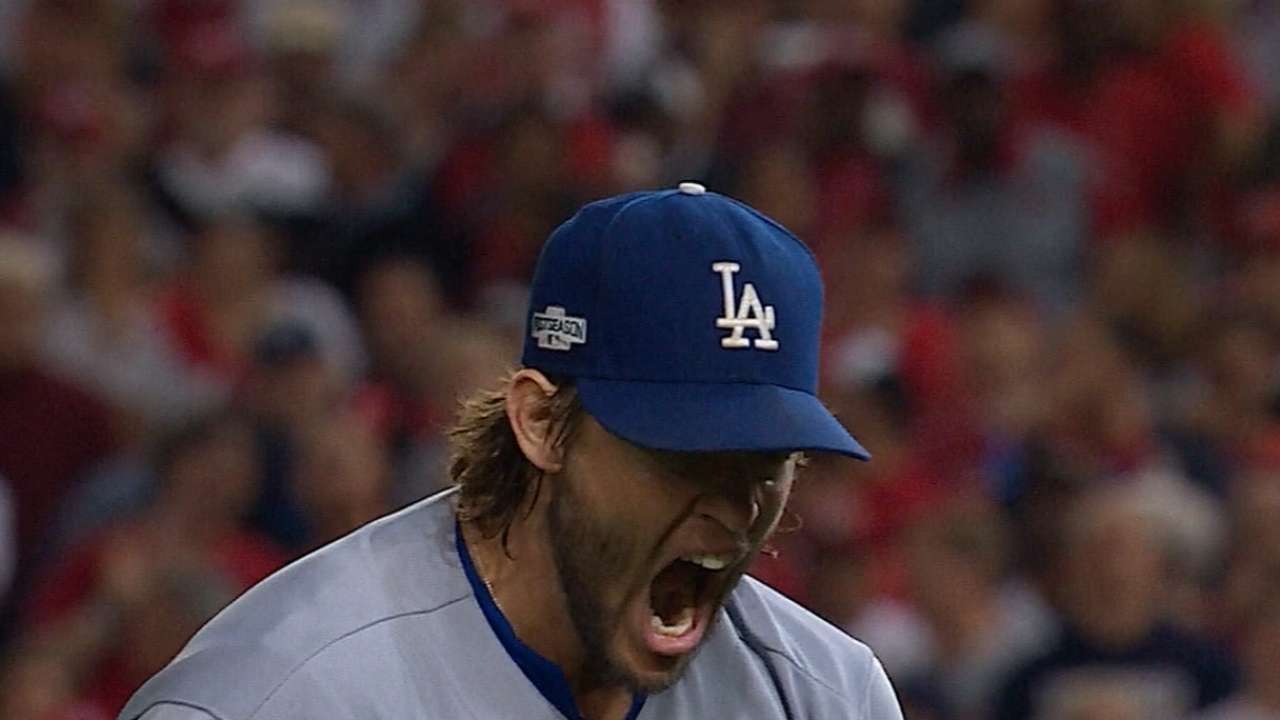 Here are three interesting items from Game 2 of the National League Championship Series on Sunday…
• Over seven scoreless innings, Clayton Kershaw allowed three baserunners as the Dodgers defeated the Cubs, 1-0, to even the NLCS at a game apiece. Two Cubs reached on singles in the fifth, and one worked a walk in the seventh.
• NLCS Game 3: Tuesday at 8 p.m. ET/7CT/5PT on FS1
With six strikeouts as part of his dominant performance, Kershaw produced a game score of 78 -- his highest in 13 career postseason starts. In LCS play, the performance marked the 17th occurrence a hurler has gone seven innings, allowed no runs and gave up no more than two hits and the first since the Cardinals' Michael Wacha limited the Dodgers to two hits in seven innings to beat Kershaw and clinch the 2013 pennant (in Game 6). Kershaw is the first Dodgers pitcher to appear on this list of 17. He's also the first among the 17 to do this with his team trailing 1-0 in the series since Giants southpaw Dave Dravecky twirled a two-hit shutout against the Cardinals to even the 1987 NLCS.
• With his homer in the second inning providing the game's lone run, Adrian Gonzalez became the 13th postseason player (and first Dodgers player) to go yard in a 1-0 contest. The others: Casey Stengel (Game 3 of World Series, 1923), Tommy Henrich (Game 1 of World Series, '49), Paul Blair (Game 3 of World Series, '66), Frank Robinson (Game 4 of World Series, '66), Sal Bando (Game 3 of American League Championship Series, '74), Mike Schmidt (Game 1 of NLCS, '83), Glenn Davis (Game 1 of NLCS, '86), David Justice (Game 6 of World Series, '95), Tony Fernandez (Game 6 of ALCS, '97), Jorge Posada (Game 3 of AL Division Series, 2001), Mike Napoli (Game 3 of ALCS, '13) and Javier Baez (Game 1 of NL Division Series, '16).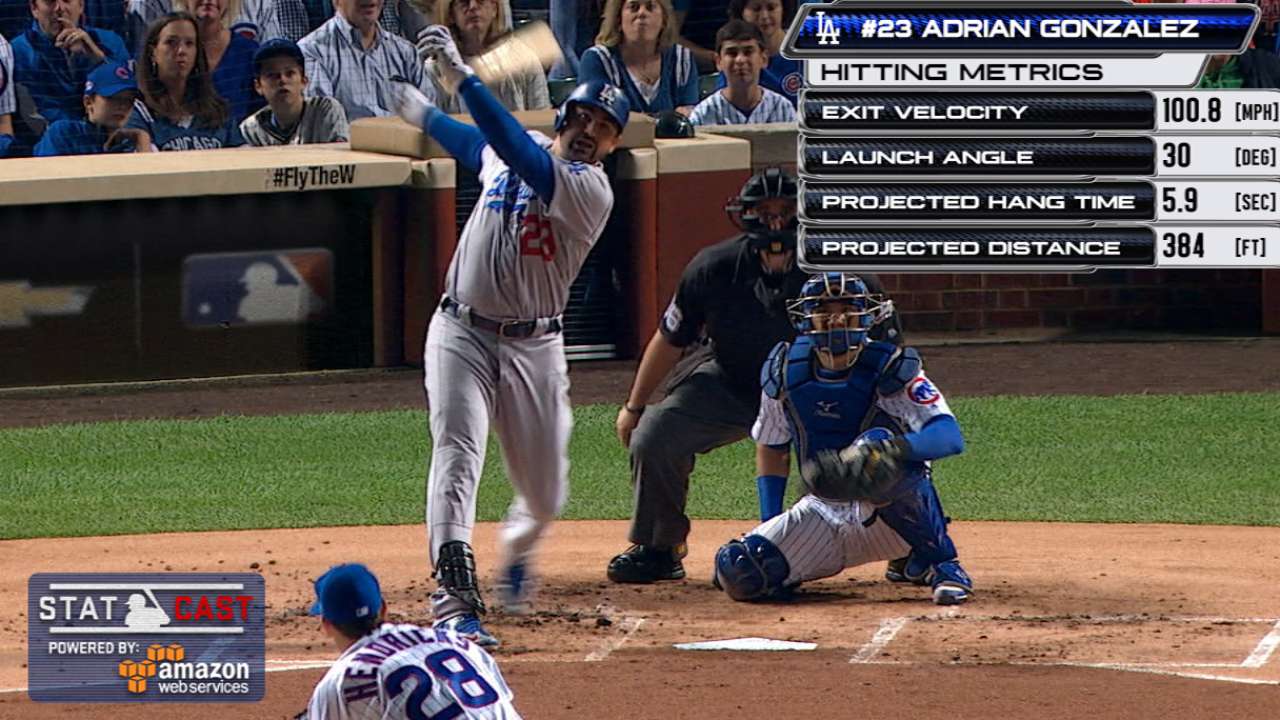 • Baez went 1-for-3. He has hit safely in all six games he's played this postseason. That streak to open any postseason is tied for the longest for a Cubs player. In 1945, Mickey Livingston was the first to hit safely in six straight. In 2003, Moises Alou matched that feat.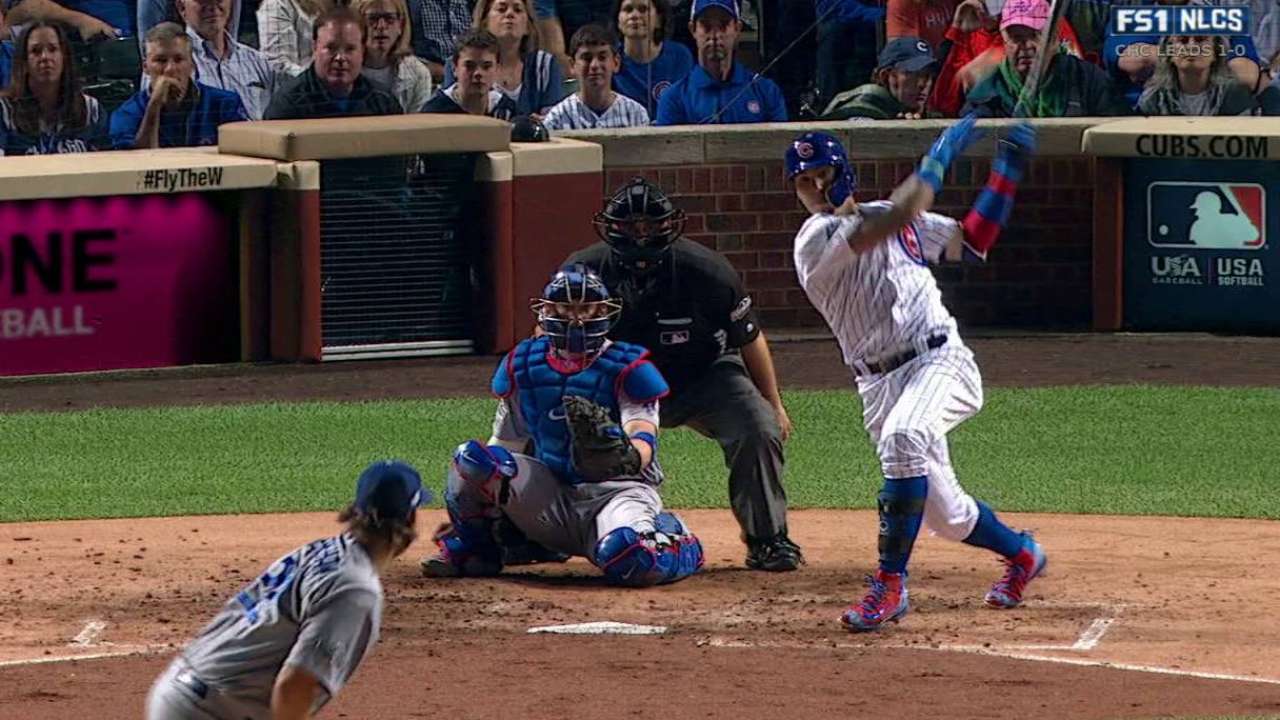 Roger Schlueter is a statistical researcher and writes for MLB.com. This story was not subject to the approval of Major League Baseball or its clubs.