Oct. 16 Clayton Kershaw postgame interview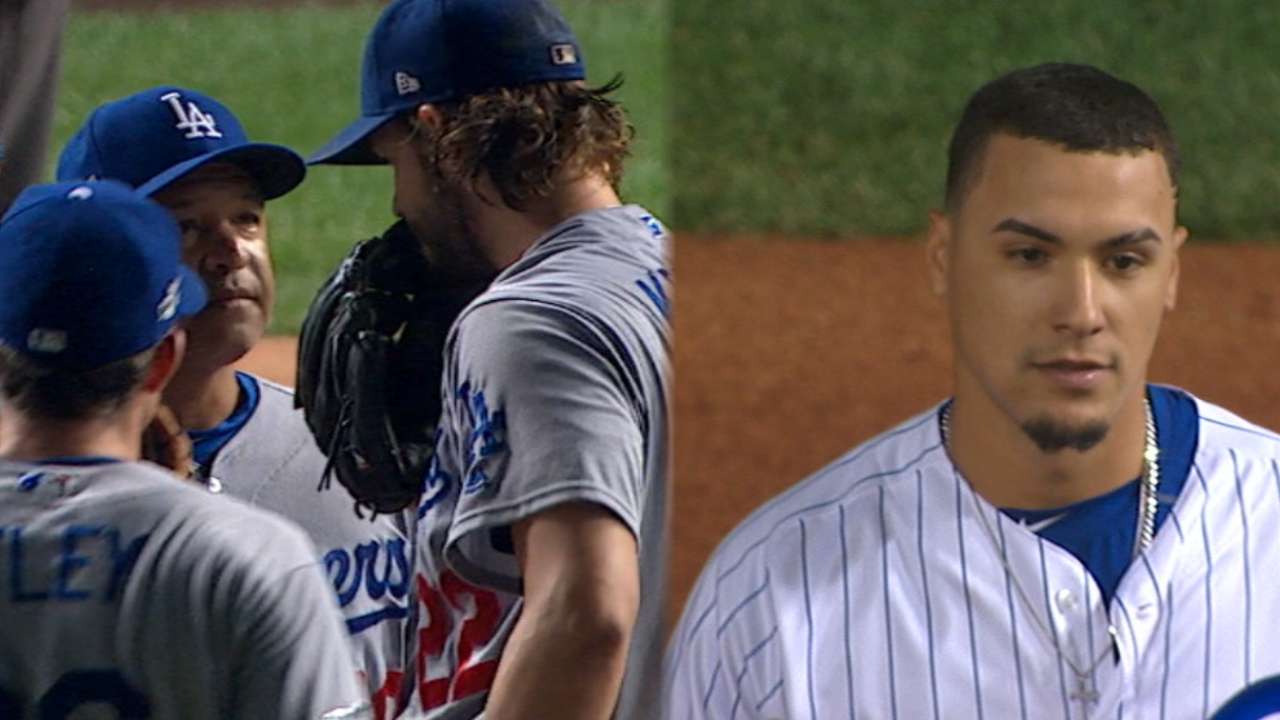 Q. Dave goes out there that last inning, talks to you, and Baez hits that ball. Are you thinking it has a chance to go out there?
CLAYTON KERSHAW: That's your first freaking question? Yeah, I did. I thought it was out, for sure. He hit it pretty good. And yeah, after Dave came out and that, I kind of talked my way into it. I really wanted to -- he was probably not going to trust me again after that, but, fortunately, he hit it at somebody, so it was good.

Q. Did this game feel physically different at all for you, given the workload in the past few days?
CLAYTON KERSHAW: No, it felt pretty similar. I was a little more concerned with just, as a starting pitcher, you like to be routine-oriented and every four days kind of know what you're going to do. So, obviously, my last few seven or eight days has been a little different, so just kind of going into the unexpected I think more than anything was a little bit -- that was more so of my concern than the workload or anything like that.

Q. Does your stuff feel sharper than it did Game 1 of the Division Series? Does it get increasingly better as you come further away from the disabled list?
CLAYTON KERSHAW: No, I don't think so, I think it just kind of depends on the day.

Q. Dave was saying that he had every intent to pull you out in the 7th. But it was the look in your eye and you just kind of kept repeating, "I got him, I got him, I know I can get him." What was going through your mind at that point and what was it you were trying to convince him?
CLAYTON KERSHAW: I was just thought I could get him out, yeah, that was really it. Seeing Kenley warm up, just kind of wanted to -- six outs is a lot to ask to get a save, and if we could kind of spare him one more sitting down in between innings only have to do it once as opposed to twice, that was part of it, I guess. But mainly I thought I could get him out and came really close to not doing it.

Q. Did you feel like you were leaning a little harder on your fastball and a little leaning a little bit away from your breaking stuff tonight more than usual?
CLAYTON KERSHAW: It wasn't part of the game plan if I did. I really don't know. I think that I had decent command of it tonight. I think some, there's some two strike counts where I think they were probably looking breaking ball and I think I threw fastballs right down the middle on accident, so a couple of those happened to work out, I guess.

Q. It seems like you really have been cherishing these big pressure moments, that you really enjoy the burden that this team has placed on you.
CLAYTON KERSHAW: I don't know how to answer that. It's fun when you win, so, yeah, I mean, I'm enjoying it right now. When you're in the moment, you're just trying to just constantly stop runs, preventing runs. And the way that Hendricks was throwing, it was one of those games where one pitch could have been the deciding factor. So, really just kind of couldn't look up for a minute for air and just kind of kept going through it and fortunate to get through it tonight.

Q. Yasmani said in the bullpen you had four pitches that were working really well. How many of those carried into the game and how many times have you had all four of your pitches in a start in the last month and a half?
CLAYTON KERSHAW: Four, that's funny. Yeah, I mean, my curveball wasn't great tonight, overall. I think that I threw some that were decent that they took and the bad ones, I think Baez got a hit, I think that, yeah, that was a curveball that he hit, the second at-bat. So, not a whole lot of great, not a whole lot of outs with the curveball tonight, but fastball command was good enough to get away with it and threw enough sliders when I needed to to keep people off balance, I guess.

Q. When Baez hit the fly ball in the 7th what went through your mind or did you think it was going to fall short?
CLAYTON KERSHAW: I think I already answered that. Yeah.

Q. Kenley just got done saying that he is drawing inspiration from you when he takes the ball for these multi-inning saves. You guys have known each other for a long time, can you talk about what you've seen from him here this week, this postseason?
CLAYTON KERSHAW: Yeah, you can't say enough about Kenley. Really for since he's been in the big leagues, but since he became a closer. And it's one thing to have dominant stuff, which he does, but the willingness and the want-to that he has, the competitiveness that you're seeing right now that I've really seen throughout. Like he really wants the ball. A lot of people say that, but to actually go out there and do it night-in, night-out, two-out saves and/or two-inning saves and coming in the 7th in Game 5, just all that stuff is, that's what makes him special, more so than even the really nasty cutter that he throws.

Q. In the past before the 7th inning has been something of a trouble spot. When you have the leadoff walk and then the dropped popup, how do you bounce back from that to get out of it so quickly?
CLAYTON KERSHAW: I don't know, I mean Zobrist took one down the middle, thankfully. I think he was probably looking for something else and I got away with one there. The next guy, Russell, I think I got in on him a little bit there. And then Baez hit one really hard right at somebody. So I don't know if it was anything special that I did, but it happened to work out tonight.

Q. Do you feel fortunate to be in a spot like that?
CLAYTON KERSHAW: Sure, yeah, you always take it, no doubt.