Oct. 16 Dave Roberts postgame interview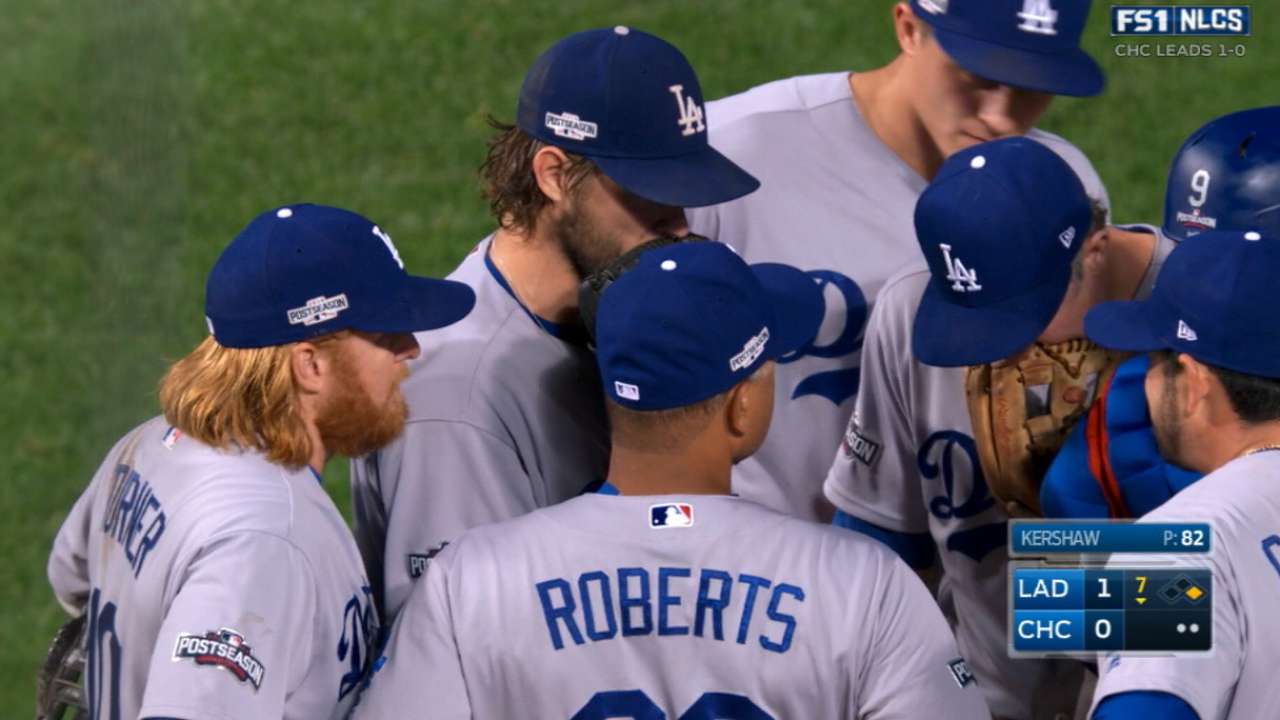 Q. Before that Baez at-bat when you went out to talk to Clayton, you obviously know Clayton's not going to tell you he wants to leave, but what are you looking to hear when you talk to him and what was your reaction to the line drive?
DAVE ROBERTS: Well, I think that for me I had every intent to go out there and get him and go to Kenley. But as I went out there, looked him in the eye and just obviously the confidence that Clayton has to get a hitter, and I just -- I went with my gut and just kind of -- he said we can get this guy, I can get this guy. And at that point in time that's all I needed to hear. So it was just about him executing. And obviously Baez got into it. So we all held our breath a little bit. But to see Clayton, with what he's done, obviously, this season but, you know, you you're looking at the recency of his last four outings and the time span and what he's given us in October is really something special. Again, he left it all out there. That's what he does. And to go to Kenley for six outs, it was just -- I think that you couldn't have scripted it any better. And it was just another fun ball game.

Q. You go to the six out save approach again?
DAVE ROBERTS: I just think that for us to have our ace on the mound, to have a lead, and I know that Kenley's on board for multiple, and where they were at in the order, I know it was the bottom half, 7, 8 and 9, but I felt that Kenley was ready, mentally, physically, and I just felt that it was obviously not a must-win game but it was a game we really wanted to have, especially when Clayton threw the ball the way he did.

Q. Going back to that meeting on the mound, Yasmani said it wasn't just Clayton, it was him, it was the infielders. Everybody was on the same page: Let Clayton finish. How nice was it that they were all there and that they wanted to see it come to a conclusion with Clayton on the mound?
DAVE ROBERTS: It was great. That's just kind of been what we have done all year long. It's hard to go wrong with him, with the baseball in his hand. But our guys, when I made the decision to leave Clayton out there, obviously they were excited and excited for him. And for us to get that last out, him to go seven innings, seven innings and to get the ball to Kenley, it's taken 25 of us, and today was a fun night. Good night.

Q. Are you aware and if you are aware are you thinking about the 7th inning stuff that's been part of Kershaw's past in the 7th inning, especially after a four-pitch walk and a dropped popup kind of is the first five pitches of that 7th inning?
DAVE ROBERTS: No, not at all. For me, obviously, I have said it time and time again, he's the best pitcher on the planet. I'll take him any day, as well as 29 other managers. And so for me, the history, it has no bearing on anything for me. This is a new year, and he's shown what he can do in the postseason. So I don't think that anybody in that clubhouse cares about that narrative. And he's shown he's all in for his teammates, and that's -- for us, that's all we care about.

Q. Sort of like the same question. So has this October kind of erased all that past narrative of Clayton?
DAVE ROBERTS: Well, I think the people that -- it should. It should. It's something, for us, I think, that it's -- I know he's tired of hearing about it. It's unfair. For us, I don't think we care. But what this guy's done is digging deep, and I can't say enough about Clayton Kershaw.

Q. On that double play infield fly, what was the discussion there? What should the runners have done?
DAVE ROBERTS: I think the runners acted accordingly, and I just kind of wanted to get the interpretation because I felt for me the spirit of that rule is if there's guys on first and second base or bases loaded, if there's a ball that is at the infielder and it's got some air under it, it's an automatic out. And so it was a soft line drive, but I just wanted to know their interpretation, and they just felt it was a line drive instead of somewhat of a popup. So I tried to just get clarification, but they made the right call.

Q. Jansen, the fact that he didn't get in the game last night, was that what allowed you to go to six outs for him tonight, and if he did pitch, do you think he would have been able to pitch six outs tonight also?
DAVE ROBERTS: Yes and no. So, yes, because of last night and with the day off that I felt that he could go multiple, go six outs. So if he would have pitched last night, he wouldn't have been available for multiple, yes.-