MLB.com Columnist
Richard Justice
Bautista diverts attention from Blue Jays' hitting
Toronto slugger seems to point to umpires, but mainly he kicks up dust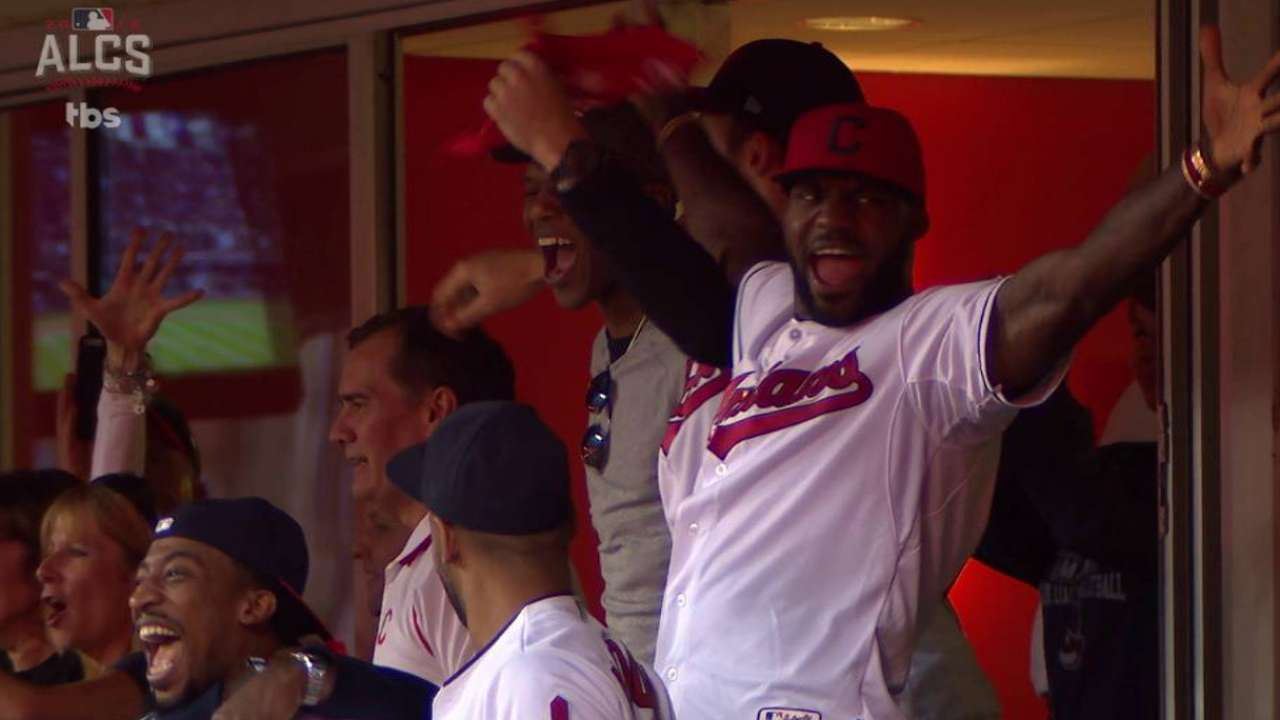 TORONTO -- Jose Bautista may have done the smartest thing any of the Toronto Blue Jays could do at this point.
On Sunday afternoon, he walked to the middle of the home clubhouse at Rogers Centre, leaned against a table and waited for reporters to gather around him.
• ALCS Game 3: Tonight, 8 ET on TBS/Sportsnet/RDS
This was not a happenstance news conference. He spoke to reporters because he had something to say.
Including:
"All you gotta do is look at video and count how many times [Indians pitchers have] thrown pitches over the heart of the plate. It hasn't been many. They've been able to do that because of circumstances -- that I'm not trying to talk about because I can't.
"That's for you guys to do, but you guys don't really want to talk about that, either. Sometimes the elements and the circumstances that we have to deal with as hitters don't go our way."
He said lots of other stuff. About the hometown fans. About changing the direction of the series. He did not specifically criticize the umpires for expanding one strike zone and not the other.
Besides, he might have been talking about game times. Actually, his words seemed unmistakably directed at umpires, but he was vague enough to perhaps avoid a fine.
If criticizing the umpires was his intent, he's flat wrong, and we'll get to that later. What he did do -- and smartly -- was change the subject. Create a buzz. Kick up some dust.
Isn't this what every college football coach does on a regular basis? Take all the emotion and all the competitive fire in one of these games and throw in a hint of something dark.
Suddenly, a lot of people won't be focused on the Blue Jays being in an 0-2 hole to the Cleveland Indians. Or scoring one run in 18 innings. Or hitting .159. Or wasting two well-pitched games.
Instead, they'll be wondering if there's something shadowy working against the Blue Jays. Is this a ridiculous notion? Of course it is.
That's not the point. Not even close to the point. This is about Bautista adding another element of uncertainty to this American League Championship Series that shifts to Rogers Centre for Game 3 tonight.
Besides shifting the spotlight away from all the struggling Toronto hitters, Bautista may have been doing the kind of thing NBA coaches have done forever: Work the refs.
Maybe they'll wonder if they've been fair to the Blue Jays even though the video shows they have. Maybe they'll compensate.
The strike-zone data for the first two games finds that the home-plate umpires "missed" 11 calls for the Blue Jays, 10 for the Indians.
Again, Bautista did not specifically say it was the umpires going against the Jays. He was smart enough not to go totally down that road.
Bautista's words, whatever the intent, carry weight in the game. He's 35 years old, and for the past seven seasons has been one of the best and most respected players in the game.
He has fought for everything he has gotten, bouncing through four organizations in eight seasons before landing in Toronto and remaking himself into a franchise player.
He made his first All-Star team at age 29 in 2010. Since then, he has made five more while averaging 36 home runs and 93 RBIs a season.
He plays with an edge and isn't particularly loved by everyone. He's fine with that. He didn't get to this place by trying to please everyone.
Sometimes, players need an edge, and sometimes that edge is anger. So be it. He'll be remembered as one of the great players -- and great citizens -- of the game.
If this was a way to motivate his teammates and to stir things up, good for him. Was any of it necessary? Probably not.
In Josh Donaldson and Troy Tulowitzki and Russell Martin and others, the Blue Jays have some of the great players and even greater competitors in the game.
It's virtually impossible to believe they could care any more than they care now. The Blue Jays have lost two games after a stretch in which they'd won six straight stretching back to the final two games of the regular season.
They've proven their toughness and their championship timber over and over. Now there's this.
What's the old saying about a postseason series not really starting until someone throws out a conspiracy theory?
OK, that's not really an old saying, but it might as well be.
Now some of the loudest fans in baseball will show up with just a bit more of an edge. That means a thunderclap of emotion, louder cheers, angrier boos, etc., etc.
All the tension and passion that accompany a playoff game will be ratcheted up a notch. If it's us against the world, then we all have to work together. Here's to a great ALCS Game 3.
Richard Justice is a columnist for MLB.com. Read his blog, Justice4U. This story was not subject to the approval of Major League Baseball or its clubs.