Slumping Blue Jays won't reinvent hitting style
Club has leaned on home run ball all year, and that won't change in ALCS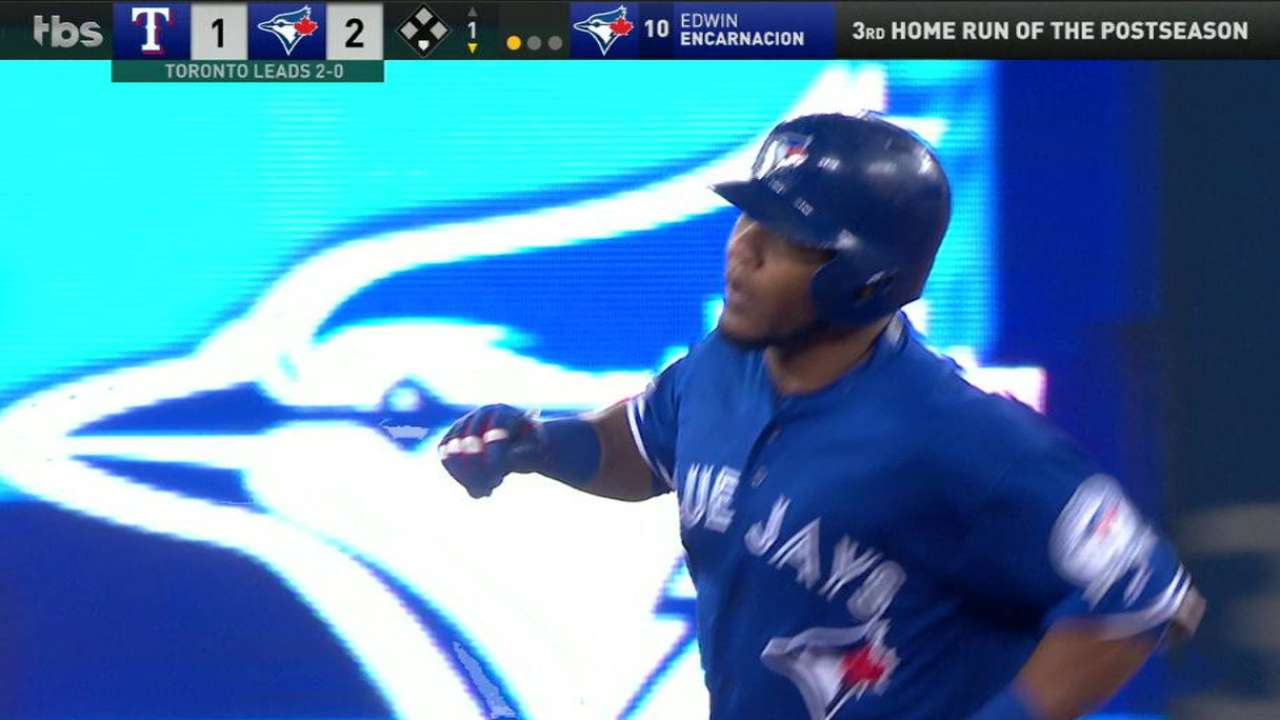 TORONTO -- The questions were tossed at Blue Jays manager John Gibbons early and often during his media availability on Sunday afternoon. What are the adjustments your hitters can make? How concerning is one run in two games? What pattern is being used by the Indians to effectively combat your lineup?
In a lot of ways, it felt like September all over again. Gibbons has been down this road before, so he can be forgiven if he was feeling a sense of deja vu on the podium on the eve of Game 3. The problem is hardly new, but the timing of its recurrence has left the Blue Jays facing a 2-0 deficit in the American League Championship Series.
• ALCS Game 3: tonight at 8 ET on TBS/Sportsnet/RDS
Gibbons' answer, time and time again, was the same that it was during September when Toronto scored the fewest runs in the AL. This team is built around the home run, and asking its core players to change their approach at this time of the year isn't just unrealistic, it's almost impossible.
"I don't know, what's the date today? October what?" Gibbons asked to no one in particular. "We played how many months? It's the same team, same guys. For the most part, we approach it the same every night. They got to this point. It's a slugging team, that's how they're built. Not a bunch of young guys. Some guys that have been around. And they've been sluggers for the most part their whole career."
Gibbons went on to say: "If you're a 3-point basketball shooting team in the NBA, you still have to fire them up, you have to, or you've got no chance to win."
And such is life with the Blue Jays, who went 80-39 when hitting a home run during the regular season and 9-34 when they didn't.
• Blue Jays could find power at home
In the first four games of this postseason, Toronto outscored its opposition, 27-12, thanks in large part to 10 home runs. But in this ALCS vs. Cleveland, the story has been much different. The Blue Jays have scored one run in two games and they have yet to even really drive a ball, let alone hit one out.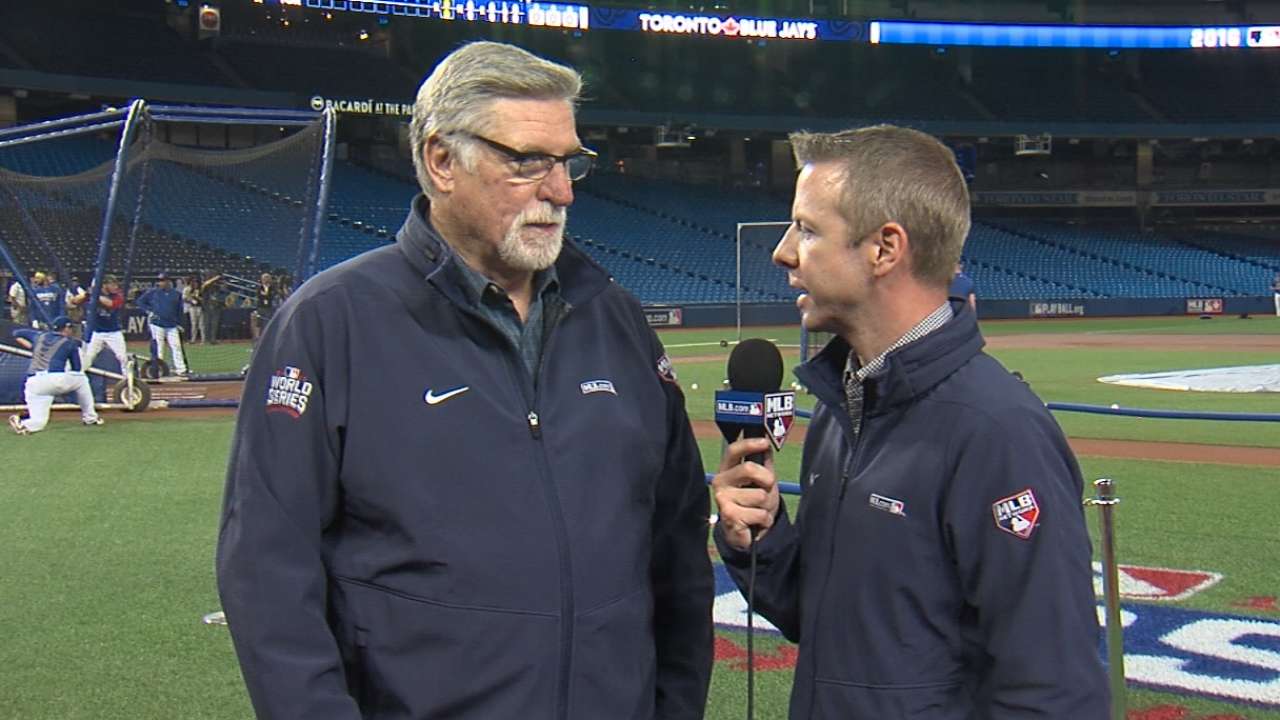 Gibbons isn't the only one who feels this way. Players inside the clubhouse have bristled at the thought that drastic changes need to be made. They've tipped their cap to an Indians pitching staff that has made very few mistakes out over the plate. They've taken responsibility for not coming through in the few opportunities that happened to come their way. They know something has to give for a team that is batting just .159 (10-for-63) in this series.
"For me, I'm trying to swing at strikes and not get out of the zone because I've noticed how they've been pitching me," said Blue Jays outfielder Jose Bautista, who noted Cleveland has been attacking him inside. "It's been tough, but I continue to have the same type of at-bat because they're pitching me the same. I just haven't been able to get that one pitch that I get every three at-bats that's over the plate. I seem to keep fouling it off. I need to stop doing that."
The return of the long ball remains Toronto's best chance to get back into this series, but it's not the only way the Blue Jays can improve their lackluster results. They also need to get more out of the bottom of their order. It's one thing for the middle of the order to remain focused on going deep, it's another thing for the bottom to try to do the same.
The bottom third of Toronto's lineup is batting 3-for-19 (.158) with one walk through the first two games of this set. When the Blue Jays' offense was at its peak a year ago, one of the underrated reasons was the bottom of the order's ability to turn the lineup around for the big bats. Kevin Pillar hit .278, Ryan Goins posted a .376 on-base percentage in the final two months of the year and Russell Martin finished with 48 extra-base hits.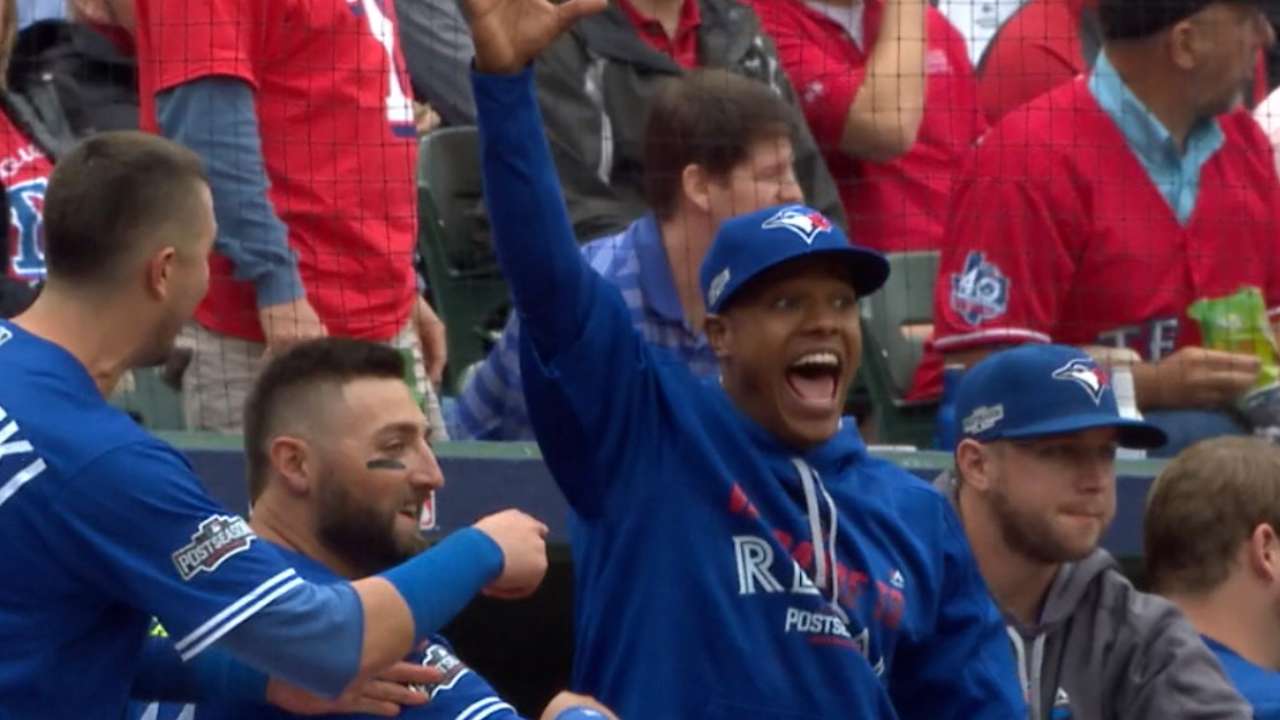 If an opposing pitcher is allowed to relax after getting through Josh Donaldson, Edwin Encarnacion, Bautista and Troy Tulowitzki, then Toronto will be fighting an uphill battle the rest of the way, and the club knows it.
"I haven't done a very good job," Pillar said. "I would say I'm one of the rare guys where I felt like I've gotten good pitches to hit. It's unfortunate that it's come at this time of the year and that I haven't been able to capitalize on some of their mistakes. ... I feel like I just haven't been pulling my weight, and that's something I need to do a better job of.
"It's easier to go home when you win a game and didn't pull your weight and you understand it's all about getting wins. It's obviously a lot tougher when you lose a couple games; you think about how you could have made a difference in the game if you just found a way to get on base. ... I'm going to continue to get better. Everything we want is still in front of us."
Gregor Chisholm has covered the Blue Jays for MLB.com since 2011. Follow him on Twitter @gregorMLB and Facebook, and listen to his podcast. This story was not subject to the approval of Major League Baseball or its clubs.