Francona won't rule out Kluber for Game 4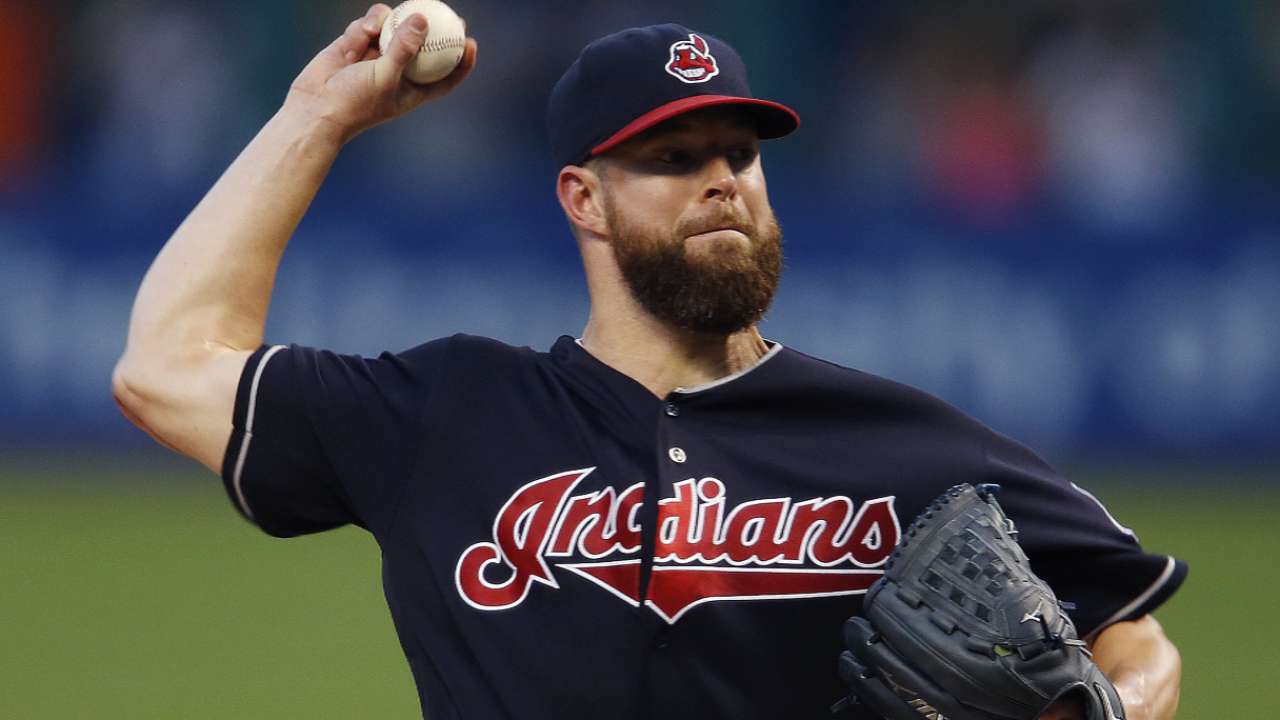 TORONTO -- Indians manager Terry Francona is keeping his ace in the hole, just in case.
During Sunday's American League Championship Series workout at Rogers Centre, Francona said that he is keeping an open mind about handing Corey Kluber the ball on short rest for Tuesday's Game 4 against the Blue Jays. Francona wants to meet with both pitching coach Mickey Callaway and Kluber before making a final decision, which may not come until after Game 3 tonight.
• ALCS Game 3: Today at 8 p.m. ET on TBS/Sportsnet/RDS
"We'll see. I want to sit down with Mick for a little bit here," said Francona, whose team has a 2-0 lead in the best-of-seven series. "We've got some time. I'm pretty convinced Kluber could do it pretty seamlessly, but it's not just that. It's, OK, how does it affect everybody else? I want to walk through it with Mick and just make sure we've got everything covered."
Kluber said during Sunday's workout that he would be willing to take the ball in Game 4 if Francona asks that of him.
"Absolutely," Kluber said. "Obviously, I haven't done it before, but I think that it's one of those things where in these games, you get so much adrenaline, if there was any lack of rest or whatnot from being on a little shorter rest, I think it'd probably go away once you get out there."
Before Cleveland can officially name a Game 4 starter, Francona said, the team needs to see how right-hander Trevor Bauer gets through Game 3 in Toronto. Bauer had originally been scheduled to start in Game 2, but he lacerated his right pinkie finger while repairing one of his drones on Thursday night. That minor injury, which required 10 stitches, necessitated giving him additional days to heal.
Bauer has been able to throw without any issues, and he said on Sunday that the injury does not affect any of his pitches, though there is the possibility that the stitches will not hold. If at any point his finger begins to bleed during his start, he would be required to leave the game, pressing Cleveland's bullpen into duty. That possibility could influence how the Indians approach Game 4.
The status of the series -- whether Cleveland is up 2-1 or 3-0 -- may not affect the decision. Francona said the state of the pitching staff is what will primarily influence whether to bring back Kluber on short rest.
• Bauer says pinkie cut 'non-issue' for Game 3
"We're just trying to be a little bit organized here," Francona said. "Until [Bauer] pitches, it's going to be hard to lay out [a firm rotation plan]."
During Game 1 on Friday, Kluber logged 6 1/3 shutout innings, striking out six, scattering six hits and issuing two walks in a 2-0 win over the Blue Jays. Through two starts this postseason, the 2014 AL Cy Young Award winner has turned in 13 1/3 shutout innings, the sixth-longest scoreless streak in Indians postseason history.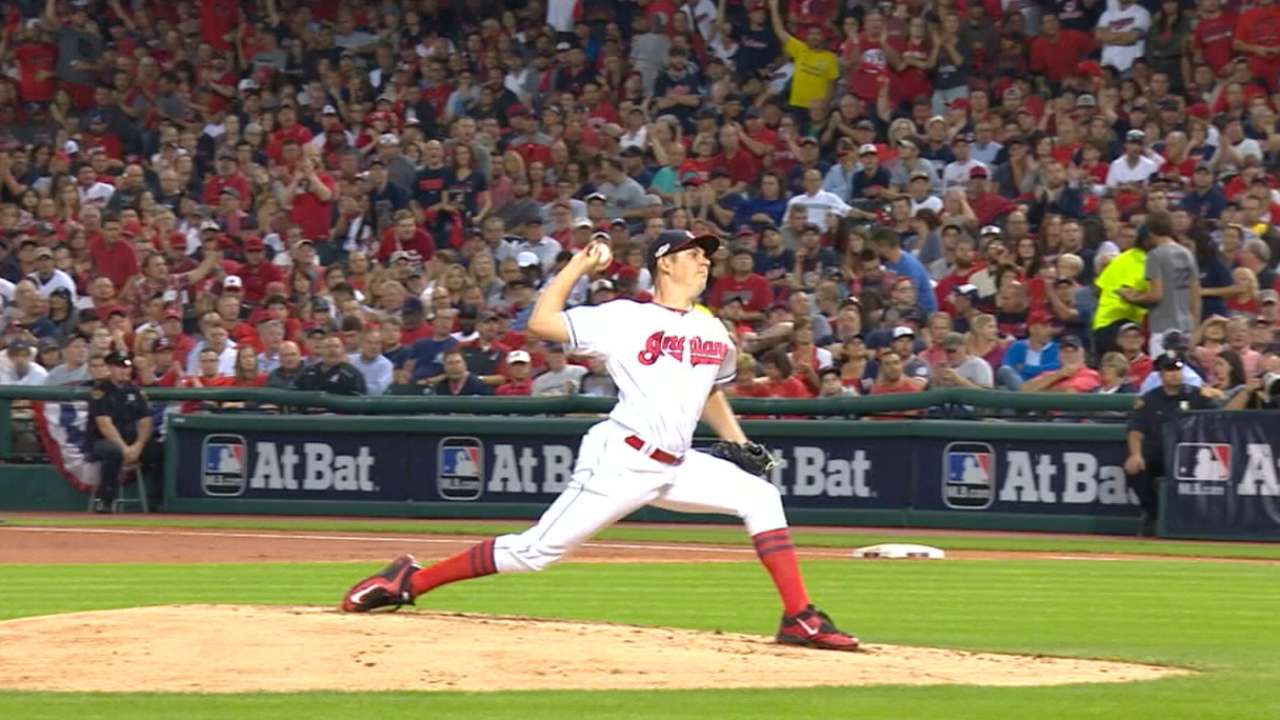 In Kluber's AL Division Series start against the Red Sox, following a 10-day layoff caused by a mild quadriceps strain, his average velocity dipped to 93.4 mph on his four-seam fastball and 92.6 mph on his sinker. On Friday against Toronto, though, his fastballs were back up to 94.3 and 93.4, respectively, in a strong showing at Progressive Field.
Kluber, who went 18-9 with a 3.14 ERA and 227 strikeouts in 215 innings this season, is the first pitcher in Cleveland postseason history to notch at least two consecutive starts with six or more shutout innings. That feat has only been accomplished 26 times in postseason history.
If Kluber comes back for Game 4, he'll be working on three days' rest, which he has never done as a starter. The rest of the rotation would also be affected. Rookie righty Mike Clevinger -- currently in the bullpen -- is penciled in as the Game 4 starter at the moment. If the Indians switch to Kluber, Clevinger might be an option for Game 5 on Wednesday if the series isn't decided by then.
If there is a Game 5, and if Kluber were to start it, he would be doing so on regular rest. Should Francona hand him the ball one game earlier, righty Josh Tomlin would be the other option (besides Clevinger) for Game 5. Like Kluber, though, Tomlin would then be asked to pitch on three days' rest. If the series goes to six games, Tomlin could start after five days' rest in Game 6, leaving Kluber (three days' rest again) or Bauer (four) as the possible starters for a potential Game 7 on Saturday.
Francona has shown this October that he concerns himself more with the game in front of him than the ones that could follow.
"I think people get carried away with what might happen tomorrow," Francona said.
Kluber loves that approach.
"There's such importance on each game right now," Kluber said. "You don't want to sacrifice, potentially, one of these games early on because of something that could happen later, and then you never get the chance to get there. I think it's a good mentality to have, and I think it's something that's carried over to everybody in here.
"Take care of the business at hand. When tomorrow gets here, we'll worry about tomorrow."
Jordan Bastian has covered the Indians for MLB.com since 2011, and previously covered the Blue Jays from 2006-10. Read his blog, Major League Bastian, follow him on Twitter @MLBastian and listen to his podcast. This story was not subject to the approval of Major League Baseball or its clubs.