Dodgers-Cubs NLCS Game 2 starting lineups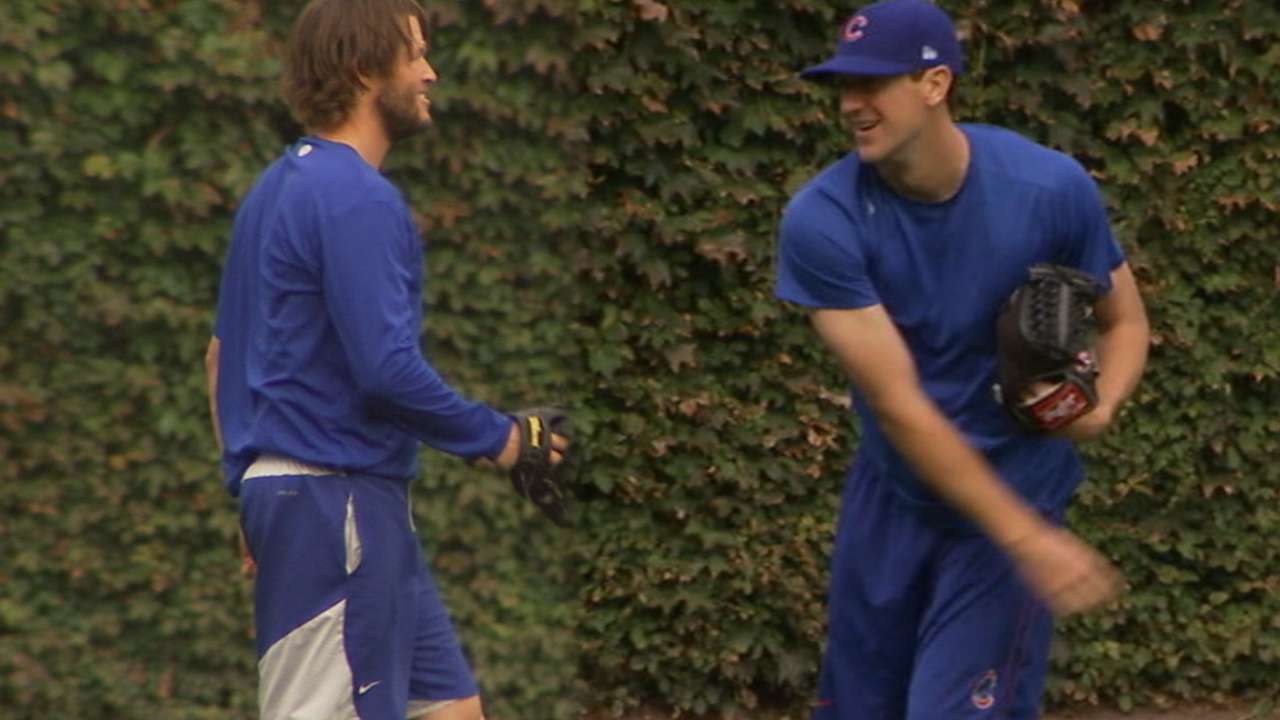 CHICAGO -- Cubs manager Joe Maddon made a few tweaks to the lineup for Game 2 of the National League Championship Series on Sunday against the Dodgers, including moving up Javier Baez to sixth in the order against lefty Clayton Kershaw.
Kyle Hendricks will start Game 2 at Wrigley Field. The Cubs have a 1-0 lead in the best-of-seven series.
• NLCS Game 2: Tonight at 8 ET/7CT/5PT on FS1
Baez batted .311 against left-handers this season, second on the Cubs to Kris Bryant, who batted .314 with 14 home runs.
Willson Contreras got the call at catcher, after David Ross started behind the plate in the opener. Contreras will bat seventh, ahead of Jason Heyward, who moved down from the six-hole with Kershaw starting for Los Angeles. Heyward, a left-handed batter, hit .207 against southpaws during the regular season.
Chicago has yet to face Kershaw this year. Fowler has the most hits and at-bats against the Dodgers' ace, going 18-for-44 (.409), but has also struck out 10 times. Rizzo does have three hits off Kershaw, including a home run. Chicago batted .267 against lefties this season, second best in the National League.
Dodgers manager Dave Roberts went with the usual lineup he uses against righties, which consists of left-handed-hitting second baseman Chase Utley, right fielder Josh Reddick and left fielder Andrew Toles.
Also back was switch-hitting catcher Yasmani Grandal, who didn't start Game 1 in part because of Cubs left-hander Jon Lester but also because he's having his second consecutive disappointing offensive postseason, going 2-for-18 with seven strikeouts. In his postseason career, he's 3-for-28 with 13 strikeouts.
"I think it's a little being too aggressive, and you look at the in-zone percentage, and guys aren't throwing him strikes," Roberts said. "They're going soft, and I think a great strength of his is deciding what's a strike and ball. But right now, he's just going out of the zone too much. Physically, he's fine. It boils down to chasing out of the zone."
Corey Seager, the likely NL Rookie of the Year Award winner, remained in the lineup. Despite slugging a pair of homers and a double in the NL Division Series, he's 4-for-27 this postseason and 7-for-43 over the past two Octobers.
"Yeah, I think that Corey is -- obviously he's not swinging the bat like he would like to," Roberts said. "But there's a little bit of trying to crowd him a little bit, then going out of the zone and getting him to be aggressive. But I think that he's got very good mechanics. And once they make mistakes, which pitchers are prone to, he'll be ready. So I think for us, every time he gets in the batter's box, I feel good about it. So, certain other guys are swinging the bats and certain other guys got to get going. But I think last night, for me, one through eight, the quality of at-bat was pretty good, and I expect the same thing tonight."
Dexter Fowler CF
Kris Bryant 3B
Anthony Rizzo 1B
Ben Zobrist LF
Addison Russell SS
Javier Baez 2B
Willson Contreras C
Jason Heyward RF
Kyle Hendricks P
Chase Utley 2B
Corey Seager SS
Justin Turner 3B
Adrian Gonzalez 1B
Josh Reddick RF
Joc Pederson CF
Yasmani Grandal C
Andrew Toles LF
Clayton Kershaw P
Carrie Muskat has covered the Cubs since 1987, and for MLB.com since 2001. She writes a blog, Muskat Ramblings. You can follow her on Twitter @CarrieMuskat and listen to her podcast.

Ken Gurnick has covered the Dodgers for MLB.com since 2001.

This story was not subject to the approval of Major League Baseball or its clubs.