Tribe follows winning formula to keep rolling
Seizing early leads has helped Indians this postseason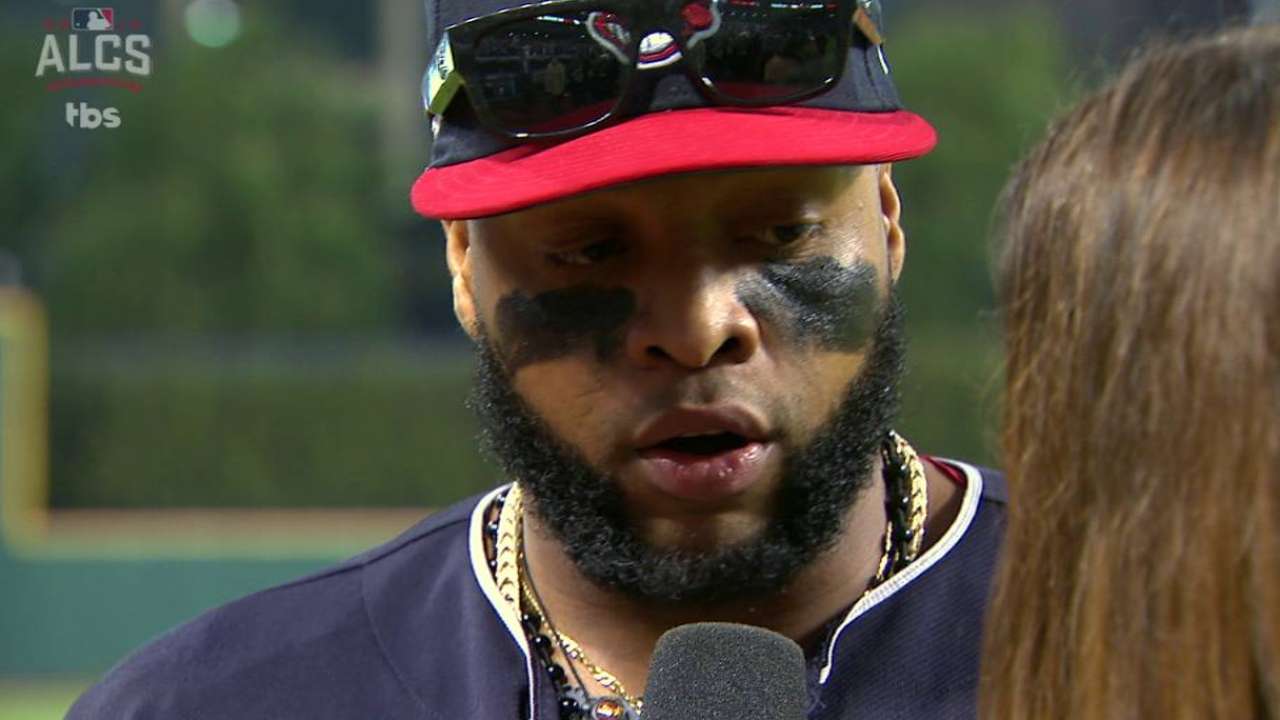 CLEVELAND -- Winning is all the Indians know in this postseason. They're perfect in five tries -- despite entering the forum as consensus underdogs against a pair of petrifying lineups -- and now need just two more victories to secure their first World Series appearance in 19 years.
To this point, the blueprint has looked something like this: Seize a lead and hang on for dear life.
• ALCS Game 3: Monday at 8 p.m. ET on TBS/Sportsnet/RDS
"If we do that," outfielder Rajai Davis said, "things have turned in our favor."
Keeping with the script at Progressive Field on Saturday, the Indians pulled out a 2-1 victory over the Blue Jays in Game 2 of the American League Championship Series for a 2-0 lead in this best-of-seven set.
The stage moves to Rogers Centre in Toronto for Game 3 on Monday.
"Just because we're up, 2-0, doesn't mean nothing," Cleveland shortstop Francisco Lindor said. "We have to respect who's on the other side, because they can come back just like that."
The task won't be easy for these Blue Jays, who have been held to just one run in two days by the Tribe. The Indians, meanwhile, have not trailed in 42 consecutive innings this postseason, dating to the fourth inning of their AL Division Series Game 1 win over the Red Sox, who mustered just seven runs while being swept in three games.
Come Monday, the Indians will look to strike first yet again, as they did both Friday, when Lindor's two-run homer held up as the game's lone runs, and Saturday. The long ball proved decisive again Saturday, as designated hitter Carlos Santana opened the second inning against Blue Jays left-hander J.A. Happ with a home run to left field that had a projected distance of 388 feet, according to Statcast™.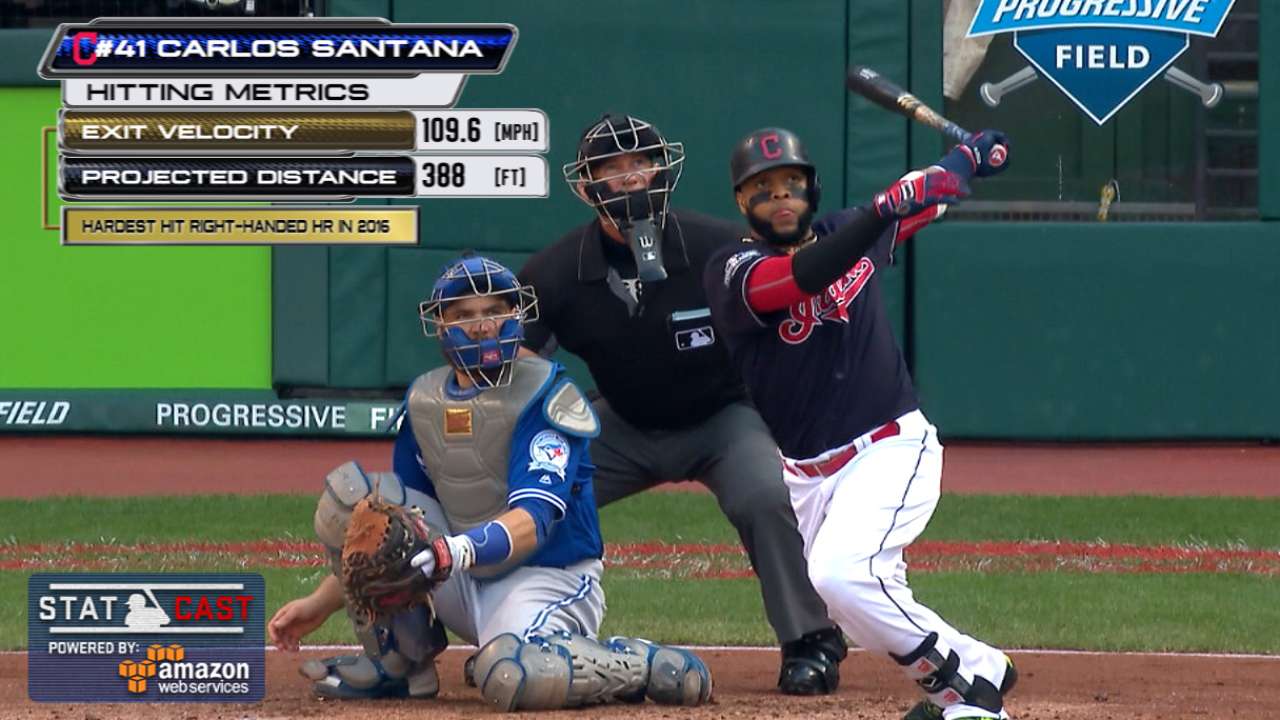 The 109.6-mph rocket -- Santana's first postseason home run -- marked his third-hardest hit homer of the year. Its impact proved weighty, too.
Cleveland's propensity for reaching the board first has boded well: They ran up a 63-20 record when scoring first during the regular season, a theme that's carried over into October.
"Once we get that lead," Davis said, "we just want to put the gas pedal down further and keep putting the pressure on them and keep extending that lead, and I think guys are able to relax even more, calm down even more once we do that."
The Blue Jays responded with a run of their own in the top half of the third, but they also stranded two under the watch of Tribe starter Josh Tomlin, allowing the Tribe to jump ahead in the bottom of the frame.
Lindor was at it again, notching a go-ahead RBI single to continue his dynamic postseason play. His latest clutch hit, coming with two outs, easily sent speedster Davis home from third for a 2-1 lead. Davis, Cleveland's leadoff man, reached first base on a forceout at second and quickly advanced two bases on a steal of second and an ensuing wild pitch that put him on third.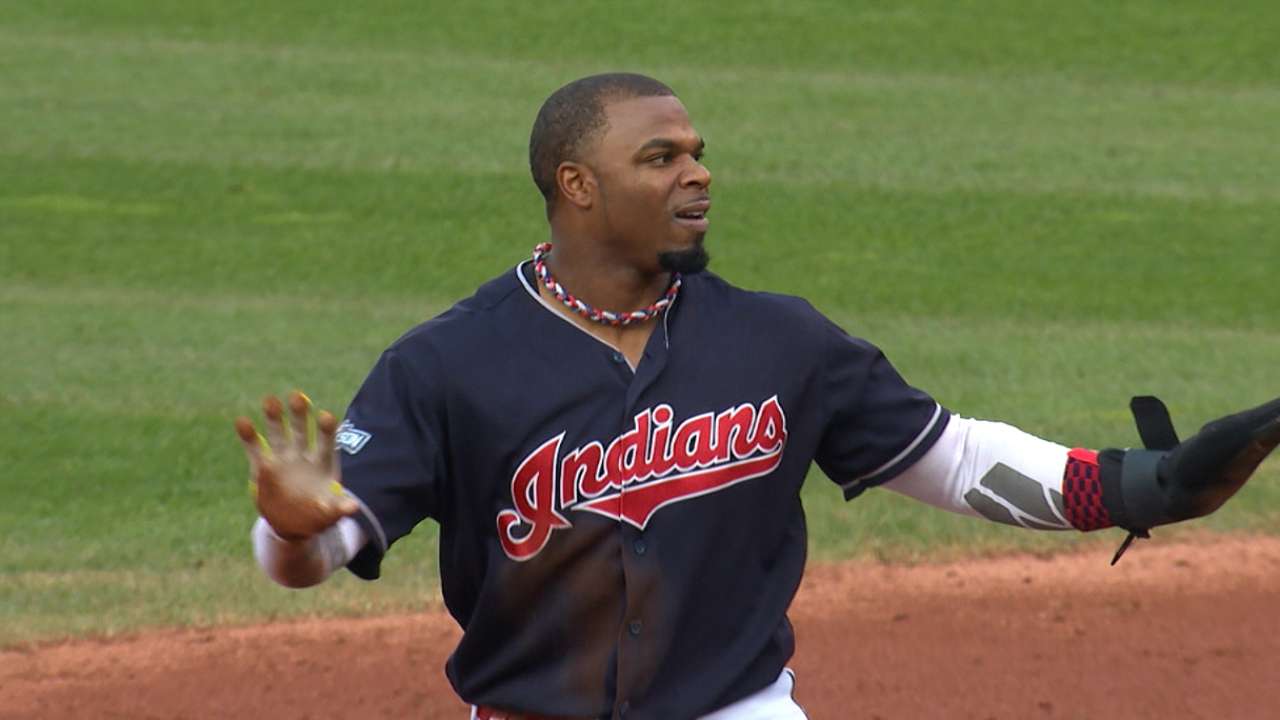 "That's been our mindset the whole entire year, try to score first and keep on adding after that," Lindor said.
Cleveland's scoring halted thereafter, but that was of no matter. Following 5 2/3 gutsy innings from Tomlin, the Indians' bullpen took over and kept pace with its remarkable postseason showing. In 16 1/3 innings of playoff ball, the club's unrelenting relief corps -- led by the duo of Andrew Miller and Cody Allen -- has allowed just two runs while racking up 27 strikeouts.
The Indians are the 28th team in LCS history to grab a 2-0 series lead since the birth of the best-of-seven format in 1985. All but three clubs have advanced to the World Series.
"We are confident," Santana said. "We have a very good team that is hungry to play every day. We have to keep it up."
Jane Lee has been a reporter for MLB.com since 2010. Follow her on Twitter @JaneMLB. This story was not subject to the approval of Major League Baseball or its clubs.