Happ does his part to keep relievers rested
Blue Jays' bats unable to support southpaw's solid five-inning outing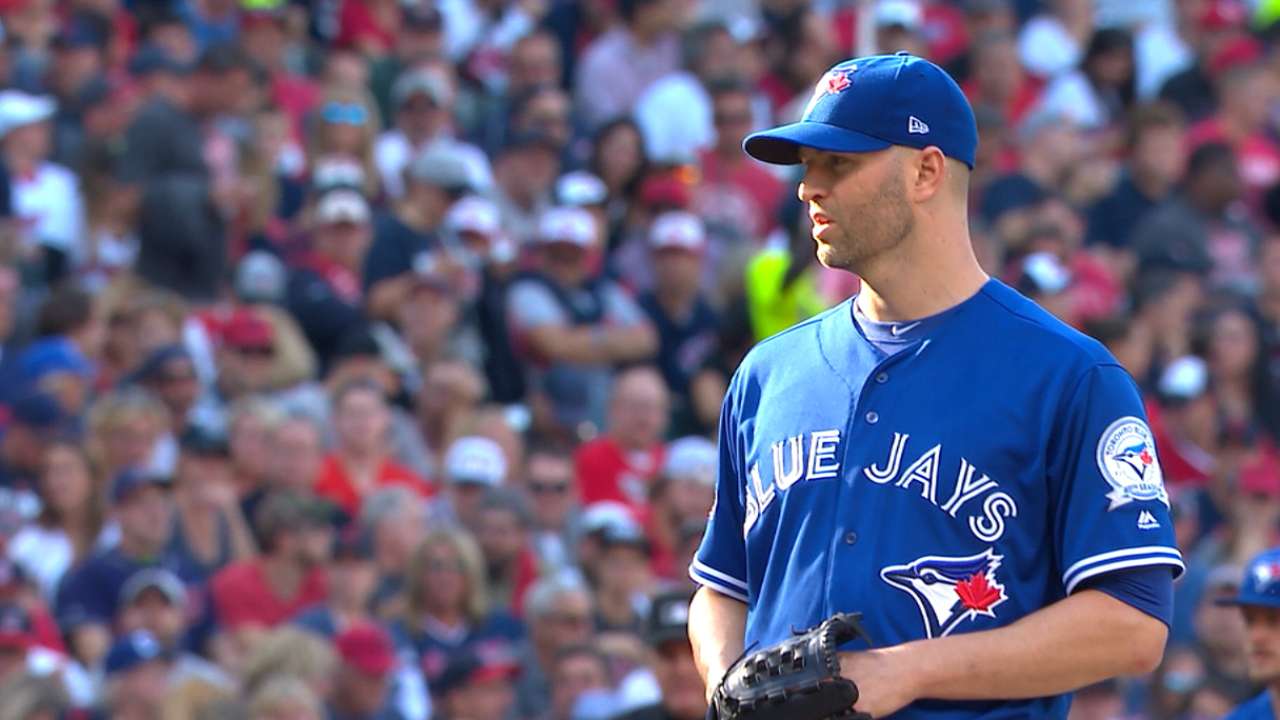 CLEVELAND -- A five-and-fly outing was not what J.A. Happ had in mind for his first appearance in an American League Championship Series, but the 20-game winner performed well enough to keep the Blue Jays' pitching staff rested and ready to make up some ground over the next few days, starting with Monday's Game 3.
Happ limited Cleveland to two runs and four hits over five innings in Toronto's 2-1 loss in Game 2, and although the Blue Jays are still keeping the light on for their offense, they can take some comfort in the fact that their hurlers have held the aggressive Tribe batting order to four runs thus far.
• ALCS Game 3: Monday at 8 p.m. ET on TBS/Sportsnet/RDS
"I think if you would have said that before the series, I think we'd be happy with that," Happ said. "We're not happy about being down 0-2, but we feel like we're giving the team a chance. We're going to come out in Toronto in a couple of days, and we're going to have to be better."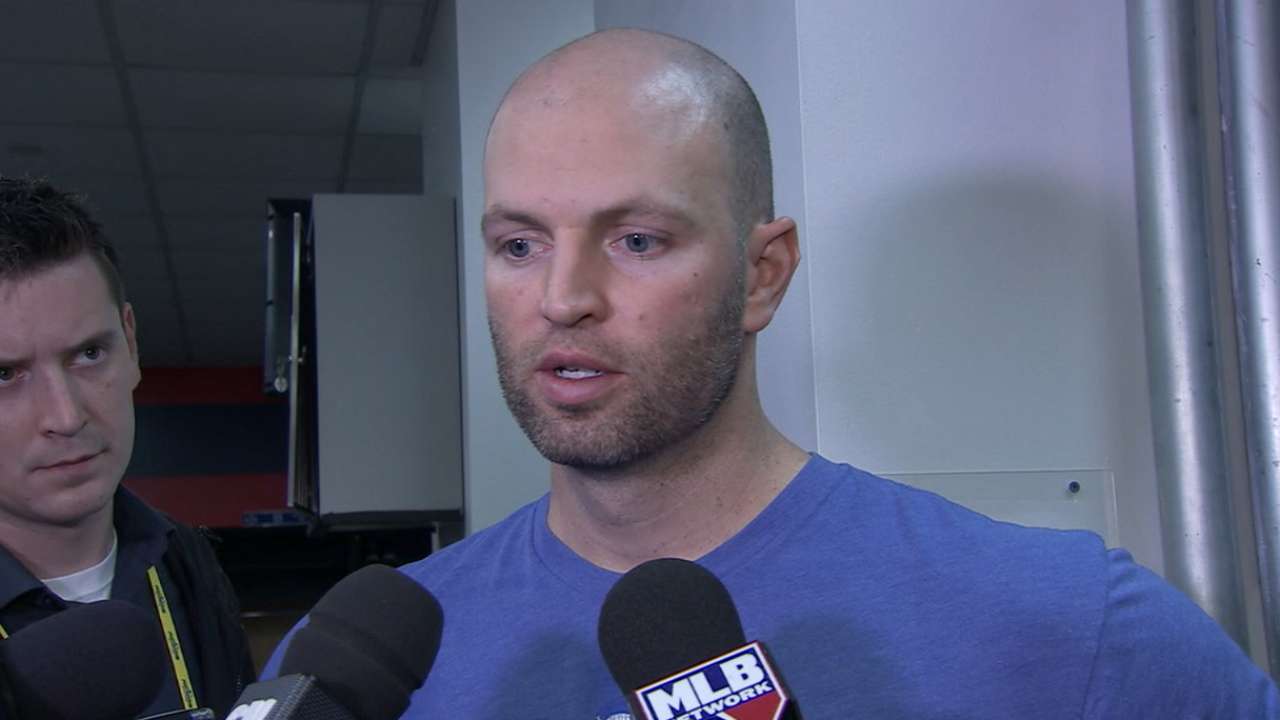 The Blue Jays continue to believe that starting pitching is an area where they hold an advantage over the Indians, having watched Marco Estrada go unrewarded for tossing an eight-inning complete game in Toronto's 2-0 Game 1 loss.
Working in the late-afternoon shadows on Saturday, Happ threw 94 pitches, touched by Carlos Santana's solo homer in the second inning and Francisco Lindor's RBI single in the third before the Blue Jays squeezed two scoreless innings out of Joe Biagini and a breezy eighth from closer Roberto Osuna.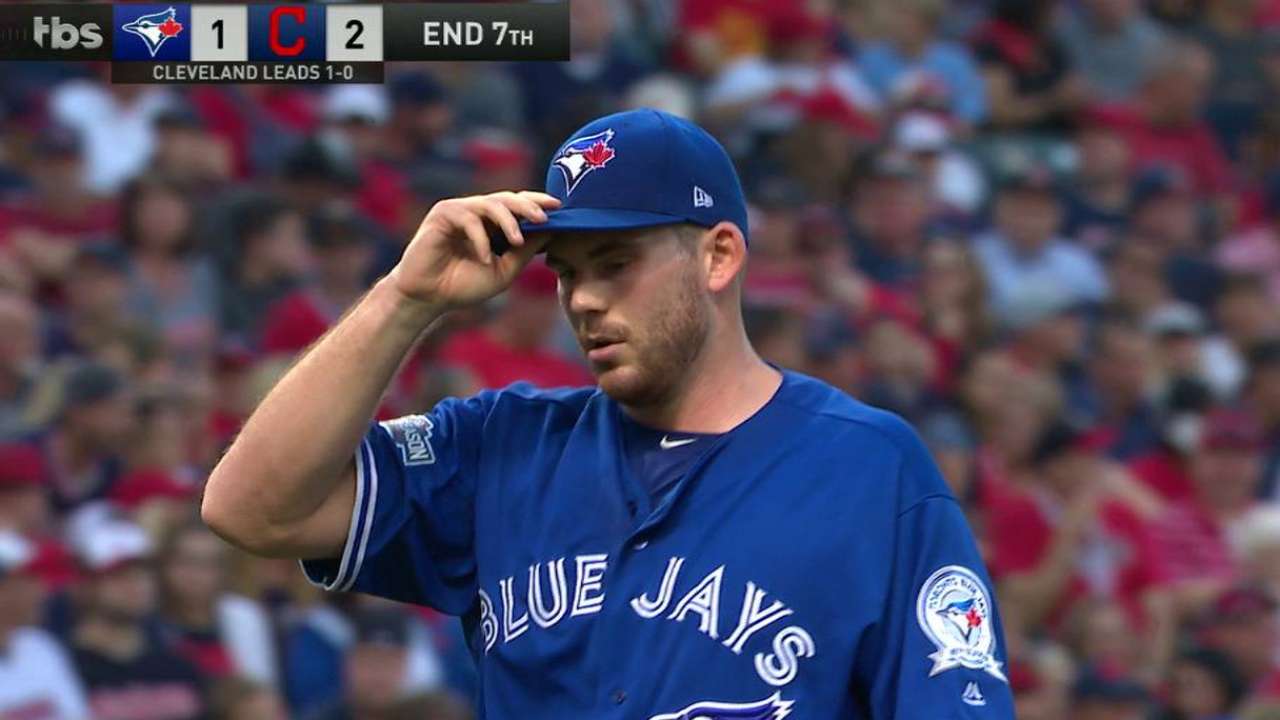 That should have been enough to send a tied ALCS to Toronto, Troy Tulowitzki said.
"They've given us everything we needed, really," Tulowitzki said. "We just haven't been able to scratch enough runs across for them. [The Indians have] neutralized our power so far. We need to get that power going and get this thing evened up and make a series of it."
The Blue Jays might take some heart in the fact that the Indians have had to work their bullpen aggressively to build their series lead, needing Sunday's off-day to rest Andrew Miller and Cody Allen, who have worked in back-to-back games.
By comparison, Marcus Stroman should have no problem finding backup when the ALCS resumes on Monday in Toronto. Then there is the Rogers Centre factor, as the decibel level at home promises to be ear-splitting.
"Hopefully, we can feed off of it," Happ said. "We're going to need to; we need to bounce back, and we definitely need that first one to climb back into the series. We tend to play better at home. I think we will use some of that home-field advantage, and we're going to need it."
Bryan Hoch has been a reporter for MLB.com since 2007. Follow him on Twitter @bryanhoch, on Facebook and read his MLBlog, Bombers Beat. This story was not subject to the approval of Major League Baseball or its clubs.