Deja 'drew! Miller, Tribe up 2-0 in ALCS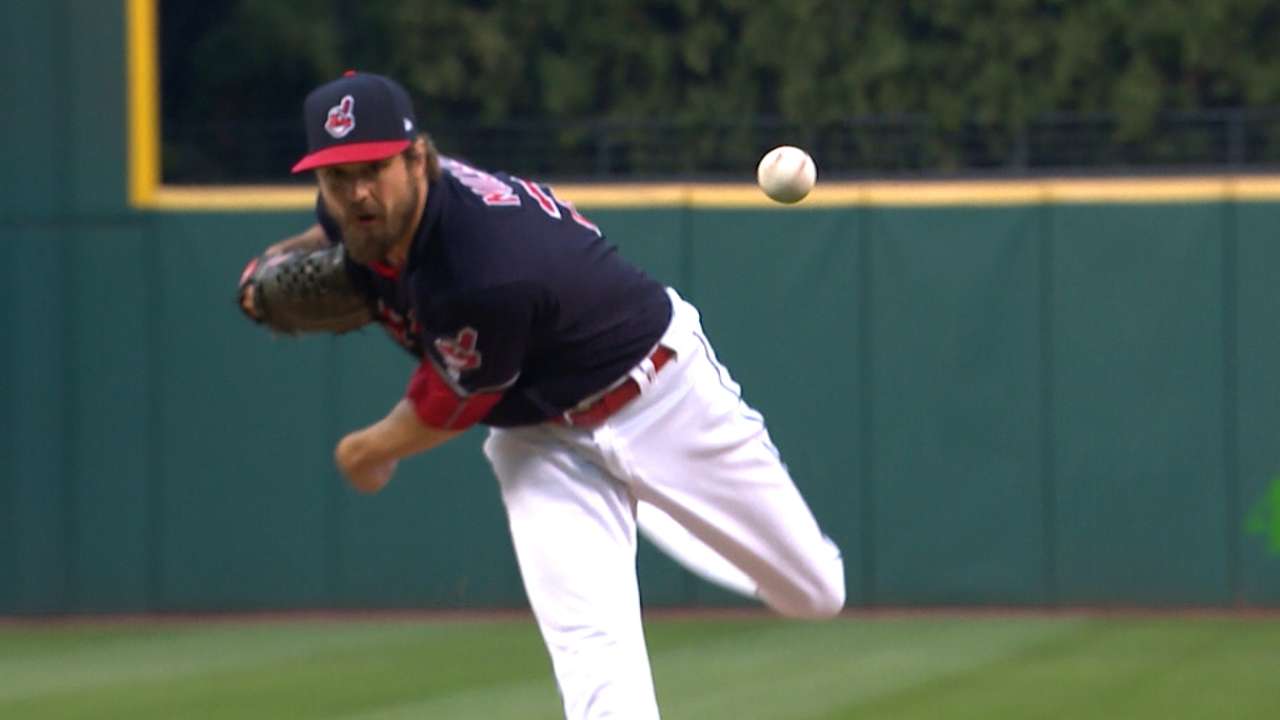 CLEVELAND -- The bullpen door swung open, Andrew Miller emerged and the game was over. That is how it may have felt for the Blue Jays in the seventh inning on Saturday, considering the way the Indians' relief ace has demoralized and dominated opposing hitters to this point in October.
Miller's legendary run continued in a 2-1 victory over the Blue Jays in Game 2 of the American League Championship Series at Progressive Field. The lefty struck out five for the second consecutive day, with the crowd's decibel level rising with every strike and feeble swing by Toronto. Miller's performance followed a strong start from Josh Tomlin, and the victory pushed Cleveland to a 2-0 lead in the series as it shifts north of the border.
• ALCS Game 3: Monday at 8 p.m. ET on TBS/Sportsnet/RDS
"He's shouldering a huge load for us right now," Indians closer Cody Allen said of Miller. "What he's done throughout October so far, I don't think any of us have ever seen it."
Miller -- Cleveland's blockbuster trade acquisition at the Aug. 1 non-waiver Trade Deadline -- worked the seventh and eighth innings, becoming the first pitcher in postseason history to record at least five strikeouts on consecutive days. Miller has 10 strikeouts among the 12 batters he has faced in the ALCS and now has 17 whiffs in 7 2/3 shutout innings this postseason as manager Terry Francona's high-leverage weapon.
"There's a reason we gave up what we did for him," Francona said. "We thought that he could be a guy that we could leverage in situations like we have. And it would make our bullpen that much better and give us a chance to keep playing. And that's exactly what he's doing."
Tomlin quieted Boston's bats in the AL Division Series clincher at Fenway Park and did the same against Toronto this time at home, bringing Cleveland within two wins of reaching the World Series for the first time since 1997. The Indians have not won it all since '48, representing the longest drought in the AL.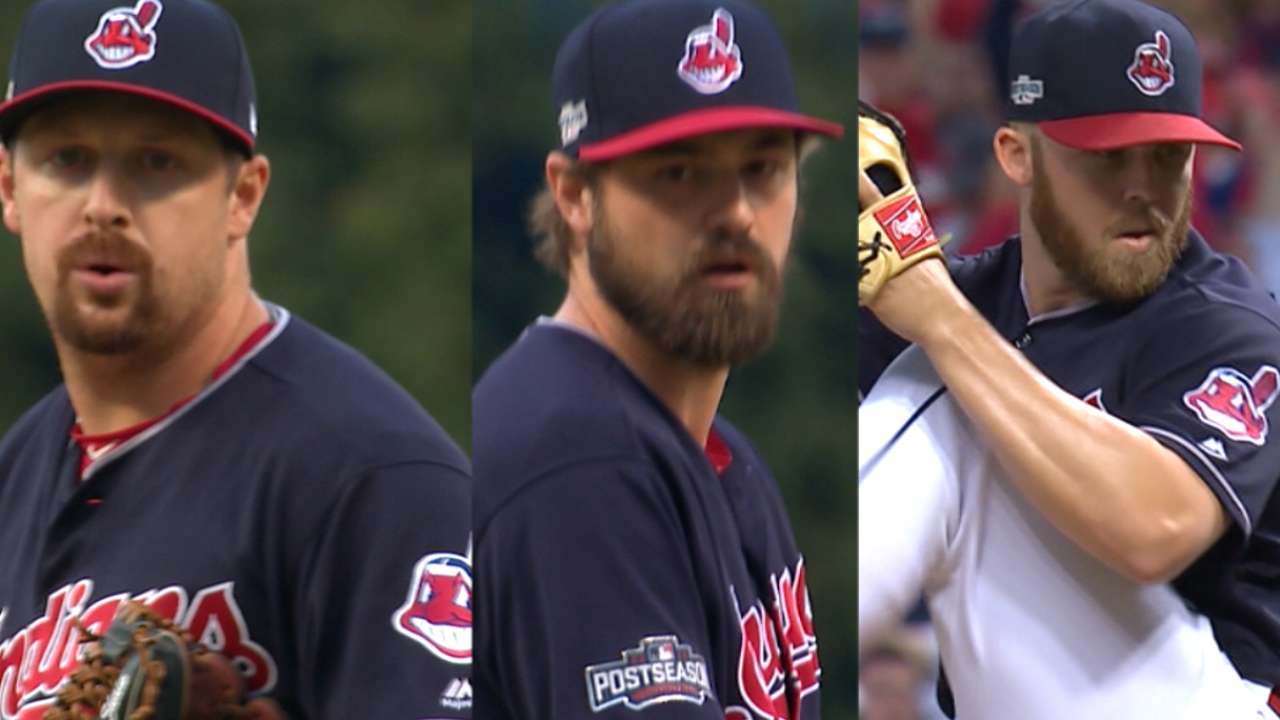 Tomlin received his support from Carlos Santana, who homered in the second, and from Game 1 hero Francisco Lindor, who delivered a go-ahead single in the third. Following Tomlin's exit, Miller and Co. did their thing, slamming the door on the Tribe's fifth straight win this postseason.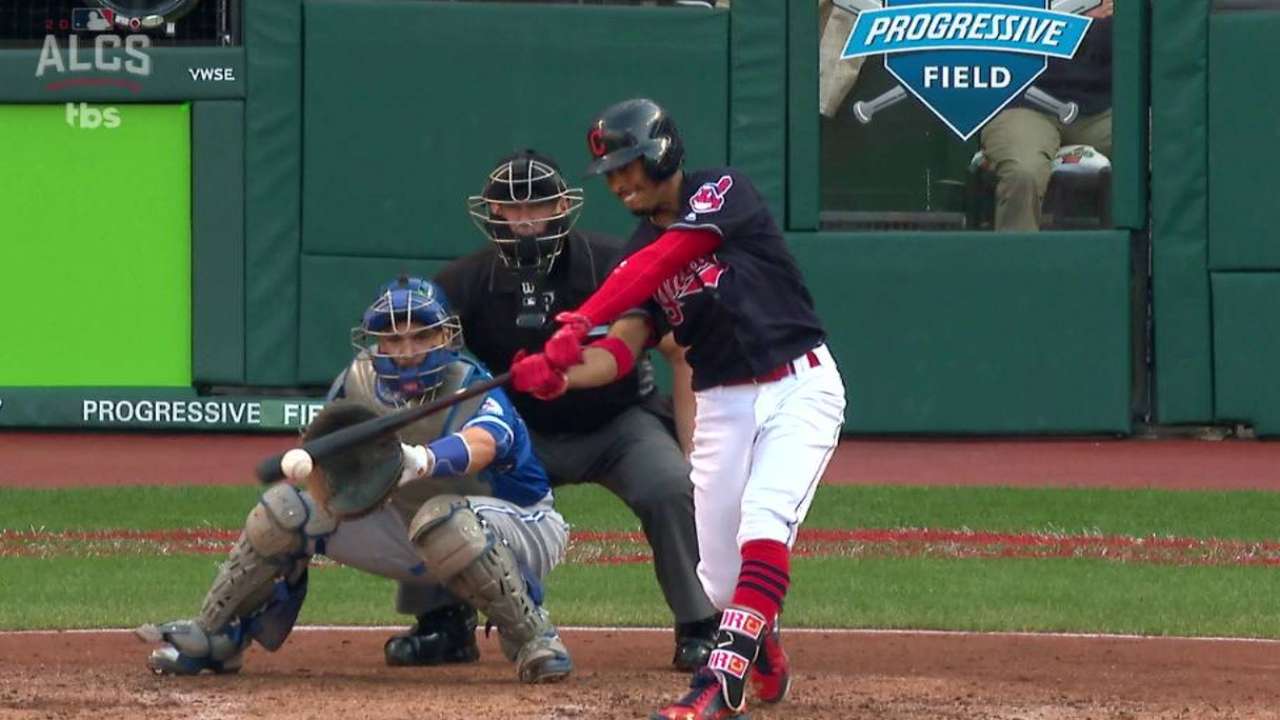 Now the ALCS moves to Rogers Centre, where the Blue Jays will have the potential for three games in three days to fight their way back into this series. However, history says the odds are distinctly in the Indians' favor. Since the advent of the best-of-seven LCS format in 1985, 24 of the previous 27 teams with a 2-0 cushion have advanced to the Fall Classic.
• Justice: Change of scenery may be what Blue Jays need
Six weeks ago, Tomlin emerging as a postseason hero would have seemed more than improbable. The right-hander was abysmal in August to the point that he lost his job as a starter. On the same day he received that difficult news, Tomlin was in Francona's office, playing cards with his skipper, taking the news in stride and willing to accept any role he was offered.
• Castrovince: Tomlin embodies Tribe's grit, attitude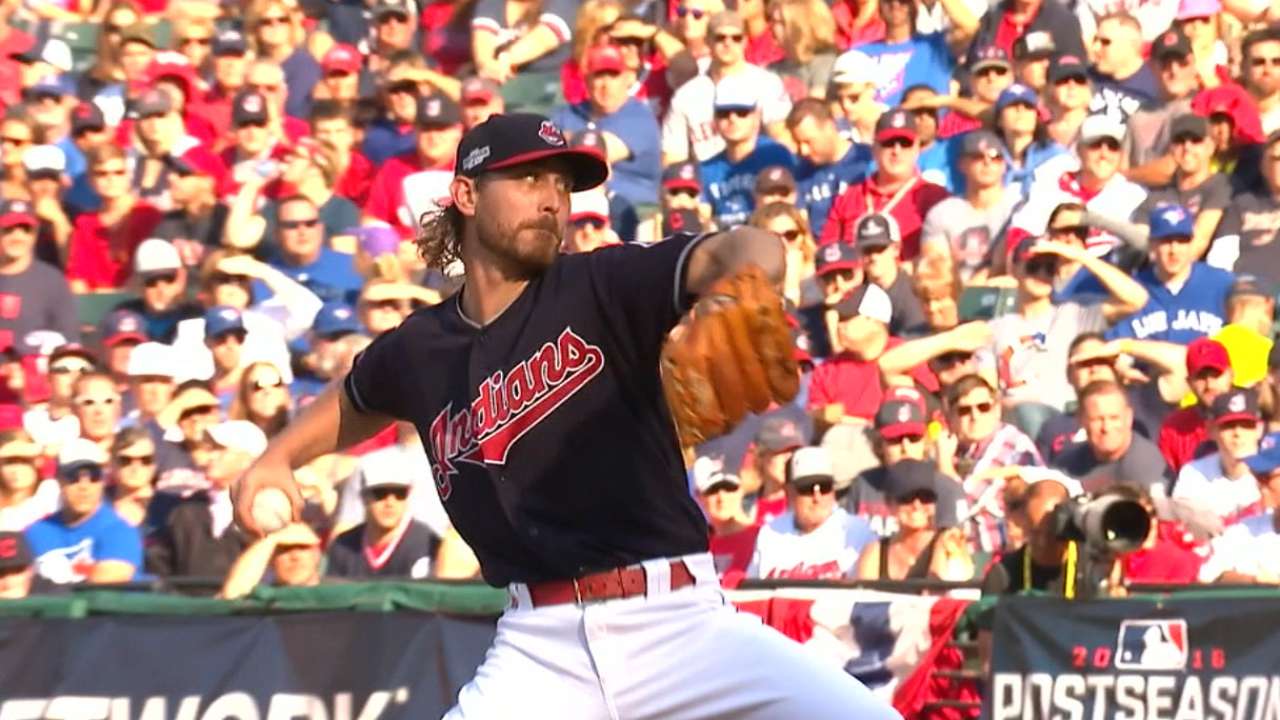 Circumstances, which included season-ending injuries to Danny Salazar and Carlos Carrasco, forced Cleveland to trust that Tomlin could get back on track. Since Sept. 1, all Tomlin has done is fashion a 1.93 ERA over 37 1/3 innings, including his two wins in the playoffs.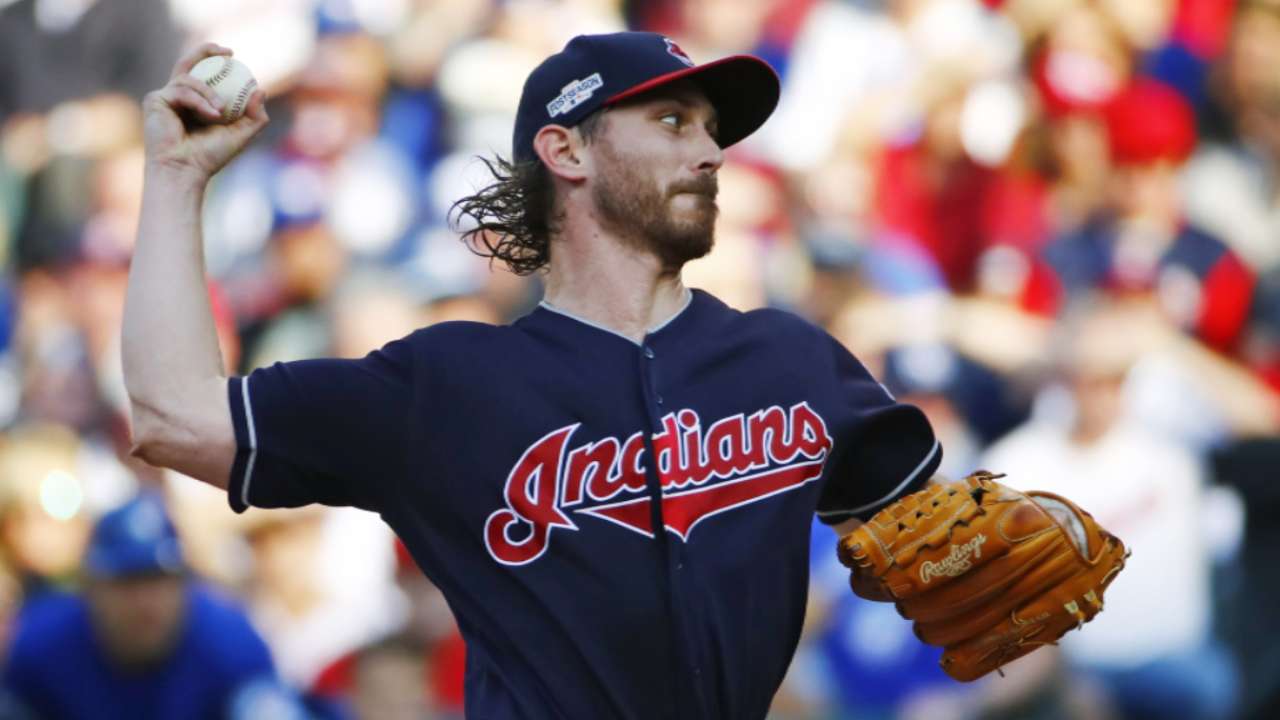 "He's been pretty good," Francona said. "He embodies so much of what we like about our team. And for him to be pitching in these games, I think everybody is excited about it. It's the way it should be."
In a duel with Toronto lefty J.A. Happ, Tomlin held his own. Happ went five innings and allowed only two runs. Tomlin went 5 2/3 innings and surrendered one, giving Bryan Shaw, Miller and Allen the length and lead needed to stop the Blue Jays in their tracks.
• Happ does his part to keep relievers rested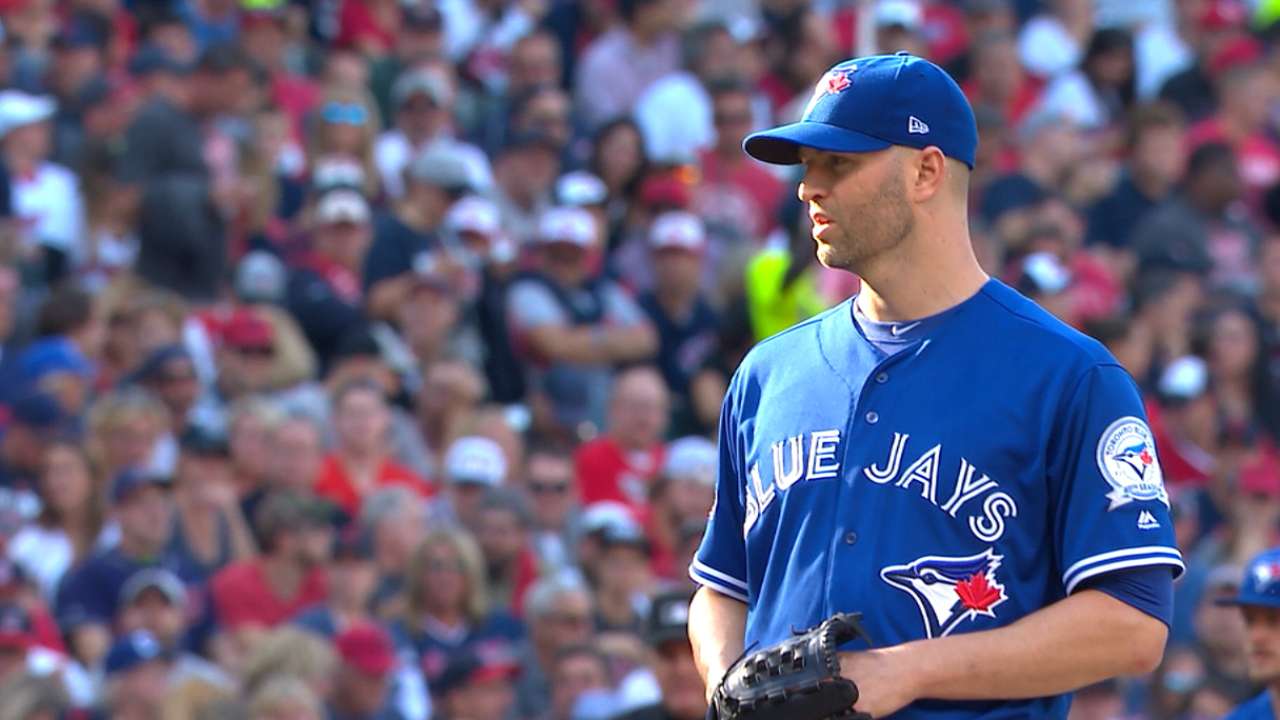 Toronto broke through when Josh Donaldson drove a pitch into right field for an RBI double in the third inning, but that was as far as the Blue Jays got against the Tribe starter. Tomlin did not allow a hit to the next 11 batters before bowing out to a standing ovation.
"We've been there before," said Toronto catcher Russell Martin, whose team fell behind 2-0 in last year's AL Division Series vs. Texas but came back to win the next three. "I don't think anybody's down on themselves. We got beat. We didn't get destroyed. We lost two tough ballgames. We have a tough team. We're going to play tough. But we have our work cut out, definitely."
• Blue Jays need homers when they get home
MOMENTS THAT MATTERED
Tomlin grounds Toronto: Tomlin had the third-highest rate of home runs per nine innings (1.9) this season, making it critical to keep the ball on the ground as much as possible. With a mix of cutters and sinkers, Tomlin accomplished that for the first 10 batters he faced, generating nine grounders (seven outs and two singles) in that stretch. The 11th batter, Donaldson, finally got a Tomlin pitch up in the air. The reigning AL MVP Award winner pushed a 1-0 cutter on a line into right field for an RBI double, pulling the game into a 1-1 deadlock.
"He likes to pitch inside at times," Donaldson said. "Most of the time it's just kind of for show and just to get you off all his other stuff. I was just trying to get something out over the plate. I felt like eventually it would show up out there. He's got a pretty good little cutter, curveball. He made a pitch up that I was able to hit into right field."
Tomlin also established a career high with 36 curveballs in the outing. The right-hander fired his breaking ball in every count, using it early and often to set up his fastballs. While Tomlin threw his curve 15 percent of the time in the regular season, that rate rose to 42 percent on Saturday.
"The game kind of dictates what you do," Tomlin said. "I don't have the stuff to just go out there and try to overpower anybody. So some days it'll be a cutter, some days it'll be a curveball, some days it'll be a changeup. Or it might be a fastball, if I'm locating that day. My strategy or game plan is kind of dictated on how my stuff is playing that day." More >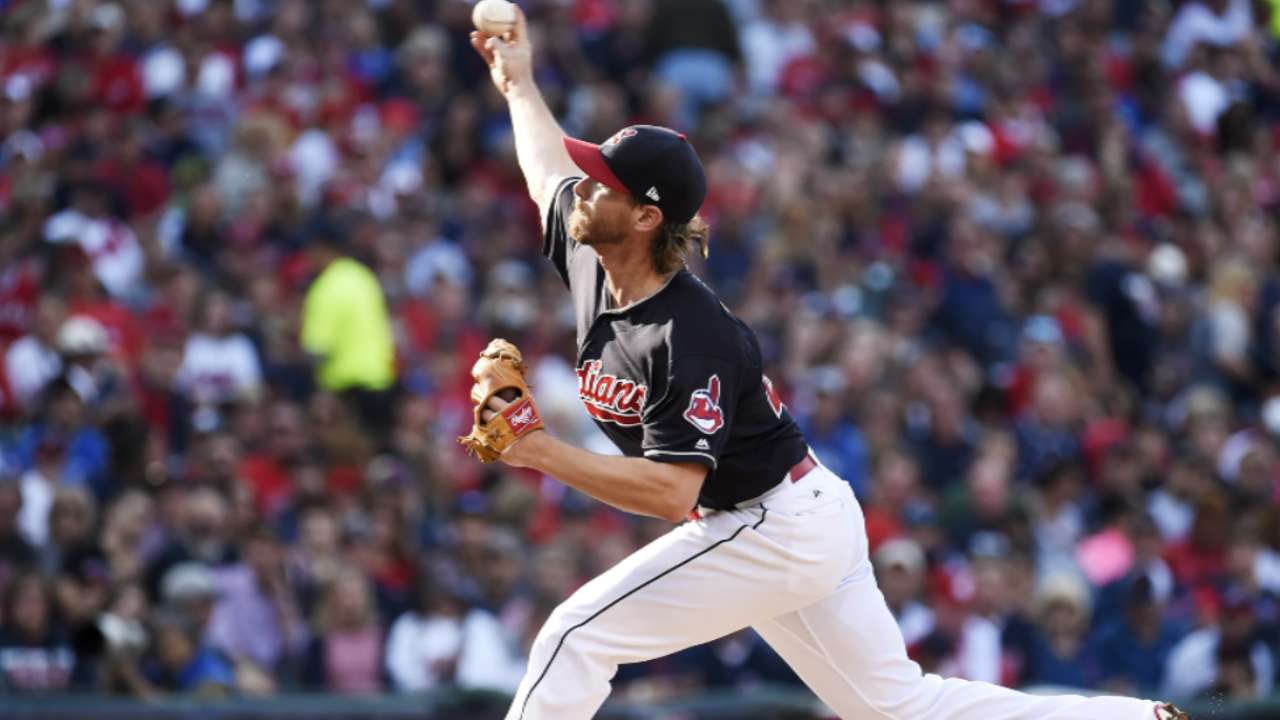 The running game: The Blue Jays knew that the Indians' baserunning was going to cause some issues in this series, and that turned out to be the case in the bottom of the third. Happ got himself into trouble with a leadoff walk of No. 9 hitter Roberto Perez, who was later replaced on the basepaths after Rajai Davis hit into a fielder's choice. Davis, who led the AL with 43 stolen bases this year, stole second and advanced to third on a wild pitch before Lindor came through once again in this series with a two-out RBI single up the middle.
"Leadoff walks, they tend to always come in, some way or another, and that's kind of what happened there," Happ said. "I felt like I made a pretty good pitch to Lindor, and he hit a ground ball up the middle. Tip your cap, I don't know, but the leadoff walk kind of set all of that up."
• Blue Jays done in by Indians' manufactured run
"One run is a huge difference, especially in these tight series and pitching duels," Davis said. "They pitch really well. Fortunately, we were able to take advantage on the bases and get me in scoring position and come through with that big hit."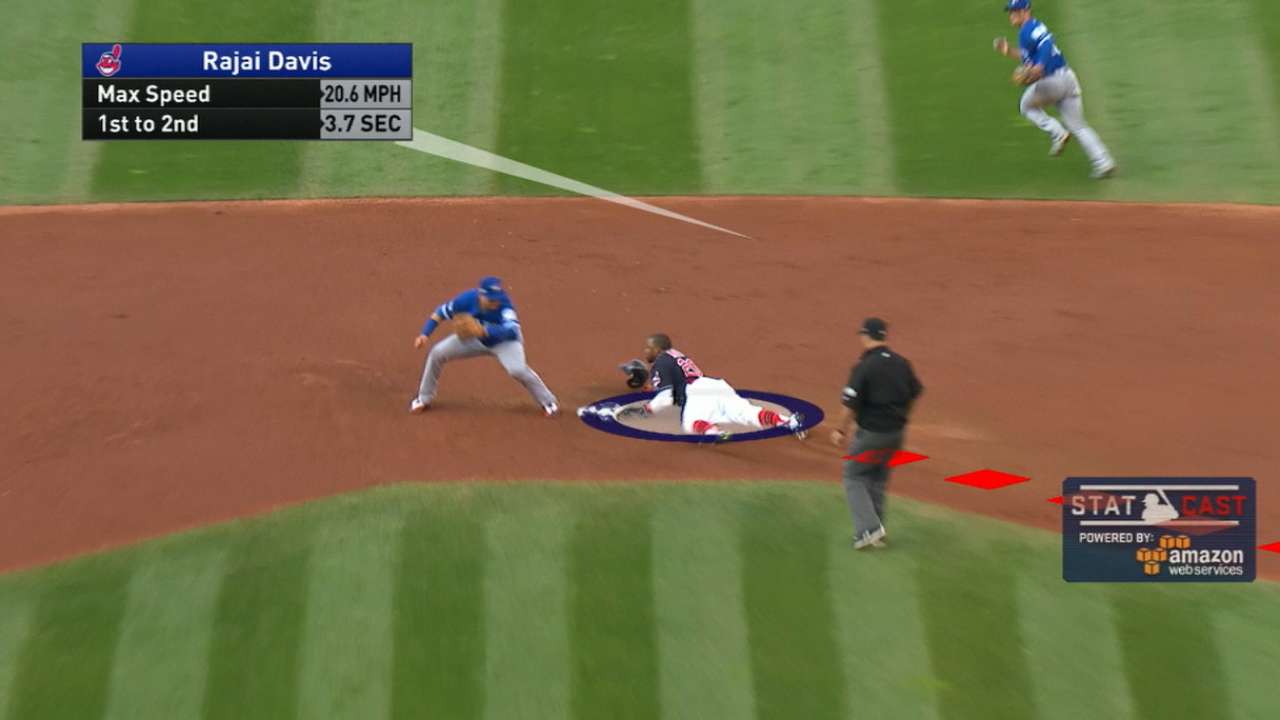 Lindor flashes leather: Tomlin created the ground balls, and Cleveland's defense delivered behind him. The best of the lot came in the second, when Jose Bautista hit a 109-mph grounder into the hole between short and third. Lindor ranged to his right, snared the ball with a backhanded grab and then made a leaping throw across the diamond for a highlight-reel out. Per Statcast™, Lindor's first-step time was 0.2 seconds and he fired the ball 118 feet for the inning-opening out.
"He's been doing that all year long. He's unbelievable," Tomlin said. "Nothing really surprises you anymore when he does something like that. He's a pretty unbelievable player. He's one of the best shortstops I've seen -- there's no doubt about it. He makes the routine plays, he makes the tough plays and he's just good. That's all you can say about him."
• Lindor makes jump-throw play that looks awfully familiar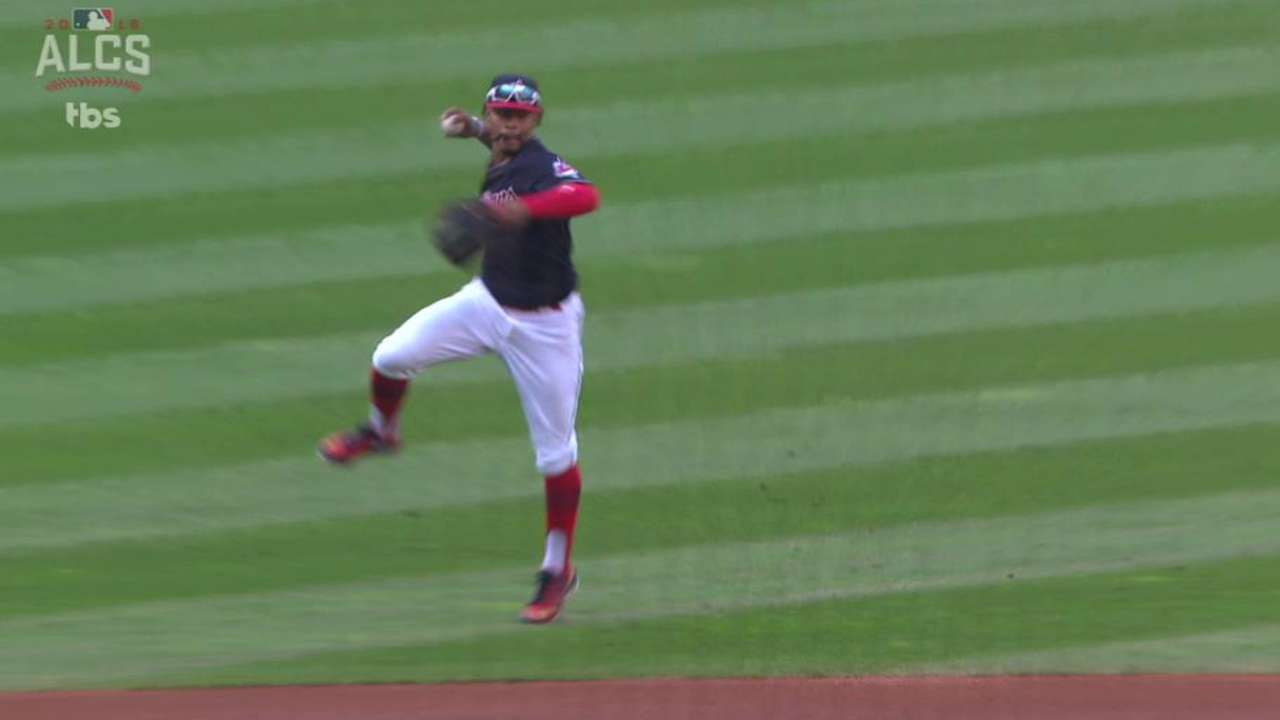 Santana's shot: The Indians opened the scoring in the second, when Santana hit a rocket shot off Happ that just cleared the 19-foot wall in left field. Per Statcast™, the home run had an exit velocity of 109.6 mph, marking Santana's hardest-hit homer off a lefty this year. That said, only four of Santana's 34 homers this year came vs. left-handed pitching. The switch-hitter had a .395 slugging percentage against lefties, compared to a .541 mark off righties. Santana defied those numbers with his leadoff blast in the second.
• Tribe follows winning formula to keep rolling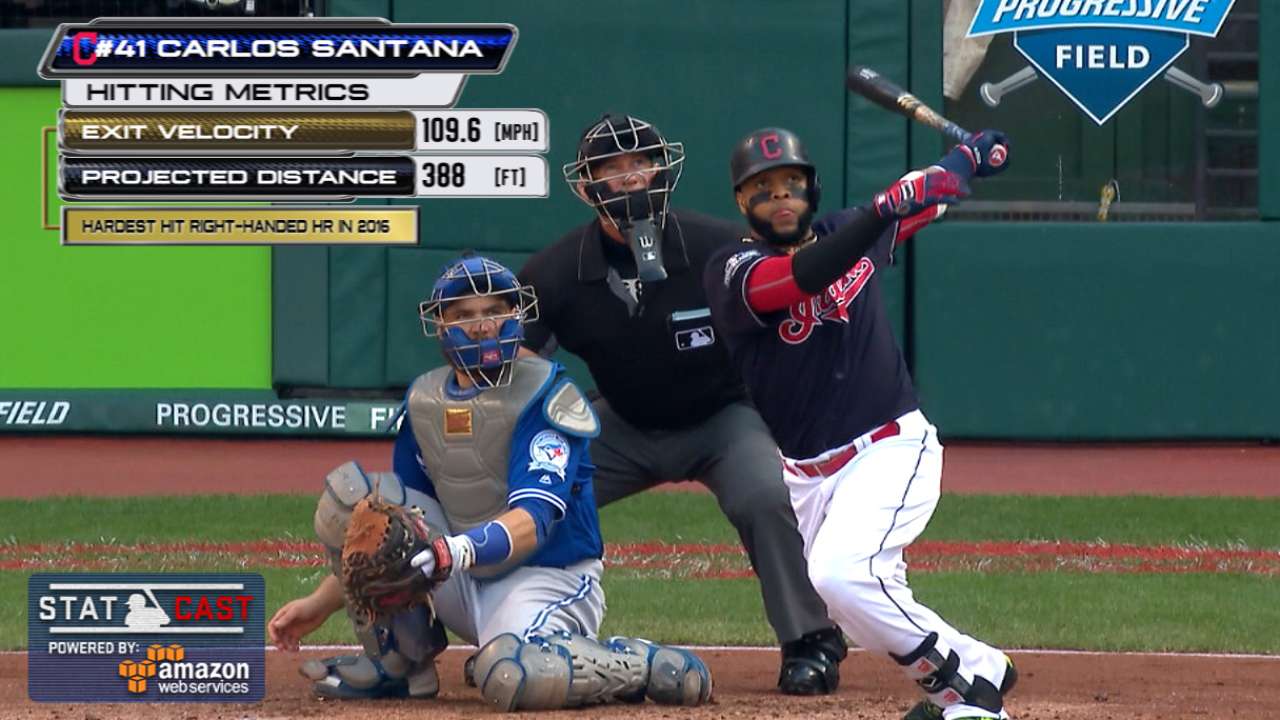 QUOTABLE
"It might be the toughest [place to play]. Toronto is one of those places where when they close that dome, it gets especially loud there. And it's hockey fans. I mean that in the best way, because I'm a hockey fan, too. That's exactly what you want out of a fan. You want the rowdiness. You want that little feeling, that 1-percent feeling, where you're like, 'I'm not sure I'm safe right here on the field.' That's what makes Toronto great and those fans amazing, how loud they get." -- Indians second baseman Jason Kipnis, on the series moving to Rogers Centre
"He's got to make a mistake. He hasn't made any really. He's living on that corner. He's making pitches with his backdoor slider and his fastball. He has some momentum. He has the crowd on his side. He's been tough on us." -- Blue Jays shortstop Troy Tulowitzki, on Miller
• For the second straight game, Miller faces six batters and strikes out five
"It's not just me. We have a whole lot of depth out there. I've had some success in this series, but we like whoever is on the mound. Top to bottom, we like our guys out there. We have good arms, a lot of different looks." -- Miller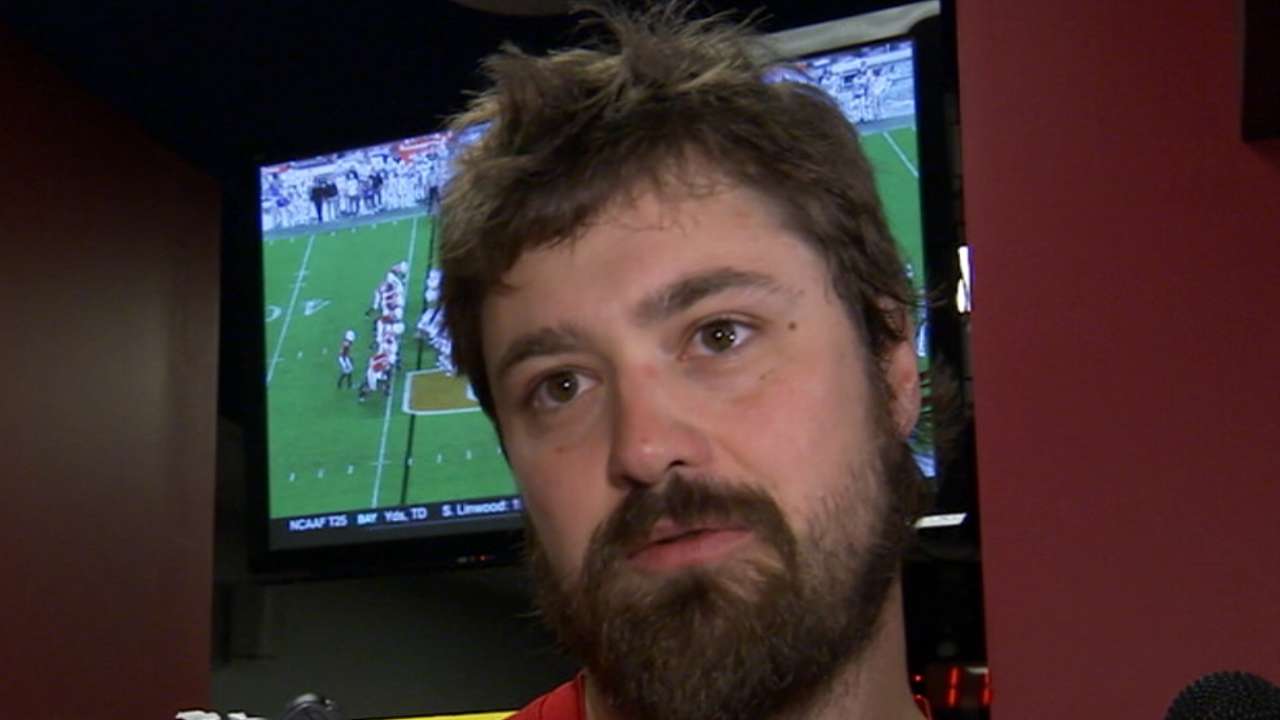 SOUND SMART WITH YOUR FRIENDS
Donaldson's RBI double in the top of the third inning was his sixth of this postseason, which set a Toronto franchise record. It also marked his ninth double in the postseason during his time with the Blue Jays, which is also the most in franchise history. Former outfielder Devon White held the previous record at eight. More >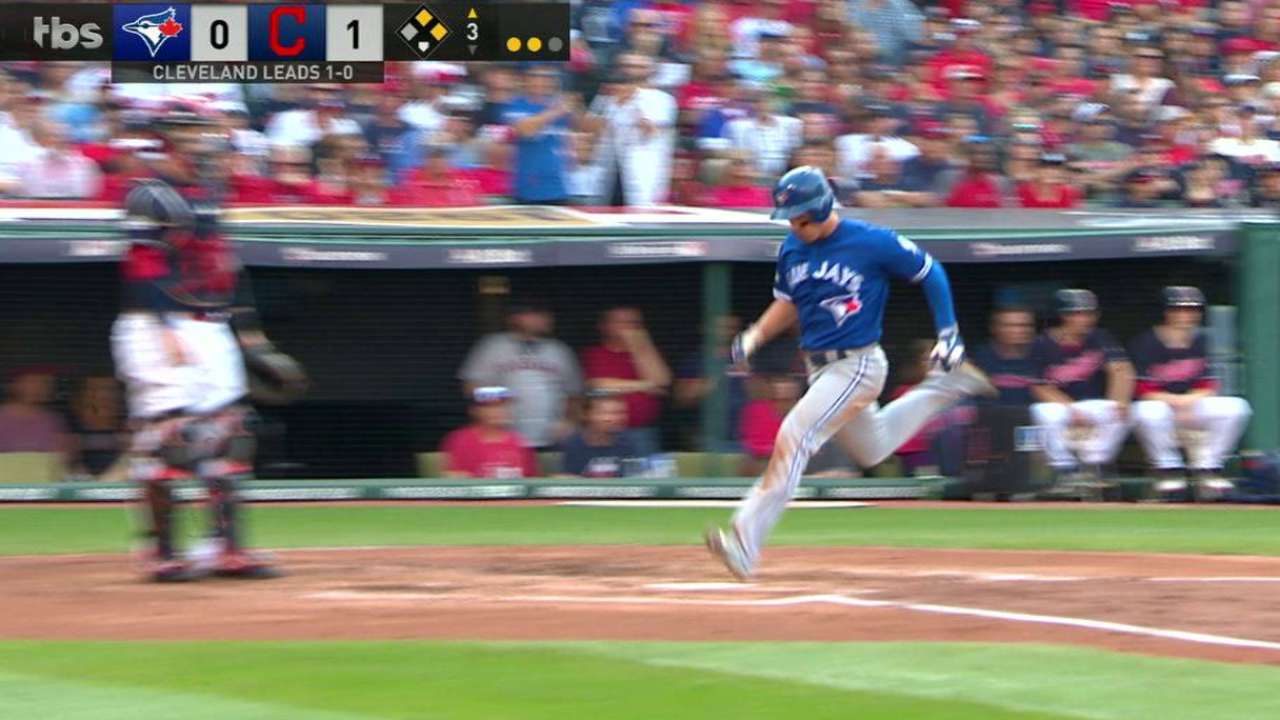 With his single in the fifth inning, Lonnie Chisenhall extended his postseason hitting streak to six games for Cleveland, dating back to the AL Wild Card Game in 2013. That is tied with Jhonny Peralta (2007) for the longest streak to begin a playoff career in club history.
• DYK? Facts and figures from ALCS Game 2
Lindor has multiple hits in three consecutive postseason games. The shortstop is the first Indians player to accomplish that feat since Omar Vizquel in 1998.
WHAT'S NEXT
Blue Jays: Right-hander Marcus Stroman will take the mound when Toronto returns home to Rogers Centre for Game 3 of the ALCS on Monday night. Stroman has not pitched since the AL Wild Card Game when he allowed two runs over six strong innings against Baltimore. That outing came on Oct. 4, which means Stroman will have had nearly two weeks between starts. More >
• Tale of the Tape: Bauer, Stroman square off
Indians: Right-hander Trevor Bauer is scheduled to take the ball for Cleveland in Game 3 in Toronto. Bauer was originally in the plans for Game 2, but the pitcher sustained a laceration on his right pinkie finger while repairing one of his drones. The minor injury required 10 stitches, so Bauer will be monitored closely in his outing. More >
Jordan Bastian has covered the Indians for MLB.com since 2011, and previously covered the Blue Jays from 2006-10. Read his blog, Major League Bastian, follow him on Twitter @MLBastian and listen to his podcast.

Gregor Chisholm has covered the Blue Jays for MLB.com since 2011. Follow him on Twitter @gregorMLB and Facebook, and listen to his podcast.

This story was not subject to the approval of Major League Baseball or its clubs.