MLB.com Columnist
Phil Rogers
Cubs need Bryzzo to produce for trip to World Series
NL MVP candidates Bryant, Rizzo must impact middle of lineup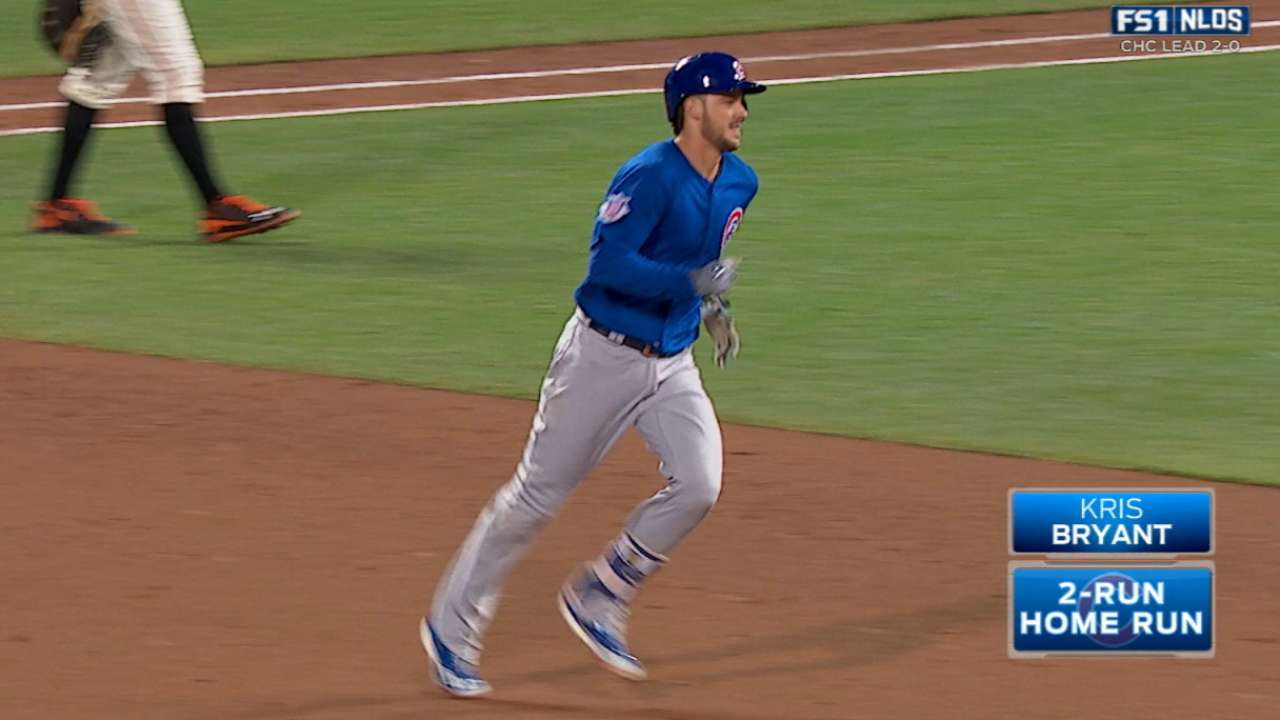 CHICAGO -- Bryzzo is more than just marketing. It's shorthand for the best combination of young hitters in the Major Leagues.
Kris Bryant and Anthony Rizzo are the guys who make the Cubs go. They're going to be right in the middle of things if the Cubs win the World Series this fall.
But they haven't been leading men in any of their team's postseason victories over the last two seasons. And because baseball isn't basketball, here are the Cubs, still favored to beat the Dodgers in the National League Championship Series, which begins on Saturday (8 p.m. ET/7 p.m. CT, FS1), and then to knock off the Indians or Blue Jays to win the World Series that has eluded the franchise since 1908.
Rizzo, in particular, was out of sorts in the NL Division Series. He endured his first 0-for-6 since 2013 in Game 3 against the Giants and went 0-for-13 until a single off Matt Moore in the Tuesday clincher. But Javier Baez delivered all the heroics the Cubs needed, just like Kyle Schwarber and Jorge Soler did last October.
"I think that says a lot about our team,'' said Jon Lester, who faces the Dodgers' Kenta Maeda in Game 1. "One of our big horses isn't swinging the bat well, and we got guys ahead of him and below him that are picking him up. Javy had an unbelievable series both offensively and defensively and really almost carried us.
"K.B., I think, swung the bat pretty quiet as far as the media attention. I thought he had a lot of good at-bats and had the one big homer for us. I think there're a lot of guys in our lineup that haven't hit their stride yet, which is good, hopefully they do it. And if some of those other guys drop off a little bit, we'll have some other guys to pick them up.''
Bryant's ninth-inning home run off Sergio Romo extended Game 3. It was one of three hits he collected in the 13-inning loss, and it helped him finish the series 6-for-16. That was a major step in the right direction for the Bryzzo boys, who combined to hit .182 with four home runs and 20 strikeouts in nine postseason games last year.
Shutting down Bryant and Rizzo was a key for the Mets in sweeping the Cubs in the 2016 NLDS, but Dodgers manager Dave Roberts sees a bigger picture.
"Those are two very good players, but you look at all the teams that we have played all year long, and the team that we just played this past series had some good players as well,'' Roberts said, referring to the Nationals. "I think it's a little bit more complex than Bryant and Rizzo. But, yeah, those are two good players.''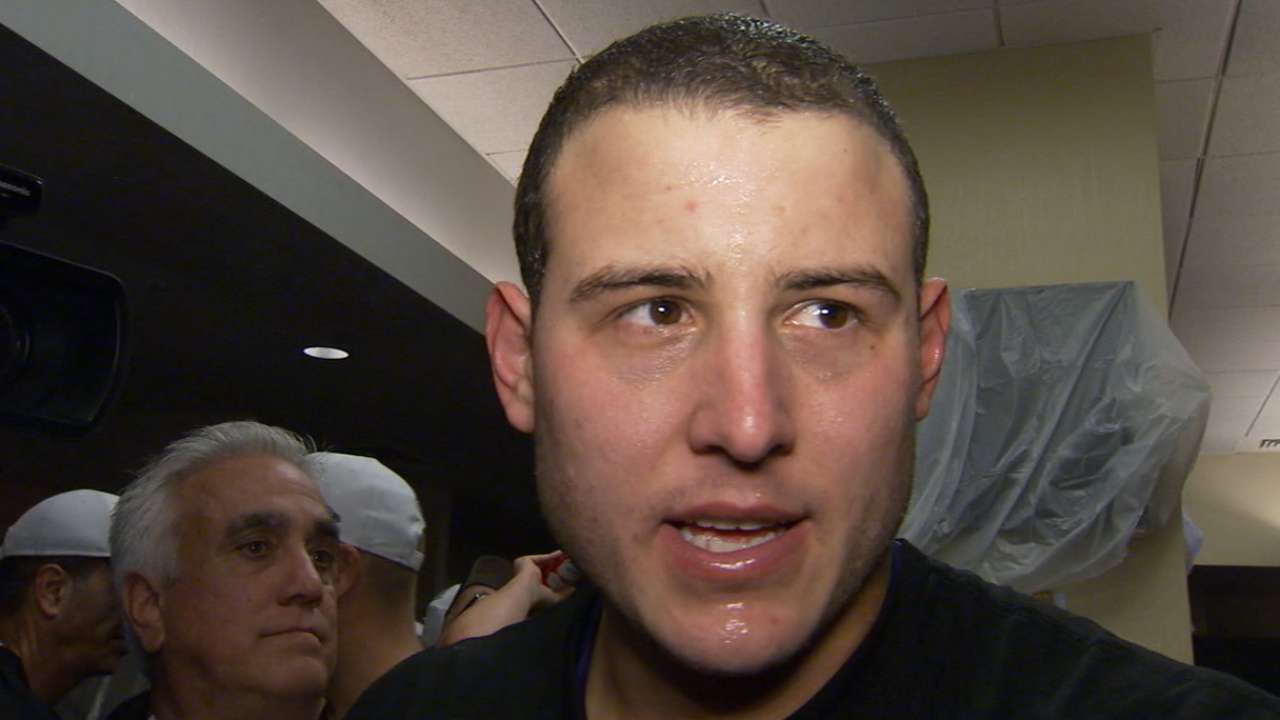 Roberts is right about the challenge of facing the Cubs being "more complex'' than merely pitching to Bryant and Rizzo. But the Cubs are at their best when Rizzo and Bryant are making an impact at the plate.
They both hit .292 this season -- Bryant from the right side, Rizzo from the left side. Bryant, who is a strong favorite for NL Most Valuable Player, delivered 39 home runs and 102 RBIs while leading the league with 121 runs scored. Rizzo notched 32 homers, 109 RBIs and 43 doubles.
The Cubs went 50-12 when Bryant drove in a run and 49-18 when Rizzo drove in a run. When Rizzo and Bryant both produced an RBI in the same game, they were almost unbeatable. A 5-3 loss to the Cardinals on April 20 accounted for the only blemish in a 20-1 record on those occasions.
That's how dangerous they can be to opponents, and after two seasons together, they know it. Manager Joe Maddon hits Rizzo behind Bryant to make pitchers challenge him. He said the Giants pitched around Rizzo in the NLDS, causing him to expand his strike zone at times.
San Francisco pitchers went to two-ball counts against Rizzo only twice in the first three games. He was more patient in the Game 4 clincher.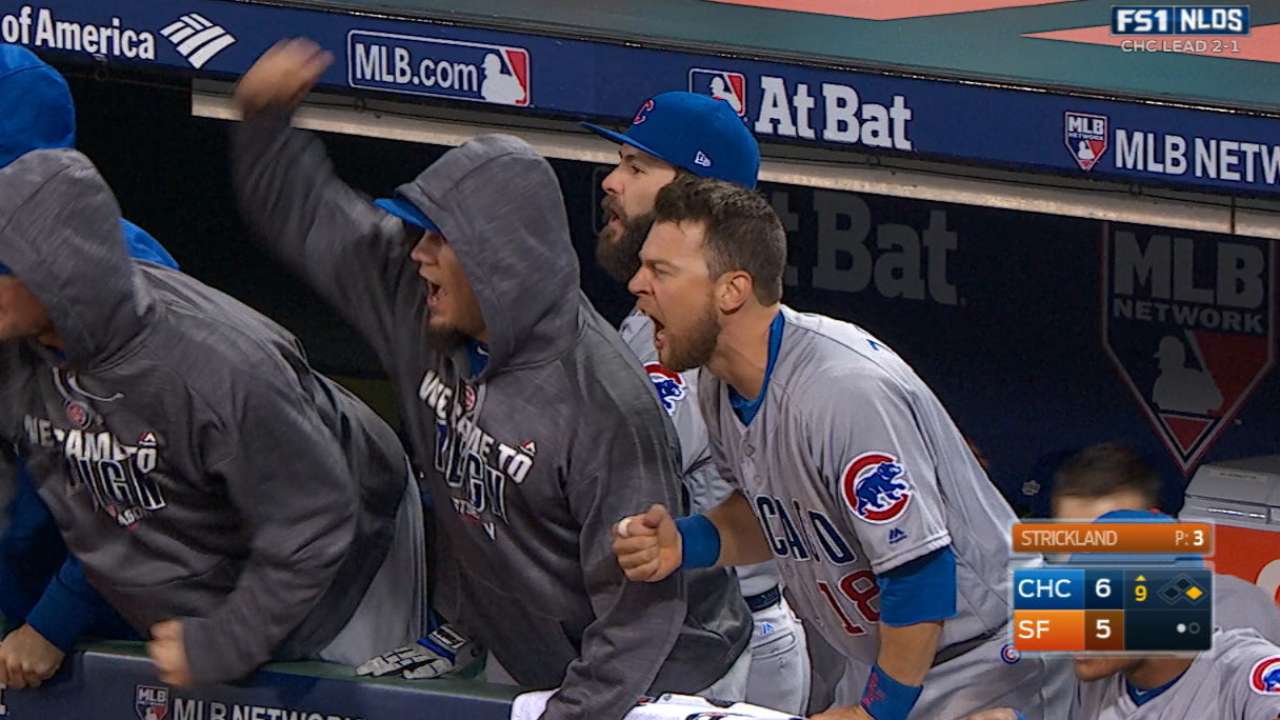 It was a Bryant single and Rizzo walk that started the game-winning rally in the ninth inning.
"Just keep playing,'' Bryant said. "All it takes is one pitch. Guys had great at-bats, battling, taking walks. That's something we preach. One pitch at a time. That last inning was perfect."
Bryant and Rizzo pose a huge challenge for the Dodgers' rotation, which got two starts from Clayton Kershaw in the NLDS and still had a 7.29 ERA. Sooner or later, they're going to start feeding off each other again.
You'll know it by the noise coming from the corner of Clark and Addison.
Phil Rogers is a national columnist for MLB.com. This story was not subject to the approval of Major League Baseball or its clubs.