Giants endure uneven '16, highlighted by 'pen
Bochy's club had Majors' best first-half record but led league in blown saves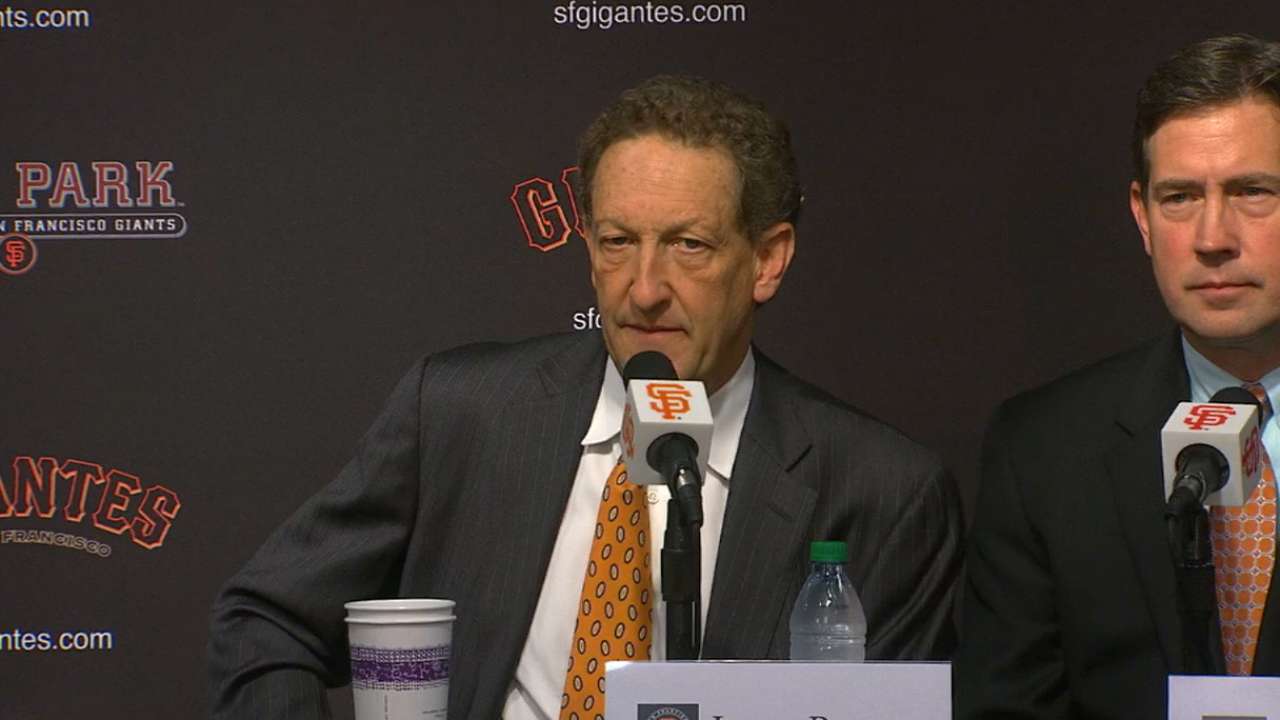 SAN FRANCISCO -- The Giants' even-numbered-year magic wore off throughout an extremely uneven season.
The team that won World Series in 2010, 2012 and 2014 appeared on course for at least a repeat trip to the Fall Classic after charging into the All-Star break with the Major Leagues' best record (57-33). Then came a team-wide slump, causing the Giants to lurch toward the finish line with the Majors' worst record through most of the second half. San Francisco had to win five of its last six games just to claim the National League's second Wild Card berth.
That wasn't all. The Giants were three outs away from forcing the Cubs, the Majors' best team during the regular season, to play a Game 5 in the Division Series. Then the bullpen, which blew 30 regular-season save opportunities, couldn't hold a 5-2 lead in the ninth inning of Game 4. This final collapse manifested itself in four runs that eliminated the Giants, stunned legions of fans and could have rocked the front office.
However, the Giants' braintrust recovered quickly. Club president Larry Baer said he was "incredibly proud" of the club that never stopped competing. Executive vice president of baseball operations Brian Sabean praised the Giants for going "toe-to-toe with a team that's supposed to win the World Series. The group still hates to lose as much as it likes to win. And that's a powerful statement."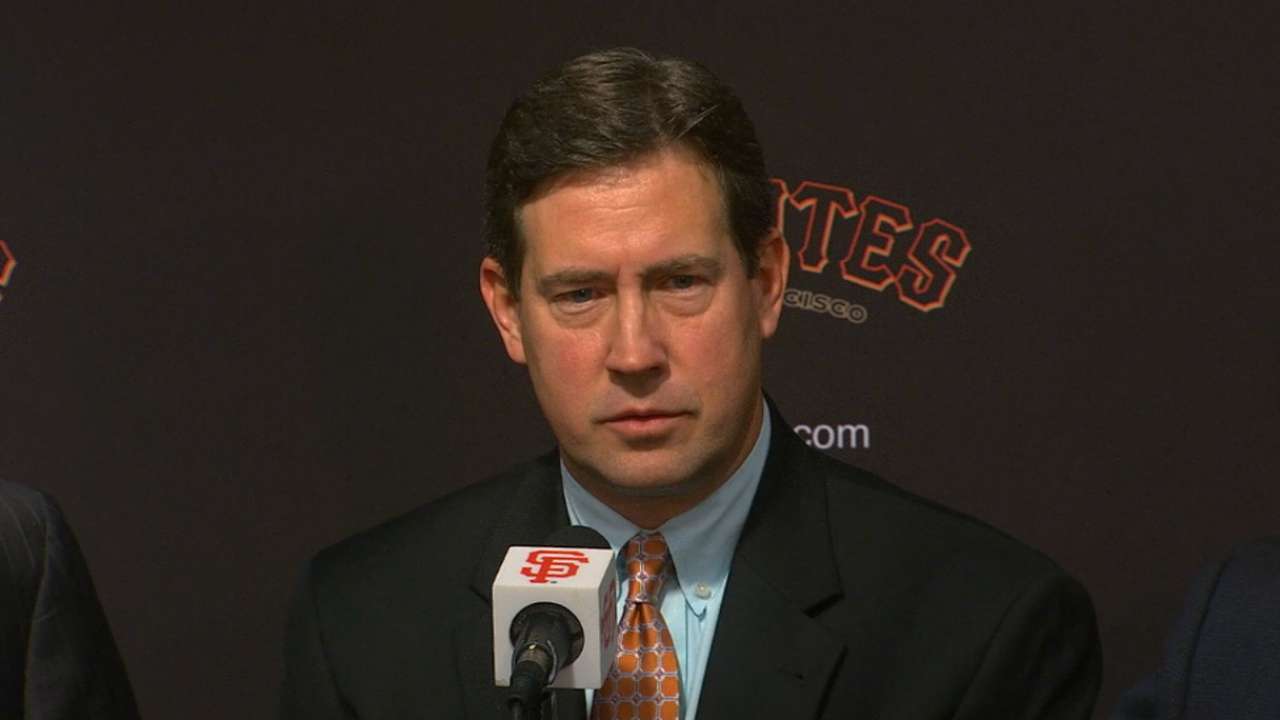 Record: 87-75, second place, National League West.
Defining moment: In an up-and-down year, only an up-and-down game will suffice here. The Giants led Baltimore, 7-1, through six innings on Aug. 14, and matters appeared well in hand with Johnny Cueto on the mound. Then the Orioles rallied for seven runs in the final three innings, including three in the ninth off embattled closer Santiago Casilla. Baltimore won, 8-7, causing the seeds of doubt to sprout a little more.
What went right: The Giants committed $220 million in contracts for free-agent right-handers Cueto and Jeff Samardzija, who combined to win 30 games. Throw in the always-formidable Madison Bumgarner and Trade Deadline acquisition Matt Moore, who went 6-2 down the stretch, and the Giants again had one of the best starting staffs in the Majors.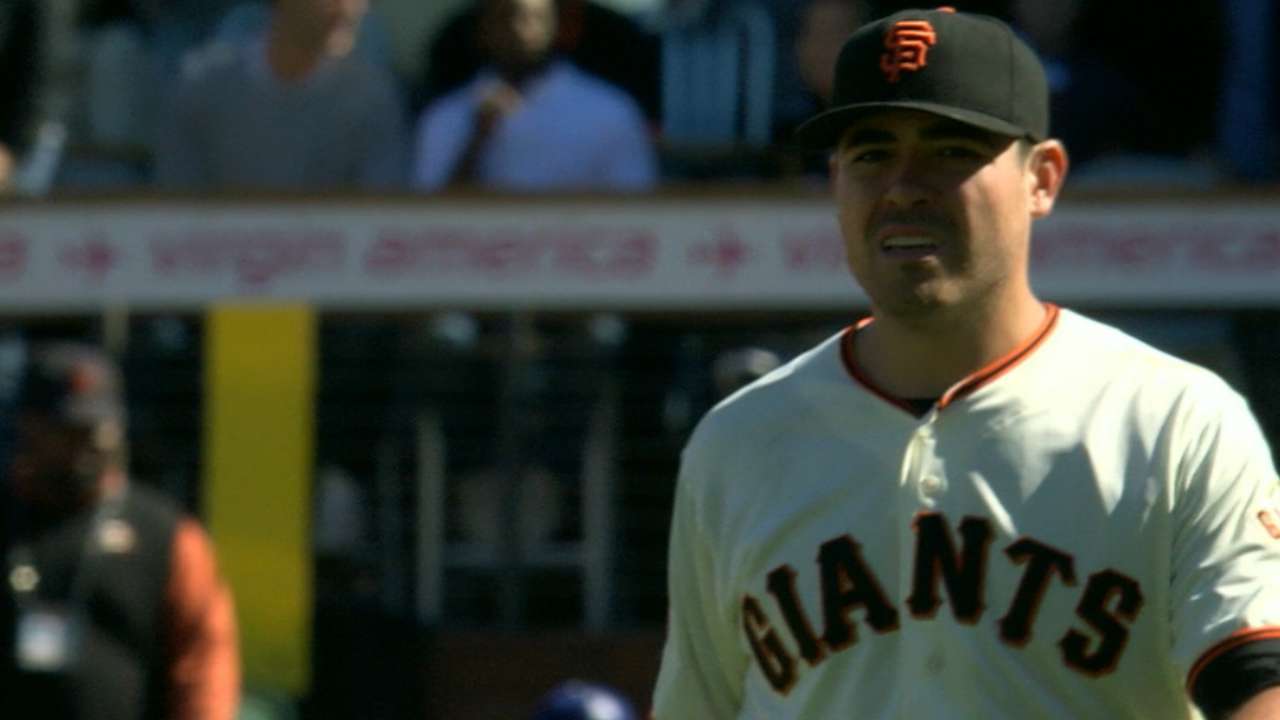 Brandon Crawford led the team with 84 RBIs and contributed oft-spectacular defense, as he continued to establish himself as one of the game's top shortstops. Buster Posey finished strong with 16 RBIs in his final 15 games during what was widely acknowledged as his best defensive season.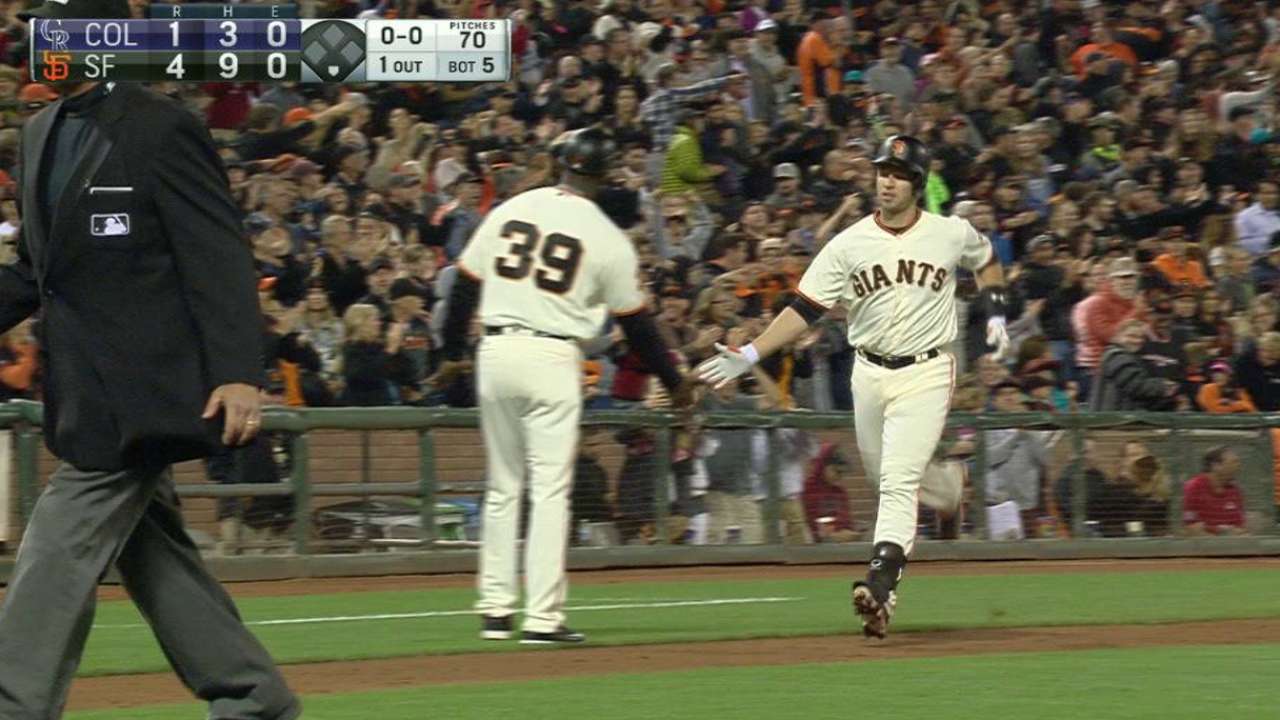 What went wrong: In the second half, pretty much everything. San Francisco scored two runs or less in eight of the first 13 games after the All-Star break. Crawford hit .186 with runners in scoring position after the break, compared to .356 in the first half. All-Star first baseman Brandon Belt hit .241 in the second half. Posey mustered two home runs in his final 63 games. Cueto lost his first two decisions after the All-Star break, while Samardzija and Bumgarner each dropped their first three.
Then there was the bullpen. The aforementioned 30 blown saves were the most compiled by any postseason qualifier since the save became an official statistic in 1969. That total included nine blown saves in which San Francisco led entering the ninth inning, as well as nine in September. And, of course, the Giants squandered saves in each of the final two Division Series games against the Cubs.
Biggest surprise: In his second stint as a Giant, Conor Gillaspie guaranteed that he'll likely stick around for a while this time. He filled in admirably at third base for injured Eduardo Nunez in the season's final week, finishing with a .294 batting average in 37 starts. Gillaspie went on to excel in the postseason, slugging a three-run, ninth-inning homer to account for all the scoring in the Wild Card Game at New York before driving a key two-run triple off Cubs closer Aroldis Chapman in Game 3 of the Division Series.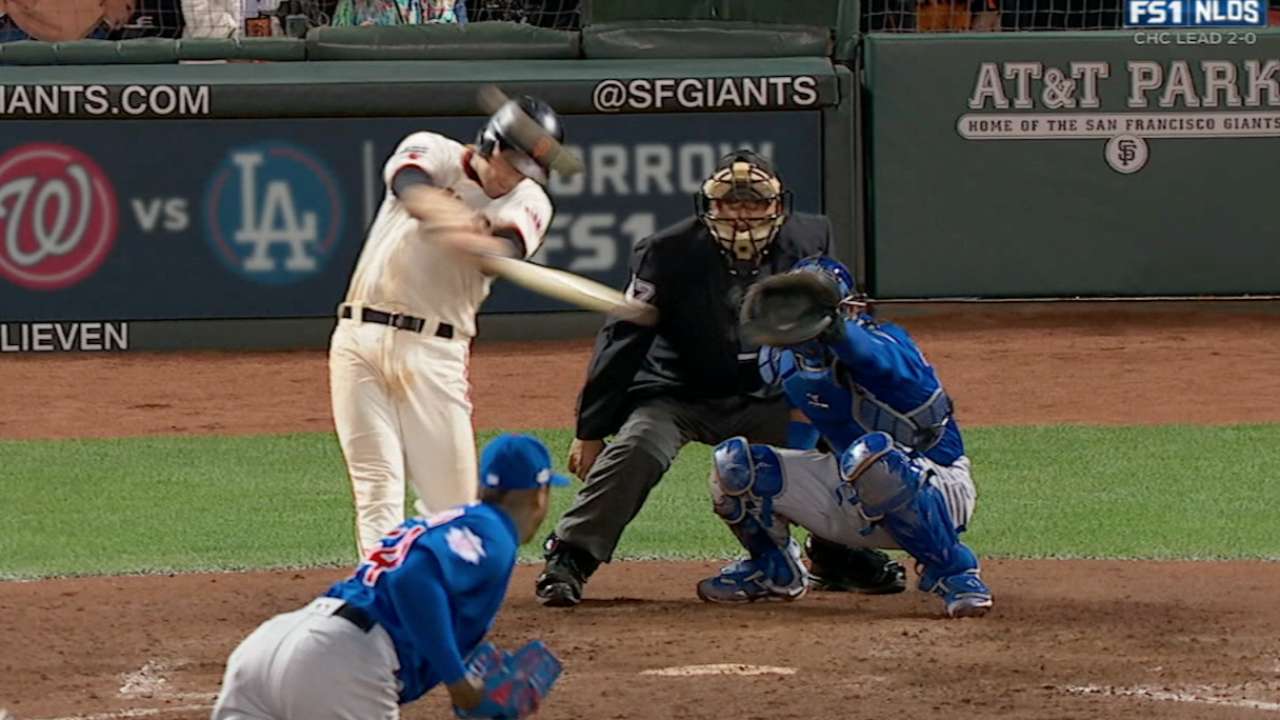 Hitter of the Year: Crawford had a good week in one night Aug. 8 at Miami, where he went 7-for-8 in an 8-7, 14-inning Giants win. Crawford's versatility as a hitter helped manager Bruce Bochy feel comfortable about installing the left-handed batter anywhere from cleanup to seventh in the order.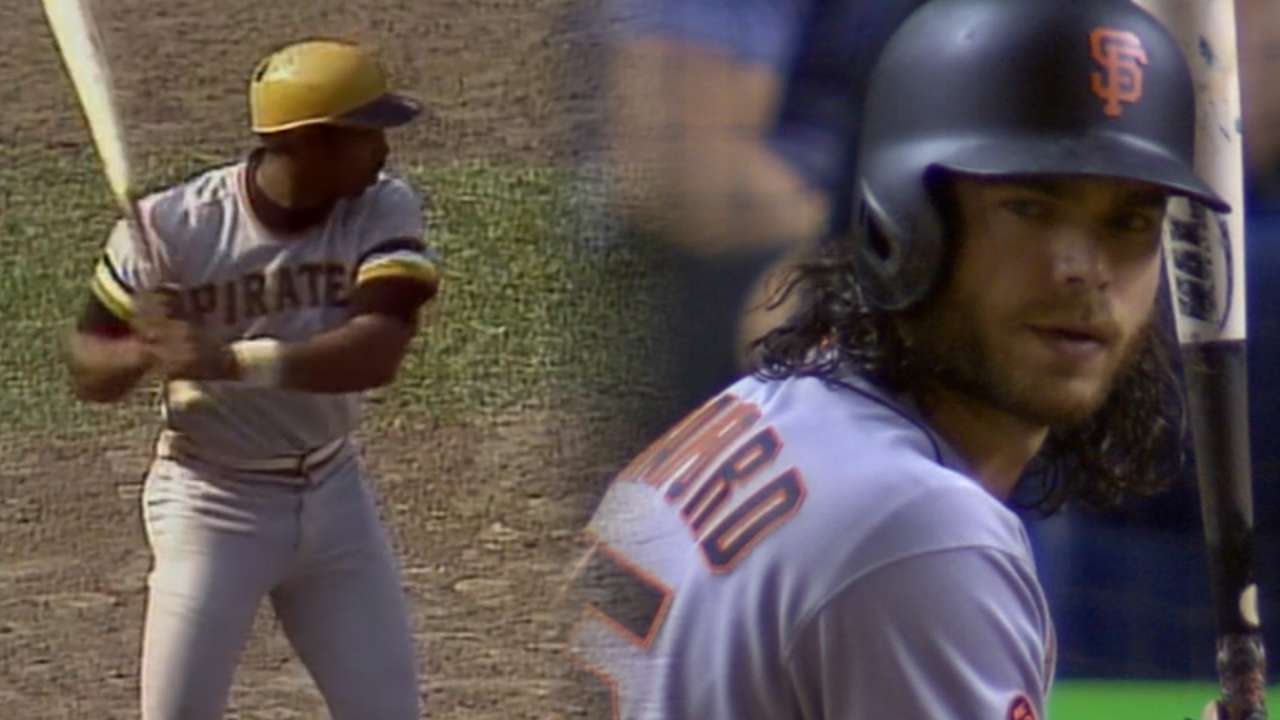 Pitcher of the Year: Though the Giants finished 23-9 in games Cueto started, compared with 20-14 behind Bumgarner, everybody knows that the big left-hander is The Man on San Francisco's staff. He emphasized that with his four-hit shutout victory over the Mets in the Wild Card Game. He struck out 251, breaking a franchise record for lefties that had stood since 1898, and his 11 career double-digit strikeout, no-walk games are as many as Tim Lincecum, Juan Marichal and Gaylord Perry combined.
Rookie of the Year: Ty Blach appeared in only six games, but he made an enormous impression with that small sample size. There was nothing small about Blach's performance on Oct. 1, when he pitched an eight-inning three-hitter in a 3-0 victory over the Dodgers in a game the Giants needed to win to advance their Wild Card bid. Blach further propelled himself into consideration for a spot in next year's starting rotation by pitching 3 1/3 innings in two Division Series relief outings.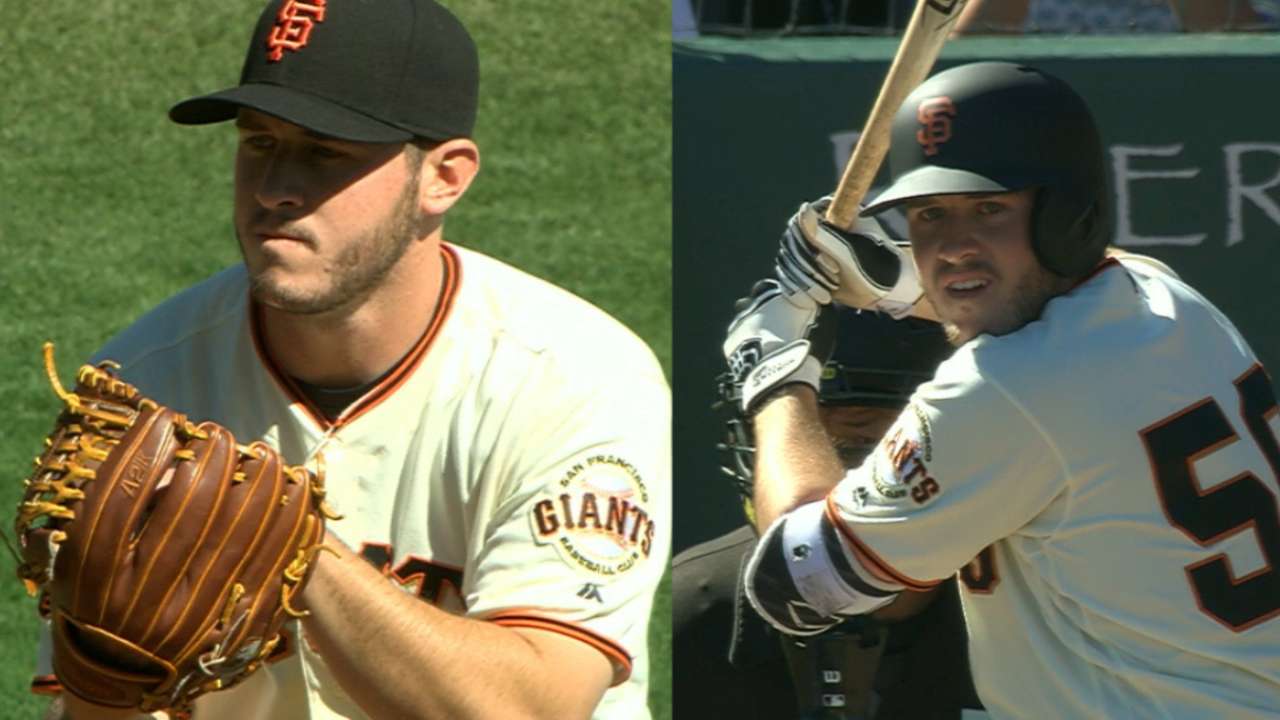 Chris Haft has covered the Giants since 2005, and for MLB.com since 2007. Follow him on Twitter at @sfgiantsbeat and listen to his podcast. This story was not subject to the approval of Major League Baseball or its clubs.