Indians set roster, go with 12 pitchers for ALCS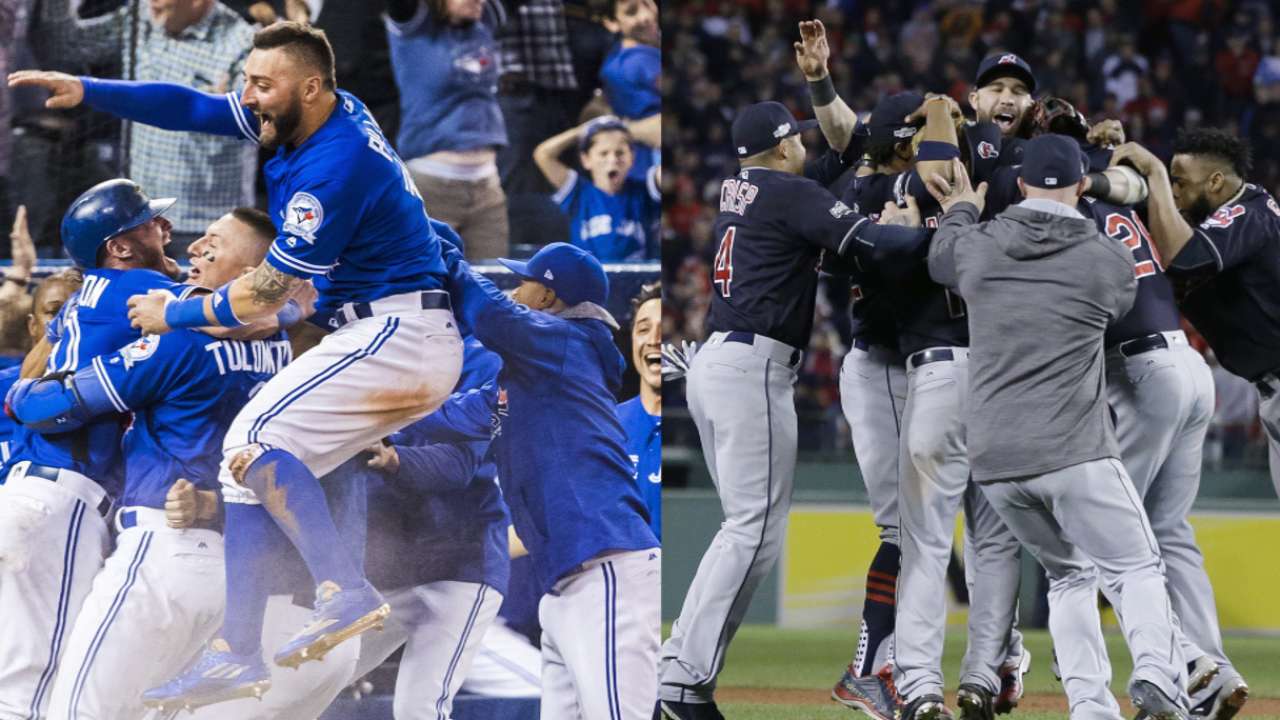 CLEVELAND -- The Indians went with a three-man rotation and three catchers in the American League Division Series, but they do not have the same luxury in the best-of-seven format of the AL Championship Series against the Blue Jays.
Cleveland revealed its roster for the ALCS on Friday -- before rolling to a 2-0 victory in Game 1 -- and the AL Central champions opted to carry an extra pitcher over an additional catcher. Rookie left-hander Ryan Merritt was included in the bullpen, while backup catcher Chris Gimenez was left off the roster.
"He's a guy that starts and throws strikes," Indians manager Terry Francona said of Merritt. "Having three catchers, we really liked. But OK, what can derail the series? Not having enough pitching. So having a guy that throws strikes and has seemed to handle everything that's been thrown at him so far, he might end up bailing us out of a game. You never know."
The ALCS continues Saturday at 4 p.m. ET on TBS, as well as Sportsnet and RDS in Canada.
In his first taste of the big leagues, the 24-year-old Merritt posted a 1.64 ERA in four appearances. The biggest test for the lefty arrived on Sept. 30, when he started against the Royals after 17 days off. Merritt pounded the strike zone and limited Kansas City to one run over five innings in the first start of his Major League career.
Merritt gives the Tribe a lefty reliever capable of handling multiple innings. That could be helpful for the Indians, who have a potential bullpen-day situation in store for Game 4 on Tuesday in Toronto. Righty Mike Clevinger is Cleveland's probable starter for that game, but he may not be able to last deep into the game, considering he has been working as a reliever.
Starting pitchers
Ace Corey Kluber will take the ball in Game 1. Josh Tomlin will start Game 2 at 4 p.m. ET on Saturday. Trevor Bauer, who started the ALDS opener, will get the nod for Cleveland in Game 3 at 8 p.m. ET on Monday in Toronto. Francona has noted that Clevinger will be available out of the bullpen on Friday and Saturday, but is "penciled in" to be the Game 4 starter.
Relievers
Francona was creative with his bullpen use in the ALDS, leaning on Andrew Miller, Cody Allen, Bryan Shaw and Dan Otero in 38.3 percent of the innings thrown by Cleveland pitchers in the series. No other relievers made an appearance. It is easier to take that all-in approach in a best-of-five ALDS, but with a fourth starter needed in this round, and the Tribe lacking a fourth stretched-out pitcher, the team opted to carry more relief reinforcements. While the four pitchers used in the ALDS will remain the main weapons, the Indians now have two arms (Cody Anderson and Merritt) behind Clevinger who can log multiple innings, if needed. If Clevinger is pressed into duty in Game 1 or 2, this also better positions the Tribe to alter its Game 4 plans.
Infielders
The infield remains the same as in the ALDS. Jason Kipnis, Francisco Lindor and Jose Ramirez had strong showings against the Red Sox, hitting .364 (12-for-33) collectively. The Indians are still waiting for Mike Napoli, who led the team with 34 home runs and 101 RBIs this season, to heat up again. The slugger went 2-for-12 in the ALDS after posting a .140 average over the final month of the regular season. Napoli ended the regular season with a .093 (4-for-43) showing in his last 12 games. Getting Napoli's power swing going again would be a huge plus for the Tribe's offense. Michael Martinez offers depth around the diamond, and was even used as a late-game defensive replacement in center field in the first round.
Outfielders
Francona will continue to mix and match with his outfield. He showed in Game 2 against Boston that he does not abide strictly by platoons when he gave Lonnie Chisenhall a start against the left-handed David Price. Chisenhall answered the call with a key three-run home run. But for the most part, Chisenhall and Tyler Naquin play against righties, while Rajai Davis and Brandon Guyer are worked in against lefties. Francona can then pick his spots with Coco Crisp. The manager likes to leave one of Crisp (a switch-hitter with some speed) or Davis (the AL stolen-base leader) on the bench for late-game strategy.
Catchers
Roberto Perez had a standout ALDS, belting a home run, running the bases well in critical moments and showing the nation how skilled he is behind the plate. With Yan Gomes still dealing with the lingering effects of a non-displaced fracture in his right wrist, Perez will remain the starter. Gomes has no issues throwing or catching, and he has gotten more used to tolerating swinging a bat, homering in his first at-bat in his return to the starting lineup on Oct. 2. Given Gomes' ability to play in short spurts, Cleveland opted to carry him as the No. 2 option. Gimenez filled that role admirably in Gomes' absence, but was left off the ALCS roster in order to add the extra pitcher.
Here is the complete roster:
Pitchers (12)
Cody Allen
Cody Anderson
Trevor Bauer
Mike Clevinger
Corey Kluber
Jeff Manship
Zach McAllister
Ryan Merritt
Andrew Miller
Dan Otero
Bryan Shaw
Josh Tomlin
Catchers (2)
Yan Gomes
Roberto Perez
Infielders (6)
Jason Kipnis
Francisco Lindor
Michael Martinez
Mike Napoli
Jose Ramirez
Carlos Santana
Ooutfielders (5)
Lonnie Chisenhall
Coco Crisp
Rajai Davis
Brandon Guyer
Tyler Naquin
Jordan Bastian has covered the Indians for MLB.com since 2011, and previously covered the Blue Jays from 2006-10. Read his blog, Major League Bastian, follow him on Twitter @MLBastian and listen to his podcast. This story was not subject to the approval of Major League Baseball or its clubs.