ALCS Game 1 starting lineups: Blue Jays vs. Indians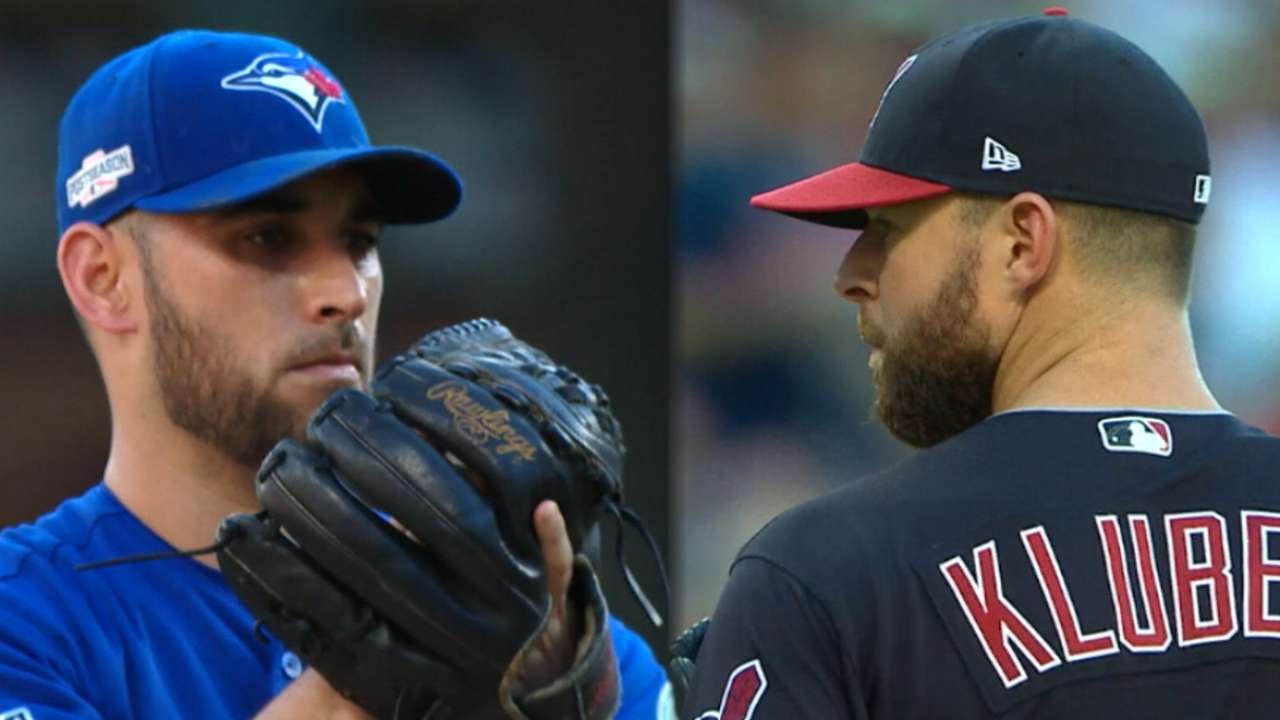 CLEVELAND -- Blue Jays second baseman Devon Travis is in the lineup for Game 1 of the American League Championship Series (8 p.m. ET on TBS in the U.S., Sportsnet and RDS in Canada) after missing the two previous postseason games because of a bone bruise in his right knee.
Travis missed Games 2 and 3 of the AL Division Series vs. Texas because of the knee injury. He was later diagnosed with the bone bruise, but he benefited from four days off between series and is now ready to return for the opener in Cleveland.
Josh Donaldson, batting second, is a career .375 hitter against Indians starter Corey Kluber, a former AL Cy Young Award winner, with a homer and five RBIs in 16 at-bats. Cleanup hitter Jose Bautista is 3-for-9 with four RBIs against Kluber.
Toronto has scored 27 runs in the postseason -- more than any other team -- in just four games.
"Travis is good to go," said Blue Jays manager John Gibbons, whose team added utility infielder Ryan Goins to the 25-man roster to protect against a possible setback. "We think he'll be fine, but if something flares up on him early, there's no guarantees you can sub him out. We didn't think we could be left with really no extra infielder."
Toronto also will have Game 3 starter Marcus Stroman available out of the bullpen, if necessary. Left-hander Francisco Liriano is not eligible to return from a concussion until Saturday's Game 2, so Stroman, who hasn't pitched since the AL Wild Card Game on Oct. 4, is his temporary replacement.
"Well, it wouldn't hurt him to come in and throw an inning tonight," Gibbons said Friday afternoon. "I don't know the scenario, but he'd still be available in that third game with the game tomorrow and then an off-day. It wouldn't hurt him a bit. If it went an extra inning and it's the crucial part of the game and he's your best option, let's say, and he had to throw a few innings, that would eliminate [Game 3], I would think."
The Indians are going with the usual players in their usual spots.
Hitting just .182 this postseason, Carlos Santana will lead off, with Jason Kipnis and Francisco Lindor behind him. Mike Napoli will bat cleanup, and Jose Ramirez, Lonnie Chisenhall, Coco Crisp, Tyler Naquin and Roberto Perez will round out the order. They will face Blue Jays right-hander Marco Estrada.
The Indians are coming off an impressive ALDS sweep over the Red Sox in which they limited star starters Rick Porcello and David Price to fewer than five innings each by scoring five earned runs in each of their respective outings.
Blue Jays
Ezequiel Carrera, LF
Josh Donaldson, 3B
Edwin Encarnacion, 1B
Jose Bautista, RF
Russell Martin, C
Troy Tulowitzki, SS
Michael Saunders, DH
Kevin Pillar, CF
Devon Travis, 2B
Marco Estrada, P
Indians
Carlos Santana, DH
Jason Kipnis, 2B
Francisco Lindor, SS
Mike Napoli, 1B
Jose Ramirez, 3B
Lonnie Chisenhall, RF
Coco Crisp, LF
Tyler Naquin, CF
Roberto Perez, C
Corey Kluber, P
Gregor Chisholm is a reporter for MLB.com.

Daniel Kramer is a reporter for MLB.com based in Denver. Follow him on Twitter at @DKramer_. This story was not subject to the approval of Major League Baseball or its clubs.