LCS hitting heroes
These sluggers reached the pinnacle of their profession in the postseason's penultimate round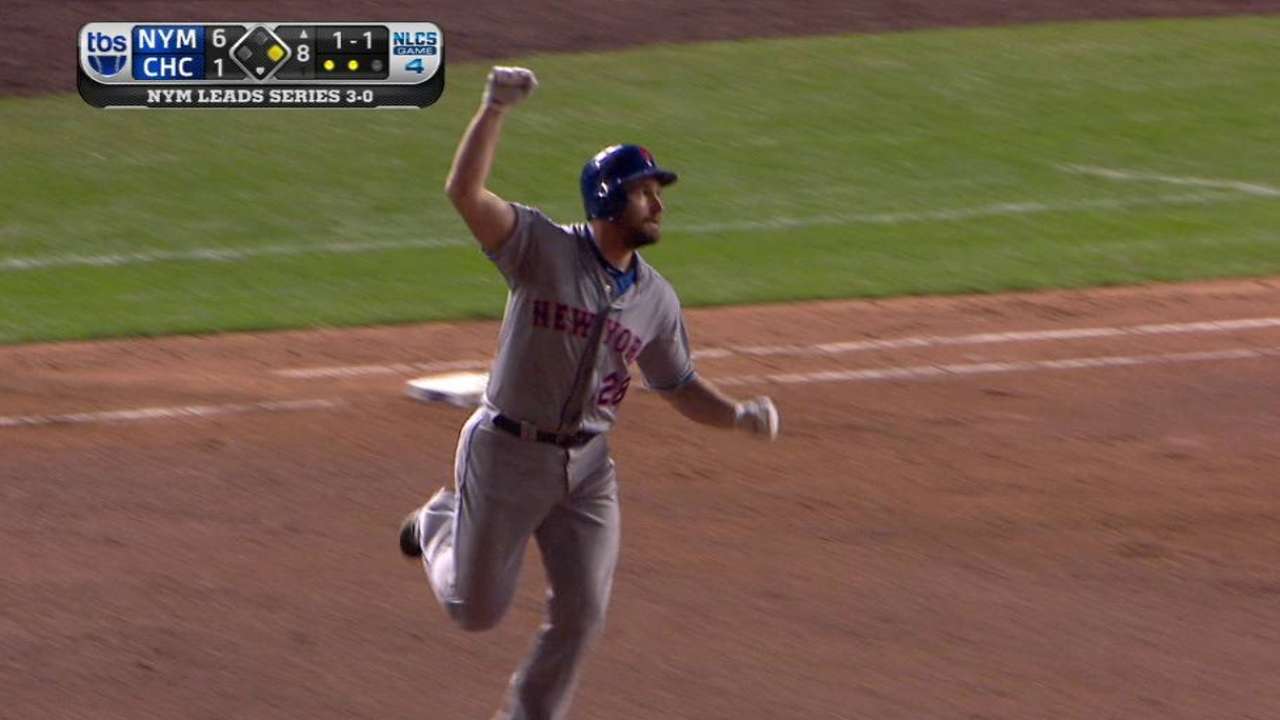 In the heart of October, with a pennant on the line, a well-wielded bat has the power to propel a team to the World Series and a player into the pantheon of postseason heroes. That player could be bound for the Hall of Fame or experiencing his one moment in the postseason sun, but his performance when a Fall Classic berth is in the balance will endure forever.
Over the years, the League Championship Series has showcased a host of hitters who have sent shockwaves through the baseball world, some with one-off feats, others with track records of excellence. Since the inception of the LCS in 1969, players of all stripes have done some special things at the plate in the postseason's penultimate round. Here's a sampling of players with the best hitting performances in LCS history, be it in one game, one series or an entire career.
Steve Garvey
When Garvey played in the first of his five National League Championship Series in 1974, the first baseman donning Dodger blue couldn't have imagined wearing the yellow, brown and orange of the Padres to make LCS history a decade later. But that's exactly his tale.
In 1974, Garvey hit a pair of NLCS homers to help the Dodgers reach the World Series, but his biggest postseason for L.A. came in '78, when he smashed four homers, including two in the opener against the Phillies, to win MVP honors.
The final chapter of Garvey's October legend would come as part of the Padres' remarkable comeback over the Cubs in the 1984 NLCS. On the brink of elimination in the ninth inning of Game 4, Garvey stuck out those Popeye arms and hit an opposite-field, two-run homer to win the game in perhaps the biggest single moment in San Diego's baseball history.
"It was one of those moments that we still talk about," said Bruce Bochy, a member of that squad, who went on to manage the Padres and then win three world titles as skipper of the Giants. "I know the fans that were there still talk about it. It's hard to hit a bigger home run than what he did. He saved us, and we went to the World Series."
George Brett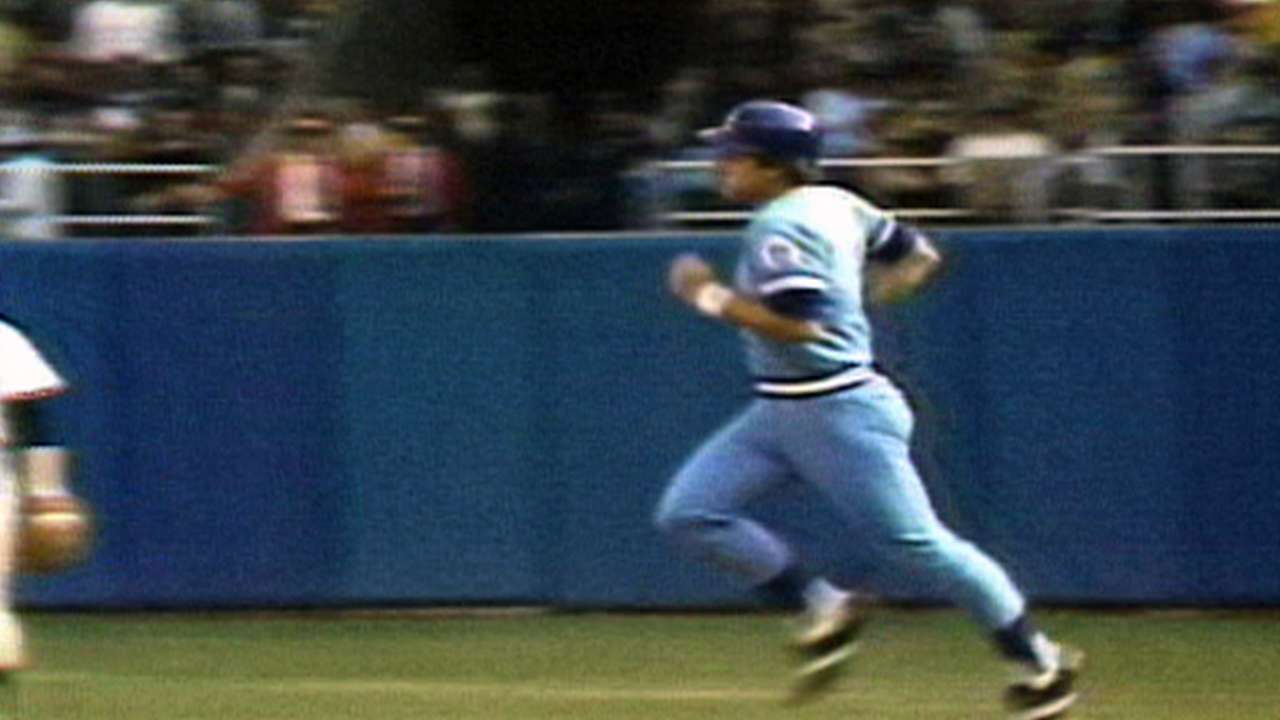 From 1976-78, the Royals were thwarted by the Yankees in three straight ALCS, despite their Hall of Fame third baseman's .375 overall average (21 for 56) with four triples and four home runs, including a three-homer game in 1978. But he would get his due eventually.
Fellow infielder Frank White earned ALCS MVP honors in 1980, when the Royals finally broke through to the World Series, but Brett contributed a couple of homers, including a three-run shot off fellow future Hall of Famer Goose Gossage for the winning margin in Game 3. Then, in 1985, Brett put the Royals on his shoulders with an ALCS MVP-worthy performance (.348, 3 HR, 5 RBI), carrying the franchise to its first-ever World Series title.
Will Clark
A sweet-swinging first baseman who boasted a unique competitive fire, Clark was a key cog in the San Francisco Giants' first NLCS bid in 16 years in 1987. He tallied nine hits in a losing effort against the Cardinals, but ultimately teammate Jeffrey Leonard earned MVP honors.
There would be no doubt about who deserved the award when the Giants returned to the NLCS two years later, though, as Clark put up one of the all-time greatest LCS performances in five games against the Cubs. Beginning with a game-altering grand slam off Greg Maddux in Game 1, Clark went 13 for 20 (.650) in the 1989 NLCS with three doubles, a triple and two homers. He hit another LCS homer with the Cardinals more than a decade later, but his 1989 performance was one for the ages.
Bernie Williams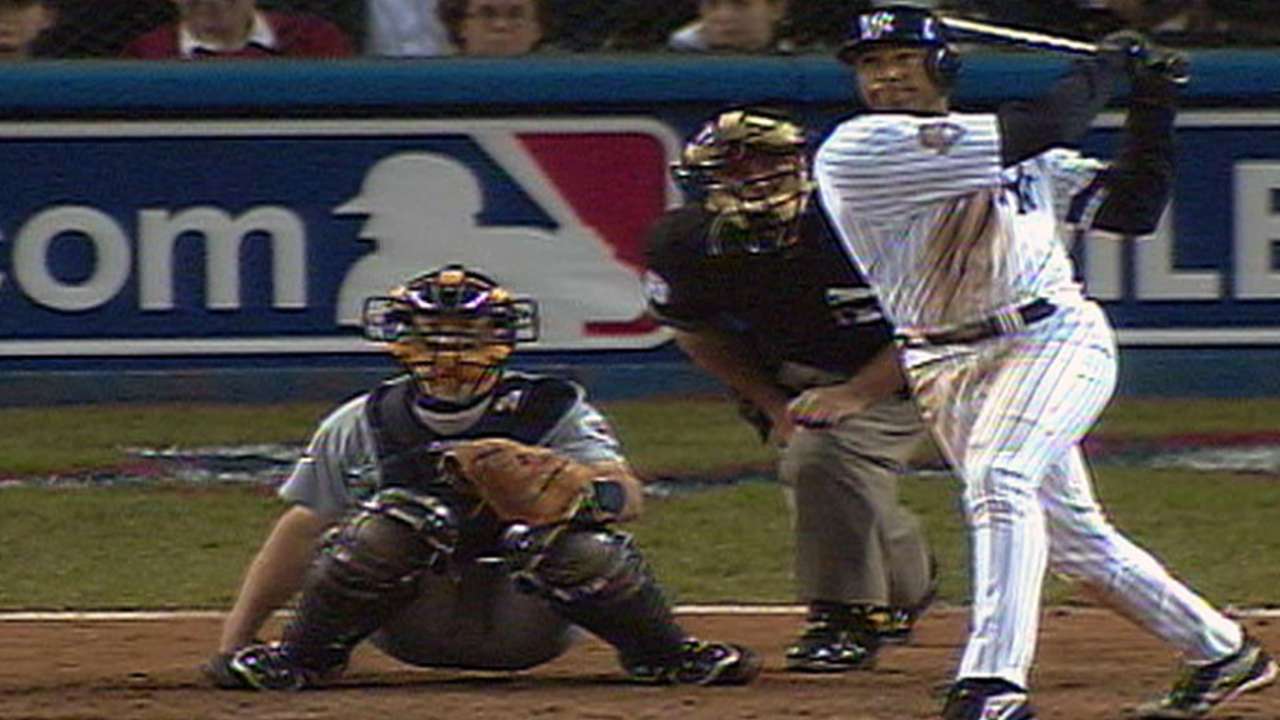 When the New York Yankees began a long run of playoff appearances in 1995, Williams was in his fifth season as the team's center fielder. Just 27 years old in his first postseason, Williams eventually established himself as the all-time leader in LCS RBI with 33, as the Yankees made it to the World Series six times during his 16-year career in pinstripes.
The Puerto Rico native earned ALCS MVP honors in 1996, going 9 for 19 (.474) with three doubles and a pair of homers to lead the Yankees past the Orioles and into the World Series for the first time in 15 years. He later put on a 10-hit ALCS show in 2000 and enjoyed a 10-RBI ALCS performance in 2004. Williams also shares the all-time ALCS lead in extra-base hits (19) with teammate Derek Jeter.
"[In October], everything seems to be electrified and magnified," Williams said during his final ALCS appearance in '04. "Every pitch counts. Every at-bat counts. I think we focus a little bit more. It seems to bring [out] something special in me."
Adam Kennedy
The League Championship Series hadn't seen anything quite like what Adam Kennedy pulled off on a sunny Southern California day in October 2002. He'd already hit a pair of solo shots in Game 5 versus the Twins, but when the Angels came up to the plate in the seventh down two runs, Kennedy blasted himself into postseason history. Anaheim's second baseman and No. 9 hitter delivered a three-run homer to give the Angels the lead, and they went on to beat Minnesota to continue their improbable run to a world title.
"I don't show too much emotion out there," said Kennedy, who became the third player to hit three home runs in an LCS game, joining Brett and the Pirates' Bob Robertson. "But in that situation, when I saw the ball go over the fence, I let a little bit of adrenaline out and gave a little cheer. It was a good feeling."
Manny Ramirez
Beginning at age 23 with the Cleveland Indians through his age-37 season with the Los Angeles Dodgers, Ramirez played in eight League Championship Series in all. Teammate David Ortiz may have provided the drama in the 2004 ALCS with a Game 4 walk-off homer, and Kevin Youkilis had a great 2007 ALCS, but Ramirez owns a career LCS resume that is unmatched.
"I don't know if there's any better three-four combination in all of baseball, maybe even the history of baseball, than Ortiz and Ramirez," Mark Loretta, their teammate in Boston in 2006, said that season. "Manny is a different type of hitter. He's patient, and if you make one mistake, he can hurt you very, very badly."
While no particular game stands out as Herculean, Ramirez accumulated the most home runs (13), hits (59), extra-base hits (20) and total bases (105) in LCS history. He never won an LCS MVP Award, but he racked up an impressive .331/.437/.590 slash line and an OPS of 1.027 over the course of 49 LCS games with the Indians, Red Sox and Dodgers. Obviously, Manny Being Manny also meant doing big things in the LCS.
From his first LCS homer in his second season in 2002, Pujols has made a career of doing huge things in the postseason's penultimate round. He played brilliantly to lead the Cardinals to the World Series in 2004, racking up 14 hits against the Astros in the LCS, six of which were for extra bases. Pujols again dazzled the very next postseason, blasting a three-run homer with two down in the ninth to silence the crowd at Minute Maid Park and extend the series.
In 2011, Pujols had yet another huge LCS en route to his second World Series ring with the Cardinals. He still stands as the NL's all-time LCS leader with 10 home runs, 27 RBI, 25 runs, 18 extra-base hits and 82 total bases.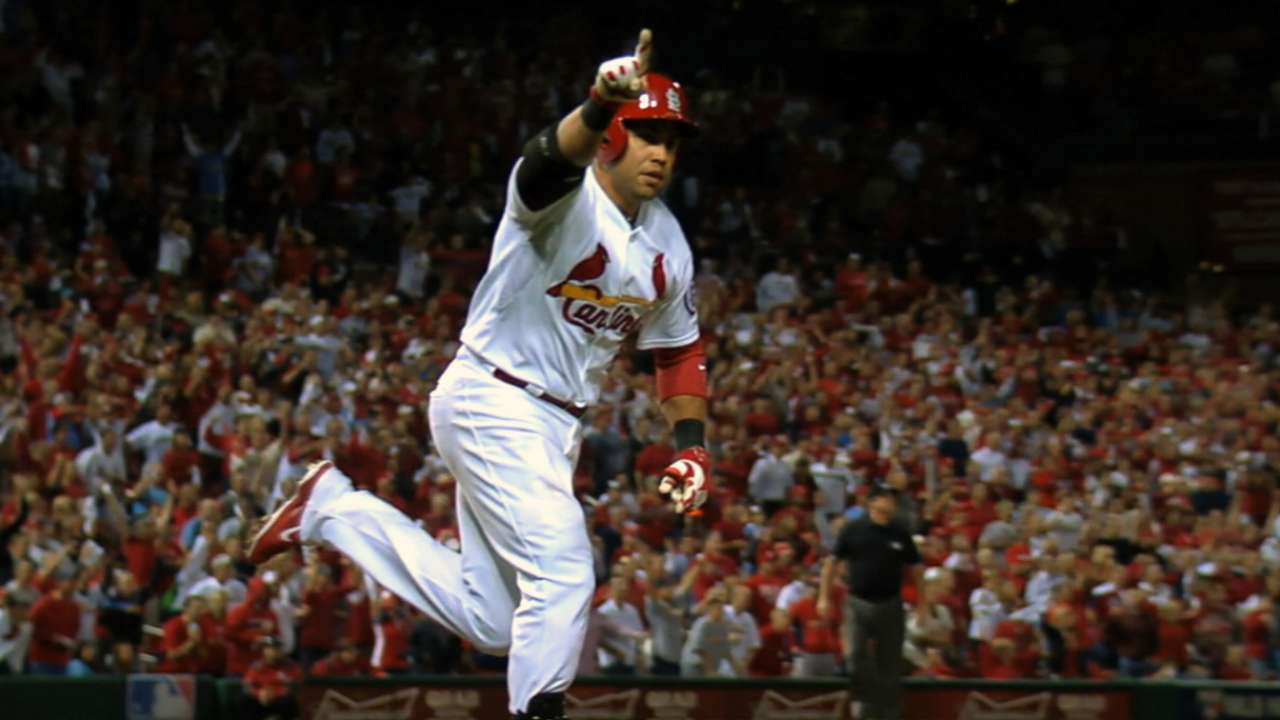 A midseason acquisition from the Kansas City Royals in 2004, Beltran made an immediate impact in Houston, and he capped off his season with an impressive NLCS performance versus the Cardinals. Beltran went toe-to-toe with Albert Pujols in a mashing matchup for the ages, collecting four home runs and an LCS-record 12 runs scored. Although his team ultimately came up short, Beltran reeled off homers in four straight NLCS games for a total of five straight in the postseason, a record at the time.
Beltran played in the LCS for two more teams after the Astros. Despite taking a called third strike to end the 2006 NLCS, he had an excellent showing for the Mets, punctuated by three homers and eight runs scored. He emerged in the LCS again with the Cardinals in 2012-13, providing offense and leadership.
"When you play in postseason games, I think experience always gives you an opportunity for you to feel a little more comfortable," the veteran explained in 2013. "But that doesn't mean anything if you don't go to the field and perform. … I'm very fortunate, just being able to come through for the team offensively or defensively. It really means a lot."
During the 2011 ALCS against the Tigers, the baseball world became acquainted with The Boomstick - a nickname applicable to Cruz whenever he has a bat in his hands, thanks to his ability to launch towering home runs. The slugger set all-time playoff records with six moonshots and 13 RBI in a single series, while accumulating a 1.713 OPS.
"The more at-bats, the more pitches I see, the more comfortable I get," Cruz said during that run. "I expect to do well. Whatever it takes. If I take a walk, I help the team. But if the homers are coming, I'll be happy to take them."
In Game 2, Cruz crushed a walk-off grand slam, the first in playoff history, before knocking a three-run shot in the 11th inning of Game 4 and finishing off his historic performance with a two-run homer in Game 6, as the Rangers clinched their second World Series bid in as many years. The Boomstick had certainly arrived.
Among the many ghosts and goats keeping the Chicago Cubs out of the World Series over the years, Daniel Murphy proved to be a supernatural presence in the 2015 NLCS. Already on a tear in the Division Series, Murphy racked up a stellar LCS ledger in the Mets' four-game sweep of the Cubs: He went 9 for 17 with four homers, one in each game, and hit longballs in six straight postseason games, breaking Beltran's record. He earned MVP honors in the NLCS, punctuating the power surge with a two-run homer in the eighth inning of Game 4, in his final at-bat of the series.
"Almost every one of the homers has helped win a ballgame," the second baseman said at the time. "I'm excited to be able to do something to help us, but I can't explain it."
This article appears in the MLB Official League Championship Series Program. To purchase a copy, visit mlbshop.com.
John Schlegel is a national reporter for MLB.com. This story was not subject to the approval of Major League Baseball or its clubs.