Blue Jays entrust Game 1 start to Estrada
Righty no stranger to big stage, coming off win in ALDS opener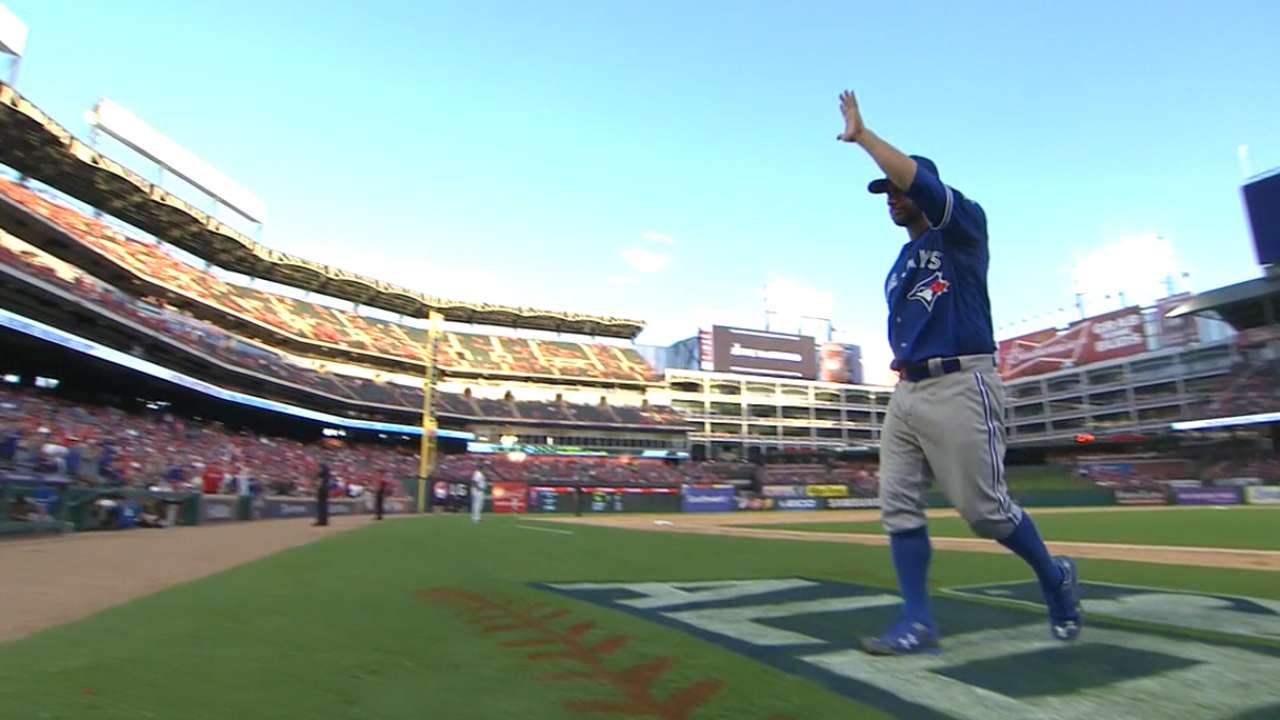 TORONTO -- Marco Estrada has come through time and time again for the Blue Jays in big postseason moments. They're banking on him doing it at least one more time.
On Tuesday afternoon, Toronto officially named Estrada its starter for Game 1 of the American League Championship Series against the Indians. He'll get the call Friday in Cleveland (8 p.m. ET on TBS and, in Canada, Sportsnet and RDS). The Indians announced Wednesday that Corey Kluber will start the ALCS opener for the AL Central champs.
Estrada is no stranger to the big stage. He carried a shutout into the ninth inning in Game 1 of the AL Division Series against Texas, and in four postseason starts, the nine-year veteran has a 1.95 ERA. Estrada is the natural choice on a team that had plenty of options.
"All I know, you look back at the last couple of years, how good Marco has been for us in big games, playoff games, and really two straight years of regular-season games," Blue Jays manager John Gibbons said.
"I think he was kind of the logical choice. We could have gone with anybody and felt good, but he has been so good in that role and we'll just shape it after him in the next couple of days."
The decision to go with Estrada would have made sense no matter what, but the Blue Jays also want to make sure they don't disrupt his routine any more than necessary. When Toronto temporarily went with a six-man rotation earlier this year, Estrada appeared to be the one who was most negatively affected. On normal rest, Estrada had a 2.52 ERA, but that number jumped to 3.95 on five days' rest and 5.14 on six or more.
Estrada's Game 1 start will come on seven days' rest, which cannot be avoided, but going with him in the opener does at least limit the downtime. Toronto has yet to announce the rest of its rotation, but likely will go with 20-game winner J.A. Happ in Game 2, followed by Marcus Stroman and Aaron Sanchez.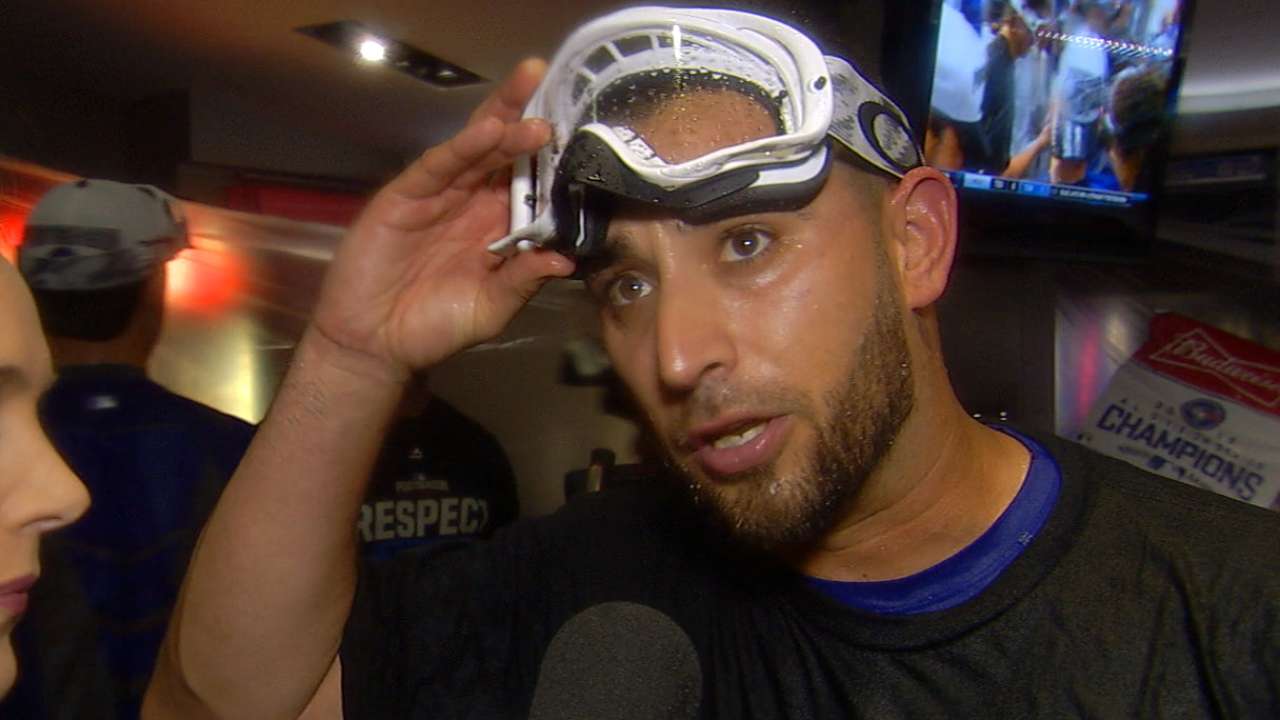 The 33-year-old Estrada faced the Indians just once this season and allowed three runs on five hits over five innings. The July 2 outing was the last one Estrada made before going on the DL with back soreness. He has been pitching with a herniated disk all season, but it seems to have improved over the past few months. The injury is the least of anyone's concerns right now.
"On this one, I think you build some recovery days on the front and back end of it," Happ said of adjusting to the irregularity of postseason schedules. "You try to keep your routine through the middle. Just kind of treat it like the last six weeks of the season, when we were doing the six-man rotation for a while."
Estrada cemented his spot as a fan favorite during last year's run to the postseason. In 2015, Toronto was facing elimination in Game 3 of the ALDS against the Rangers and he helped the club survive by pitching into the seventh and allowing just one run. In the ALCS, he once again delivered in a potential elimination game by allowing one run over 7 2/3 in Game 5 against the Royals.
Estrada has been able to achieve all of that success in an unconventional way, at least by today's standards. He typically throws in the upper-80s, but a deceiving changeup and pinpoint command keep hitters off-balance and often lure them into trying to over swing.
Estrada induces ground balls just 33.5 percent of the time on balls put in play, which ranks last in Toronto's rotation. He gets most of his outs on fly balls and weak popups, and the quality of the contact should once again decide this game. Progressive Field ranked eighth in the AL with 201 homers this year while Rogers Centre was seventh at 203.
"He obviously has the best changeup in baseball and his ability to stay out of the middle of the plate and change speeds and go in and out, up and down, use all of the quadrants of the plate is pretty special," Blue Jays center fielder Kevin Pillar said. "He has been there, he has pitched in some big games for the Blue Jays and we expect some big things out of him."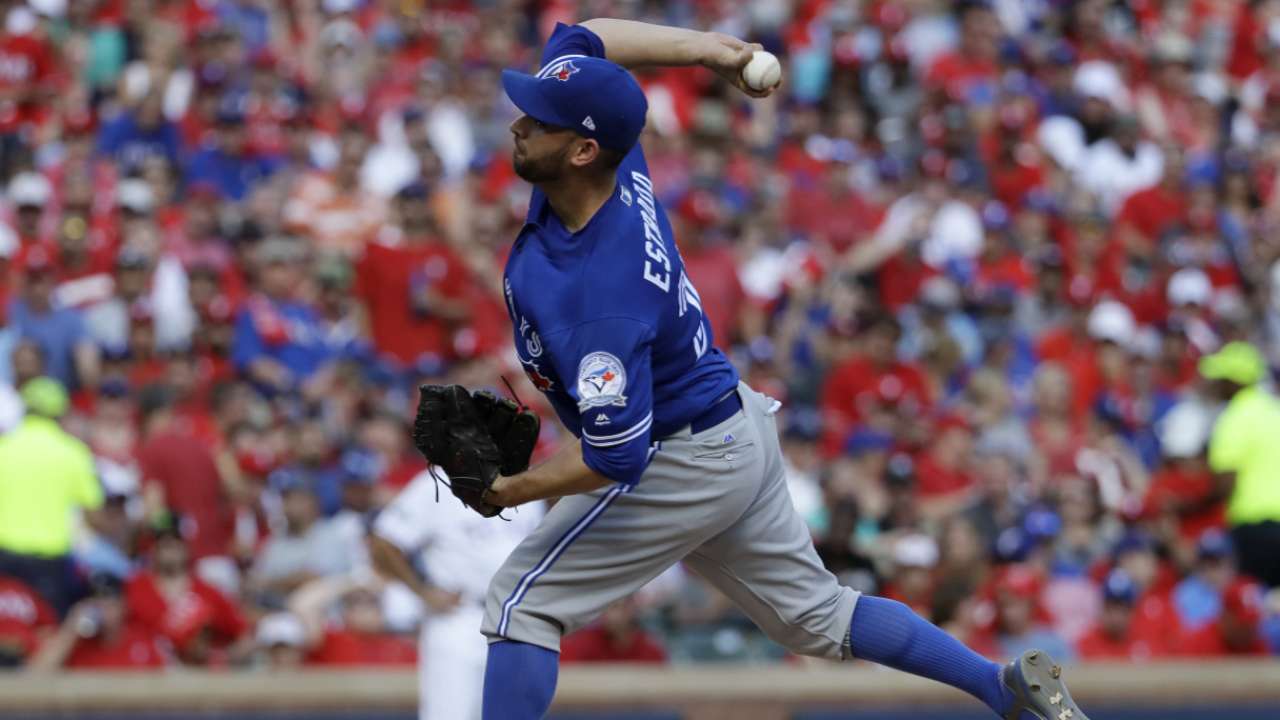 Gregor Chisholm has covered the Blue Jays for MLB.com since 2011. Follow him on Twitter @gregorMLB and Facebook, and listen to his podcast. This story was not subject to the approval of Major League Baseball or its clubs.