Inbox: Will Marlins be tempted to deal Stanton?
Beat reporter Joe Frisaro answers questions from Miami fans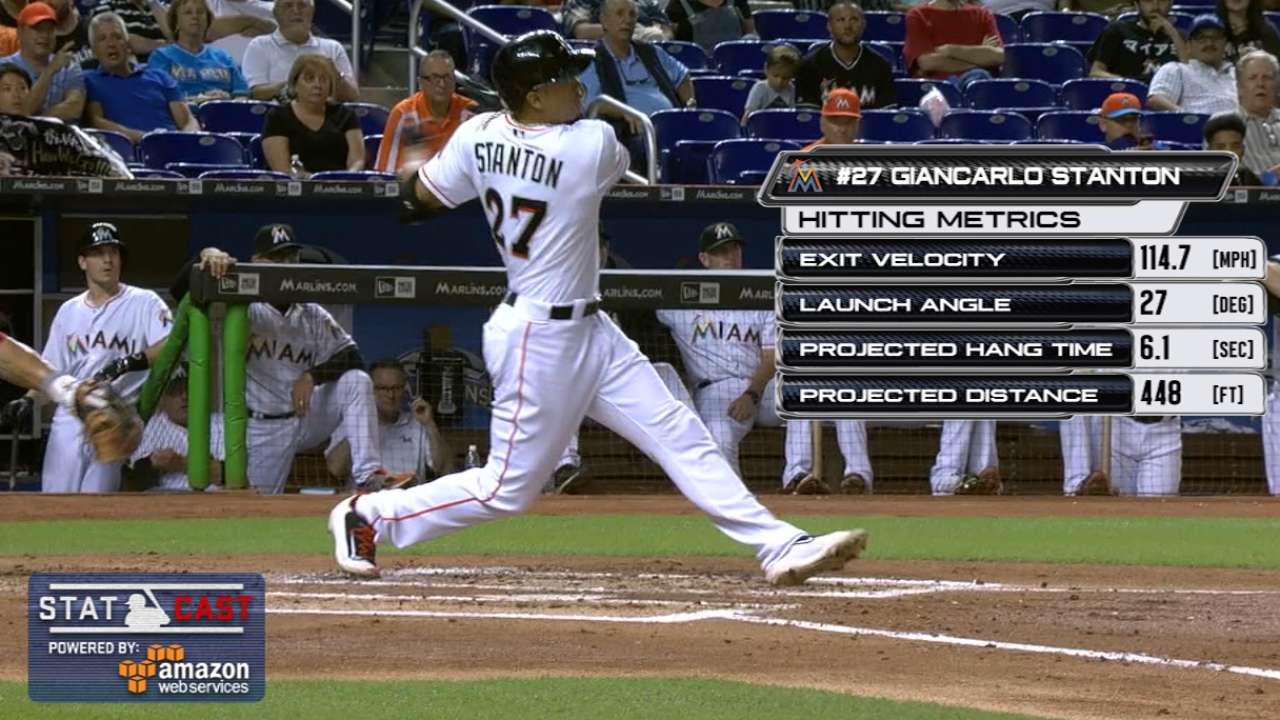 To get another starting pitcher, would the Marlins think about trading Giancarlo Stanton? If they do, they could help their rotation along with get a lot of prospects to strengthen their farm system.
-- Zack S., Fort Pierce, Fla.
You bring up a point that will be discussed internally, and we know the Marlins will listen on offers for pretty much all of their players. So I wouldn't be surprised if Stanton's name repeatedly pops up in trade speculation once the Hot Stove season gets underway after the World Series.
With that said, I still believe Stanton will remain with the Marlins. The front office is committed to retaining the core, and Stanton is a franchise-caliber player.
• Submit a question to the Marlins Inbox
The timing may not be right to seriously think about trading Stanton this offseason, but it will likely be discussed at some point in the next year or two.
What will it take to tempt the Marlins to trade Stanton? The package in return would have to be substantial, including a big league-ready front-line starting pitcher. So finding a match would be difficult.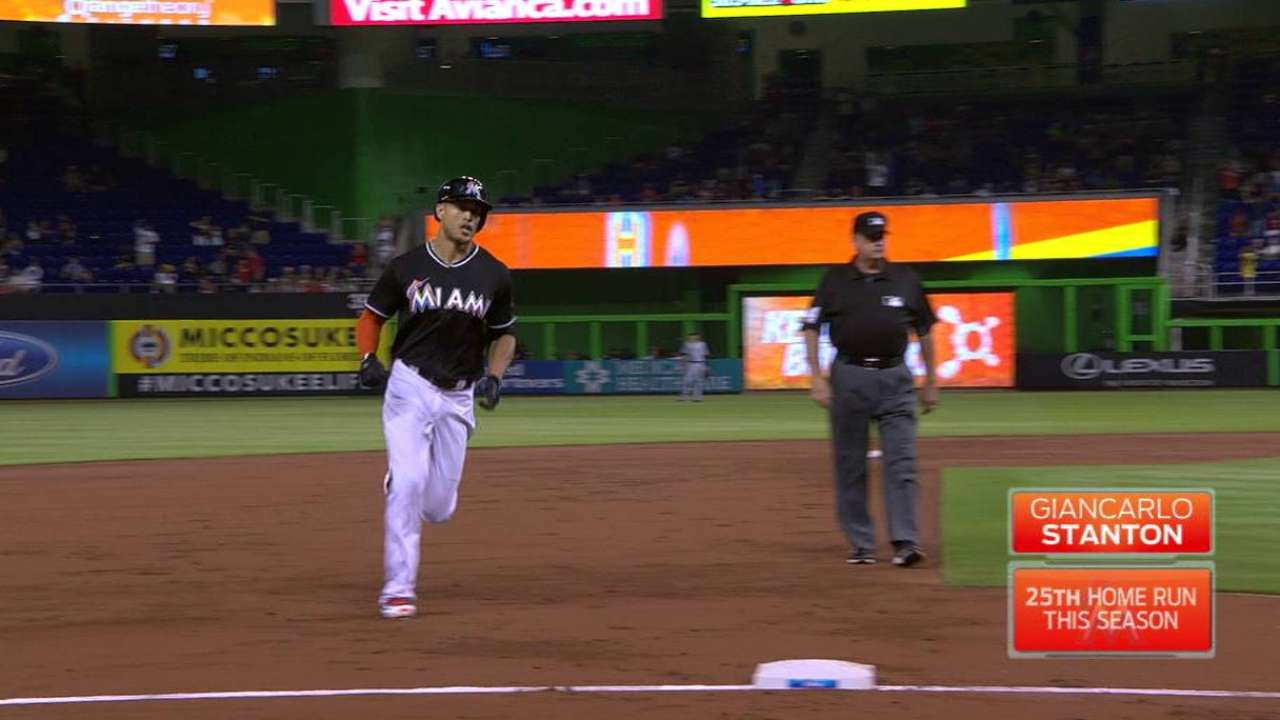 The structure of Stanton's contract also is a factor. The 13-year, $325 million contract he signed after the 2014 season includes a full no-trade clause, plus an opt-out clause after 2020. There's only a small percentage of clubs that can afford the right fielder.
I do anticipate Stanton being with the Marlins on Opening Day, but if the team isn't contending, I wouldn't be surprised if 2017 is his last year in Miami. Stanton's salary jumps to $14.5 million in '17, to $25 million in '18 and $26 million in '19 and '20.
What are some good ways the Marlins can honor Jose Fernandez in 2017 and beyond? Would they consider Jose Fernandez Field at Marlins Park?
-- @DavidParmeleeUX.
Since Fernandez's death in a boating accident on Sept. 25, the Marlins have received high praise for how they've handled the tragedy. The Miami Herald reports the organization also covered the funeral costs for Fernandez and made a donation to the church that conducted the services.
I don't know if renaming the stadium is something under consideration, but team owner Jeffrey Loria has already said he doesn't foresee anyone wearing No. 16 in Miami again. So retiring the number is likely. I also anticipate that the patches with No.16 on them would remain.
Something I'd suggest is retiring the actual mound, where he pitched in his final game against the Nationals on Sept. 20. Not just the pitching rubber, but remove the mound -- dirt and all -- and find an appropriate spot at Marlins Park, and have it serve as a permanent memorial.
What's more important right now -- finding starting pitchers or relievers?
-- @jucheva
Miami's top offseason priority is finding at least two starters, with the hope at least one has the track record of being a No. 2 or No. 3 pitcher in the rotation. Gio Gonzalez would be an ideal target, if the Nationals don't pick up his $12 million club option for 2017. I also think the Marlins will make a strong pitch for a free-agent closer. Aroldis Chapman and Kenley Jansen will receive consideration.
Do you think the Marlins will commit to playing Justin Bour against left-handed pitchers? Or will they stay with a time share at first base?
-- @GintyFresh36
I'd think it would come down to matchups. If it's a tough lefty, I'd expect a right-handed-hitting alternative. Bour was 7-for-30 (.233) with two doubles and two RBIs in '16, and is 16-for-103 (.223) with seven doubles and 13 RBIs in his career against lefties. Not a huge sample size, but not much success to automatically start him no matter who is on the mound.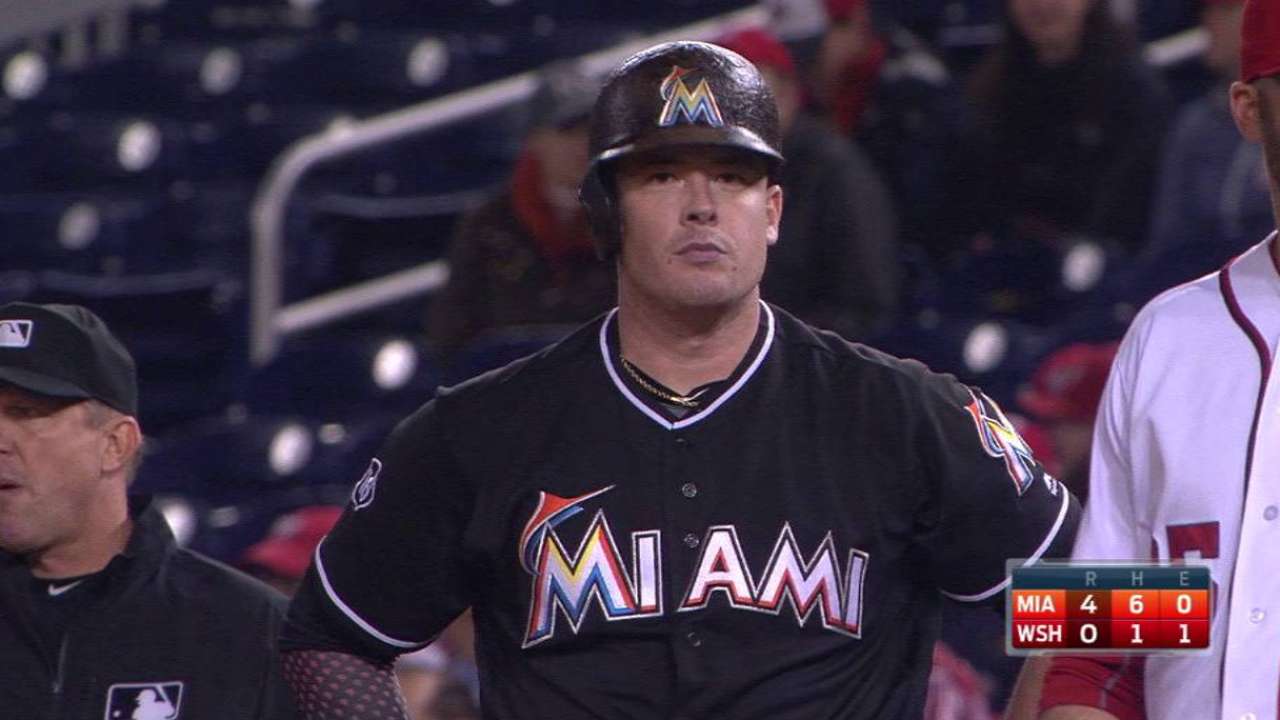 Who would you confidently project to be Nos. 2 or 3 starting prospects in the system right now?
-- @Teamgray21
Lefty Braxton Garrett, their No. 1 pick in '16, has the makings of a future ace. From what I'm hearing, he appears to be a solid No. 2 rotation guy, but could develop into a No. 1. Luis Castillo is close to being big league ready. Castillo could be a No. 3 starter, as similar projection to lefty Dillon Peters. According to MLBPipeline.com, Garrett is Miami's No. 1 prospect, while Castillo is No. 5 and Peters is No. 14.
Joe Frisaro has covered the Marlins for MLB.com since 2002. He writes a blog, called The Fish Pond. Follow him on Twitter @JoeFrisaro and listen to his podcast. This story was not subject to the approval of Major League Baseball or its clubs.