Sox: There will never be another David Ortiz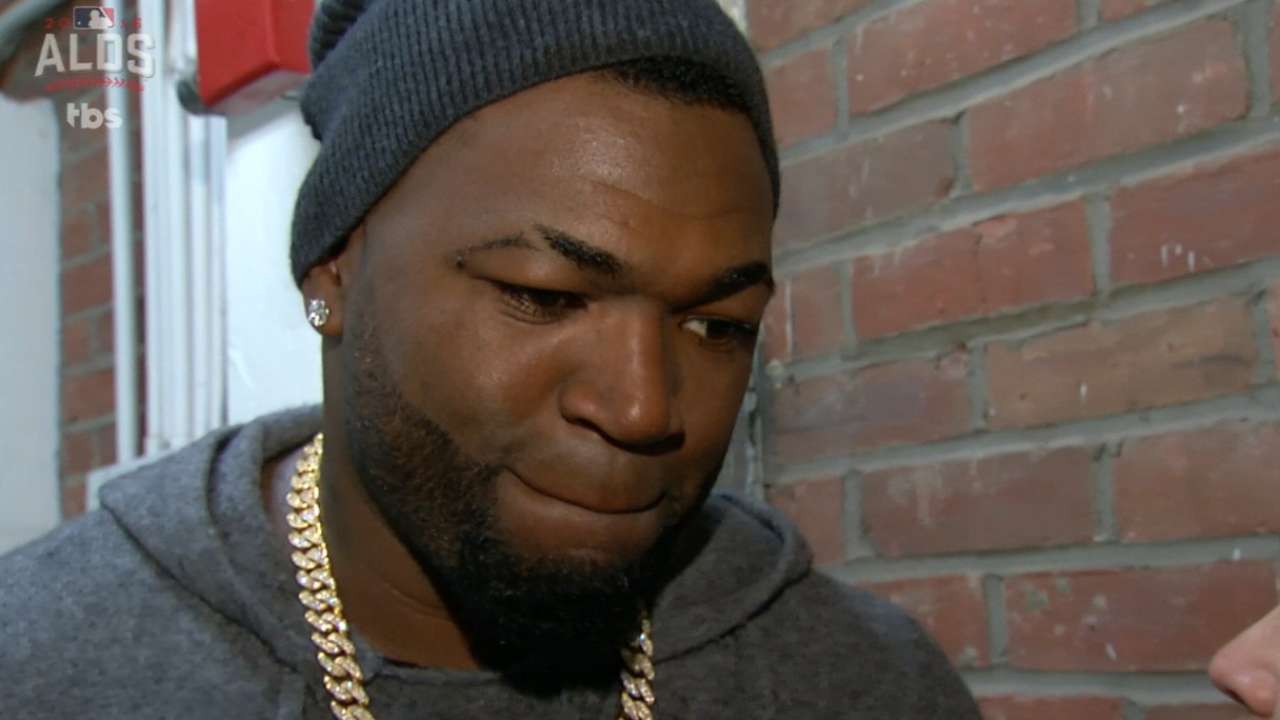 BOSTON -- There were dejected faces and slumped shoulders lining the Red Sox clubhouse as David Ortiz walked off the field as an active player for the final time late on Monday, tossing his cap onto the chair in front of his locker while preparing to cross the threshold into retirement.
Ortiz had just completed his tearful trek to the mound, doffing that cap to all corners of Fenway Park, and his teammates will have to settle for future replays of that moment. They were busy absorbing the reality that the Indians' 4-3 victory in Game 3 of the American League Division Series simultaneously ended both their pennant dream and a great career.
"I haven't cried after a baseball game since I was in Little League, probably, but tonight was different," said starter Clay Buchholz. "I've been around here for my whole career, and knowing how much he loves the game and how much he'd be around the game if it was a possibility ... I think his decision is made, and that's tough to swallow."
One by one, the Red Sox spoke about how Ortiz affected them as professionals, teaching them how to conduct themselves both on and off the field. His powerful stroke will be missed in the batter's box, but not as much as his presence in the clubhouse, where he made himself available for teammates on a daily basis.
"He's a true legend. He's a true champ," Xander Bogaerts said. "He did stuff the right way. Any young player who came up, regardless of if you're a prospect or non-prospect, he treated you the same way. He was always available to help. Hopefully, he comes around. It's his first time retiring, so you don't know what he has planned."
"He's a great player, a great person. There's never going to be another David Ortiz," Jackie Bradley Jr. said. "He's a pretty special player. You don't see guys like him come around too often. You definitely take full advantage of being able to be around him, being able to learn from him."
The Red Sox realized what might be at stake when Ortiz stepped to the plate in the eighth inning, then stared at four balls from Indians reliever Cody Allen before trotting to first base.
Mookie Betts said that in the dugout, the Red Sox were not-so-secretly hoping that home-plate umpire Tony Randazzo would ring up Ortiz for a called strike on the 3-0 pitch.
"Pitching around him is, I guess, probably the right play there," Betts said. "You're just hoping he can leave something for him to handle and that he can put a good swing on it."
Ortiz fired up Fenway by gesturing wildly at first base, urging the crowd of 39,530 to raise the decibel level. Hanley Ramirez's run-scoring single moved Ortiz into scoring position, forcing manager John Farrell to lift him for pinch-runner Marco Hernandez.
• Justice: Boston sends off beloved Papi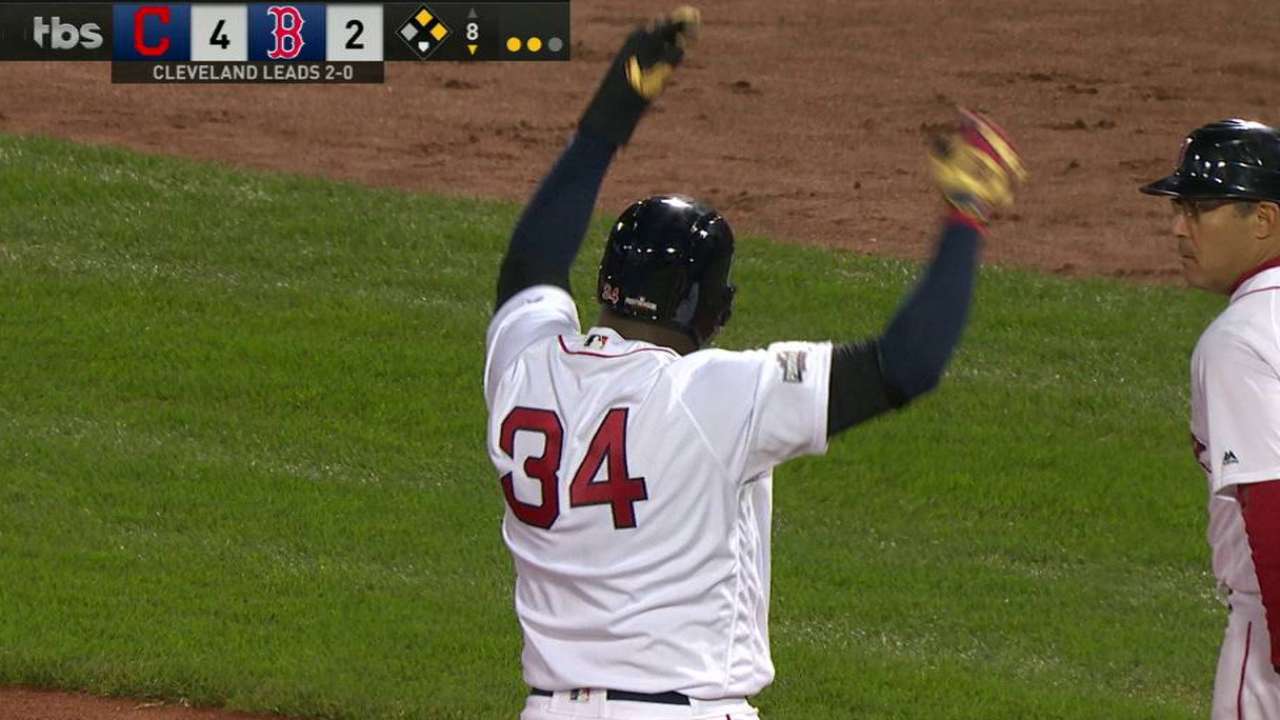 "I'm proud to be his teammate for so long," Dustin Pedroia said. "We've been through a ton of tough games, great wins, terrible losses. We've been through everything together. It's going to be tough not having him around. You lean on him for so much. He's been the guy you go to in every situation. It's going to be tough without him here."
Although Hernandez's appearance in the box score instantly made him the answer to a trivia question, the Red Sox would argue that no one has replaced Ortiz, or will any time soon.
"You can't replace him," Bogaerts said. "You can get guys that try to make up, but you probably need a lot of guys to make up for all he does, especially on and off the field. You just can't replace someone like that. You can't."
That made it all the more difficult for the Red Sox to accept the image of Ortiz descending the dugout steps, ending his career 11 victories short of the ultimate storybook ending.
"Your mind tells you he'll be here when the game ends and be here tomorrow," Pedroia said. "It's got to end some way. But this is definitely not how we expected it to. It's going to be tough not having him around."
Bryan Hoch has covered the Yankees for MLB.com since 2007. Follow him on Twitter @bryanhoch, on Facebook and read his MLBlog, Bombers Beat. This story was not subject to the approval of Major League Baseball or its clubs.