Maeda points to lack of execution in short start
Right-hander lasts three innings in first MLB postseason outing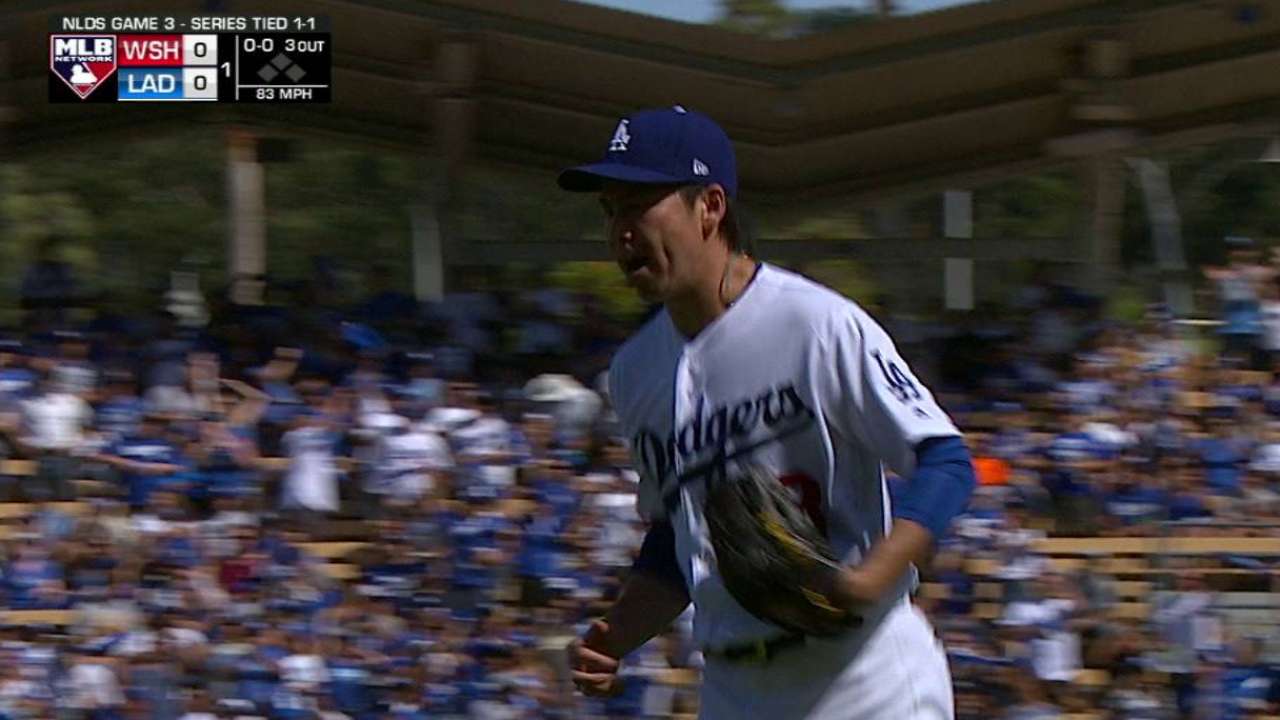 LOS ANGELES -- Kenta Maeda's Major League postseason debut was a short one, as the Nationals chased the Japanese right-hander after three innings in Monday's 8-3 loss in Game 3 of the National League Division Series at Dodger Stadium.
It was a bad time for Maeda's second-shortest start of the season, as the Dodgers now trail in the series, 2-1, and face elimination in Tuesday's Game 4 (5 p.m. ET/2 p.m. PT on FS1).
Maeda loaded the bases on a hit from Jayson Werth and a pair of walks in the first inning, but struck out Ryan Zimmerman on three pitches to escape the inning with 28 pitches. Even though he escaped the jam, it was still just the fifth multi-walk inning of his MLB career.
Maeda followed that with a clean second inning, sitting down the Nationals' 7-8-9 hitters in order while tallying two strikeouts. The third inning wouldn't go so well.
Trea Turner led off with a hit, then sped home from first base on Werth's double to tie the game, 1-1. Bryce Harper then scored Werth on a single two batters later to give Washington the lead. Things went even further south when Anthony Rendon hit a 432-foot home run, as projected by Statcast™, to take a 4-1 lead.
"Felt fine, physically, I thought I had my stuff today, but again, they executed, they really executed today," Maeda said through an interpreter.
It's difficult to call the pitch to Rendon as anything other than a mistake, as a 90-mph fastball perfectly found the middle of the strike zone.
Here's where Kenta Maeda's 90 MPH fastball to Anthony Rendon was located... Oops pic.twitter.com/k24k6iPlA0

- Daren Willman (@darenw) October 10, 2016
The Nationals had never faced Maeda and went in expecting him to heavily mix in his slider and changeup as he's done in the regular season. Both Werth and Rendon got the only extra-base hits of the game against Maeda on fastballs, but the Nationals were aggressive on the slider too, swinging at it 14 out of 25 times.
"He'll throw you anything at any time. He has excellent control," Nationals manager Dusty Baker said before Monday's game.
Austin Barnes hit for Maeda in the bottom of the third, ending his day much earlier than the Dodgers had hoped. The team is in the middle of three consecutive games and will enter a must-win game on Tuesday with a gassed bullpen that threw six innings Monday and 4 2/3 innings on Sunday.
"I was very regrettable that [it] didn't turn out to be a good outing," Maeda said. "I understand it was a big situation. I went in there like it was a must-win situation in terms of preparing for this. I wasn't nervous at all, it just wasn't my day today."
Five Dodgers relievers combined for five scoreless inning to fill in for Maeda, but the floodgates opened in the ninth when Kenley Jansen allowed four earned runs to seal the Washington win.
If the Dodgers are indeed eliminated Tuesday, Maeda will have ended a promising rookie year on a down note. Monday was his second-shortest Major League start, surpassed only by the 2 2/3 innings he threw in his last start of the regular season.
Jack Baer is a reporter for MLB.com. This story was not subject to the approval of Major League Baseball or its clubs.