ALDS Game 3 lineups: Indians vs. Red Sox (TBS, 6 p.m. ET)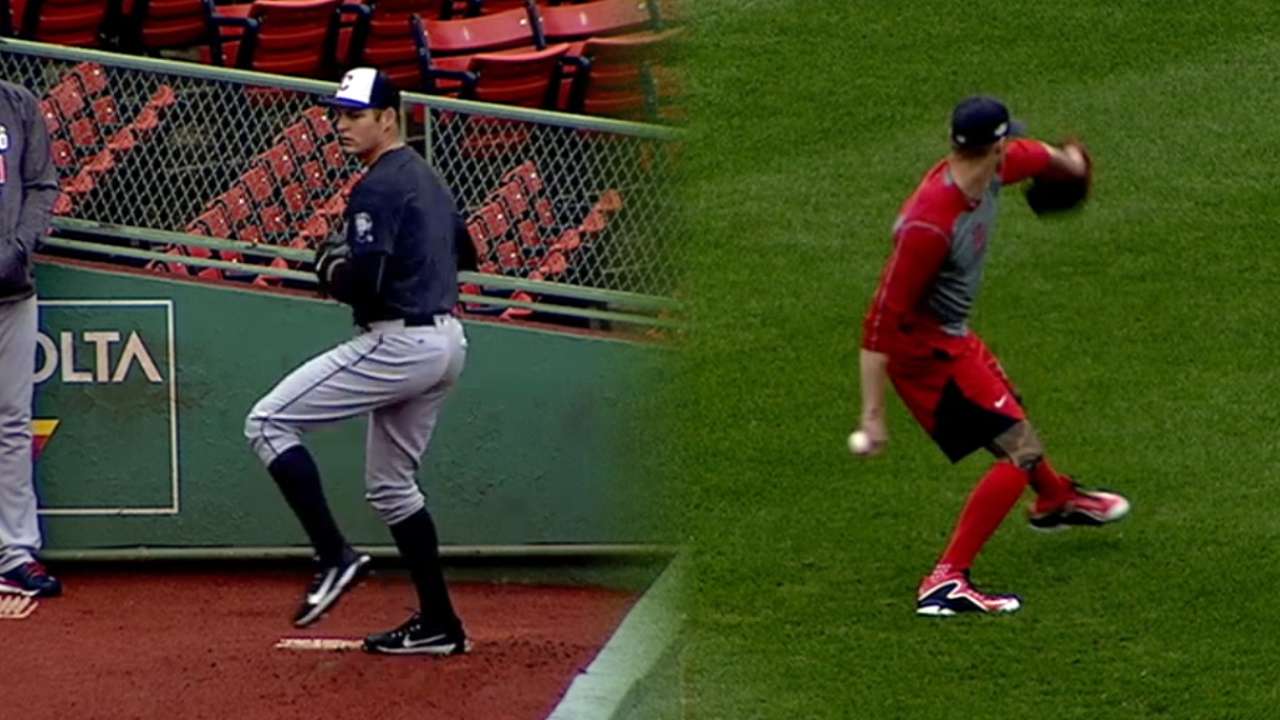 Designated hitter Carlos Santana will return to the leadoff spot for the Indians for today's Game 3 of the American League Division Series (6 p.m. ET on TBS) against the Red Sox at Fenway Park. Cleveland leads the best-of-five series, 2-0.
Indians manager Terry Francona went with center fielder Rajai Davis in the leadoff spot for Game 2 against Boston left-hander David Price. Francona will revert back to the lineup he used in Game 1 as Cleveland looks to complete a sweep against Red Sox righty Clay Buchholz.
Second baseman Jason Kipnis, who is 3-for-7 in the series, bats second, followed by shortstop Francisco Lindor, first baseman Mike Napoli and third baseman Jose Ramirez.
Right fielder Lonnie Chisenhall, the Indians' No. 8 hitter in Game 2, moves back up to the sixth spot in the order against Buchholz. Switch-hitting Coco Crisp returns to the lineup, as does left-handed-batting Tyler Naquin. They will hit seventh and eighth, respectively. Roberto Perez will catch for the third straight game and bat ninth.
The Indians' lineup, which has pushed across 11 runs in the first two games of the series, looks to continue its success to back starting pitcher Josh Tomlin, who is 2-3 with a 5.49 ERA in seven career games (six starts) against Boston.
Red Sox manager John Farrell will stick with the same lineup he used in Game 2.
Second baseman Dustin Pedroia leads off, followed by third baseman Brock Holt, right fielder Mookie Betts and designated hitter David Ortiz. First baseman Hanley Ramirez bats fifth, while shortstop Xander Bogaerts hits sixth.
Left fielder Andrew Benintendi, catcher Sandy Leon and center fielder Jackie Bradley Jr. round out the Boston batting order in the elimination game, with Farrell noting that the club is eager to seize the opportunity.
"You can almost look at it like there's a little bit of a freedom in the fact that there is no tomorrow," he said. "So let it all hang out. Trust your abilities, remember who we are as individual players and as a team, and play with that freedom and that aggression."
Boston looks to Buchholz to keep its season alive. The 32-year-old is 2-2 with a 4.85 ERA in seven career starts against Cleveland.
INDIANS
Carlos Santana DH
Jason Kipnis 2B
Francisco Lindor SS
Mike Napoli 1B
Jose Ramirez 3B
Lonnie Chisenhall RF
Coco Crisp LF
Tyler Naquin CF
Roberto Perez C
Josh Tomlin SP
RED SOX
Dustin Pedroia 2B
Brock Holt 3B
Mookie Betts RF
David Ortiz DH
Hanley Ramirez 1B
Xander Bogaerts SS
Andrew Benintendi LF
Sandy Leon C
Jackie Bradley Jr. CF
Clay Buchholz SP
Oliver Macklin is a reporter for MLB.com.. This story was not subject to the approval of Major League Baseball or its clubs.