NLDS Game 3 lineups: Nationals vs. Dodgers (MLBN, 4 ET)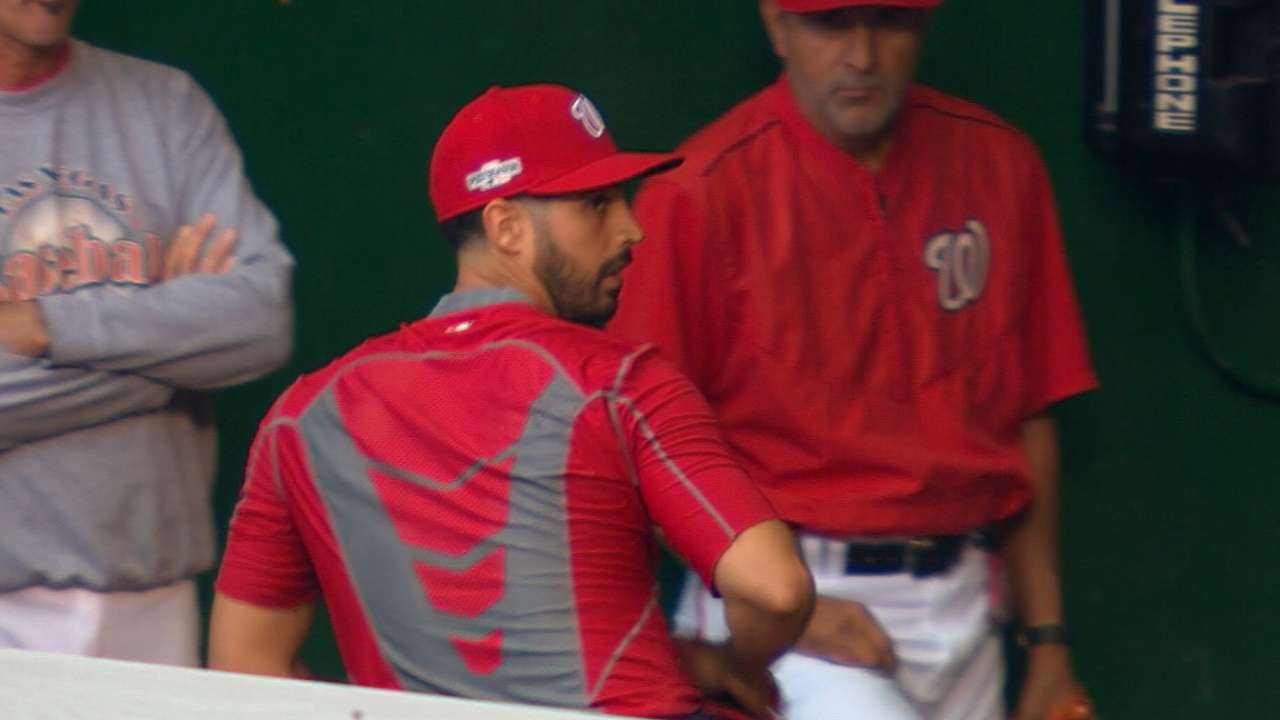 Catcher Jose Lobaton is back in the Nationals lineup for Game 3 of the National League Division Series vs. the Dodgers at Dodger Stadium (4 p.m ET/1 PT on MLB Network) after clubbing a three-run home run off Los Angeles left-hander Rich Hill in Game 2.
Lobaton, filling in for the injured Wilson Ramos (torn ACL), sent a 1-1 offering from Hill into the Dodger bullpen to give Washington the lead in the fourth inning of Sunday's 5-2 victory. The switch-hitting catcher, who will hit eighth, faces Los Angeles right-hander Kenta Maeda for the first time in his career.
Nationals manager Dusty Baker will hit Bryce Harper cleanup after Harper's 1-for-4 showing out of the two-hole in Game 2. Jayson Werth bats second for the Nationals and Daniel Murphy, who went 3-for-3 with two RBIs and a run on Sunday, bats third.
"I've seen Murphy hit, and in the beginning, I wasn't sure how Murphy was going to be," Baker said in his pregame news conference. "I wasn't sure how his leg was going to be. So I tried to put him in a position to drive in runs and not necessarily have to run. But it appears he's much better."
Trea Turner will again hit leadoff, while Anthony Rendon (fifth), Ryan Zimmerman (sixth) and Danny Espinosa (seventh) round out the Nationals lineup ahead of starter Gio Gonzalez. The left-hander is 3-1 with a 1.69 ERA in five career starts against the Dodgers.
Howie Kendrick makes his first start in the series, leading off for Los Angeles and playing left field. He has five hits in 23 career at-bats off Gonzalez. Kendrick is followed by third baseman Justin Turner, who went 2-for-3 with two walks in Game 2. Shortstop Corey Seager slides back one spot from Sunday's batting order into the three-hole as he looks to become the second shortstop ever to hit three home runs in a Division Series (Nomar Garciaparra, 1998).
Right fielder Yasiel Puig, who has three walks in four plate appearances off the bench, and second baseman Charlie Culberson will make their first starts in the series as well. Puig hits cleanup and Culberson bats seventh.
"I think that with Charlie, I like him against left-handed pitching," said Dodgers manager Dave Roberts. "I like the defense, and you still have Chase Utley coming off the bench against their right-handed relievers."
First baseman Adrian Gonzalez and catcher Yasmani Grandal hit fifth and sixth, respectively. Lefty Joc Pederson slides down to the eighth spot in the order ahead of Maeda. The right-hander is making his first career postseason start and his first start against Washington.
NATIONALS
Trea Turner CF
Jayson Werth LF
Daniel Murphy 2B
Bryce Harper RF
Anthony Rendon 3B
Ryan Zimmerman 1B
Danny Espinosa SS
Jose Lobaton C
Gio Gonzalez P
DODGERS
Howie Kendrick LF
Justin Turner 3B
Corey Seager SS
Yasiel Puig RF
Adrian Gonzalez 1B
Yasmani Grandal C
Charlie Culberson 2B
Joc Pederson CF
Kenta Maeda P
Oliver Macklin is a reporter for MLB.com.. This story was not subject to the approval of Major League Baseball or its clubs.