Postponed Tribe-Sox G3 tonight (6 ET, TBS)
Righties Tomlin, Buchholz set to face off at Fenway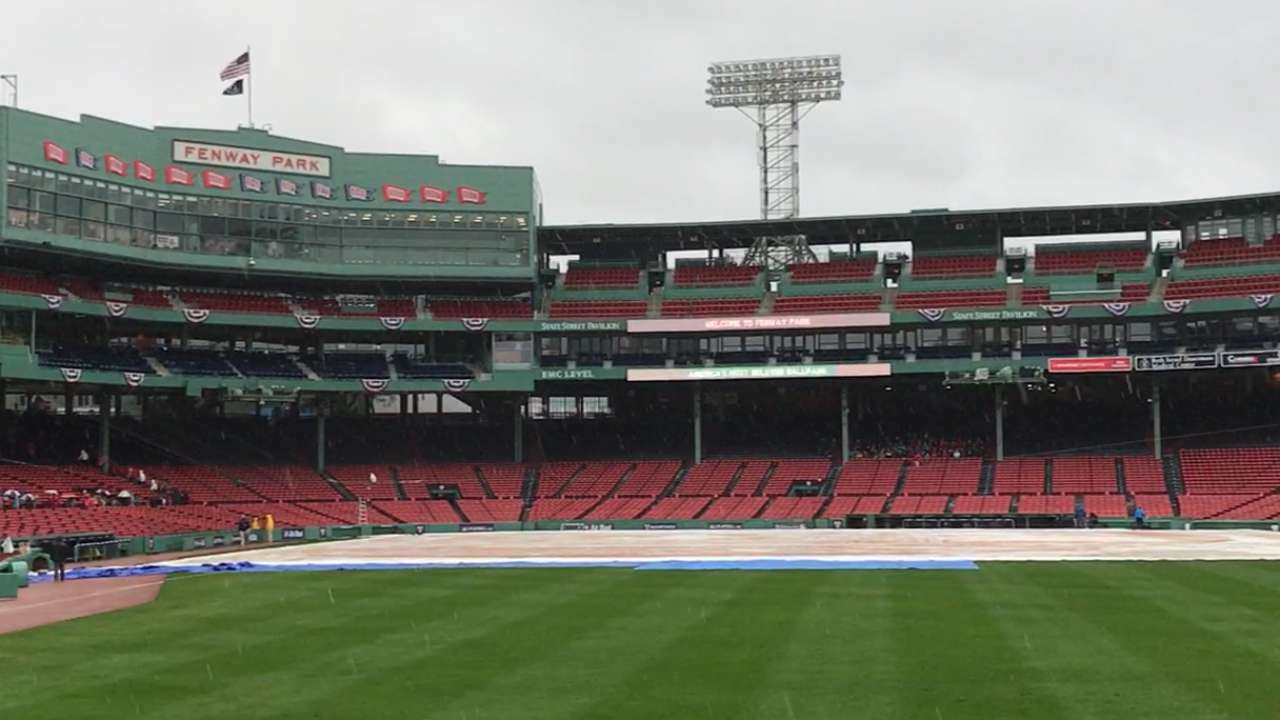 BOSTON -- The Indians will wait another day as they attempt to polish off an American League Division Series sweep of the Red Sox, as persistent rain and a problematic forecast forced the postponement of Game 3 at Fenway Park on Sunday.
Cleveland holds a 2-0 edge in the best-of-five series, and had been set to start right-hander Josh Tomlin opposite Boston right-hander Clay Buchholz on Sunday. The same hurlers are now set to face off tonight (6 ET, TBS).
Game 3 tickets will be honored for tonight's game (ALDS Home Game No. 1 in Boston), when clear skies are forecast. If necessary, Game 4 tickets (ALDS Home Game No. 2 in Boston) can be used Tuesday, which had originally been set as an off-day for travel. If there is a Game 4, it will be at 2 p.m. on TBS if there are three games Tuesday, or 3 p.m. on TBS if there are two games.
The decision to postpone Sunday's game came at the discretion of Major League Baseball, after assessing a long-range forecast that called for continued rain through the evening hours.
"We're certainly anxious to get back on the field," Red Sox manager John Farrell said. "That's what this boils down to, regardless of the setting, the stage, the consequence. But I think we're looking forward to definitely playing in front of our fans here at Fenway Park."
The Indians outscored the Red Sox, 11-4, through the first 18 innings of the ALDS in Cleveland. The Tribe is trying to advance to its first AL Championship Series, in which it would face the Blue Jays, since 2007.
"I think it's going to be a cool moment for me," Tomlin said. "I know it's going to be a packed house and be rowdy and loud. This is the reason why you play the game, for opportunities and chances like this. I'm going to be happy to be pitching here, especially in the position we're in."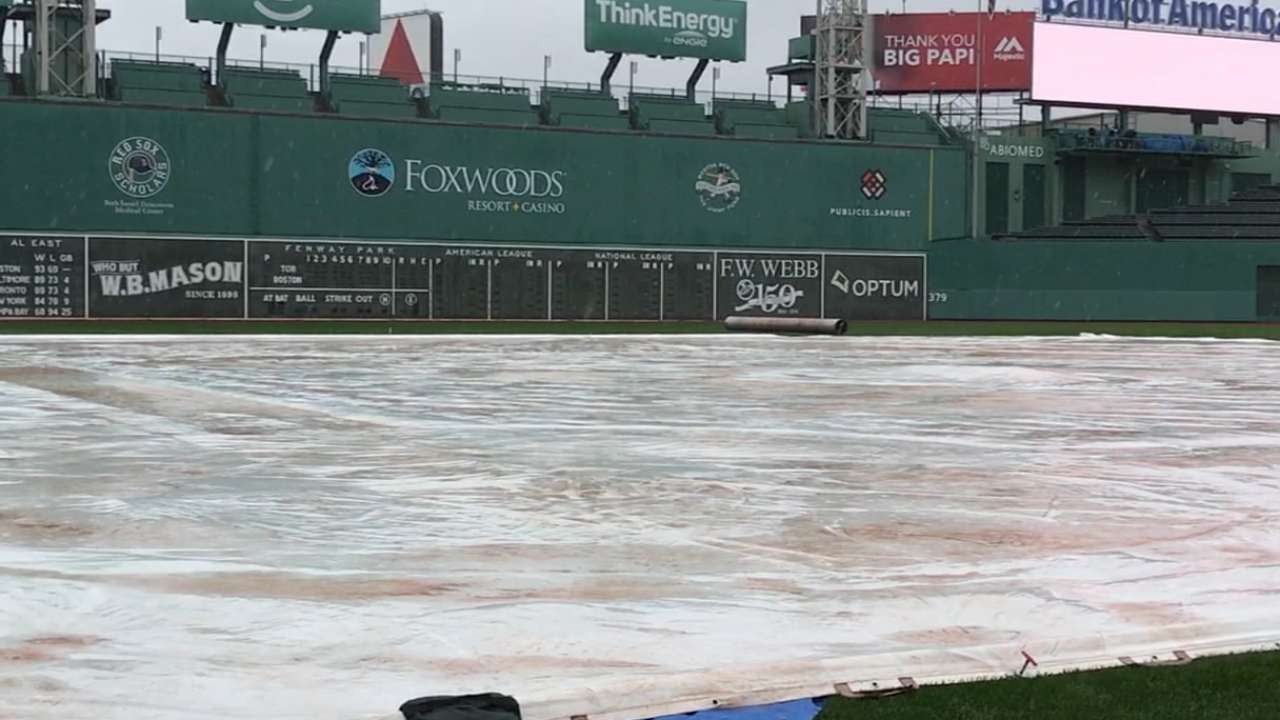 Red Sox reliever Brad Ziegler said that he believes MLB made the right decision to call the game early; an official announcement was made approximately 2 1/2 hours before the scheduled start time.
"We'll watch some football, go through our normal routine, what it would be on a Sunday," Ziegler said. "It's better than sitting around here all day and just kind of wondering. At least we know early and we can go home early and have a nice dinner and enjoy the time off."
Sunday's rainout could prompt table talk for both clubs. The Red Sox will have the option of starting 22-game winner Rick Porcello on normal rest in a potential Game 4 instead of left-hander Eduardo Rodriguez, with left-hander David Price waiting for a potential Game 5, also on normal rest.
"What we do if we get to a Game 4, we'll have further discussion on that," Farrell said.
The 23-year-old Rodriguez was 3-7 with a 4.71 ERA in 20 starts this year. Porcello took the loss in Game 1, surrendering five runs and six hits in 4 1/3 innings.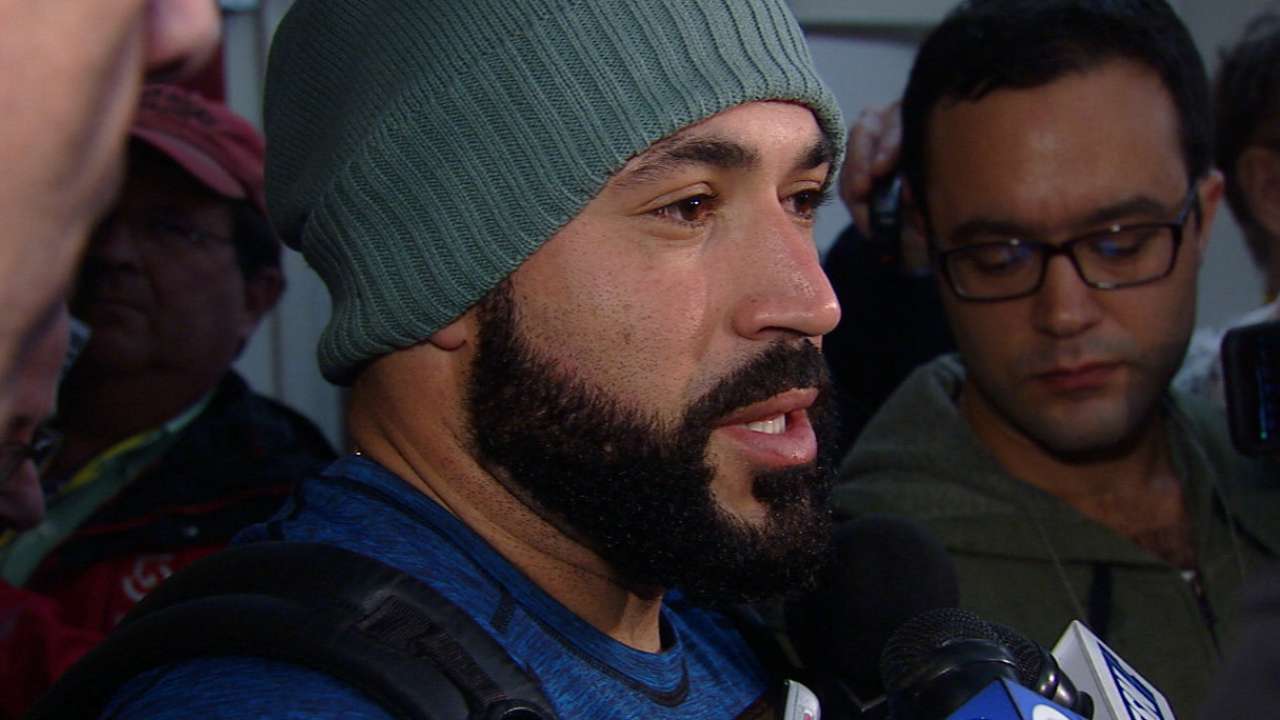 "I'll just do whatever they want," Rodriguez said. "If it's going to be in the bullpen or starting, I'll do whatever they need me to do."
On Cleveland's side, manager Terry Francona could consider using Corey Kluber on short rest in a potential Game 4, but will instead go with Trevor Bauer on full rest in that game. Kluber then would be on full rest for a potential series-deciding Game 5.
"It's probably good," Indians pitching coach Mickey Callaway said. "Obviously, three days in a row would affect the bullpen a little bit, but as far as the starters go, it's good. Trevor doesn't have to pitch on short rest. Everybody will be rested for their day."
Sunday's rainout also sets up the possibility that, should the series go a full five games, both managers will have to contend with the temptation to work relievers in three consecutive games -- an issue that Farrell would love to see come into play, and that Francona hopes never does.
"I think when you have a lead in a short series, you try to win because you're never guaranteed that you're going to have the lead the next day," Francona said.
Bryan Hoch is a reporter for MLB.com. This story was not subject to the approval of Major League Baseball or its clubs.