Cubs' bullpen depth, versatility paying off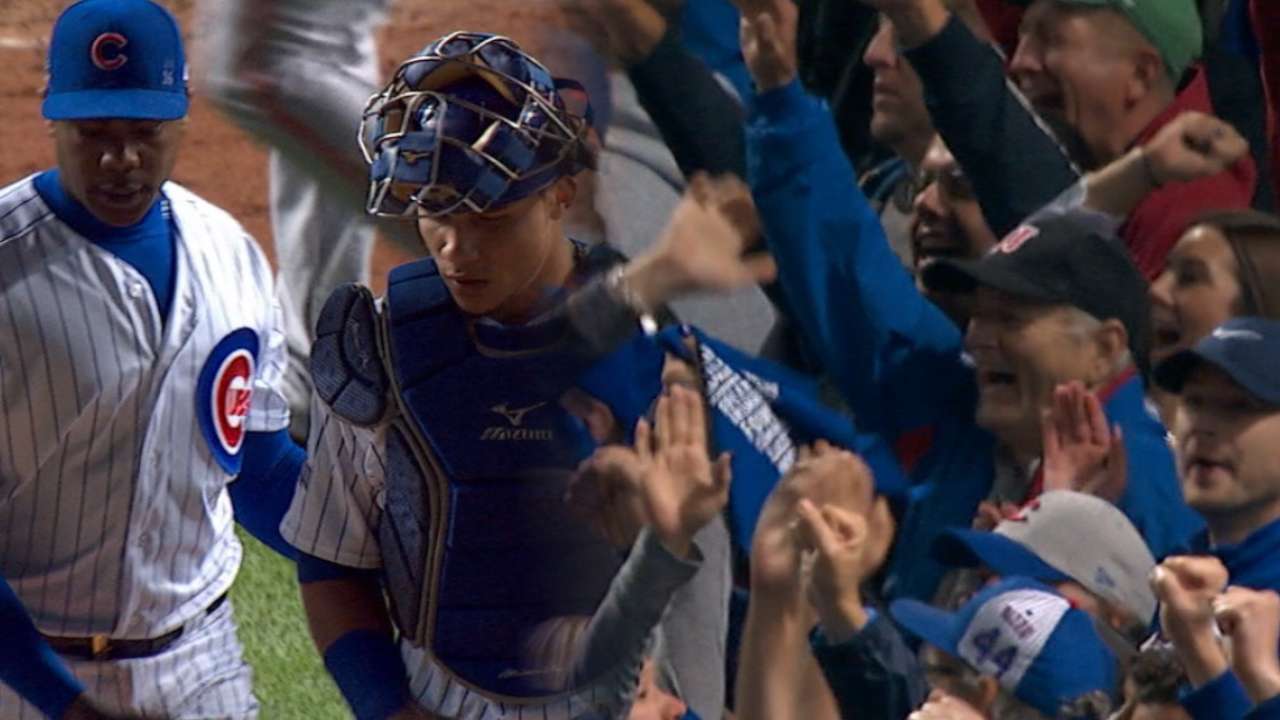 SAN FRANCISCO -- The Cubs' bullpen has been relatively quiet, with the exception of "oohs and ahs" every time hard-throwing closer Aroldis Chapman hits 100 mph. Chicago's strength this year has been the starting rotation, which compiled a Major League-leading 2.96 ERA in the regular season. In Game 2 of the National League Division Series, Chicago's 'pen came through in a 5-2 win over the Giants.
"Our bullpen has been ready to come in the game and they finally got a chance, and they did a good job," Javier Baez said in advance of Game 3 on Monday at AT&T Park (8:30 p.m. CT/6:30 PT, FS1, FOX Deportes).
When Cubs starter Kyle Hendricks was struck in the fourth inning on Saturday night by a line drive off the bat of the Giants' Angel Pagan, manager Joe Maddon needed somebody quick and called on reliever Travis Wood, who not only did the job on the mound but delivered a solo home run.
"Of course, Woody hitting the home run was part of the plan," Maddon said. "I did put him in there because as he was coming up second, that was part of it. I did not want to pinch-hit there [in the fourth], obviously, with two lefties at the top of the batting order [in the fifth], and I thought it was a good spot for him. He did really well."
Wood wasn't the only one. He was followed by righty Carl Edwards Jr., lefty Mike Montgomery and right-hander Hector Rondon before Chapman finished the game for the save, his second in the NLDS. Including the regular season, the Cubs' bullpen has yet to allow a run to the Giants over 32 1/3 innings this year, having given up 12 hits and five walks while striking out 33.
"You could talk about the whole group -- [Edwards], outstanding," Maddon said. "And Montgomery -- you know, very, very good. The curveball was great to both sides. And then Rondon, it was nice to see Ronnie come in there against two really good hitters, and 'Chappy' has been throwing the ball well."
Plus, with an off-day on Sunday, Maddon could be a little more liberal with the relievers. The Cubs opted to carry 11 pitchers on the postseason roster, and obviously didn't anticipate losing a starter as early as Hendricks exited.
• Hendricks OK after comebacker ends his night
"The way it eventually turned out where we did not have to use Pedro Strop or Justin Grimm was a good moment knowing that we could get to Rondon and then Chapman and keep these guys back," Maddon said.
Wood, in his first season as a full-time reliever, led the Cubs in appearances this season with 77 and finished with a career-best 2.95 ERA, holding hitters to a .199 batting average.
"He's been throwing the ball well," Maddon said of the lefty. "You saw the numbers on the board. It's getting back up to 92 [mph] and sometimes 93 with his fastball. He has been pitching a lot for us. I was riding him a little bit too hard. We backed off toward the latter part of the year. He's got his energy and his arm strength back, and he was very good."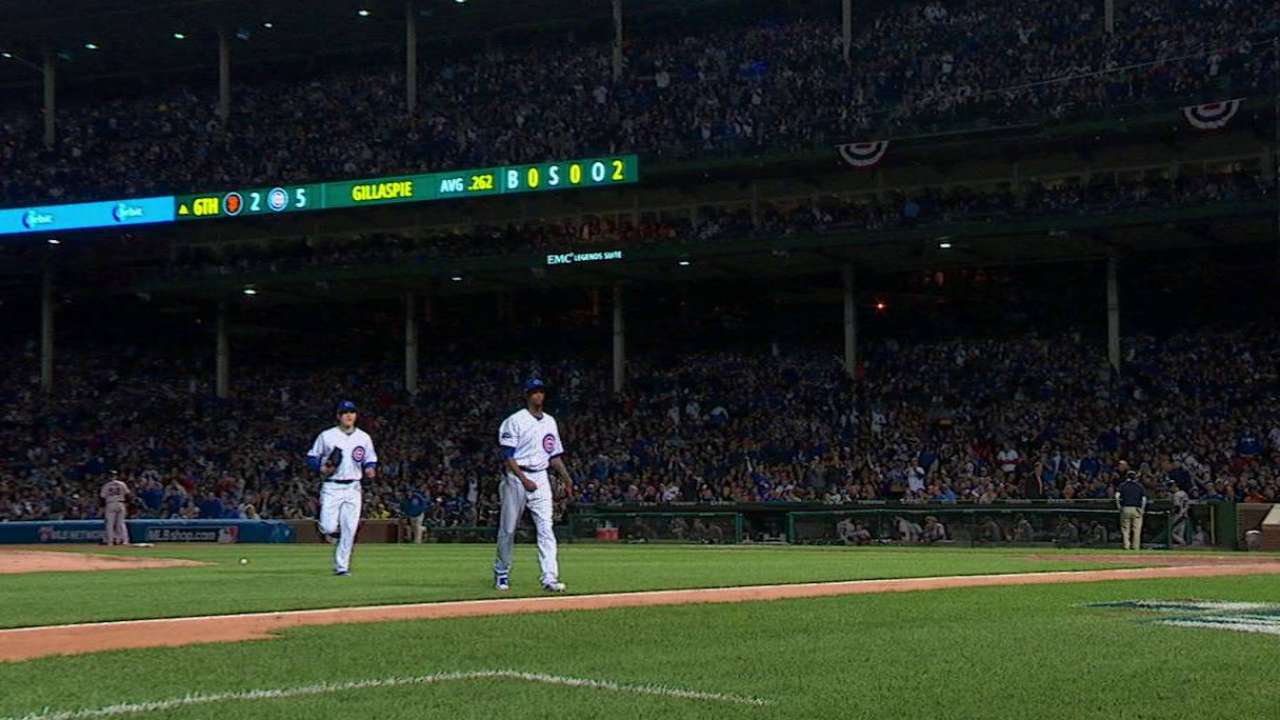 Strop and Rondon pitched in the postseason for the Cubs last year, while Edwards was a cheerleader. The young right-hander had been a September callup and wasn't on the postseason roster in 2015 but stayed with the team through the postseason. Montgomery was a late addition, joining the Cubs on July 20 after a trade with the Mariners.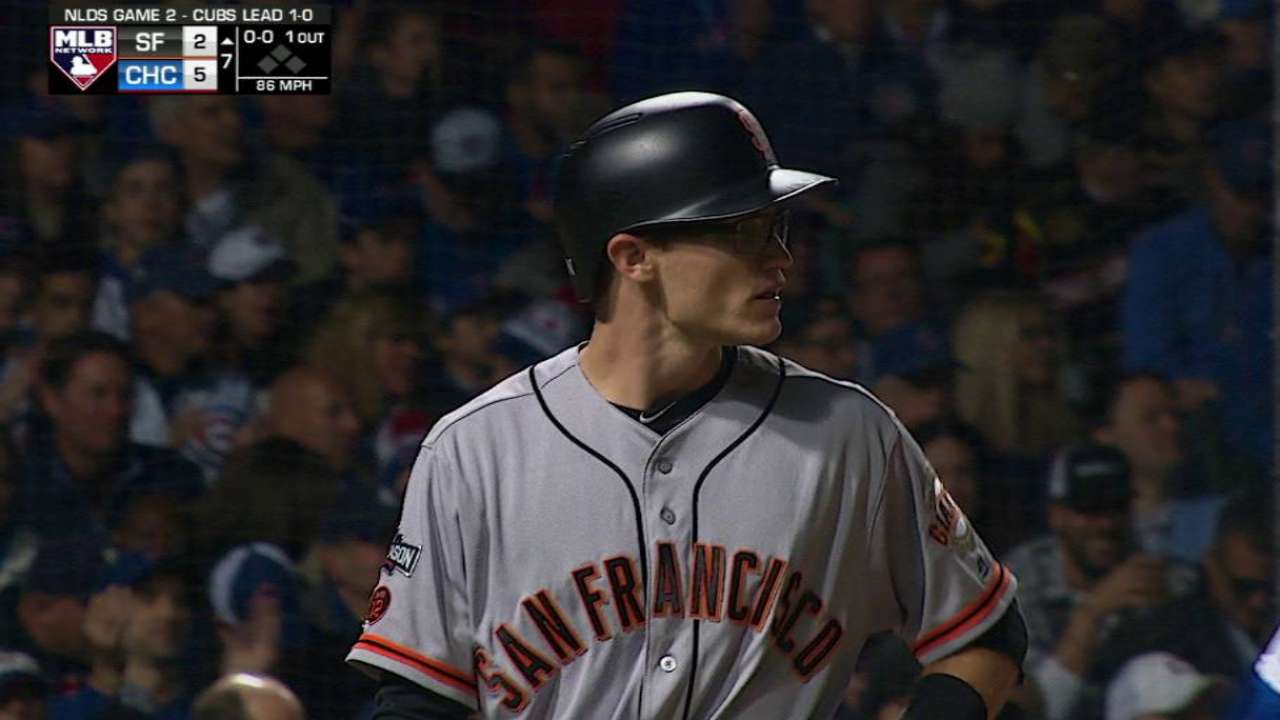 "It was really important to just use [Edwards] the way we did, and the fact that Montgomery threw strikes as well as he did," Maddon said. "To get those guys off the ground a little bit, make sure that they understand the playoffs, at home, I thought was very important. ... That's the real first taste in all this [for Edwards]. That definitely makes him a ittle bit more comfortable the next time out."
Carrie Muskat has covered the Cubs since 1987, and for MLB.com since 2001. She writes a blog, Muskat Ramblings. You can follow her on Twitter @CarrieMuskat and listen to her podcast. This story was not subject to the approval of Major League Baseball or its clubs.