Zimmer wins Arizona Fall League Hitting Challenge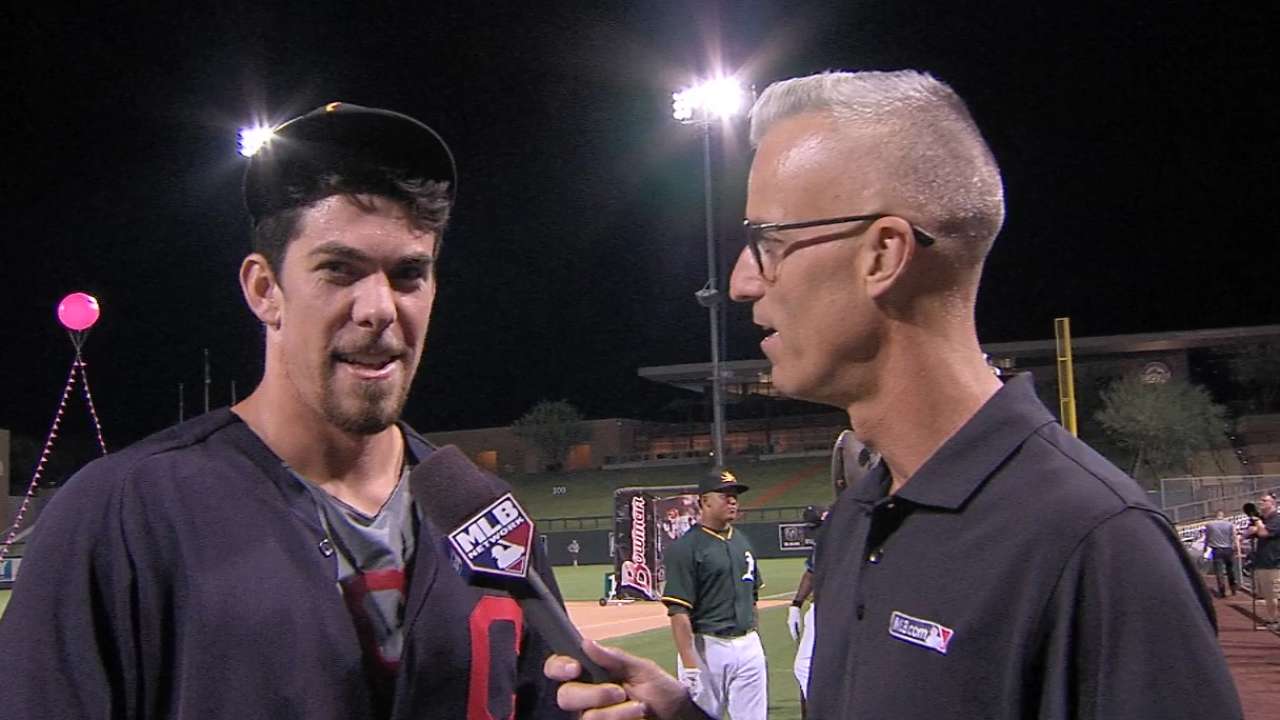 PHOENIX, Ariz. -- Indians top prospect Bradley Zimmer hasn't played much baseball over the past several days, but there was no apparent rust as he sprayed the ball all over the yard in the Arizona Fall League's fourth annual Hitting Challenge on Saturday night at Salt River Fields.
Zimmer won the event with 2,350 points, edging out Orioles No. 12 prospect D.J. Stewart, who finished with 1,950.
"It was fun, I had about 10 days without baseball and got a little hungry," Zimmer said. "It's good to be out here with some new faces and enjoying the event."
The Hitting Challenge is a twist on the Home Run Derby, as participants were awarded points for either hitting home runs or targets scattered throughout the field.
"Honestly, I was just trying to treat it like a Home Run Derby and hit everything out to center field and if I missed, hopefully it'd hit a target out there somewhere," Zimmer said.
The 23-year-old outfielder hit plenty of targets, and after hitting 15 homers in 130 games during the regular season, Zimmer hit four long balls during his two-minute round.
The Mariners' No. 2 prospect Tyler O'Neill, who finished with 1,150 points, didn't receive any awards, but may have had the most impressive swing of the night.
O'Neill has hit 56 total homers over the past two seasons and it was easy to see why as he concluded his round with a monstrous 400-foot blast off a tee.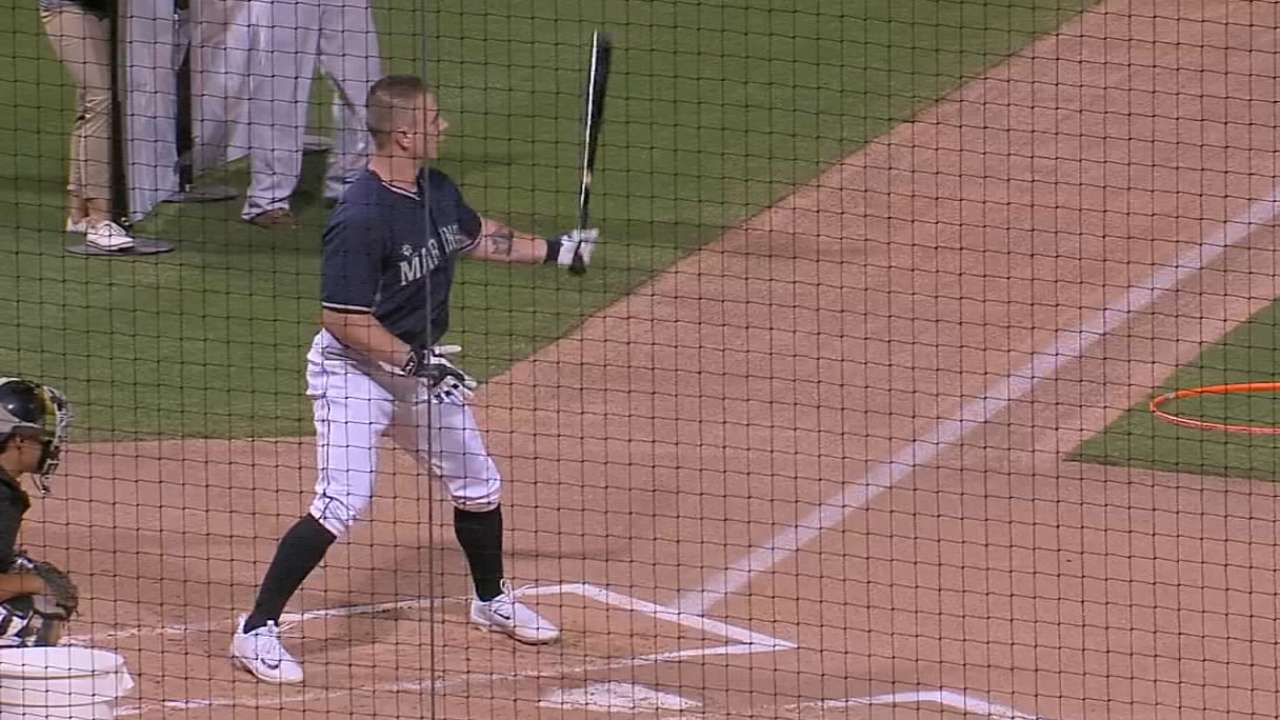 Prior to the swing O'Neill said his approach was simple: "I'm just going to swing and see what happens." That turned out to be the right approach as he hit the first homer off a tee in Bowman Hitting Challenge history.
The 21-year-old knew the ball was gone as soon as it left his bat and promptly celebrated with a bat flip.
Taking notes or nah? @JoeyBats19 https://t.co/d65JSOzRAC

- Tyler O'Neill (@toneill21) October 9, 2016
"When you feel a ball off the bat like that, you know," O'Neill said. "I had a hunch it was going to go over, I'm just glad it did."
Even the night's champion was impressed with O'Neill.
"If you look at the guy, he's a pretty strong cat," Zimmer said. "So, it doesn't surprise me that he muscled one out of here."
The White Sox No. 2 prospect Zack Collins also flexed his muscle with a flurry of home runs during the middle of his round.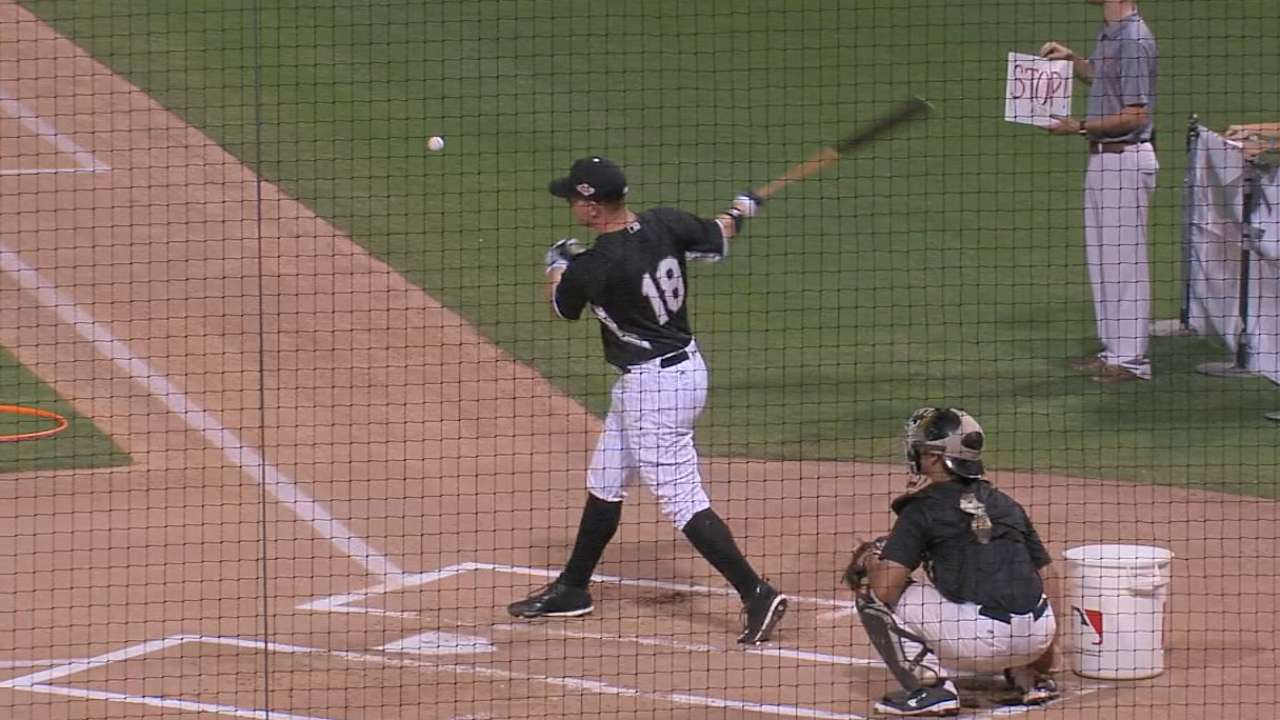 Chicago's first-round selection in June hit six homers in 39 games during his professional debut this season and matched that in a minute Saturday.
Collins hit six homers in a span of eight swings -- all to right and right-center -- and finished with a score of 1,600.
William Boor is a reporter for MLB.com. Follow him on Twitter at @wboor. This story was not subject to the approval of Major League Baseball or its clubs.