Oct. 8 Josh Tomlin workout day interview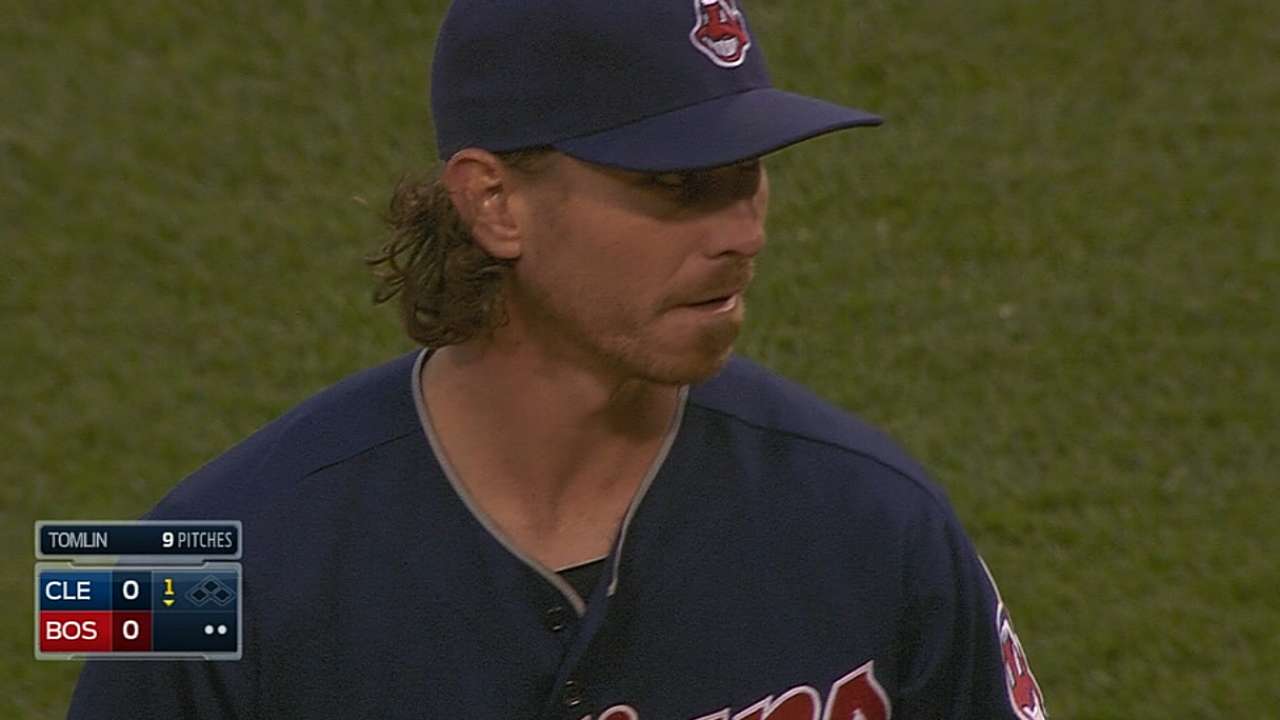 Q. Josh, I believe you and Clay were teammates in junior college? Is that right. Tell me about the circumstances there. I believe you guys were actually competing for an infield job at that point.

JOSH TOMLIN: Yeah, shortstop. He ended up coming in -- but he ended up playing right field and I played short. And he was probably a better pitcher than I was at the time, so he was a starter and in the days he didn't start, he played right and I played short.

Q. Was that a friendly competition or how did that go with you two guys both going for the same position?

JOSH TOMLIN: Yeah, we didn't know each other at the time, so there was no -- I didn't find out about the story that our junior college coach told the year after I left, that he came in and he would play right field or just pitch. So I didn't find out about that until later. But, yeah it was a friendly competition it was just about what made our team better.

Q. What's it like knowing you guys are up 2-0 coming into this park, when we spoke at the end of the season you talked about how cool it would be to pitch here. How cool it would be here to pitch under these circumstances now?

JOSH TOMLIN: I think it's really cool because of the situation we're in. But, we can't get complacent and we're not, it's about going out there and handling our business tomorrow, trying to win a gym and not let them back in it. We know how good they are and so we can't get complacent and just kind of go through the motions and expect to win. We got to go out there and play our style of baseball to take each at-bat, each pitch at a time and just play our style of baseball and see what happens.

Q. Aside from the numbers, what went so well for you in September after kind of the struggle in August? You talked about you took a little bit of a break when you were out of the rotation. Was there anything you worked on during that time or was it just kind of getting away from it?

JOSH TOMLIN: I think it was probably going back and understanding the pitch selection I had and executing the pitches that I was throwing. I wasn't executing very well in the month of August and I paid for it. With my stuff, it's not overpowering, so when I'm not executing a pitch where I need it to go, it can get hit a long way or there can be a lot of traffic on the bases. So it was about executing the pitch and having the conviction in those pitches and mixing up my pitches enough to keep them off balance.

Q. Is pitching here different than pitching in other ballparks?

JOSH TOMLIN: Yes and no. You don't want to think it is. But this ballpark is unique. You can beat a guy on a pitch and jam him and they go off the wall for a single or stuff like that. But you can't let that, the fact that it is so unique, kind of creep into your mind and try to do something different. You just got to go out there and pitch to your strengths and try to just limit the damage as much as you can. I understand this ballpark is unique and the fan base and all that stuff is pretty cool, pretty rowdy, it's going to be a good atmosphere to pitch in tomorrow, but I'm going to go out there and treat it as just another game and keep executing pitches and keep our team in the game.

Q. Who was a better hitter in college between you and Clay?

JOSH TOMLIN: It's been a long time ago. I don't really know. I want to say me. I think he hit more home runs, but, no, he was an All-American that year we were there, so he was probably a better all-around player, but I think he got All-American for pitching, not hitting.

Q. Do you guys maintain a friendship since then or what's the relationship been since then?

JOSH TOMLIN: Yeah, we have maintained a friendship. We talk to each other every off season, we have been back to Angelina and talked to coach and worked out and threw with him. But other than that, it's just kind of a friendly text back and forth and when we see each other and play each other we hang out, go eat lunch or something like that. But, yeah, we're still pretty good friends.

Q. Given this week, you'll see him?

JOSH TOMLIN: Yeah, I'll text him tonight, not tomorrow, but the next day after that, yeah.