Giants not checking off on call
If ninth-inning call goes other way, San Francisco might have tied score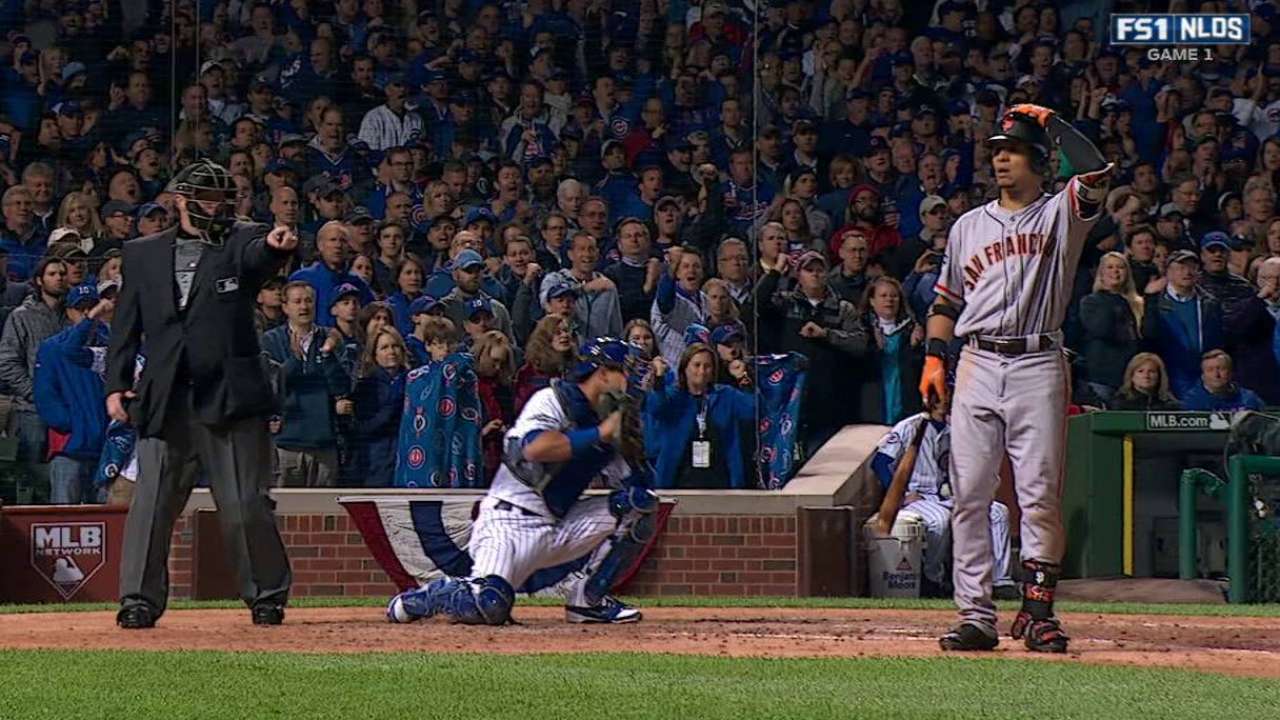 CHICAGO -- Nobody asked Bruce Bochy about the third strike that retired San Francisco's Gorkys Hernandez in Friday night's ninth inning. But the Giants manager didn't hesitate to raise the subject, unsolicited, in his news conference following San Francisco's 1-0 loss to the Chicago Cubs in Friday's National League Division Series opener.
Hernandez tried to stop himself from swinging at a 3-2 pitch from Cubs closer Aroldis Chapman to open the ninth inning. Hernandez believed that he halted his swing in time. So did Bochy.
"That check swing, that call goes their way. ... It's a different ballgame," Bochy said. "From our view, it didn't look like [Hernandez] went. So that's a tough break for us."
Hernandez didn't argue, but he also didn't agree with the call by first-base umpire Alan Porter.
"It was not even close," Hernandez said. "I don't know what he was thinking. I don't have excuses, but it was ball four. I wasn't even close to swinging."
The Giants, who had six baserunners all night, might have shaped a different ending had Hernandez reached first base. With two outs, Buster Posey prolonged the game by doubling off the base of the left-center-field wall. The fleet Hernandez likely would have scored.
Posey's drive ultimately generated even more frustration for the Giants, who believed that he had hit a home run.
"I thought Buster's ball had a chance," Bochy said. "It looked like the wind knocked it down."
Chris Haft has covered the Giants since 2005, and for MLB.com since 2007. Follow him on Twitter at @sfgiantsbeat and listen to his podcast. This story was not subject to the approval of Major League Baseball or its clubs.