MLB.com Columnist
Phil Rogers
Giants, Cubs set stage for riveting series
Defense, pitching shine in intense NLDS Game 1 matchup
CHICAGO -- This is going to be fun, isn't it?
We knew this National League Division Series would be about pitching and defense, but who knew there would be this much great pitching and defense from the Cubs and Giants?
• Shop postseason gear: Giants | Cubs
Maybe it was just one night, but the Cubs' 1-0 victory over the Giants was such an electric, intense, fast-moving game that we could have been watching the Dodgers and Twins in the 1965 World Series.
Jon Lester and Johnny Cueto neatly filled the Sandy Koufax and Mudcat Grant roles, and it's hard to imagine that Dodger Stadium and the Met were rocking any louder than Wrigley Field on Friday night, in the opening act of "2016 Cubs, Your World Series Favorites," with the second act coming Saturday night (8 p.m. ET, MLB Network).
For Lester and his teammates, Javier Baez's eighth-inning home run off Cueto -- a moonshot that fluttered into the basket that was built atop the outfield fence in 1970, to stop Bleacher Bums from jumping onto the field -- provided a perfect ending for a day in which Giants-Cubs was the last of four postseason games.
"Fun atmosphere from really just driving in this afternoon, coming to the ballpark and seeing all the people on Clark [Street] and all that stuff,'' said Lester, who won World Series games for the Red Sox in 2007 and '13. "That was my first playoff game [pitching for] the Cubs at home. That was pretty cool. A pretty cool experience. Great baseball game. Really a lot to say about it, but not a lot to say about it. You know what I mean?''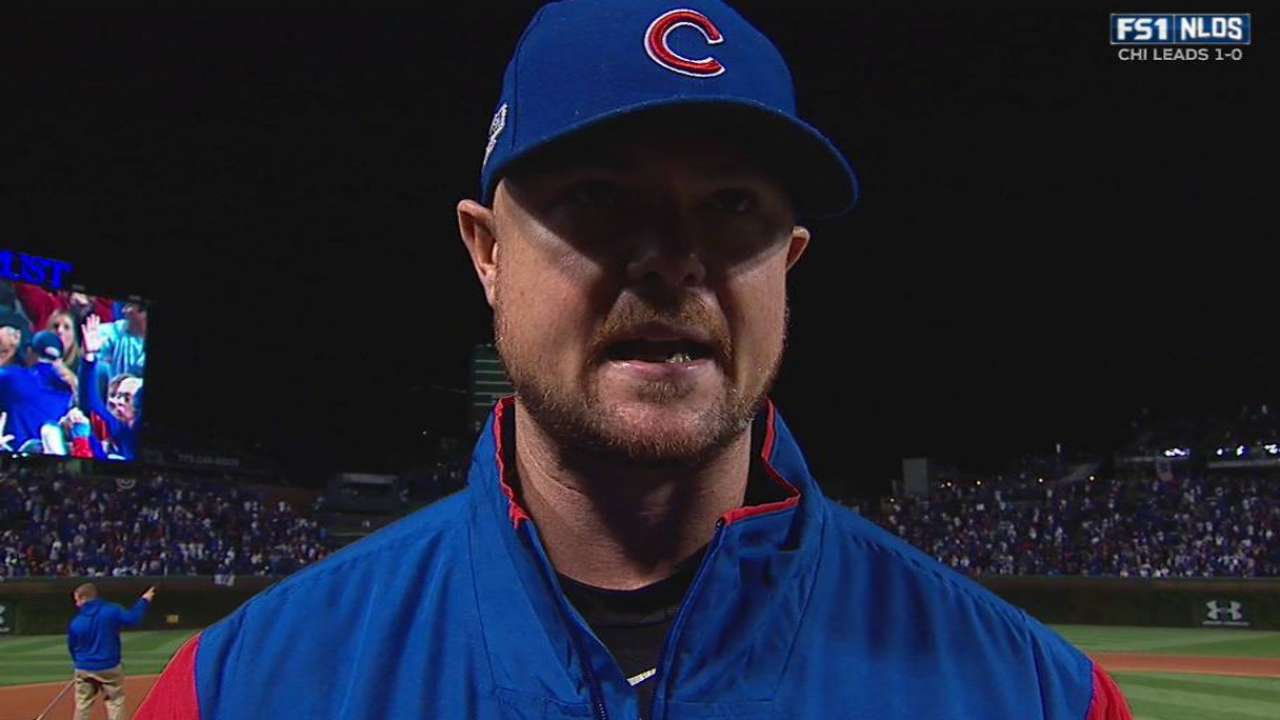 Cubs manager Joe Maddon called it "a classic kind of an old-school baseball game,'' and even the time of game -- 2 hours, 30 minutes -- spoke to his point.
Not that anyone should be surprised.
While the Cubs can punish pitching, they've won at least as much with their own pitching and defense. And it's that -- along with situational hitting -- that has given the Giants a chance to continue their even-year magic.
None of the other six teams still playing has as much starting pitching as the Cubs and Giants, who both go four starters deep. Defensive metrics rank the Cubs as the best group of fielders in the Majors, with the Giants third.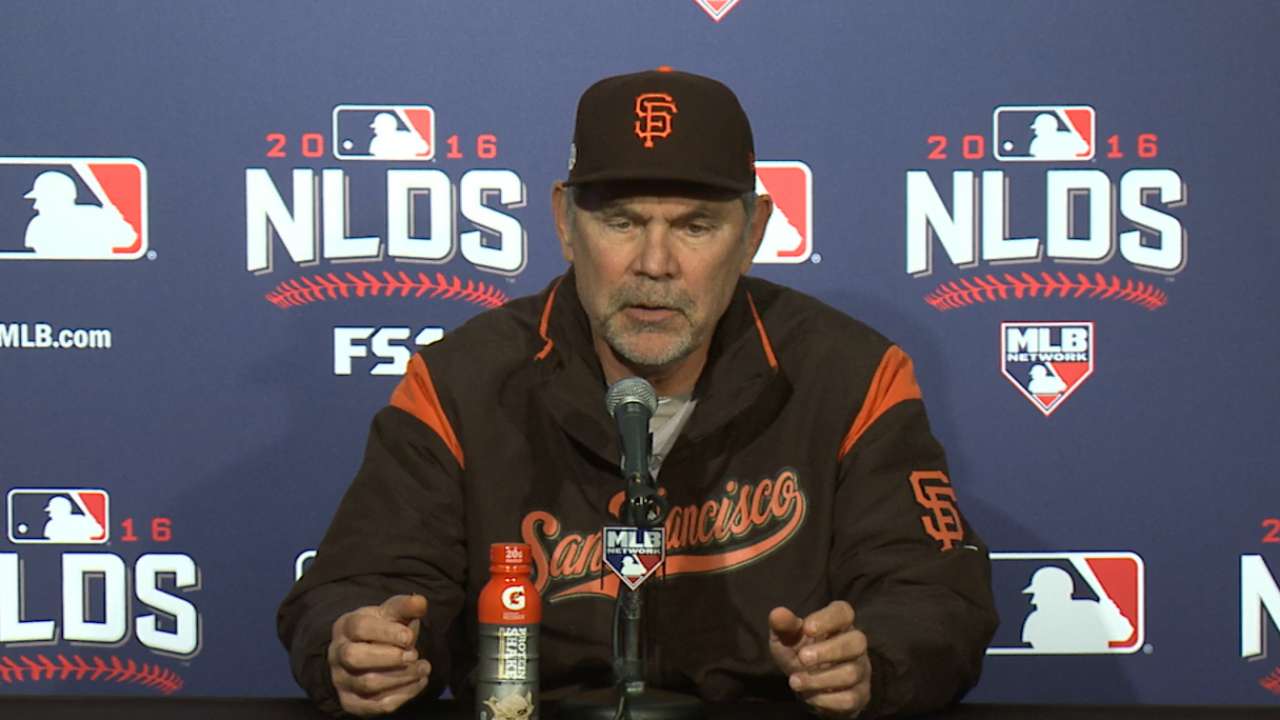 Both teams seized outs with aggressive fielding behind Cueto and Lester, with San Francisco second baseman Kelby Tomlinson emerging as man of the match in that regard after taking hits away from Ben Zobrist and Anthony Rizzo. Cubs catcher David Ross threw out two runners on the bases, and Addison Russell was solid (as always) in getting Lester out of a jam after Zobrist played an Angel Pagan single into a double.
"It was a great ballgame,'' Giants manager Bruce Bochy said. "It was. We played well. Made some good defensive plays. We got some guys out there early in the game and we just couldn't get a hit to finish it off. But it was a great ballgame. … I expect these games to be like this. Our guys played great. They really did.''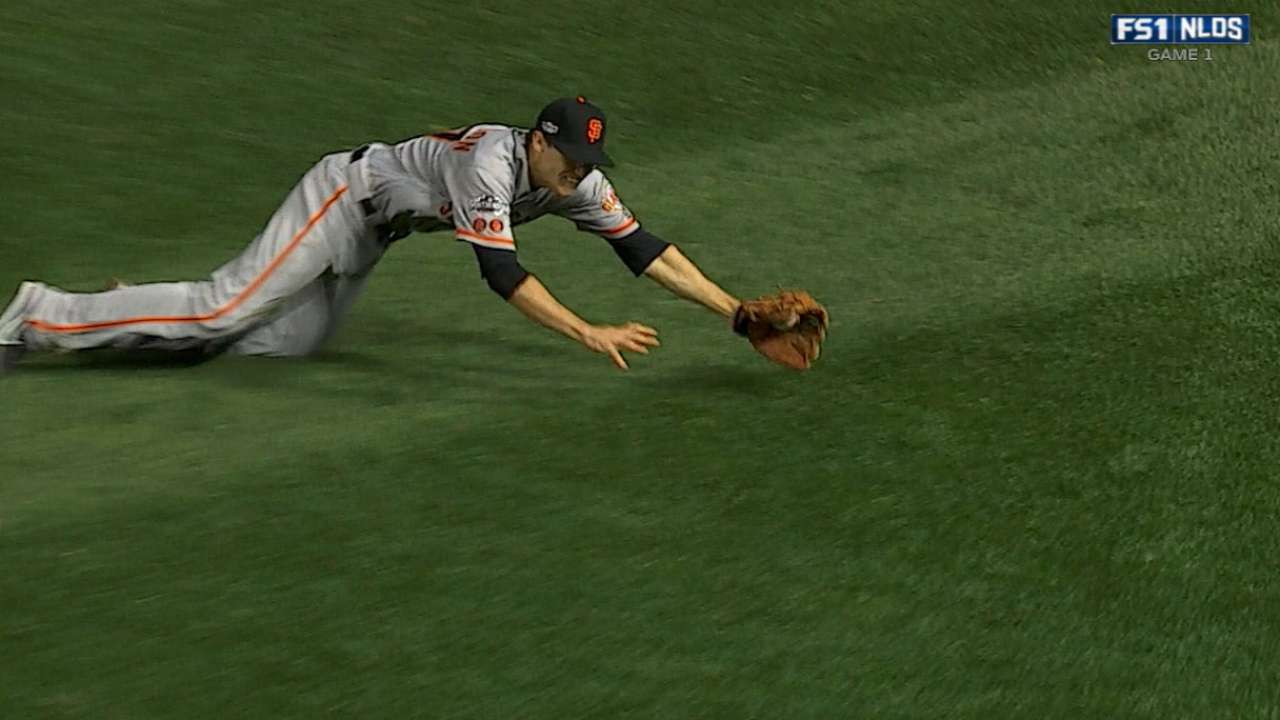 This marked the sixth consecutive one-run game between these teams, dating back to the Cubs' trip to San Francisco in May. Before this 1-0 game, they'd most recently played to scores of 3-2 (in 13 innings), 3-2, 2-1, 5-4 and 1-0. You see the trend?
"Cueto threw the heck out of the ball tonight,'' Lester said. "I kind of figured as we got going it would come down to one mistake and luckily we didn't make one and they did -- and I think that's just kind of the beginning of the series. I think we're going to be in for it, and it's going to be a grind. We'll show up tomorrow and try to do it again.''
The Cubs have Kyle Hendricks, the NL's ERA leader this season (just ahead of Lester, by the way), going against the Giants' Jeff Samardzija. Both teams will look at Game 2 as critical given that Madison Bumgarner is set to start Game 3 at AT&T Park on Monday (9:30 p.m. ET on FS1).
Bumgarner is 5-1 with an 0.79 ERA over 68 2/3 innings in his last nine postseason outings, including his Wild Card Game shutout in New York on Wednesday. Safe to say the Giants will enjoy the flight home to San Francisco if they can grab Game 2.
Among the things for the Cubs to sweat is another matchup of closer Aroldis Chapman versus Buster Posey.
Posey entered Friday having gone 5-for-9 with two doubles off Chapman and just missed a game-tying home run in the ninth inning. His drive to left field on a first-pitch slider from Chapman scared most of Wrigley Field's 42,148 fans before being knocked down by the northwest winds, turning it into his third career double off Chapman.
"It's funny,'' Maddon said. "When the hitter has good numbers against you, you probably are throwing bad pitches. That was just a hanging breaking ball. Had it been a better pitch, might have been a better result for us. But you're right, he has done well against Aroldis.''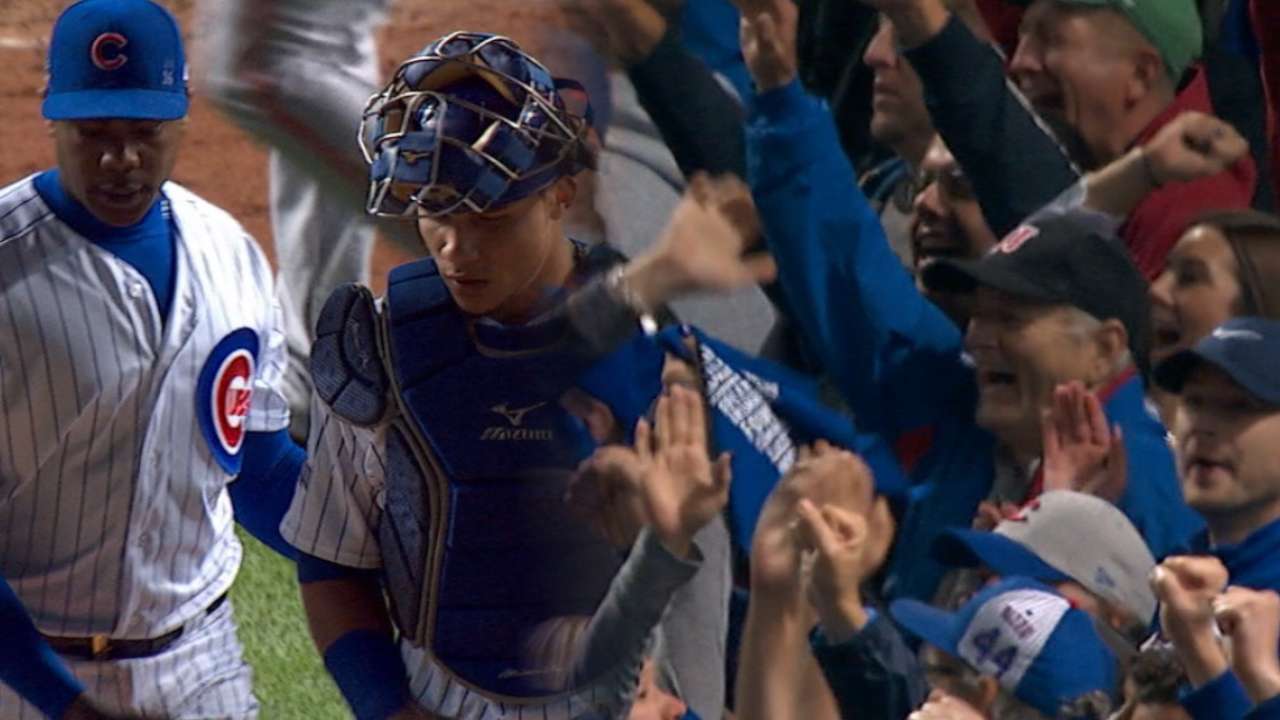 Have the Cubs seen the last of this matchup? Probably not.
But will it matter? In their heart of hearts, the Cubs are no longer hoping that this will be the year they end their 108-year World Series drought. They believe it.
"I had a big hit today, but we've got to turn the page,'' the 23-year-old Baez said. "Obviously, we got 10 more games to go and we're just trying to get there and win it.''
The opening act is in the book. The plot builds toward even greater drama.
Phil Rogers is a columnist for MLB.com. This story was not subject to the approval of Major League Baseball or its clubs.