Lester sets tone with scoreless outing
Cubs lefty shakes off early nerves, strikes out five in eight innings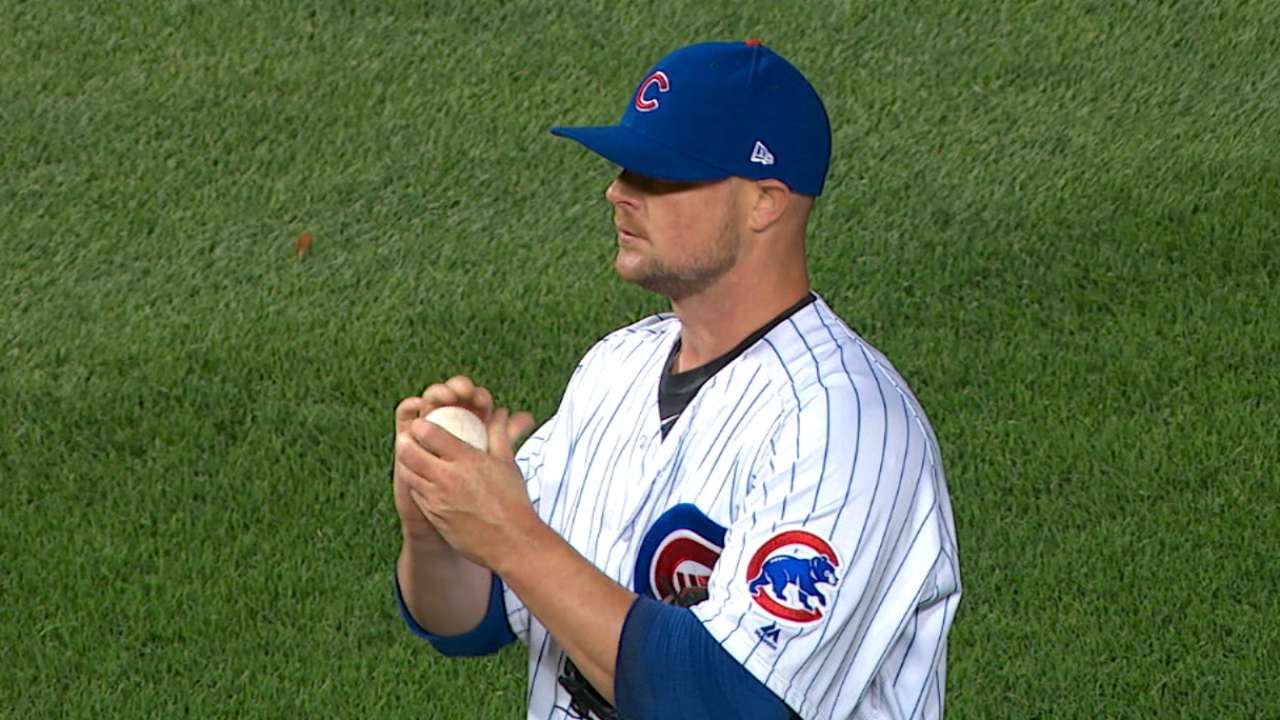 CHICAGO -- David Ross was a little concerned about Cubs starter Jon Lester. The Giants' leadoff batter was able to get on base in the first three innings Friday night in Game 1 of the National League Division Series at Wrigley Field.
"That leadoff guy is so important in the playoffs, but just in baseball in general," Ross said. "That concerned me early on. But once he started locking in and settling in -- and he hadn't pitched in a while in this atmosphere. I don't care what you say. That was a great atmosphere there tonight, and I had butterflies getting out there and getting going."
Ross and Lester took care of any anxiety, and also the Giants, shutting down San Francisco in a 1-0 Chicago win. Javier Baez smacked a one-out home run in the eighth inning for the game-winner, and Lester, making his first postseason start at Wrigley Field, picked up the win. Game 2 of this Division Series is Saturday at 8 p.m. ET/7 p.m. CT on MLB Network.
"This is what you play for," Lester said. "It's October. That's just one step right now that we got past, and we have to worry about step two tomorrow."
The left-hander, who finished the regular season second in the Major Leagues with a 2.44 ERA, scattered five hits over eight scoreless innings, striking out five. He did not walk a batter.
"He was locating his pitches," Giants second baseman Kelby Tomlinson said. "He gets you to hit the ball, but not hard. That's what I feel like he does -- locates, throws a mix of pitches, sinker, fastball, he's got four different ways he throws it over 88 [mph]. Cutter, fastball, sinker, all different types of stuff, then he'll mix in a curveball every now and then to keep you off of it."
The key inning was the fourth when the Giants had runners at second and third and two outs. Lester got Brandon Crawford to ground out to shortstop Addison Russell to end the inning.
"I just tried to bear down and make a pitch and we were fortunate enough to do that and get a ground ball to short," Lester said. "Addy made a great play."
The eight innings were a playoff career high for Lester.
"I think some guys, when the lights shine the brightest, they're better," Ross said. "It's just a fact. I'll take him any day of the week in any game, especially in the postseason. I'm putting my money on Jon Lester."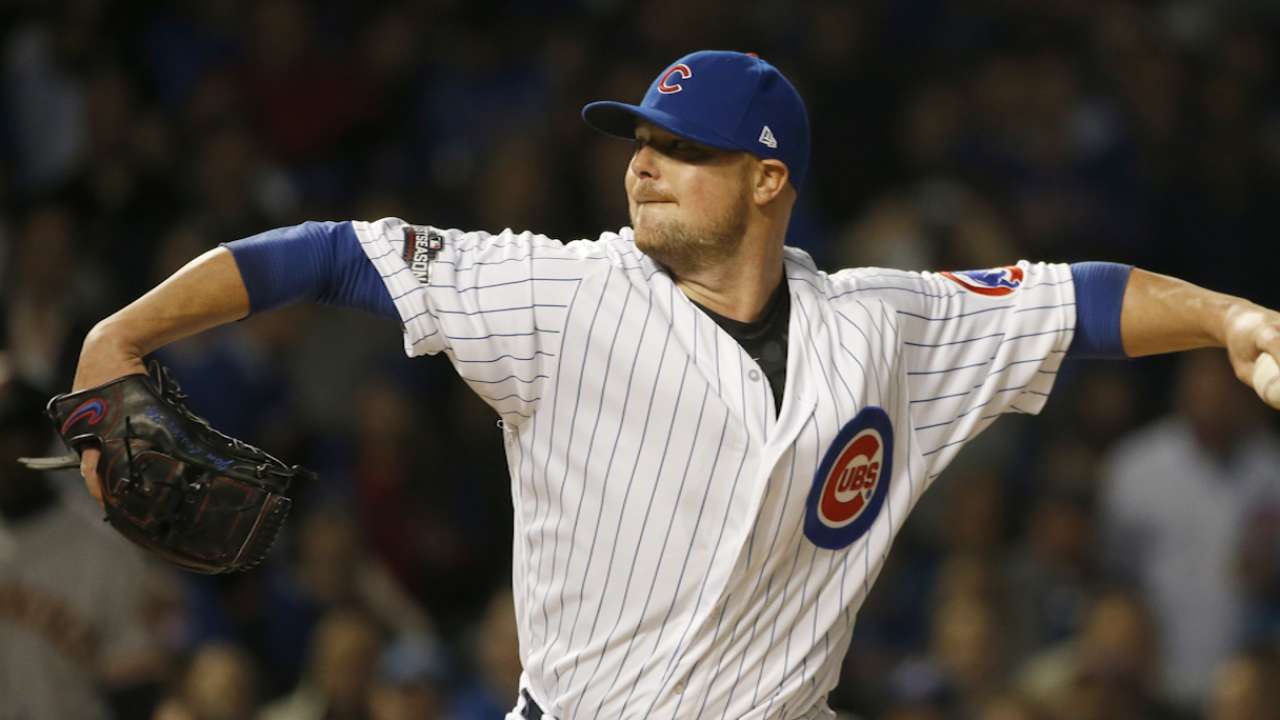 The only glitch for the Cubs starter came in the sixth inning when Buster Posey hit a comebacker that got wedged in Lester's glove. So, he ran all the way to first base to step on the bag and make the play. Lester joked that he needed to talk to his glove manufacturer.
"If a ball is hit to me, I try to make a play," he said. "And if it's not, I let the defense handle the rest."
• Lester gets comebacker stuck in glove
The Cubs' defense did not go unnoticed.
"It's kind of like football -- defense wins championships," Lester said. "The quarterback gets all the glory, but at the end of the day, it doesn't really matter. Our defense has been unbelievable all year with guys bouncing around to different positions."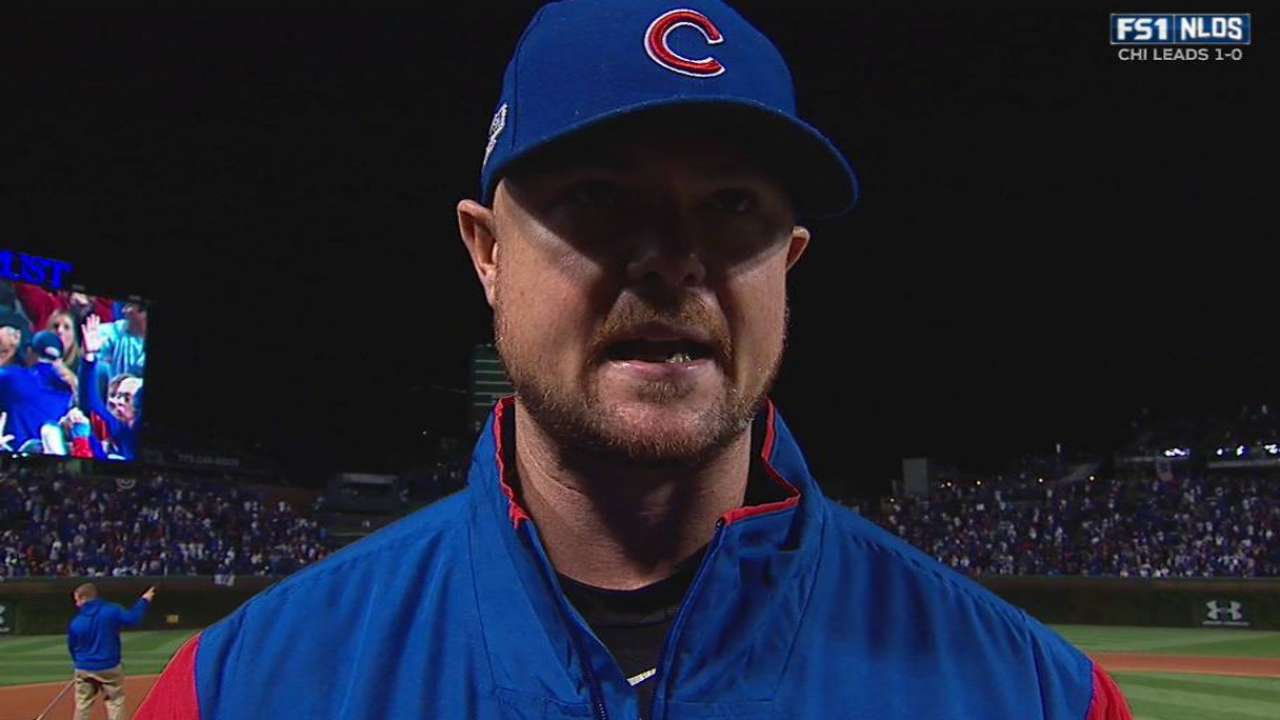 Still, Lester, the quarterback, set the tone.
"With Jon's stuff and what's he doing and the pitch count he was at, he was on cruise control tonight," Ross said. "He threw the [heck] out of the ball."
Carrie Muskat has covered the Cubs since 1987, and for MLB.com since 2001. She writes a blog, Muskat Ramblings. You can follow her on Twitter @CarrieMuskat and listen to her podcast. This story was not subject to the approval of Major League Baseball or its clubs.