Kiss it good Baez! Cubs win 1-0 duel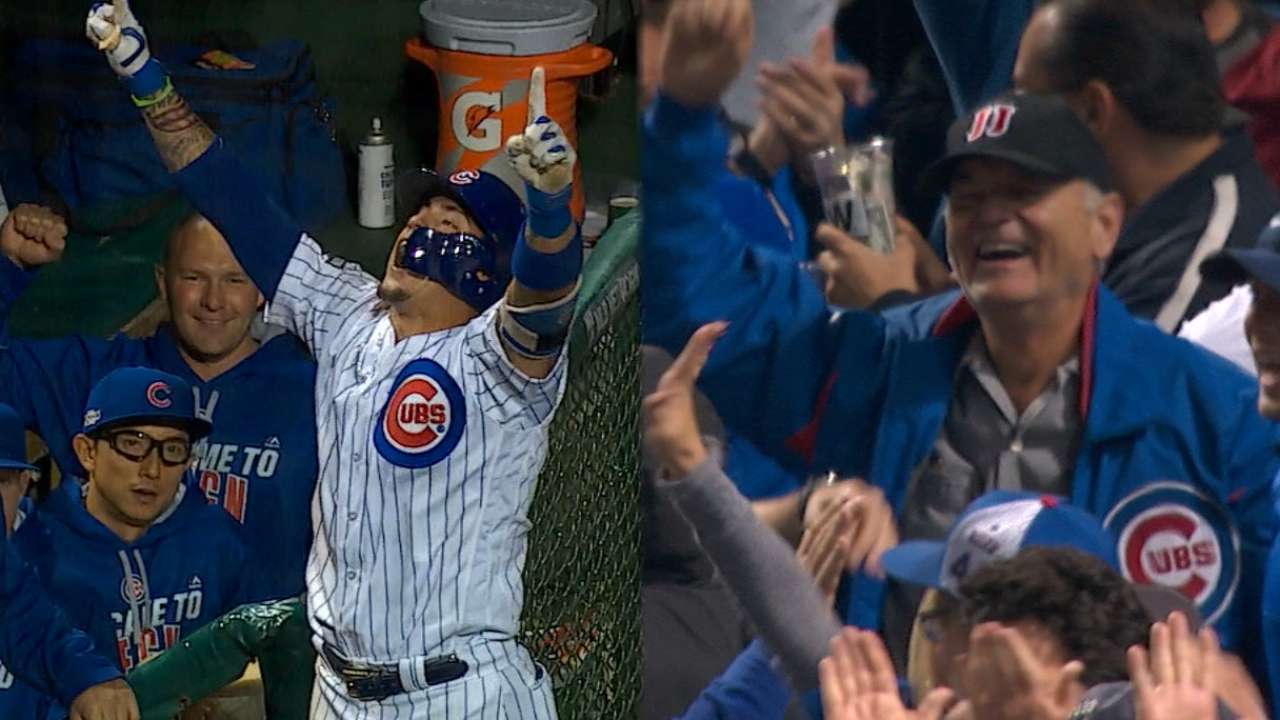 CHICAGO -- How well are things going for the Cubs? Javier Baez, inserted to the lineup for his defense, provided the offensive spark in Game 1 of the National League Division Series against the Giants. Baez launched a full-count fastball from Johnny Cueto into the basket rimming the left-field bleachers with one out in the eighth inning to lead the Cubs to a 1-0 victory Friday night at Wrigley Field.
Cueto had followed Madison Bumgarner's example and thrown 7 1/3 scoreless innings before Baez connected. On Wednesday, Bumgarner shut down the Mets in the NL Wild Card Game, and the Giants arrived riding momentum from that win. However, Jon Lester was ready. The lefty, making his fourth straight trip to the playoffs, served up a leadoff single in the first three innings but kept the Giants at bay. He departed after giving up five hits over eight innings, striking out five. Cubs closer Aroldis Chapman pitched a scoreless ninth for the save.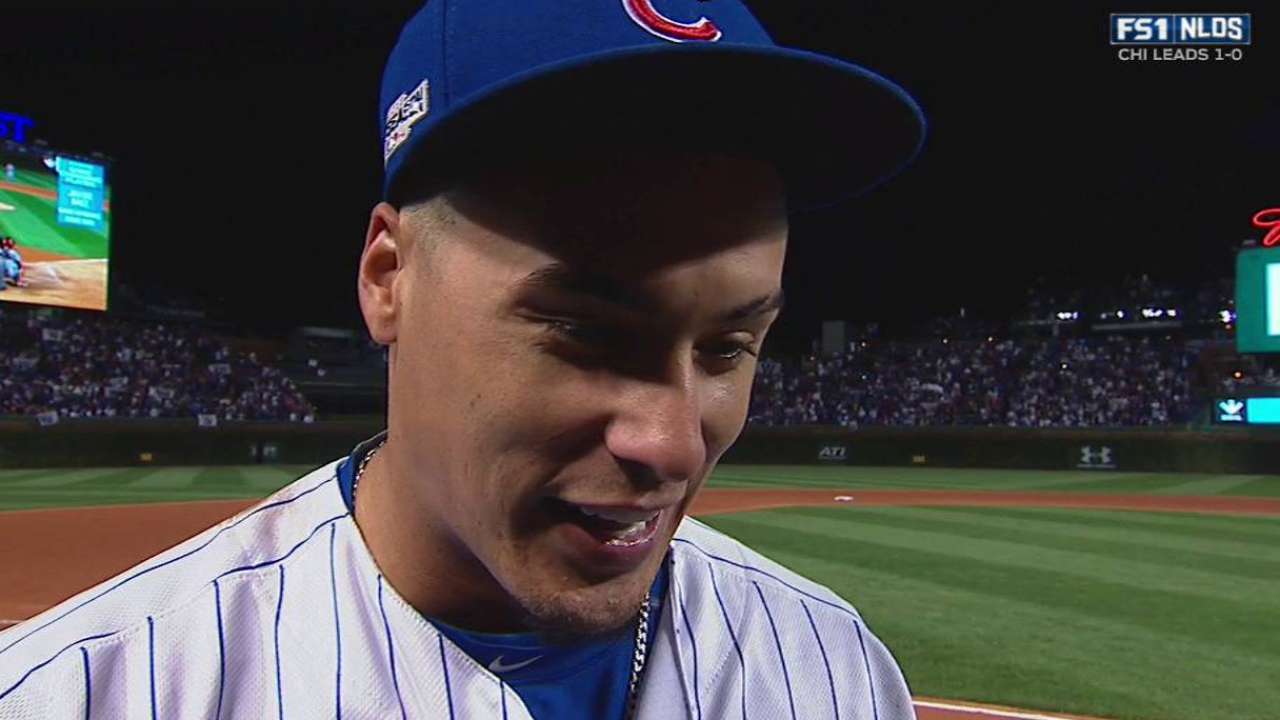 "It was a classic, kind of an old-school baseball game," Chicago manager Joe Maddon said. "Obviously, you like to win those things, but give both teams credit. That was a really well played game of baseball."
When the Cubs and Giants last met in September, all four games were decided by one run. Friday was no exception. Cueto, gyrating on the mound with his assortment of deliveries, retired the first 10 batters before Kris Bryant doubled with one out in the fourth. Cueto got solid support from center fielder Gorkys Hernandez and second baseman Kelby Tomlinson, who made two nice diving stops.
"That's our game, too," Giants first baseman Brandon Belt said. "Especially if the offense isn't clicking on a particular night, we have to have the good pitching and defense. I think you saw that from us tonight. I just wish we'd gotten across a run."
Baez's home run was projected by Statcast™ to travel 381 feet with an exit velocity of 107.4 mph and a launch angle of 36 degrees. Batted balls with that combo were 14-for-18 this year, and all 14 hits were homers. Similar batted balls in 2016 averaged 415 feet of carry but the stiff wind likely kept the ball from flying as far as normal. The temperature at first pitch at Wrigley was 58 degrees with a 10 mph wind blowing from left field to right field.
• Baez puts game-winning gift in Wrigley's basket
The blast capped a day filled with homers in a postseason that has been dominated by the long ball. Through Friday, 59.6 percent of the runs scored in the postseason have come via the home run, as compared to 40 percent of all runs during the regular season.
• Bill Murray stoked over Baez's big fly
"It seems like every [postseason] game has been won by a home run, and today was no different," Bryant said. "That was one of the best games I've ever been a part of."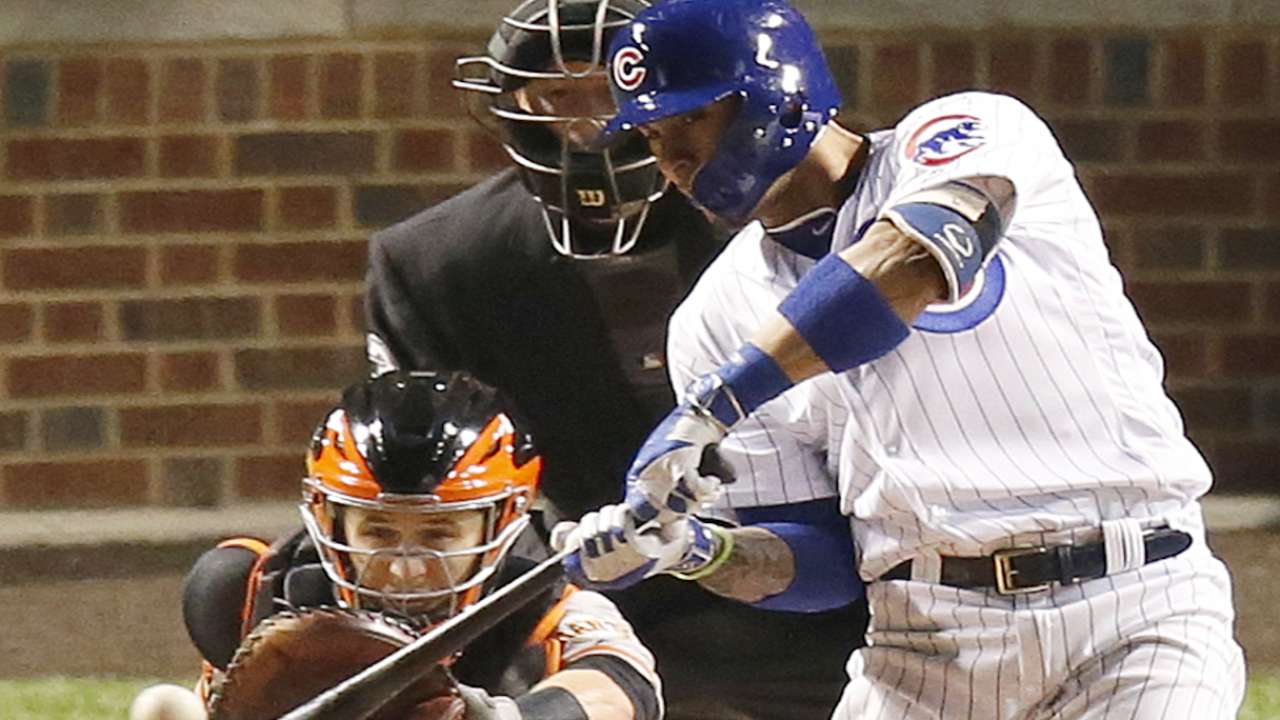 Baez put an exclamation point on his night by making the final out, snaring Hunter Pence's grounder and throwing him out at first. Teams winning Game 1 of a best-of-five series have proceeded to capture the series 70 percent of the time (84 of 120).
• Rogers: Giants, Cubs set stage for riveting series
MOMENTS THAT MATTERED
Stopper: Chapman pitched the ninth to earn his first postseason save. He struck out Hernandez to open the inning and got a groundout before Buster Posey doubled off the left-field wall. But the Cubs closer induced Pence to hit a grounder and end the game. Lester had thrown 86 pitches through eight innings, but with two outs in the eighth, Maddon gave Chapman a heads-up that he was going to pitch the ninth, no matter what.
Chapman, to Hernandez:
99.3
99.5
100.4
102.3
101.7
100.6
100

- Mike Petriello (@mike_petriello) October 8, 2016
"I felt very content and felt the emotion of the crowd," Chapman said through an interpreter. "I love it because I notice that everywhere I go, [people] talk about this team. Everything I hear is about this team. I felt the emotion from the crowd and it gave me energy. It was an incredible experience."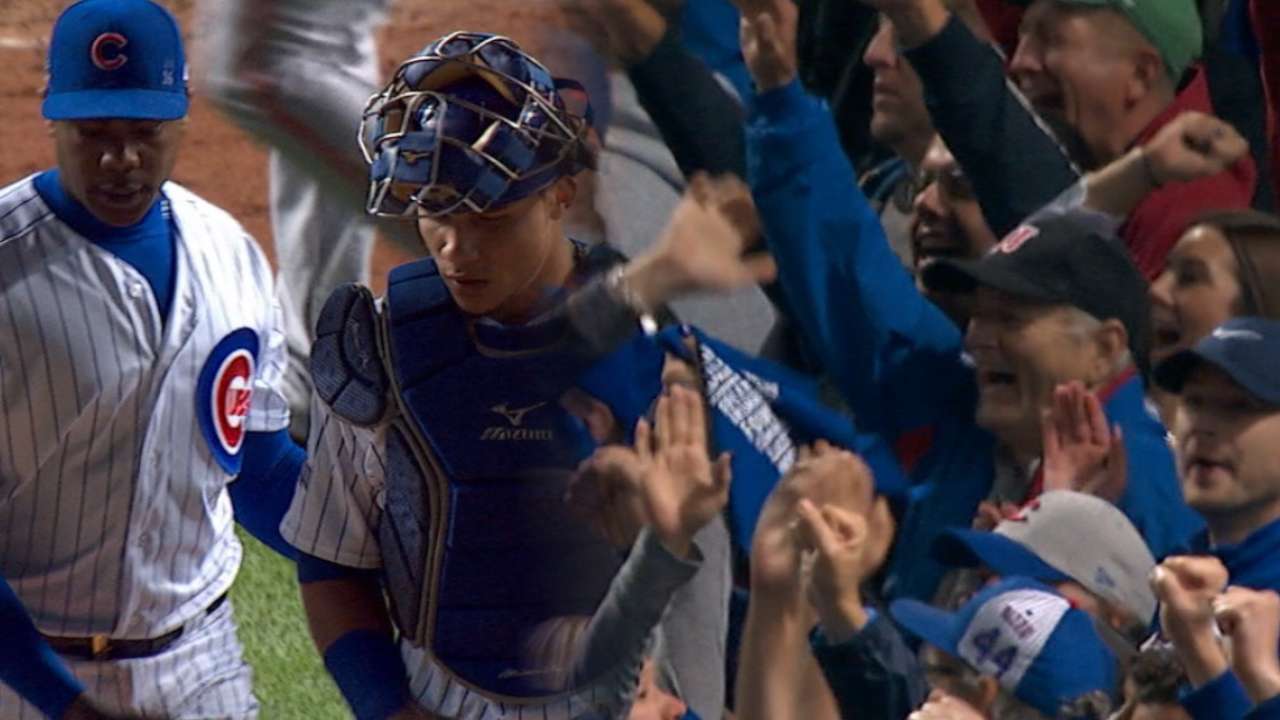 Had to hold up: Some observers might have believed Posey could have scored from first base on Angel Pagan's fourth-inning double. Actually, Posey did well to reach third on the play, even with two outs. Pagan's sinking liner darted under left fielder Ben Zobrist's outstretched glove, but Posey had to proceed with caution. Had Zobrist short-hopped the ball, he would have thrown out Posey easily if the Giants catcher tried anything remotely daring.
"It's a tough one," Posey said. "I hesitated at second base."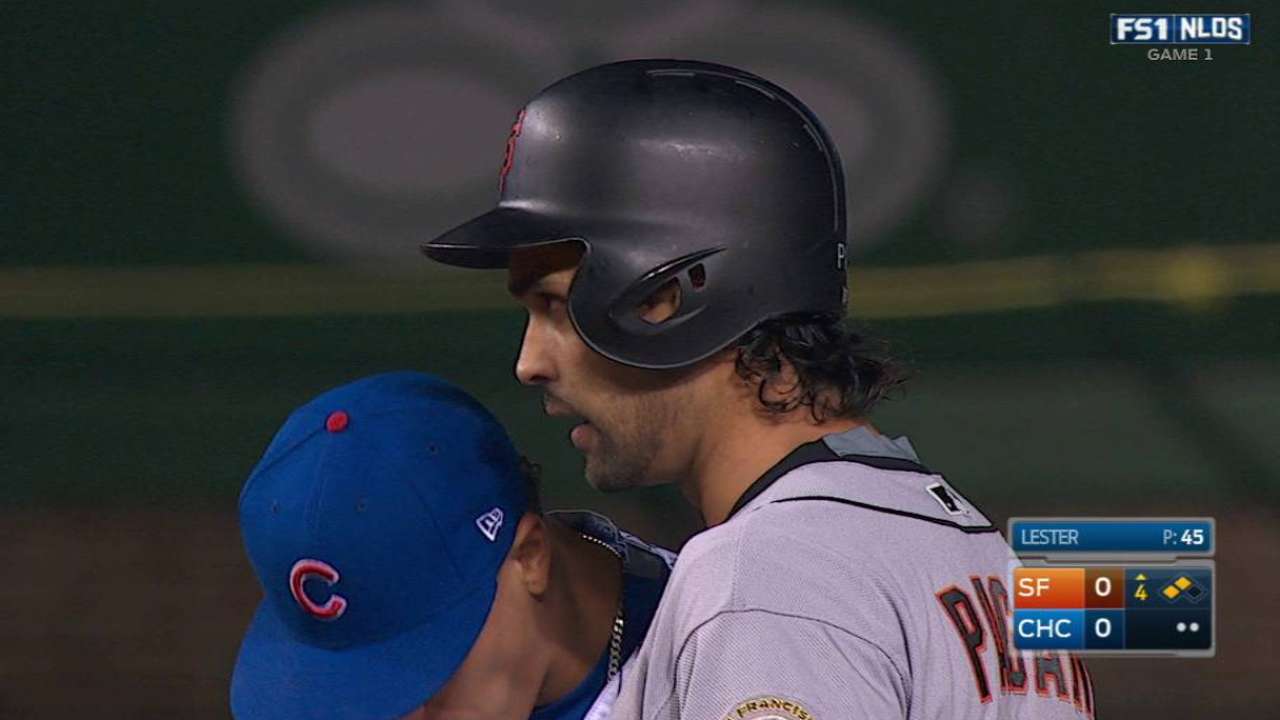 Posey was able to reach third when the ball scooted past Zobrist, but Brandon Crawford grounded out to end the inning.
Glovework: The Giants' leadoff batter reached in each of the first three innings via a hit, but catcher David Ross took care of two. In the first, Hernandez reached on an infield single, but Ross threw him out trying to steal second. In the third, Conor Gillaspie singled, but Ross fired to Baez, who was covering at first, to pick him off. The only glitch was that Ross apparently forgot how many outs were in the inning, and started heading for the dugout. Ross is the first catcher to record a pickoff and caught stealing in a postseason game since Gabby Hartnett in the 1935 World Series. More >
"We've worked on things all year long," Ross said of the pickoff play. "You just try to combat what the opposition is doing. We have a lot of good athletes that can move around and play different positions and have been all year. A guy like Javy, who can do so many things, it's nice that Joe can put him in certain situations and I feel very comfortable throwing the ball to these guys around the infield."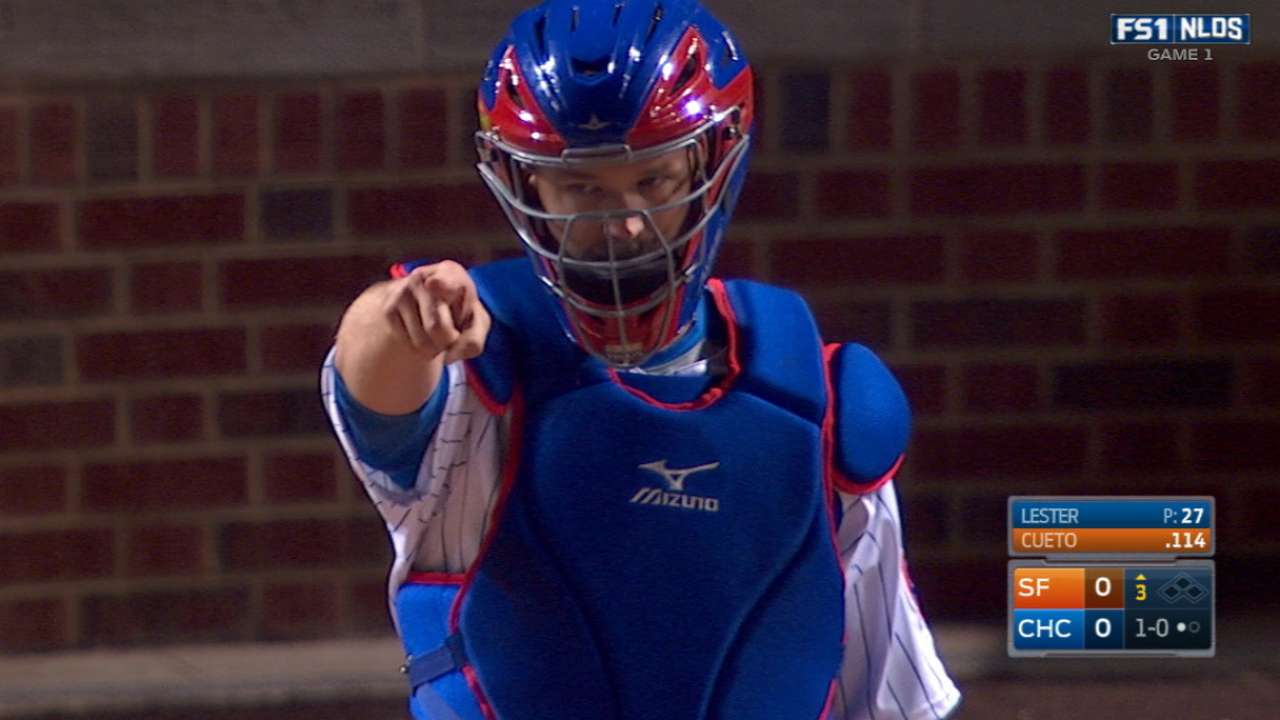 • Ross so fired up he lost track of outs
Glovework, Part 2: San Francisco also relied heavily on its defense. Hernandez ranged from center into left field to rob Ross of an extra-base hit with a sliding catch on the warning track.
"As soon as he hit the ball, I knew it was in the gap," Hernandez said. "I ran to the gap, I saw [left fielder] Pagan and he's yelling at me, 'You can get it!'"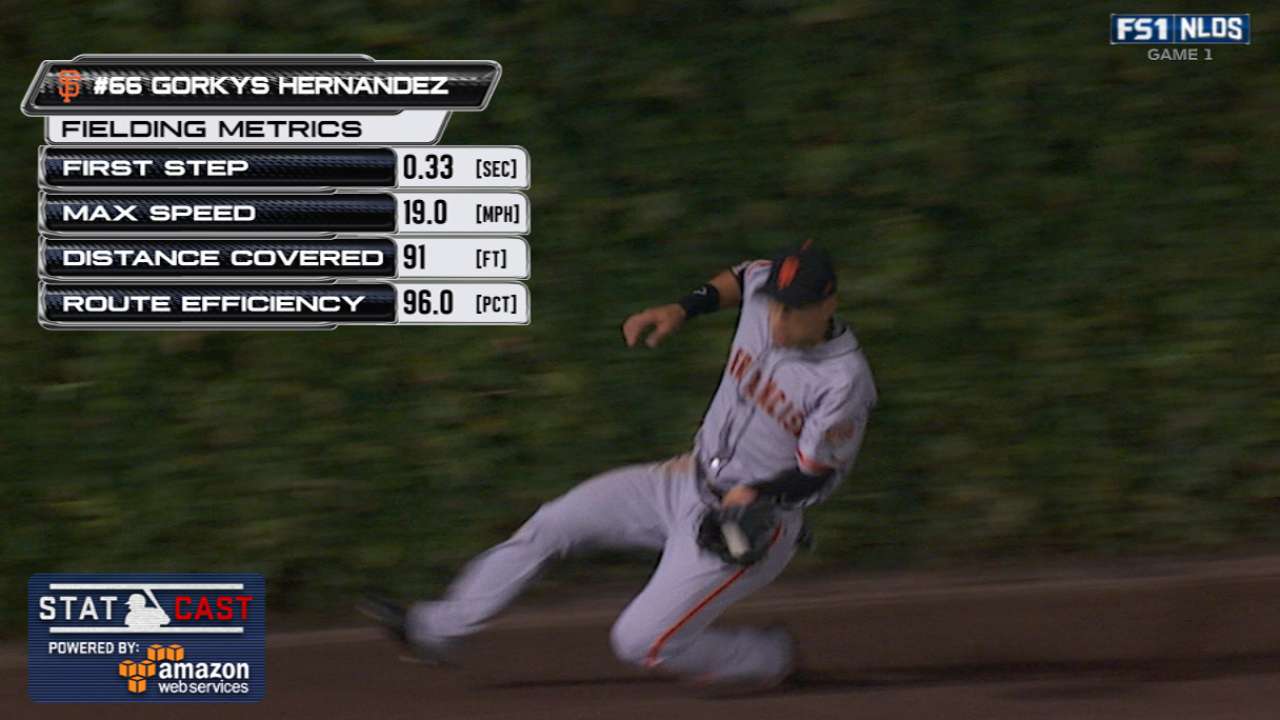 One inning later, with Bryant on third and two out, Tomlinson half-dove, half-fell as he deftly short-hopped Zobrist's low line drive and threw to first for the out. Stationed in shallow right field, Tomlinson made a similar play on Anthony Rizzo leading off the bottom of the seventh. More >
QUOTABLE
"I think some guys, when the lights shine the brightest, they're better. It's just a fact. I'll take him any day of the week in any game, especially in the postseason. I'm putting my money on Jon Lester." -- Ross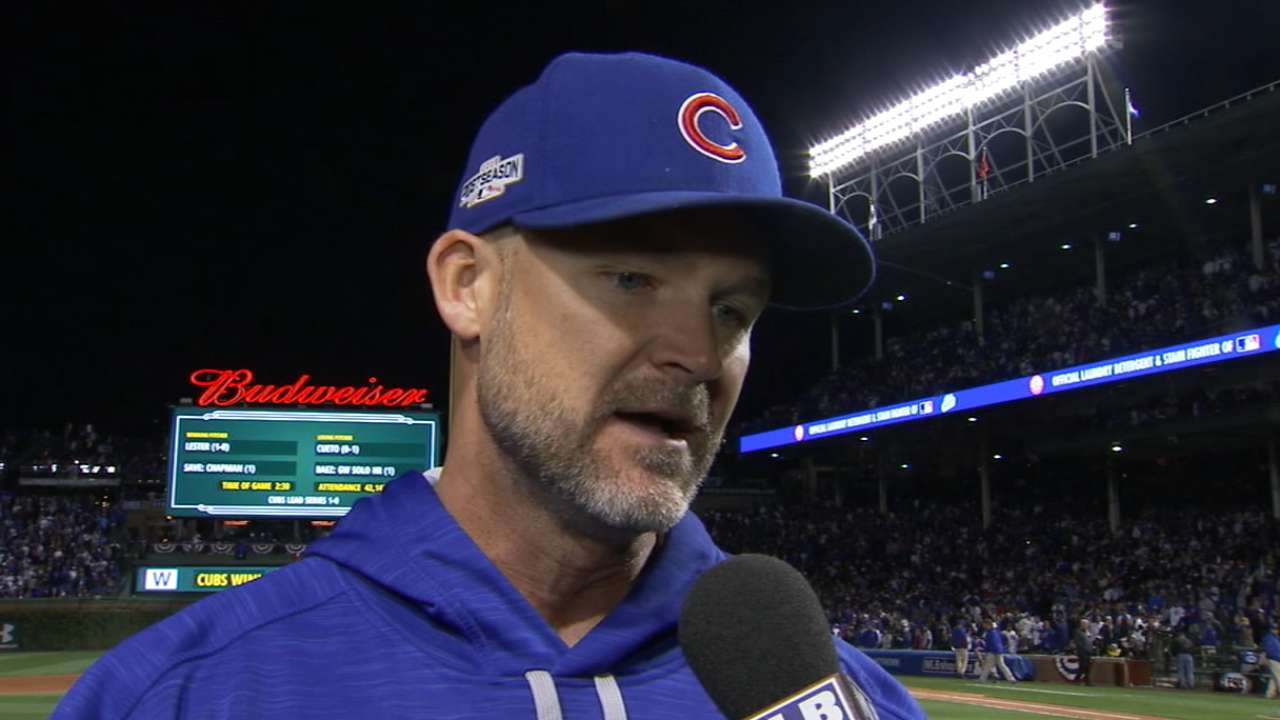 • Lester runs to first base with comebacker stuck in glove
SOUND SMART WITH YOUR FRIENDS
The Cubs won Game 1 of the NLDS for the second time in six tries. They also did so in 2003 against the Braves. This was the first postseason shutout at Wrigley Field since the Cubs blanked the Padres in Game 1 of the 1984 NL Championship Series.
So. Much. Power. #Postseason pic.twitter.com/fdVoFouQyD

- MLB Stat of the Day (@MLBStatoftheDay) October 8, 2016
• Did a souvenir-hungry ghost try to steal Pence's hat?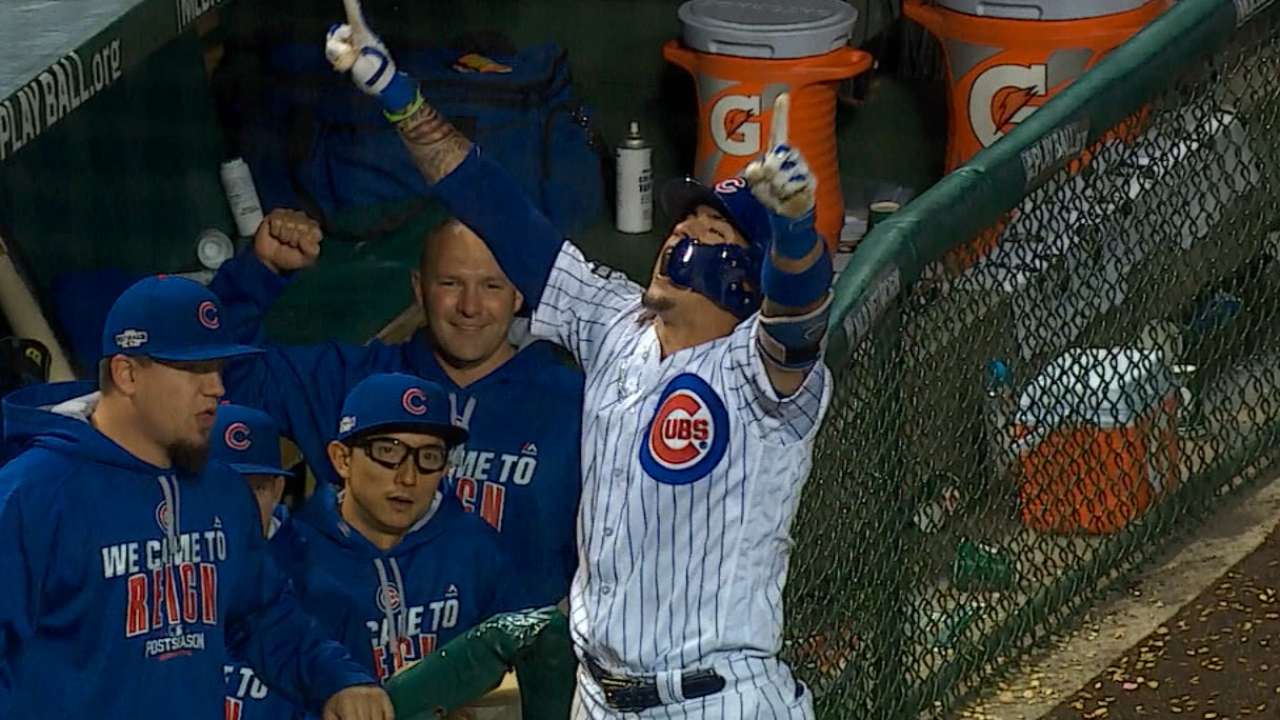 WHAT'S NEXT
Giants: Jeff Samardzija will face his former team in Saturday's Game 2 of this Division Series starting at 8 p.m. ET/5 p.m. PT on MLB Network. The right-hander owns a 3.88 ERA in 105 career appearances (41 starts) at Wrigley Field. The Cubs drafted Samardzija, an All-America wide receiver at Notre Dame, in the fifth round of the 2006 Draft. More >
Cubs: Kyle Hendricks, who posted the best ERA in the Majors at 2.13, will start Game 2 on Saturday night (8 ET/7CT on MLB Network). The right-hander led the NL in home ERA (1.32), posting a 9-2 record in 15 games (14 starts) at Wrigley Field. He faced the Giants on May 22 in San Francisco and took the loss in a 1-0 decision. More >
Chris Haft has covered the Giants since 2005, and for MLB.com since 2007. Follow him on Twitter at @sfgiantsbeat and listen to his podcast.

Carrie Muskat has covered the Cubs since 1987, and for MLB.com since 2001. She writes a blog, Muskat Ramblings. You can follow her on Twitter @CarrieMuskat and listen to her podcast.

This story was not subject to the approval of Major League Baseball or its clubs.