MLB.com Columnist
Mike Bauman
Postseason blues hit Kershaw, but Dodgers win
How good would LA be if its ace could shake his October troubles?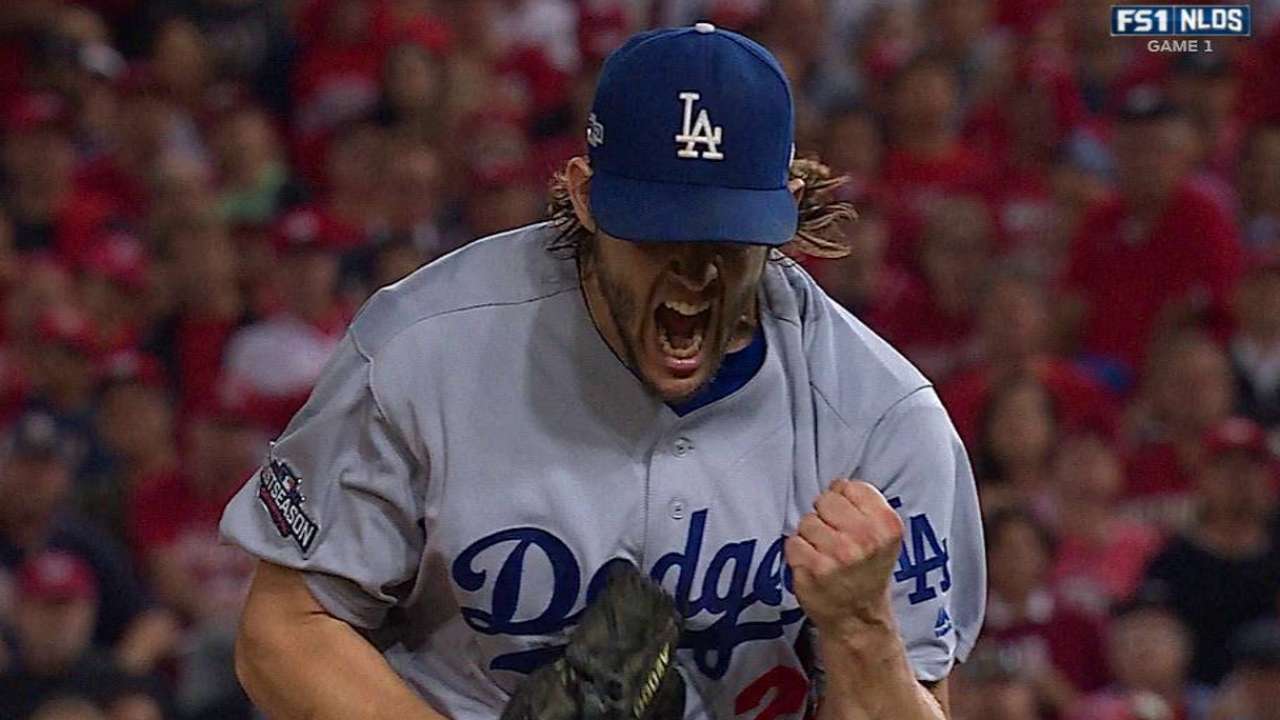 WASHINGTON -- Think of how difficult it would be to defeat the Los Angeles Dodgers in October if Clayton Kershaw pitched the way he does in the regular season.
Friday night at Nationals Park, Kershaw was the winning pitcher as the Dodgers took the opener of this National League Division Series, 4-3, from the Nats. But Kershaw was well off the regular-season form that has won three Cy Young Awards for him and has made him baseball's best pitcher -- in the regular season -- over the last six years.
But in 13 previous postseason appearances, 10 of them starts, Kershaw had a 2-6 record and a 4.59 earned run average. In two postseason series against the Cardinals in 2013 and 2014, he had an ERA of 7.28.
He was like a different pitcher in the postseason. And he was again Friday night. He was good enough to win the decision, but he was nothing like, well, Clayton Kershaw.
The Dodgers qualify for the postseason on a very regular basis. They have won four straight NL West Division titles. They have won the division six times in the last nine years.
But the Dodgers have not been to the World Series since 1988. In recent seasons, they have had many of the components a World Series team would require. But they have not had an ace pitching like an ace should pitch in October.
This year's Dodgers team has plenty of merit, too. They have some power. This is just the fourth team in Dodgers history with four players who hit 25 or more home runs (Yasmani Grandal, Corey Seager, Justin Turner, Joc Pederson).
They have a remarkable young player in Seager, who has played so well this season that he is not only the likely NL Rookie of the Year, but is expected to finish high in the NL MVP voting as well.
The Dodgers also have a remarkably deep and diverse bullpen, anchored by closer Kenley Jansen, who finished with 47 saves this season. The bullpen led the Majors in innings pitched and total appearances, setting franchise records in both categories, and had the second-best ERA in baseball at 3.35.
The Dodgers pitching staff, as a whole, set a Major League record with 1,510 strikeouts.
And the whole thing was handled with extreme skill by first-year manager Dave Roberts. When the Dodgers lost Kershaw for two months with a herniated disk, the club climbed past the Giants, taking over first place in the standings in late August. A Giants slump helped, but still the Dodgers hung tough in Kershaw's absence. Roberts' work has been highly regarded, and he is one of three prime candidates for NL Manager of the Year, the others being Washington's Dusty Baker and the Cubs' Joe Maddon.
All of this is to say that this Dodgers team is completely legitimate. It is missing a postseason ace. This continues to be a confounding issue, given that it has the leading regular-season ace in baseball.
Kershaw had said Thursday that he had learned that he did not have to put so much pressure on himself in the postseason.
"I think in the past I've definitely felt that pressure more," Kershaw said. "This year has been a little bit different for me, having to watch on the sidelines for two months. Understanding how good our team is, I think it's really kind of hit home for me as I've come back that I can definitely be part of this and definitely help and definitely be a factor in winning. But I don't have to be THE factor. ... It's not all on me."
Kershaw's work Friday night, though, was pedestrian by his standards. Over five innings, he gave up three earned runs on eight hits. He walked one and struck out seven, but perhaps the most telling thing was that he needed 101 pitches to get through those five innings.
But the Dodgers' bullpen was its usual effective self, with four shutout innings and Jansen picking up a five-out save. That saved the night for Kershaw, as well.
"I didn't pitch great tonight, but our team won," Kershaw said. "It was awesome. That was a complete team win."
It was that. The Dodgers have a tremendous amount of confidence in Kershaw, as well they should. Seager, who set a tone with a first-inning home run off Nationals ace Max Scherzer, said of Kershaw:
"He grinded through. He didn't have his best stuff, but he'll be all right."
Roberts said the major problem he saw with Kershaw on Friday night was an inconsistent slider. But in a way, the Dodgers could feel especially good because they had won on a night when their ace was not at his best.
"You know, in some sense, you feel you steal one when he doesn't have his best stuff," Roberts said, "because you know he's going to be throwing well the next time he gets the ball."
Add Kershaw at the top of his form to the way the rest of this team is playing, and you have the potential for a real October success story.
Mike Bauman is a national columnist for MLB.com. This story was not subject to the approval of Major League Baseball or its clubs.