DYK? Dodgers-Nationals Game 1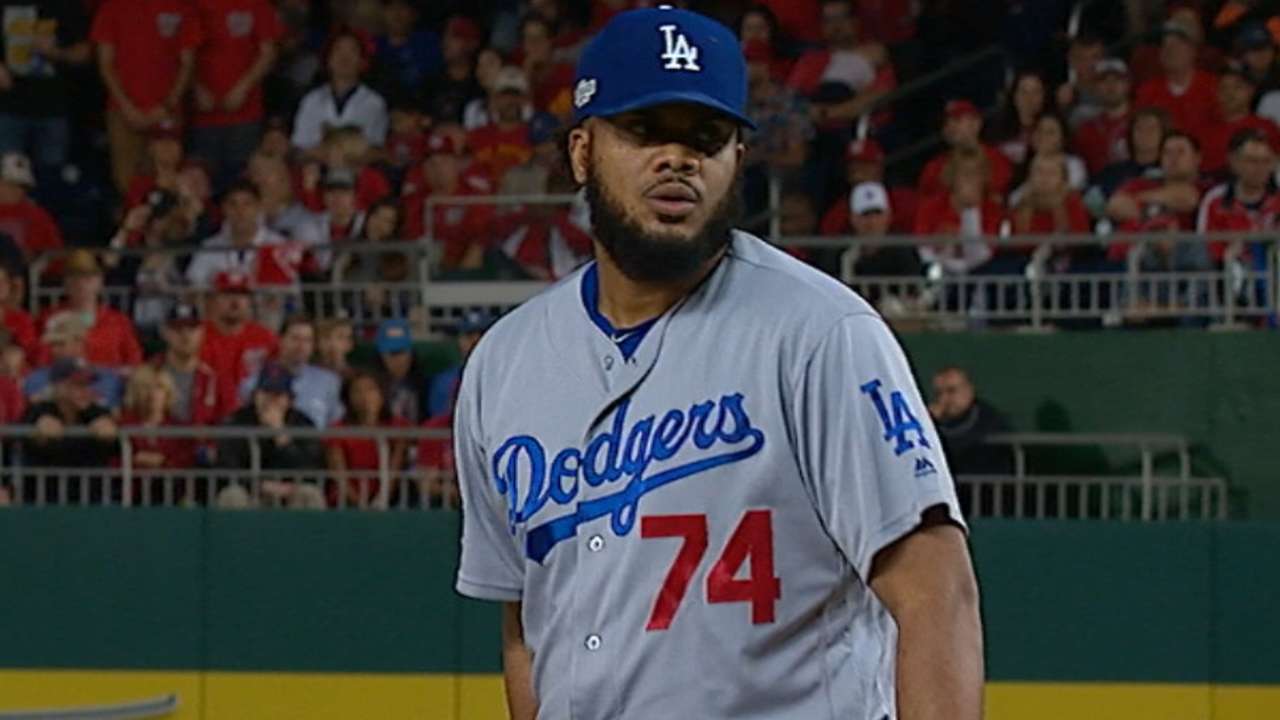 Friday's marquee pitching matchup between National League aces Clayton Kershaw and Max Scherzer in Game 1 of the National League Division Series turned into a tense affair, with the Dodgers finally prevailing, 4-3, over the Nationals. With a big victory on the road, the Dodgers will look to extend their advantage Sunday when their left-hander Rich Hill takes on Washington's Tanner Roark in Game 2 at 1 p.m. ET/4 PT on FS1.
But before these two squads face off again, here are some things you should know about the Dodgers' Game 1 triumph:
• With three of the opening games complete in this year's Division Series matchups, the road teams are now 2-1 in Game 1. Entering this October, teams have won 31 of 44 Division Series matchups after claiming Game 1 on the road -- including 25 of the last 37 Round 1 series since the format changed from 2-3 to 2-2-1.
• The Nationals have lost each of their last four playoff games at home, and are now 1-5 overall in their six playoff games at Nationals Park. The franchise's only home postseason victory since the franchise moved to the nation's capital was a 2-1 victory over the Cardinals in Game 4 of the 2012 NLDS.
• On the sixth pitch of the game, Corey Seager crushed a pitch from Scherzer over the center-field wall to put the Dodgers up quickly, 1-0. With the blast, the 22-year-old shortstop became the youngest player in the 132-year history of the Dodgers to hit a home run in a postseason game. Entering Friday, only Mike Marshall, Mike Scioscia and Pete Reiser had gone deep for the Dodgers in the playoffs before their 23rd birthday.
According to Statcast™, Friday's blast was the third longest home run of Seager's career. His 109 mph exit velocity was tied for the seventh-highest he's recorded on a batted ball this season.
• Washington's Daniel Murphy has now gone 1-for-3 in each of his three postseason matchups against Kershaw. As a member of the Mets, Murphy hit a home run in each of the first two games against the Dodgers ace last October, but he was held to a single Friday. Murphy is now 9-for-28 (.321) against Kershaw lifetime between the regular season and postseason combined.
• Kershaw battled for five innings before exiting the game with the lead. The Dodgers lefty tossed 101 pitches -- the first time he had exceeded 100 pitches since returning from the disabled list on Sept. 9. His previous high since his return was the 91 pitches.
• Gear up for the NLDS: Dodgers| Nationals
• The Nationals, who outhit the Dodgers 9-8, had scoring chances all night but failed to capitalize. Washington went just 1-for-10 with runners in scoring position Friday after finishing fifth in the NL during the regular season with a .259 average in such situations.
• One of Washington's best chances to tie the game came in the bottom of the fifth, when Jayson Werth led off with a single and Anthony Rendon followed with a hot shot off Justin Turner's glove to put the tying run on second base against Kershaw. Ryan Zimmerman also connected on a Kershaw offering, muscling a pitch off his bat at 103 miles per hour with a launch angle of 27 degrees, according to Statcast™.
Batted balls with a similar velocity and angle had landed for hits 90 percent of the time this season, but Werth's shot went right to Josh Reddick. Kershaw then followed with a huge strikeout of Danny Espinosa on his last pitch of the night to end the scoring threat.
• Murphy's one-out walk in the seventh put the tying run aboard for Washington once in the seventh, but a risky baserunning decision quickly wiped away that threat. Murphy, in his first game back after battling a strained gluteus muscle, broke for a steal attempt of second base on a 1-0 pitch from Los Angeles' Pedro Baez. Dodgers catcher Yasmani Grandal, who ranked 30th among Major League backstops in average pop time during the regular season, rose and fired in just 1.92 seconds -- his sixth-fastest mark of the year -- and fired an 81.1 mile per hour throw to nab Murphy at second.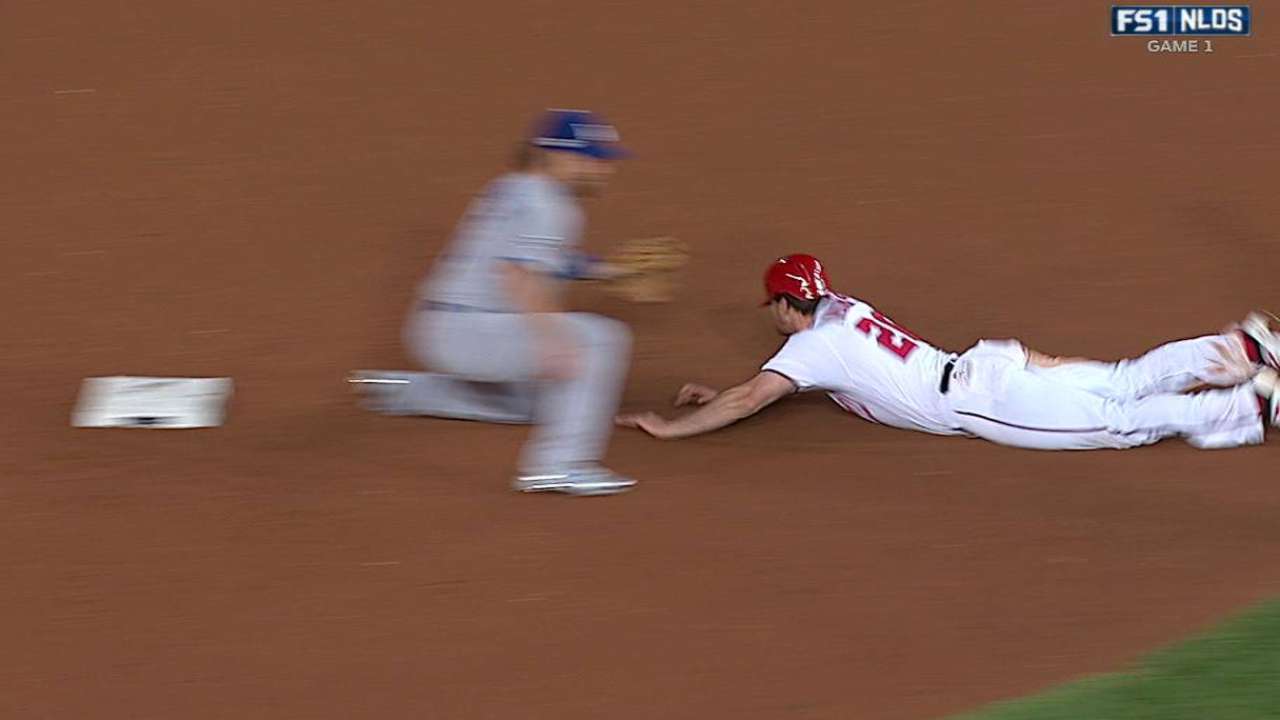 • Los Angeles' win was a case study in its bullpen's ability to pick up the slack when the team's starter has a short outing. Including the regular season, the Dodgers have won a Major League record-40 times this season in games in which their starter lasted five or fewer innings.
Friday's game marked only the third time that Kershaw had failed to record an out in the sixth inning this season, but the Dodgers have now won two of those three games.
• That effort was capped off by a five-out save by Kenley Jansen. The Dodgers closer had only recorded one other five-out save in his seven-year career, and that came on April 13 against the Diamondbacks.
Jansen recorded just the ninth save of five outs or more by any Dodgers pitcher in franchise history. The team's last save of at five outs was recorded by Jay Howell in Game 4 of the 1988 World Series.
• With the victory, Kershaw is now 11-2 lifetime against the Nationals -- including 9-0 in his last nine decisions -- with a 2.20 ERA. Kershaw has given up only eight home runs and 18 walks in 94 career innings against the Nationals.
Matt Kelly is a reporter for MLB.com based in New York. Follow him on Twitter at @mattkellyMLB. This story was not subject to the approval of Major League Baseball or its clubs.