Red Sox's potent offense neutralized by Tribe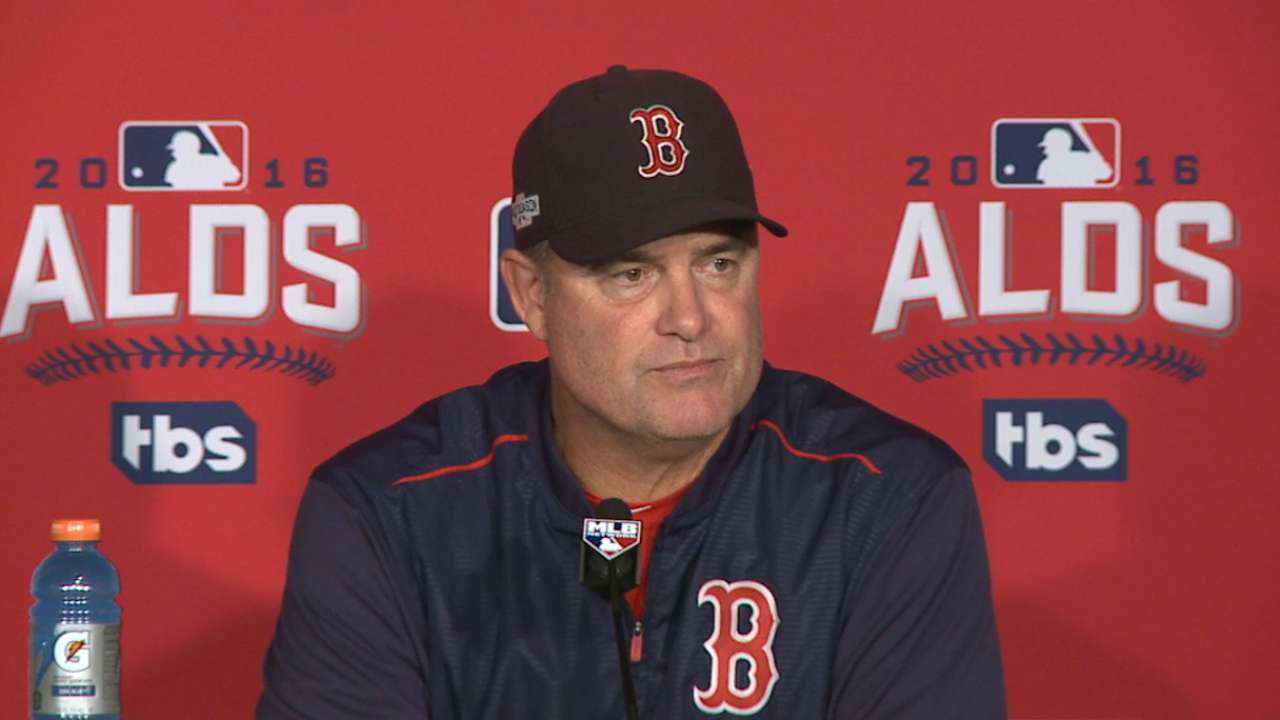 CLEVELAND -- The Red Sox boasted the game's most potent lineup during the regular season, scoring a Major League-leading 898 runs. That thunder has not carried over into the American League Division Series, placing them on the brink of elimination heading into Monday's Game 3 at Fenway Park (6 p.m. ET on TBS).
Limited to three singles by Corey Kluber and two Indians relievers in Friday's 6-0 Game 2 loss, the Red Sox will spend the flight back to Boston trying to absorb their current situation, having squeezed next to nothing out of the key performers in their batting order.
"We're trying to have good at-bats regardless, and we did," Dustin Pedroia said. "Obviously when you don't have results in two games, you just look up and say, 'That's an 0-for.' But a lot of guys had some quality at-bats and it just didn't show."
Other than a trio of solo home runs in Game 1, Cleveland's pitching staff has largely held the Red Sox in check. Tribe hurlers took advantage of Boston's aggressiveness in the opener, with Trevor Bauer, Andrew Miller and Cody Allen generating 14 strikeouts.
Cleveland flipped the script as Kluber pumped strike after strike past hitters in Game 2, taking advantage of some creeping late-afternoon shadows, while exploiting Boston's patience.
"I just know that we haven't hit in all aspects of the game," Mookie Betts said. "It feels like we need to just get something going. Somebody is going to have to do it. We don't know who."
It didn't happen Friday, marking the first time that the Red Sox had been shut out on three hits or fewer since being one-hit by the Rays on April 19.
Kluber relied heavily on his sinker, throwing 61 of them out of his 104 pitches -- a 58.6 percent ratio that well exceeded his 37.2 percent usage rate during the regular season. Of those, the Red Sox stared at a total of 17 sinkers for called strikes over Kluber's seven innings.
"Take nothing away from Kluber; he was very good," Red Sox manager John Farrell said. "But I thought we stayed within the strike zone a little bit better, but still not much to show for it. We had a couple of offensive scoring opportunities, not able to cash in."
Boston's best chances came in the fourth and eighth innings, when they put two runners aboard without a hit. They were turned aside both times.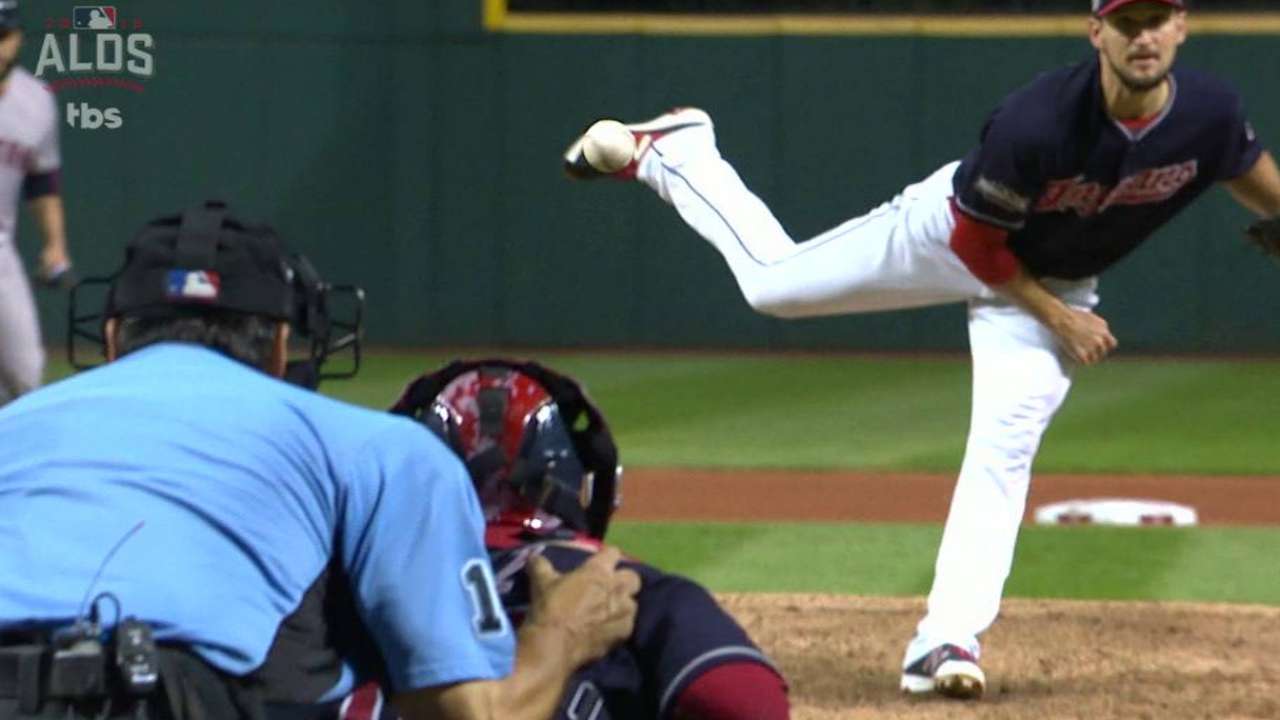 "With the score, we're down a 4-0 hole, and we've got to swing our way back into it," Farrell said. "There really wasn't the ability to try to manufacture any runs or move our guys over. We had to swing our way out of it, and it worked into [Kluber's] favor, with the assorted pitches that he has, the life that he has. He pitched a very good game."
The Red Sox are batting just .200 as a team through the first 18 innings of this ALDS, with Brock Holt (4-for-8, 1 2B, 1 HR) having been their most impressive offensive performer thus far. Holt has been a nice fit in the No. 2 spot, but he's hardly the reason that the Red Sox are here.
That leaves Farrell waiting on Betts (1-for-6), Xander Bogaerts (1-for-8), Jackie Bradley Jr. (0-for-6), David Ortiz (1-for-8) and Pedroia (1-for-8) to return to form, with precious little time remaining for it to actually happen.
"We just have to keep grinding, one pitch at a time," Pedroia said. "They've thrown the ball well. I haven't gotten any pitches to crush. It's not like the guys we've faced we're going to be teeing off of. Those are great pitchers. We just have to make adjustments and find a way."
Bryan Hoch is a reporter for MLB.com. This story was not subject to the approval of Major League Baseball or its clubs.