Dodgers hang on for Game 1 win over Nats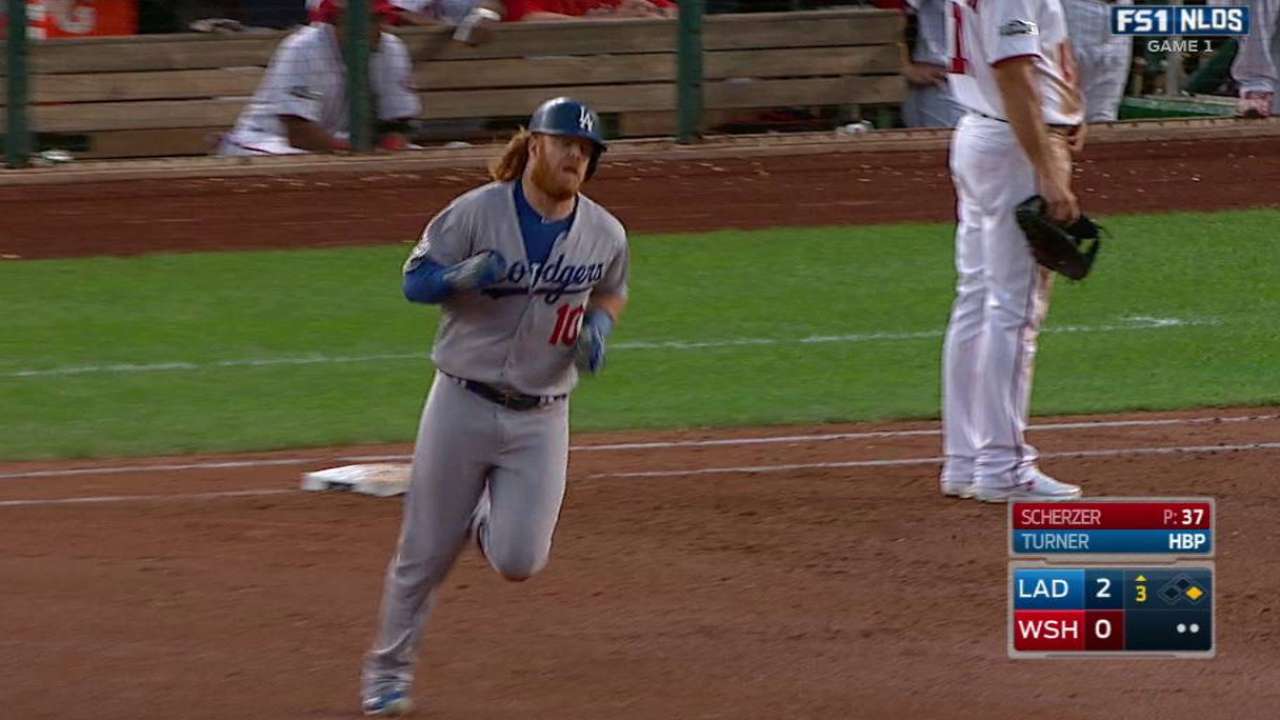 WASHINGTON -- If you haven't followed the Dodgers closely this year, the way they won Game 1 of the National League Division Series Friday night against the Nationals is pretty much how they won the National League West.
They overcame a short outing by their starter, who happened to be Clayton Kershaw, slugged a couple of home runs off a tough right-handed starter, 20-game winner Max Scherzer, and rode four shutdown innings from the bullpen to hang on for a 4-3 win over the Nationals. Game 2, originally scheduled for Saturday, was postponed until Sunday at 1 p.m. ET on FS1.
"That's sort of been our formula all year long," said Dodgers manager Dave Roberts.
Corey Seager (3-for-16 in the postseason last year) hit a solo homer in the first inning and Justin Turner launched a two-run homer in the third inning after he was hit by a Scherzer slider on the left hand in his first at-bat. More >
"I made some mistakes, and they cost me," Scherzer said. "Giving up those two home runs, I really feel like that was the difference in the ballgame. I take ownership of that, and I'm accountable for that."
The Dodgers beat a right-handed starter, which they've done this year with regularity, but they won on the road, which they haven't done. But they were 5-1 against Washington this year, including 2-1 on the road.
"This was a complete team win," said Kershaw, 3-6 in postseason play.
Given a 4-0 lead, Kershaw needed 101 pitches to get through five innings, allowing three runs and striking out seven (including Danny Espinosa three times with runners in scoring position). More >
"You know, in a sense you feel you steal one when he doesn't have his best stuff, because you know he's going to be throwing well the next time he gets the ball," Roberts said of Kershaw, who is 8-0 against Washington in regular-season play.
Kenley Jansen, the last of four Dodgers relievers, pulled off a five-out save with three strikeouts, as the Nationals went 1-for-10 with runners in scoring position and stranded nine runners. Also relieving for the Dodgers was Joe Blanton, Grant Dayton and Pedro Baez. More >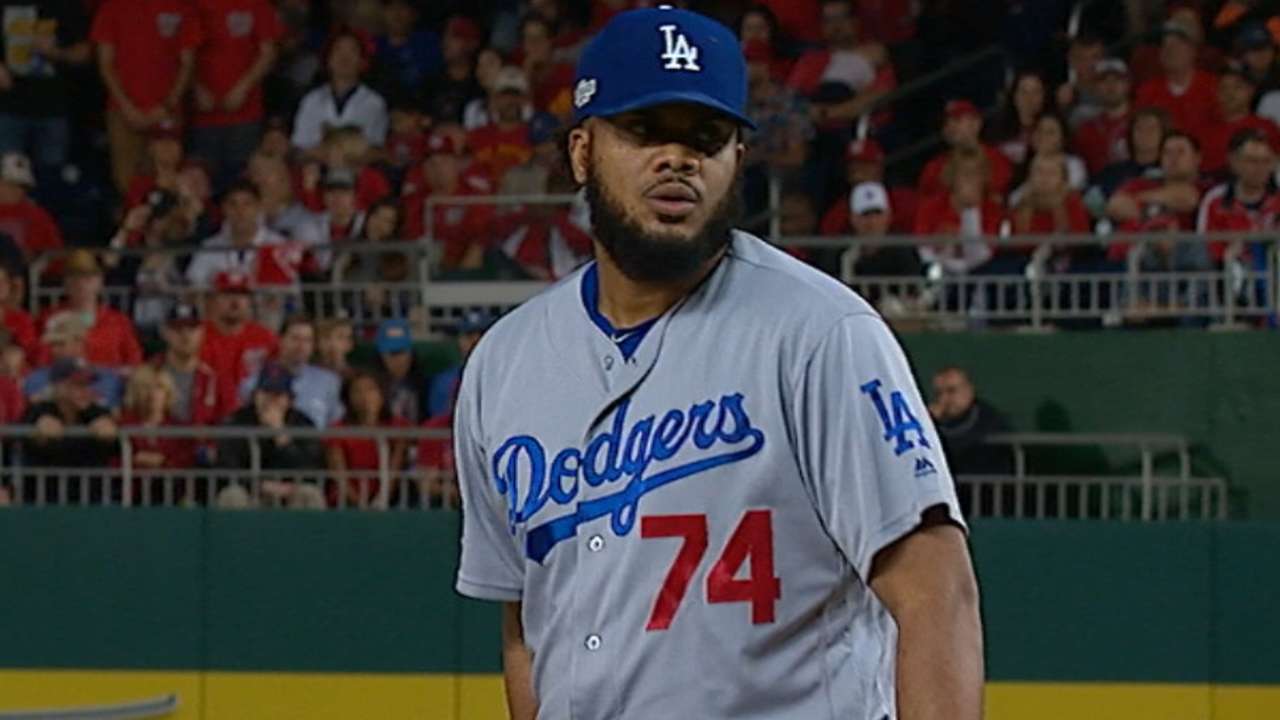 The Nationals got back into the game against Kershaw with a two-run single from Anthony Rendon in the third inning and cut the lead to one with sacrifice fly from Trea Turner in the fourth, as Scherzer settled in to complete six innings. But Kershaw was able to pitch out of trouble and escape with the lead.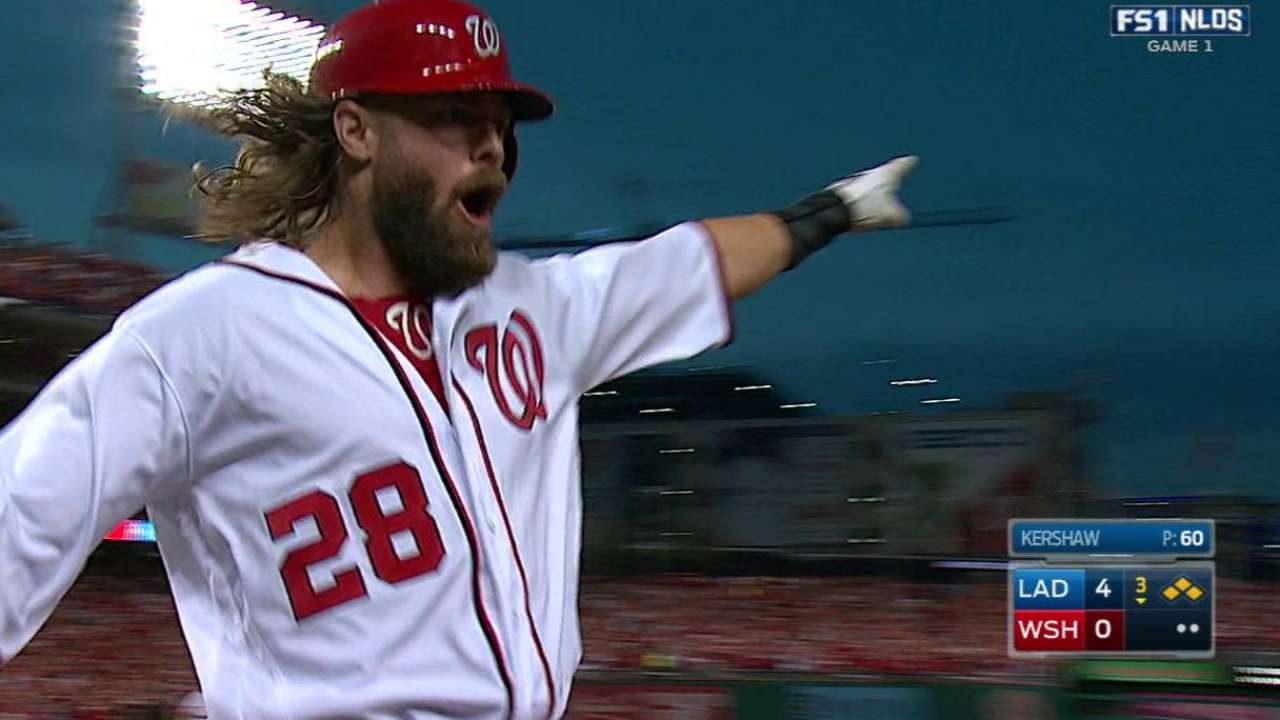 "A lot of traffic out there," Nationals second baseman Daniel Murphy said. "Kind of lacked that big kill shot from an offensive standpoint, and I think that doesn't go any farther than my locker right here."
MOMENTS THAT MATTERED
Goodbye, old friend: Jansen escaped a two-out threat in the bottom of the eighth after one former Dodger, pinch-hitter Clint Robinson, doubled, when another former Dodger, pinch-hitter Chris Heisey, swung through a potential ball four before being called out on a borderline third strike to end the inning.
"Kenley was amazing," said Kershaw. "To do what he did, to have to bat in the ninth [striking out with the bases loaded] and then go back out there again. That's not easy to do."
After two early homers, Scherzer settles in: Scherzer is one of the favorites to win the NL Cy Young Award this season, but when he has ran into trouble this season, it has usually been because of the long ball. In fact, no pitcher in the National League surrendered more homers during the regular season than Scherzer (31). The Dodgers tagged him for two homers before Scherzer settled into the game, retiring eight consecutive batters at one point to battle through a solid outing. He allowed four runs on five hits in six innings with five strikeouts.
"I just kind of got in the rhythm," Scherzer said. "I was able to find the bottom of the zone and was able to find the outside half of the plate against their left-handed hitters and my changeup was really working tonight. I really had a good feel with that, had a good feel to be able to pitch behind in the count with it." More >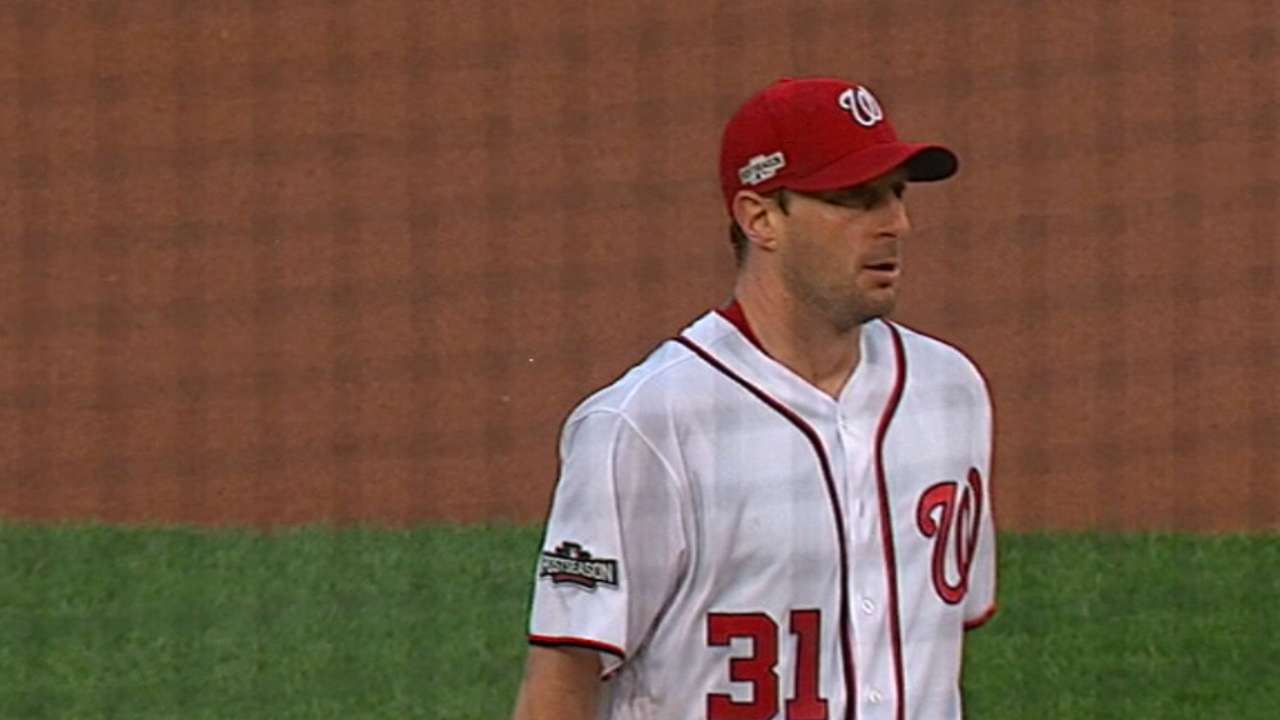 Setting a different tone: The Dodgers hit only two home runs in five games of the NLDS last year against the Mets, but they had that many by the third inning off Scherzer. Seager made a statement with a home run as the second batter of the game, and Turner, after getting hit on the left hand by a pitch in the first inning, slugged a two-run homer in the third.
"Playing on playoff teams, on the road, to get that first run is huge," said Roberts. "It gives guys in the dugout a chance to exhale a little bit." More >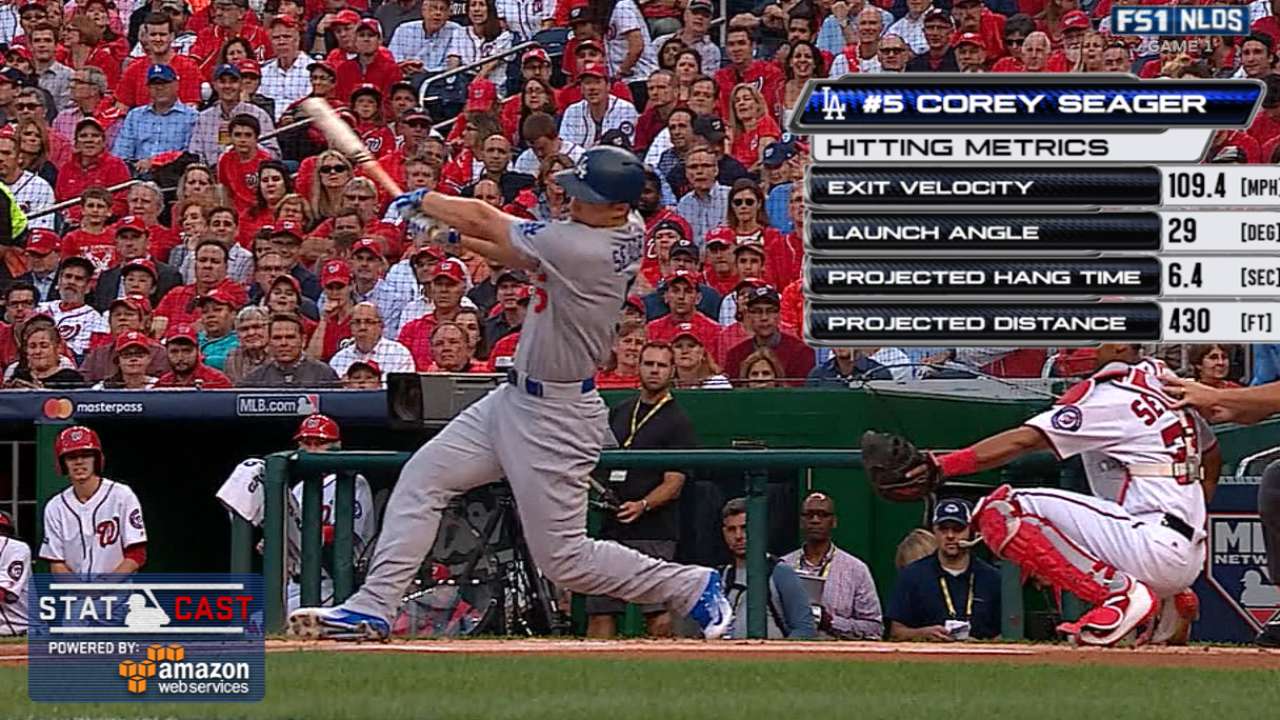 Murphy caught stealing: Murphy had missed the past two weeks with a strained buttocks and his start in this game was his first since Sept.17. But after he drew a one-out walk in the seventh, he was thrown out trying to steal second base with Rendon at the plate, second baseman Charlie Culberson making a slick short-hop of Yasmani Grandal's throw and tag.
"There's two choices on that, either be safe or don't run," Murphy said. "It was a bad play."
It was a curious move in that it erased Washington's small rally and given the uncertainty of Murphy's health all week and the fact that he is not known for his speed anyway.
"I was a little bit surprised, knowing that he's got somewhat of a glute problem," Grandal said. "But the time and point of that situation, one out, they need someone on second to see if somebody else can get a base hit." More >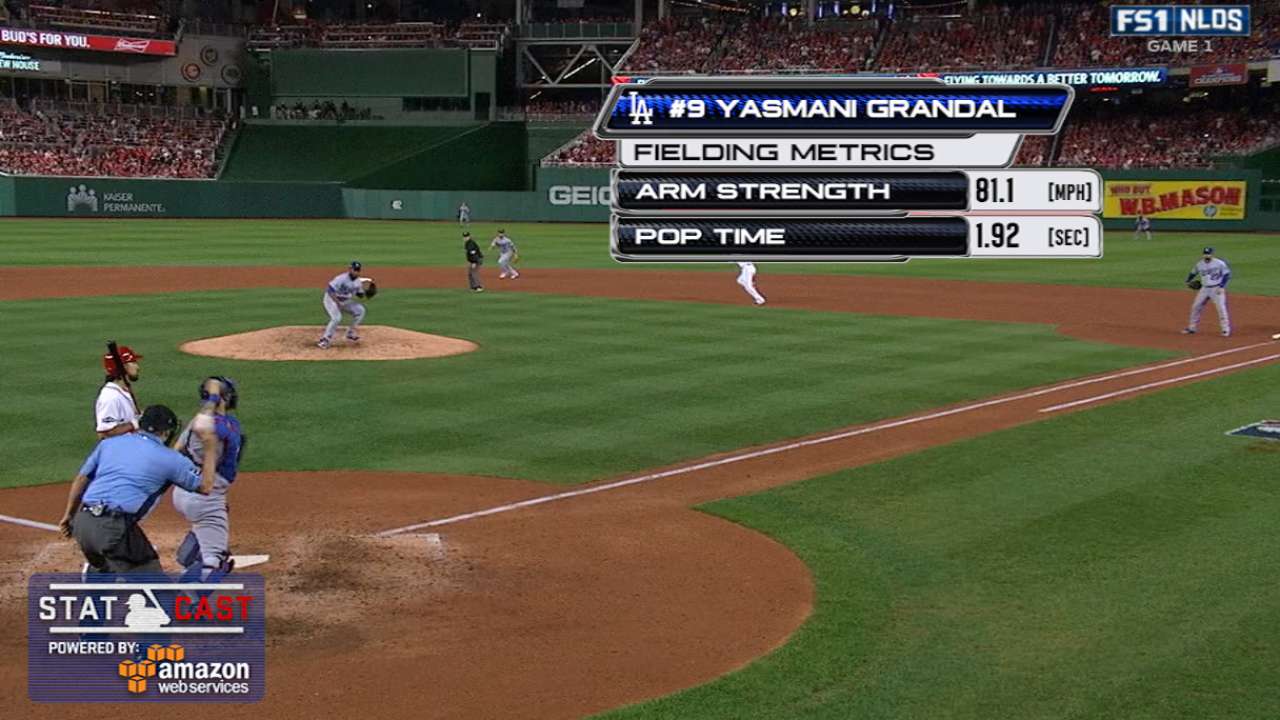 QUOTABLE
"Right now, I'm just prepared for six [outs] ... If I have to go six outs right now, you know, it's just we've got to go. If I have to do it every day, we've got to go." -- Jansen
WHAT'S NEXT
Dodgers: Rich Hill, who hasn't pitched since Sept. 30, gets the start Saturday at 1 p.m. PT. Because of Hill's history with finger blisters this year, the Dodgers will have 20-year-old rookie Julio Urias on standby to take over if anticipated rain interrupts the game. It will be Hill's first postseason game since 2007 with the Cubs.
Nationals: Tanner Roark will make the first postseason start of his career in Game 2 of the NLDS, with a chance to pitch on a national stage after his breakout 2016 season. He finished the year with a 2.83 ERA and pitched more than 200 innings for the first time in his career and his 5.5 WAR was ranked sixth in the Majors among pitchers.
Ken Gurnick has covered the Dodgers since 1989 and for MLB.com since 2001.

Jamal Collier covers the Nationals for MLB.com. This story was not subject to the approval of Major League Baseball or its clubs.