MLB.com Columnist
Mike Petriello
Hill's high-spin curve matches up well vs. Nats
Washington had lowest average against curves above 2,800 rpm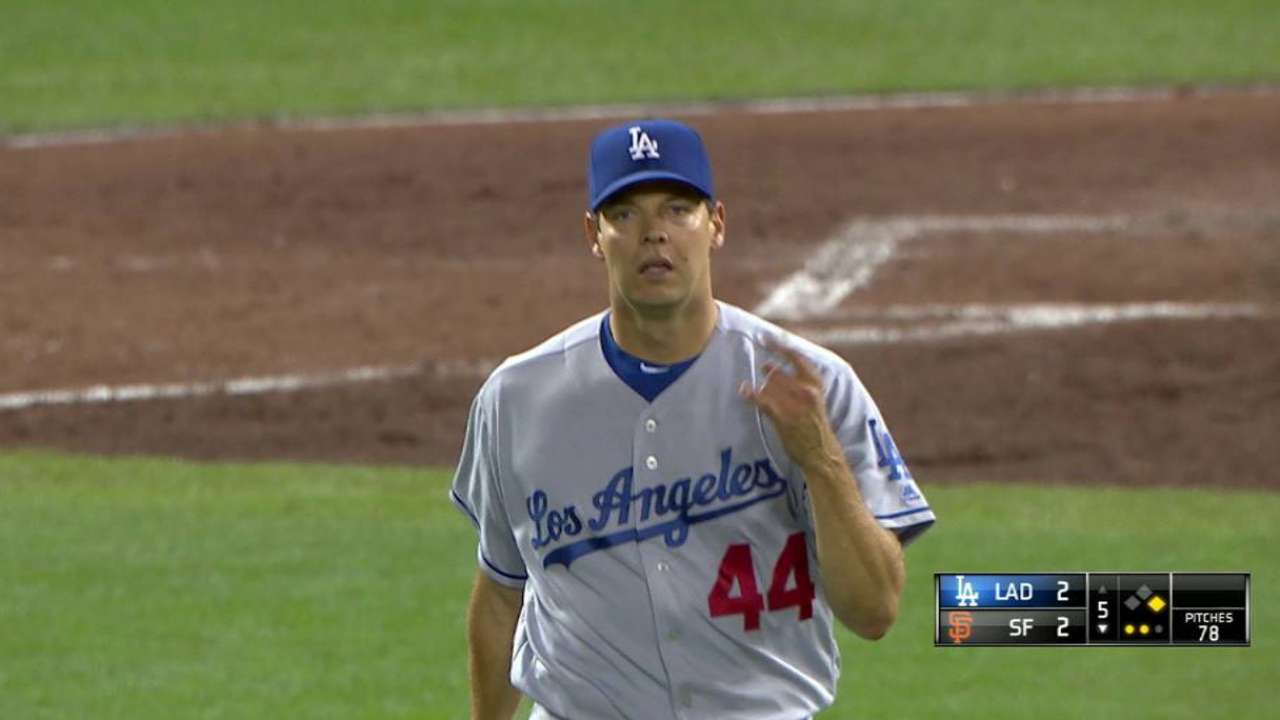 You know the Rich Hill story by now, right? Since leaving the Cubs in 2008, Hill spent nearly a decade cycling through nine Major League organizations (and one independent league team), trying without success to be healthy and productive at the same time ... right up until four stunningly good late-season starts for Boston last year led to 20 outstanding starts for Oakland and Los Angeles this year. At 36 years old, he's got an even 2.00 ERA over those 24 starts, and he's getting the ball against Tanner Roark and the Nationals in Game 2 of the National League Division Series today at 4 p.m. ET on FS1.
We could go through all the reasons why -- and we did in August, right before Hill's Dodgers debut -- but to oversimplify things, a big part of it was that when he returned to Boston's organization last summer, pitching consultant and former big leaguer Brian Bannister noted the very high spin on Hill's curve, and Bannister worked with Hill on throwing it far more often.
The end result was that Hill took one of the better pitches in the Majors and started relying on it heavily, with a 50 percent usage rate that's easily the highest among any starter, with the next-highest usage coming in at only 33 percent. That would matter against any opponent, but it might matter even more in Game 2, because it might be playing directly into a Washington weakness. The Nats, for all their talent, might not be well-equipped to handle that big curve.
Let's explain, shall we? Hill throws that curveball more than anyone else in baseball, and he also throws it with extremely high spin. (High spin for a curveball is usually a good thing, as it can help the ball move more, and a curve that doesn't move is a curve that ends up in the bleachers.) Of the 90 pitchers with at least 200 curveballs thrown, Hill's average spin of 2,831 rpm is the sixth highest, and well above the Major League average of 2,471 rpm. In plate appearances that ended with a curve, Hill allowed an average of just .166.
So he's got a pretty good curve, which shouldn't be a controversial statement. Now let's see how the Nationals have done against curves, and specifically let's look at high-spin curves, which we'll define as curves of 2,800 rpm or higher, which 99.7 percent of Hill's curves have come in at.
Team batting average against curves with spin of 2,800 rpm or higher, 2016
1. Cleveland, .307
2. Boston, .281
3. Minnesota, .251
--- Major League average: .176 ---
28. Los Angeles Angels, .109
29. Milwaukee, .107
30. Washington, .097
The Nationals have made contact with 62 such curveballs this year, and they turned only six of them into hits. While batting average is usually a limited stat without much use, we're not really worried about walks in this case, so it's a decent start. Since four of the six hits were singles, the Nats tied for 26th in slugging at .161, and the one homer, by Jayson Werth, came off a curve that Colorado rookie Jeff Hoffman left far too high: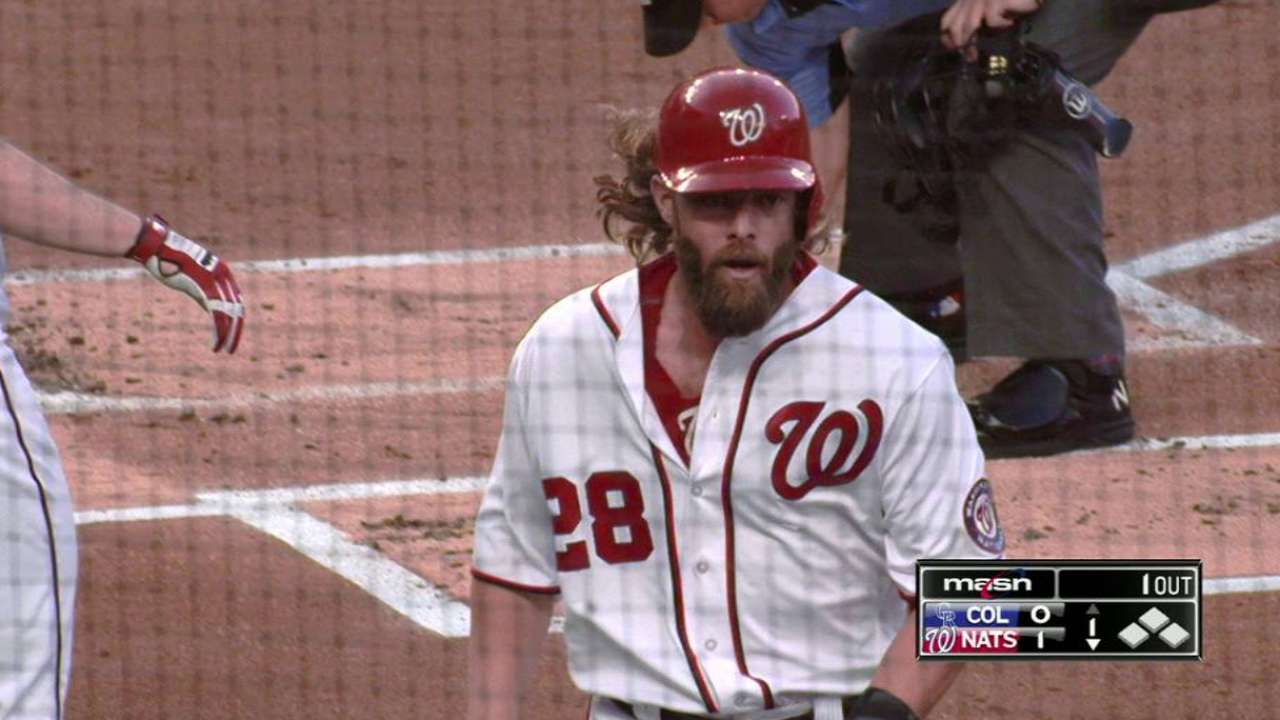 Individually, two of those six hits belong to Daniel Murphy, while Bryce Harper went 0-for-8 and Werth was 1-for-6.
Of course, that's all in terms of what happens when contact is made, and a good curveball often leaves the batter swinging through air or fooled entirely. What if we looked at the percentage of those high-spin curves that turn into strikes, either called or swinging?
Highest percentage of strikes on 2,800+ rpm curves, hitters, 2016
1. Seattle, 36.4 percent
2. Los Angeles Dodgers, 35.6 percent
3. Washington, 34.8 percent
--- Major League average: 31.6 percent ---
28. Atlanta, 27 percent
29. Baltimore, 26.8 percent
30. Chicago Cubs, 25.2 percent
Look, another thing that the Cubs are better than anyone at! More than one-third of the time that Washington hitters see those high-spin curves, they turn into strikes, which is one of the highest rates in baseball. When they make contact with those high-spin curves, they result in the lowest rate of success in baseball. Even if you eliminate the spin requirement and just look at performance against all curves, FanGraphs' "Pitch Type Values," has the members of the active Nationals roster at 13 runs below average, 27th in baseball.
It's a very good matchup for Hill, and perhaps particularly so against Ryan Zimmerman, who saw 22 such curves this year and had 12 turn into strikes.
Now, it's entirely fair to point out that we're not talking about huge sample sizes, and none of this guarantees that the Nationals won't be able to touch Hill's curveball. But a single game isn't really a big sample, either, and neither side gets a full season to prove themselves here. We know for certain that Hill's curve is a big strength. The Nats will have to prove they can do something with it.
Mike Petriello is an analyst for MLB.com and the host of the Statcast podcast. He has previously written for ESPN Insider and FanGraphs. This story was not subject to the approval of Major League Baseball or its clubs.